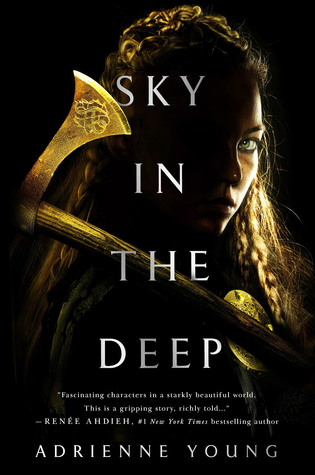 Title: Sky in the Deep
Author: Adrienne Young
Genre: YA Fantasy
Publisher: Wednesday Books
Rating: 5 Stars!
Publication Date: April 24, 2018
Synopsis: OND ELDR. BREATHE FIRE.
Raised to be a warrior, seventeen-year-old Eelyn fights alongside her Aska clansmen in an ancient rivalry against the Riki clan. Her life is brutal but simple: fight and survive. Until the day she sees the impossible on the battlefield — her brother, fighting with the enemy — the brother she watched die five years ago.
Faced with her brother's betrayal, she must survive the winter in the mountains with the Riki, in a village where every neighbor is an enemy, every battle scar possibly one she delivered. But when the Riki village is raided by a ruthless clan thought to be a legend, Eelyn is even more desperate to get back to her beloved family.
She is given no choice but to trust Fiske, her brother's friend, who sees her as a threat. They must do the impossible: unite the clans to fight together, or risk being slaughtered one by one. Driven by a love for her clan and her growing love for Fiske, Eelyn must confront her own definition of loyalty and family while daring to put her faith in the people she's spent her life hating.
Review: Sky in the Deep is one of those books that has been hyped up in the YA book community, so naturally, some people are skeptical wondering if it'll actually live up that hype. I'm here to tell you IT DOES. Adrienne Young is an exceptional story teller. She quickly pulls you into Eelyn's brutal world. But Eelyn isn't just a heartless brutal warrior, she has family she cares about and she begins questioning everything she's ever known. Her character development is just incredible to watch.
I really loved the different relationships throughout the story as well. Between Eelyn and her father, Eelyn and her best friend, Eelyn and her brother. The love the people in the book have for their family and fellow clan members is something we don't always get to see in YA fantasy and it was refreshing and wonderful.
This was a fun adventure from start to finish and if you are even remotely interested, definitely pick this one up!
Thank you so much to NetGalley and St. Martin's Press for sending me a copy to review!