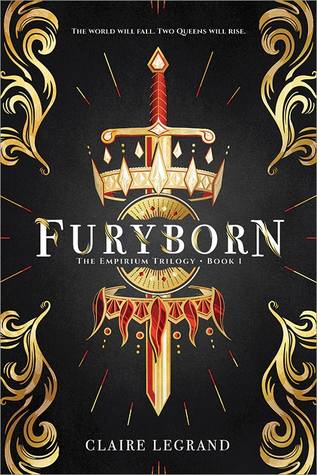 Title: Furyborn
Author: Claire Legrand
Genre: YA/NA Fantasy
Publisher: Sourcebooks Fire
Rating: 5 Stars
Publication Date: May 22, 2018
Synopsis: Follows two fiercely independent young women, centuries apart, who hold the power to save their world…or doom it.
When assassins ambush her best friend, the crown prince, Rielle Dardenne risks everything to save him, exposing her ability to perform all seven kinds of elemental magic. The only people who should possess this extraordinary power are a pair of prophesied queens: a queen of light and salvation and a queen of blood and destruction. To prove she is the Sun Queen, Rielle must endure seven trials to test her magic. If she fails, she will be executed…unless the trials kill her first.
A thousand years later, the legend of Queen Rielle is a mere fairy tale to bounty hunter Eliana Ferracora. When the Undying Empire conquered her kingdom, she embraced violence to keep her family alive. Now, she believes herself untouchable–until her mother vanishes without a trace, along with countless other women in their city. To find her, Eliana joins a rebel captain on a dangerous mission and discovers that the evil at the heart of the empire is more terrible than she ever imagined.
As Rielle and Eliana fight in a cosmic war that spans millennia, their stories intersect, and the shocking connections between them ultimately determine the fate of their world–and of each other.
Review: Wow. What a ride this book was!
So much happens in this book, so if you're looking for a fluffy read, maybe put this on the back burner for a bit. The prologue thrusts you right into the action and hooks you into the story right away. However, it took me a while to get into after that because of the alternating POVs every-other chapter. Once I got all the names down though, I was hooked again and had a hard time putting this book down.
There is just so much action! And complex characters! And wonderful magic! Basically everything you could ever want in a fantasy book. Well, series. So BE WARNED! You will want the next book right away after finishing and it's not set to release until sometime in 2019. The wait will be torture! But, read it anyway so you can suffer with me. 🙂
Thank you so much to Sourcebooks Fire & Netgalley for sending me a copy to review!