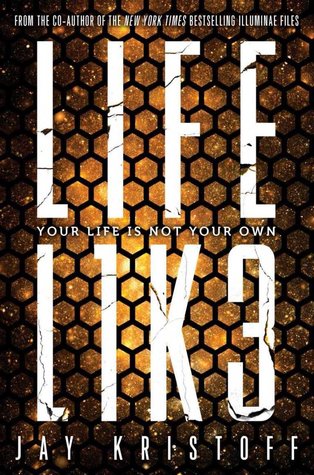 Title:LIFEL1K3
Author: Jay Kristoff
Genre: YA Sci-Fi/Dystopian
Publisher: Knopf Books for Young Readers
Rating: 5 Cogs..I mean stars
Publication Date: May 29, 2018
Synopsis: On a floating junkyard beneath a radiation sky, a deadly secret lies buried in the scrap.
Eve isn't looking for secrets—she's too busy looking over her shoulder. The robot gladiator she's just spent six months building has been reduced to a smoking wreck, and the only thing keeping her Grandpa from the grave was the fistful of credits she just lost to the bookies. To top it off, she's discovered she can destroy electronics with the power of her mind, and the puritanical Brotherhood are building a coffin her size. If she's ever had a worse day, Eve can't remember it.
But when Eve discovers the ruins of an android boy named Ezekiel in the scrap pile she calls home, her entire world comes crashing down. With her best friend Lemon Fresh and her robotic conscience, Cricket, in tow, she and Ezekiel will trek across deserts of irradiated glass, infiltrate towering megacities and scour the graveyard of humanity's greatest folly to save the ones Eve loves, and learn the dark secrets of her past.
Even if those secrets were better off staying buried.
Review: I have to start this review with a confession: I had never read a book by Mr. Kristoff before LIFEL1K3. It's not that I didn't want to, or that I don't have copies of his books already on my shelves. More like, it's so hard to read backlist when you are busy reading books for review. So, when LIFEL1K3 nearly fell into my lap through Netgalley, I jumped at the chance to read it and I am forever grateful.
This book is amazing and un-put-downable. Seriously. Were it not for a little thing called sleep, I would have read LIFEL1K3 in under 24 hours. I like to think of it as Westworld meets Stranger Things set in a gritty, post-apocalyptic world. And man does it work! I love all of the characters, human and not. Cricket is probably my favorite, he just has the best come-backs! That mixed with his undying love for Eve gave him a special place in my heart. I also really love the lingo/slang used throughout this book. Lemon Fresh is always quick with her words and so witty; I just love the back-and-forth and want someone to talk like this with me.
Aside from the wonderful characters and the gritty world, the plot is incredibly fast-paced and so much happens; lots of action and twists. So buckle-up, strap on your welding goggles, and go grab a copy of LIFEL1K3, you won't regret it!
Thank you so much to Knopf Books for Young Readers & Netgalley for sending me a copy of LIFEL1K3 to review!