Happy new release day! There are so many awesome books out today and I want to read them ALL!
Bright We Burn (The Conqueror's Saga #3) by Kiersten White
Synopsis: Haunted by the sacrifices he made in Constantinople, Radu is called back to the new capital. Mehmed is building an empire, becoming the sultan his people need. But Mehmed has a secret: as emperor, he is more powerful than ever . . . and desperately lonely. Does this mean Radu can finally have more with Mehmed . . . and would he even want it?
Lada's rule of absolute justice has created a Wallachia free of crime. But Lada won't rest until everyone knows that her country's borders are inviolable. Determined to send a message of defiance, she has the bodies of Mehmed's peace envoy delivered to him, leaving Radu and Mehmed with no choice. If Lada is allowed to continue, only death will prosper. They must go to war against the girl prince.
But Mehmed knows that he loves her. He understands her. She must lose to him so he can keep her safe. Radu alone fears that they are underestimating his sister's indomitable will. Only by destroying everything that came before–including her relationships–can Lada truly build the country she wants.
Claim the throne. Demand the crown. Rule the world.
Confession: I haven't even started this series yet. But it looks so fantastic and the covers are incredible!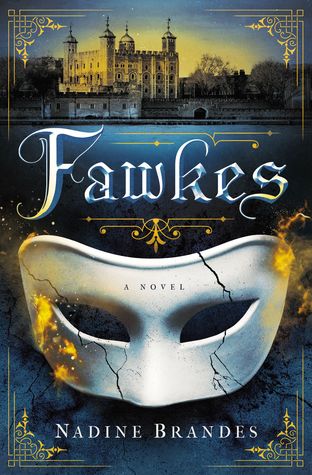 Fawkes by Nadine Brandes
Synopsis: Thomas Fawkes is turning to stone, and the only cure to the Stone Plague is to join his father's plot to assassinate the king of England.
Silent wars leave the most carnage. The wars that are never declared, but are carried out in dark alleys with masks and hidden knives. Wars where color power alters the natural rhythm of 17th century London. And when the king calls for peace, no one listens until he finally calls for death.
But what if death finds him first?
Keepers think the Igniters caused the plague. Igniters think the Keepers did. But all Thomas knows is that the Stone Plague infecting his eye is spreading. And if he doesn't do something soon, he'll be a lifeless statue. So when his Keeper father, Guy Fawkes, invites him to join the Gunpowder Plot—claiming it will put an end to the plague—Thomas is in.
The plan: use 36 barrels of gunpowder to blow up the Igniter King.
The problem: Doing so will destroy the family of the girl Thomas loves. But backing out of the plot will send his father and the other plotters to the gallows. To save one, Thomas will lose the other.
No matter Thomas's choice, one thing is clear: once the decision is made and the color masks have been put on, there's no turning back.
This cover is just so lovely! And, I really need to read this one!
I'm Not Missing: A Novel by Carrie Fountain
Synopsis: When Miranda Black's mother abandoned her, she took everything—the sun, moon, and stars—and Miranda found shelter in her friendship with Syd, who wore her own motherlessness like a badge of honor: Our mothers abandoned us. We won't go begging for scraps.
When Syd runs away suddenly and inexplicably in the middle of their senior year, Miranda is abandoned once again, left to untangle the questions of why Syd left, where she is—and if she's even a friend worth saving. Her only clue is Syd's discarded pink leopard print cell phone and a single text contained there from the mysterious HIM. Along the way, forced to step out from Syd's enormous shadow, Miranda finds herself stumbling into first love with Nick Allison of all people and learning what it means to be truly seen, to be finally not missing in her own life.
I was lucky enough to receive an ARC of this book and I just adored it. Check out my full review!
Her Pretty Face by Robyn Harding
Synopsis: Frances Metcalfe is struggling to stay afloat.
A stay-at-home mom whose troubled son is her full-time job, she thought that the day he got accepted into the elite Forrester Academy would be the day she started living her life. Overweight, insecure, and lonely, she is desperate to fit into Forrester's world. But after a disturbing incident at the school leads the other children and their families to ostracize the Metcalfes, she feels more alone than ever before.
Until she meets Kate Randolph.
Kate is everything Frances is not: beautiful, wealthy, powerful, and confident. And for some reason, she's not interested in being friends with any of the other Forrester moms—only Frances. As the two bond over their disdain of the Forrester snobs and the fierce love they have for their sons, a startling secret threatens to tear them apart…because one of these women is not who she seems. Her real name is Amber Kunick. And she's a murderer.
In her masterful follow-up to The Party, Robyn Harding spins a web of lies, deceit, and betrayal, asking the question: Can people ever change? And even if they can, is it possible to forgive the past?
I'm really drawn to thrillers at the moment and this one sounds SO GOOD!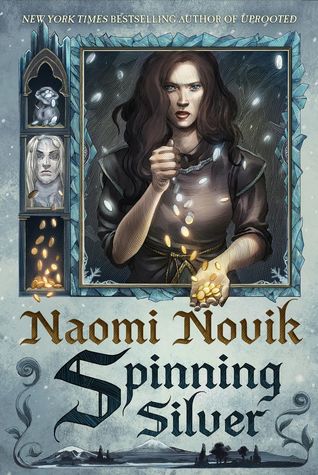 Spinning Silver by Naomi Novik
Synopsis: Miryem is the daughter and granddaughter of moneylenders… but her father isn't a very good one. Free to lend and reluctant to collect, he has loaned out most of his wife's dowry and left the family on the edge of poverty–until Miryem steps in. Hardening her heart against her fellow villagers' pleas, she sets out to collect what is owed–and finds herself more than up to the task. When her grandfather loans her a pouch of silver pennies, she brings it back full of gold.
But having the reputation of being able to change silver to gold can be more trouble than it's worth–especially when her fate becomes tangled with the cold creatures that haunt the wood, and whose king has learned of her reputation and wants to exploit it for reasons Miryem cannot understand.
I'm SO EXCITED for this gorgeous book! I made this my add-on for my Book of the Month Club pick because I just couldn't resist.
The Subway Girls by Susie Orman Schnall
Synopsis: In 1949, dutiful and ambitious Charlotte's dream of a career in advertising is shattered when her father demands she help out with the family business. Meanwhile, Charlotte is swept into the glamorous world of the Miss Subways beauty contest, which promises irresistible opportunities with its Park Avenue luster and local fame status. But when her new friend—the intriguing and gorgeous fellow-participant Rose—does something unforgivable, Charlotte must make a heart-wrenching decision that will change the lives of those around her forever.
Nearly 70 years later, outspoken advertising executive Olivia is pitching the NYC subways account in a last ditch effort to save her job at an advertising agency. When the charismatic boss she's secretly in love with pits her against her misogynistic nemesis, Olivia's urgent search for the winning strategy leads her to the historic Miss Subways campaign. As the pitch date closes in on her, Olivia finds herself dealing with a broken heart, an unlikely new love interest, and an unexpected personal connection to Miss Subways that could save her job—and her future.
The Subway Girls is the charming story of two strong women, a generation apart, who find themselves up against the same eternal struggle to find an impossible balance between love, happiness, and ambition.
If you're following along on the Book Sparks summer reading challenge (#SRC2018) The Subway Girls is this week's pick! I love a good historical fiction novel and cannot wait to dive into this one.
The Supervillain and Me by Danielle Banas
Synopsis: Never trust a guy in spandex.
In Abby Hamilton's world, superheroes do more than just stop crime and save cats stuck in trees—they also drink milk straight from the carton and hog the television remote. Abby's older brother moonlights as the famous Red Comet, but without powers of her own, following in his footsteps has never crossed her mind.
That is, until the city's newest vigilante comes bursting into her life.
After saving Abby from an attempted mugging, Morriston's fledgling supervillain Iron Phantom convinces her that he's not as evil as everyone says, and that their city is under a vicious new threat. As Abby follows him deeper into their city's darkest secrets, she comes to learn that heroes can't always be trusted, and sometimes it's the good guys who wear black.
This book just sounds FUN! I got an ARC from FierceReads and though I haven't had a chance to pick it up yet, I'm really looking forward to it!
That's the end of my list today. Do you see any you're going to pick up?
-Elizabeth
Bookish Connoisseur
Connect with me: