Happy Wednesday book dragons!
Waiting on Wednesday is a weekly event hosted by Jill at Breaking the Spine.  In this prompt we discuss books that have yet to be published that we're excited about! Head over to her blog to learn more.
This week I'm talking about These Rebel Waves by Sara Raasch! I've been dying to read this book since it was first announced. Pirates are my favorite. I was a huge fan of the Pirates of the Caribbean movies and have loved every pirate book I've read since I first picked up Treasure Island. Technically, the pirates in this book are called Stream Raiders, but I'm ok with that. 😉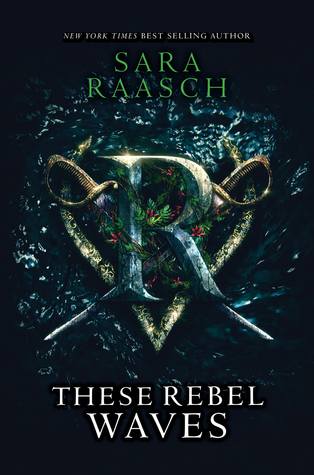 Title: These Rebel Waves
Author: Sara Raasch
Genre: YA Fantasy/Historical Fiction
Publisher: Balzar + Bray
Publication Date: August 7, 2018
Links: Goodreads | Amazon* | Book Depository*
Synopsis: Adeluna is a soldier. Five years ago, she helped the magic-rich island of Grace Loray overthrow its oppressor, Argrid, a country ruled by religion. But adjusting to postwar life has not been easy. When an Argridian delegate vanishes during peace talks with Grace Loray's new Council, Argrid demands brutal justice—but Lu suspects something more dangerous is at work.
Devereux is a pirate. As one of the outlaws called stream raiders who run rampant on Grace Loray, he pirates the island's magic plants and sells them on the black market. But after Argrid accuses raiders of the diplomat's abduction, Vex becomes a target. An expert navigator, he agrees to help Lu find the Argridian—but the truth they uncover could be deadlier than any war.
Benat is a heretic. The crown prince of Argrid, he harbors a secret obsession with Grace Loray's forbidden magic. When Ben's father, the king, gives him the shocking task of reversing Argrid's fear of magic, Ben has to decide if one prince can change a devout country—or if he's building his own pyre.
As conspiracies arise, Lu, Vex, and Ben will have to decide who they really are . . . and what they are willing to become for peace.
If you're interested in learning more about this world while you wait for the release date, check out Sara's tumblr post with introductions to the crew and the world!
What book are you looking forward to?
-Elizabeth
Bookish Connoisseur
Connect with me:
Instagram | Goodreads | Twitter
Please note: All links marked with (*) are affiliate links. Meaning, if you click and make a purchase I will get a small percentage of the purchase price from the retailer. Purchases like these help support my blog!