Happy Friday book lovers! You have no idea how excited I am for the weekend. I don't have anything planned, but those are my favorite kinds of weekends. I have some time between review deadlines, so I'm thinking of sneaking in some backlist YA contemporaries that have been on my TBR for too long.
Today though, I want to talk about some books being released in the second part of 2018 that I'm excited about!
Not Even Bones by Rebecca Schaeffer
Synopsis: Dexter meets This Savage Song in this dark fantasy about a girl who sells magical body parts on the black market — until she's betrayed.
Nita doesn't murder supernatural beings and sell their body parts on the internet—her mother does that. Nita just dissects the bodies after they've been "acquired." But when her mom brings home a live specimen, Nita decides she wants out — dissecting living people is a step too far.
But when she tries to save her mother's victim, she ends up sold on the black market in his place — because Nita herself is a supernatural being. Now Nita is on the other side of the bars, and there is no line she won't cross to escape and make sure no one can ever capture her again.
Nita did a good deed, and it cost her everything. Now she's going to do a lot of bad deeds to get it all back.
I was wold at Dexter meets This Savage Song! This sounds SO GOOD!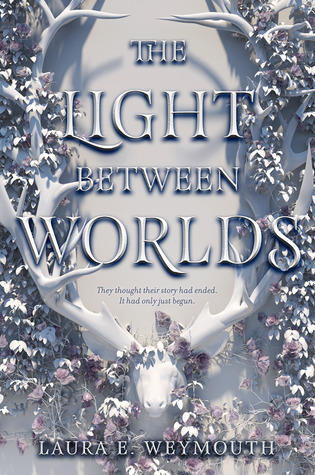 The Light Between Worlds by Laura E. Weymouth
Synopsis: Five years ago, Evelyn and Philippa Hapwell cowered from air strikes in a London bomb shelter. But that night took a turn when the sisters were transported to another realm called the Woodlands. In a forest kingdom populated by creatures out of myth and legend, they found temporary refuge.
When Ev and Phil finally returned to London, nothing had changed at all—nothing, except themselves.
Now, Evelyn spends her days sneaking into the woods outside her boarding school, wishing for the Woodlands. Overcome with longing, she is desperate to return no matter what it takes.
Philippa, on the other hand, is determined to find a place in this world. She shields herself behind a flawless exterior and countless friends, and moves to America to escape the memory of what was.
But when Evelyn goes missing, Philippa must confront the depth of her sister's despair and the painful truths they've been running from. As the weeks unfold, Philippa wonders if Ev truly did find a way home, or if the weight of their worlds pulled her under.
Doesn't this just sound magical and lovely and a bit dark? And that cover.
Black Wings Beating by Alex London
Synopsis: The people of Uztar have long looked to the sky with hope and wonder. Nothing in their world is more revered than the birds of prey and no one more honored than the falconers who call them to their fists.
Brysen strives to be a great falconer–while his twin sister, Kylee, rejects her ancient gifts for the sport and wishes to be free of falconry. She's nearly made it out, too, but a war is rolling toward their home in the Six Villages, and no bird or falconer will be safe.
Together the twins must journey into the treacherous mountains to trap the Ghost Eagle, the greatest of the Uztari birds and a solitary killer. Brysen goes for the boy he loves and the glory he's long craved, and Kylee to atone for her past and to protect her brother's future. But both are hunted by those who seek one thing: power.
Alex London is another author I got to meet while in NYC. I also met his editor and she was so excited about this book I cannot wait to read it!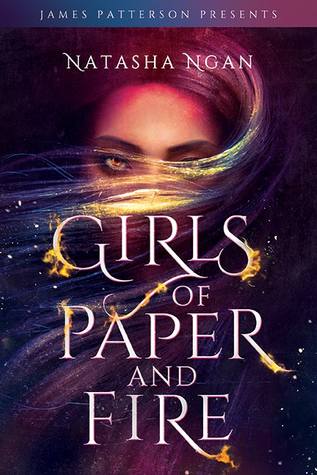 Girls of Paper and Fire by Natasha Ngan
Synopsis: Each year, eight beautiful girls are chosen as Paper Girls to serve the king. It's the highest honor they could hope for…and the most cruel.
But this year, there's a ninth girl. And instead of paper, she's made of fire.
In this lush fantasy, Lei is a member of the Paper caste, the lowest and most oppressed class in Ikhara. She lives in a remote village with her father, where the decade-old trauma of watching her mother snatched by royal guards still haunts her. Now, the guards are back, and this time it's Lei they're after–the girl whose golden eyes have piqued the king's interest.
Over weeks of training in the opulent but stifling palace, Lei and eight other girls learn the skills and charm that befit being a king's consort. But Lei isn't content to watch her fate consume her. Instead, she does the unthinkable–she falls in love. Her forbidden romance becomes enmeshed with an explosive plot that threatens the very foundation of Ikhara, and Lei, still the wide-eyed country girl at heart, must decide just how far she's willing to go for justice and revenge.
Another fantasy that sounds amazing! Give me all the luscious fantasy books.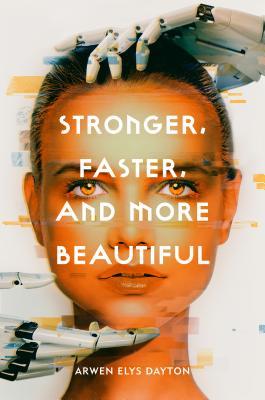 Stronger, Faster, and More Beautiful by Arwen Elys Dayton
Synopsis: For fans of television shows Black Mirror and Westworld, this compelling, mind-bending novel is a twisted look into the future, exploring how far we will go to remake ourselves into the perfect human specimen and what it means to be human at all.
Set in our world, spanning the near to distant futures, Stronger, Faster, and More Beautiful is a novel made up of six interconnected stories that ask how far we will go to remake ourselves into the perfect human specimens, and how hard that will push the definition of "human."
This extraordinary work explores the amazing possibilities of genetic manipulation and life extension, as well as the ethical quandaries that will arise with these advances. The results range from the heavenly to the monstrous. Deeply thoughtful, poignant, horrifying, and action-packed, Arwen Elys Dayton's Stronger, Faster, and More Beautiful is groundbreaking in both form and substance.
I love sci-fi! This one sounds so good!
That's my list for today. Do you see any books you're adding to your TBR?
-Elizabeth
Bookish Connoisseur
Connect with me: