Happy Book Release day my fellow book nerds! This is one of my favorite days of the week because we get lots of new books and I always manage to discover books to add to my TBR that I had no idea were even out there. So many books and so little time, am I right? On that note, here are some more for your TBRs friends! 🙂
Campfire by Shawn Sarles
Links: Goodreads | Amazon* | Book Depository*
Synopsis: While camping in a remote location, Maddie Davenport gathers around the fire with her friends and family to tell scary stories. Caleb, the handsome young guide, shares the local legend of the ferocious Mountain Men who hunt unsuspecting campers and leave their mark by carving grisly antlers into their victims' foreheads.
The next day, the story comes true.
Now Maddie and her family are lost in the deep woods–with no way out–being stalked by their worst nightmares. Because there were other, more horrifying stories told that night–and Maddie's about to find out just how they end…
I'm dying to read this one! (See what I did there?) But really, I was lucky enough to have received an ARC of this book and I still haven't had a chance to pick it up. I'm thinking maybe I'll bring it on my next camping trip..
Hullmetal Girls by Emily Skrutski
Links: Goodreads | Amazon* | Book Depository*
Synopsis: Aisha Un-Haad would do anything for her family. When her brother contracts a plague, she knows her janitor's salary isn't enough to fund his treatment. So she volunteers to become a Scela, a mechanically enhanced soldier sworn to protect and serve the governing body of the Fleet, the collective of starships they call home. If Aisha can survive the harrowing modifications and earn an elite place in the Scela ranks, she may be able to save her brother.
Key Tanaka awakens in a Scela body with only hazy memories of her life before. She knows she's from the privileged end of the Fleet, but she has no recollection of why she chose to give up a life of luxury to become a hulking cyborg soldier. If she can make it through the training, she might have a shot at recovering her missing past.
In a unit of new recruits vying for top placement, Aisha's and Key's paths collide, and the two must learn to work together–a tall order for girls from opposite ends of the Fleet. But a rebellion is stirring, pitting those who yearn for independence from the Fleet against a government struggling to maintain unity.
With violence brewing and dark secrets surfacing, Aisha and Key find themselves questioning their loyalties. They will have to put aside their differences, though, if they want to keep humanity from tearing itself apart
I actually just reviewed this book yesterday. I loved it so much! You can check out my full review here.
When Life Gives You Demons by Jennifer Honeybourn
Links: Goodreads | Amazon* | Book Depository*
Synopsis: Sixteen-year-old Shelby Black has spent the past year training to be an exorcist. Her great-uncle Roy—a Catholic priest and Shelby's guardian—believes she has a gift for expelling demons, and he's put her through exorcist boot camp hell, but he still doesn't trust her to do an exorcism on her own.
High school is hard enough without having to explain that you fight demons for a living, so Shelby keeps her extracurricular activity quiet, especially from Spencer, her cute math tutor. Secrets run in Shelby's family, though: her mother has been missing ever since an exorcism went horribly wrong, and Uncle Roy is tight-lipped about it. But Shelby's hell-bent on finding her mom, no matter what—even if what it ends up costing her her soul AND a date with Spencer.
This one sounds so fun! I haven't read it, so I have no idea if it's anything like the TV show Supernatural, but that's all I could think of when I read that this is about a girl who fights demons. Either way, I'm here for it!
In the Vines by Shannon Kirk
Links: Goodreads | Amazon* | Book Depository*
Synopsis: Family ties so strong you can't escape…
Mary Olivia Pentecost, known as Mop, was born into one of the wealthiest families in the country—and one of the most guarded. Now, two years after her mother's mysterious death, Mop is seeking closure on the disquieting tragedy by returning to the New England seaside estate of her cloistered Aunty Liv—once her closest relative and confidante.
But behind the walls of the isolated estate, the shadows of the past are darker than Mop imagined. The puzzles of the family history are not to be shared, but unearthed. With each revelation comes a new, foreboding threat—and for Mop, the grave suspicion that to discover Aunty Liv's secrets is to become a prisoner of them.
How well do we know the people we love? How well do we want to know them? The answers are as twisted as a tangle of vines in this throat-clutching novel of psychological suspense.
Suspense novels are my theme for the summer and this is another that I really need to get to reading. I was sent a copy from the lovely folks at Amazon Publishing so I have no excuse not to dive in!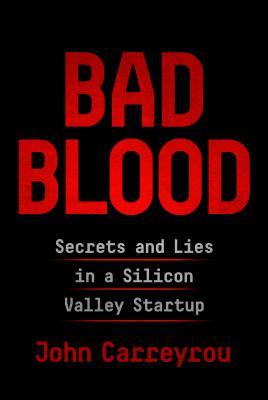 Bad Blood: Secrets and Lies in a Silicon Valley Startup by John Carreyrou
Links: Goodreads | Amazon* | Book Depository*
Synopsis: The full inside story of the breathtaking rise and shocking collapse of Theranos, the multibillion-dollar biotech startup, by the prize-winning journalist who first broke the story and pursued it to the end, despite pressure from its charismatic CEO and threats by her lawyers.
In 2014, Theranos founder and CEO Elizabeth Holmes was widely seen as the female Steve Jobs: a brilliant Stanford dropout whose startup "unicorn" promised to revolutionize the medical industry with a machine that would make blood testing significantly faster and easier. Backed by investors such as Larry Ellison and Tim Draper, Theranos sold shares in a fundraising round that valued the company at more than $9 billion, putting Holmes's worth at an estimated $4.7 billion. There was just one problem: The technology didn't work.
A riveting story of the biggest corporate fraud since Enron, a tale of ambition and hubris set amid the bold promises of Silicon Valley.
This isn't the type of book that I normally share on here, mostly because I'm naturally drawn to fiction. But after hearing Liberty talk about it on the Bookriot All the Books podcast, I had to add it to my TBR. It sounds so intriguing and if you need a little more push, go listen to the podcast linked above!
That's my list for today! Which books are you most looking forward to?
-Elizabeth
Bookish Connoisseur
Connect with me:
Instagram | Goodreads | Twitter
Please note: All links marked with (*) are affiliate links. Meaning, if you click and make a purchase I will get a small percentage of the purchase price from the retailer. Purchases like these help support my blog!