Happy Book Release book nerds!
Foundryside by Robert Jackson Bennett

Links: Goodreads | Amazon* | Book Depository*
Synopsis: In a city that runs on industrialized magic, a secret war will be fought to overwrite reality itself–the first in a dazzling new fantasy series from City of Stairs author Robert Jackson Bennett.
Sancia Grado is a thief, and a damn good one. And her latest target, a heavily guarded warehouse on Tevanne's docks, is nothing her unique abilities can't handle.
But unbeknownst to her, Sancia's been sent to steal an artifact of unimaginable power, an object that could revolutionize the magical technology known as scriving. The Merchant Houses who control this magic–the art of using coded commands to imbue everyday objects with sentience–have already used it to transform Tevanne into a vast, remorseless capitalist machine. But if they can unlock the artifact's secrets, they will rewrite the world itself to suit their aims.
Now someone in those Houses wants Sancia dead, and the artifact for themselves. And in the city of Tevanne, there's nobody with the power to stop them.
To have a chance at surviving—and at stopping the deadly transformation that's under way—Sancia will have to marshal unlikely allies, learn to harness the artifact's power for herself, and undergo her own transformation, one that will turn her into something she could never have imagined.
I love me some good fantasy and this sounds fantastic!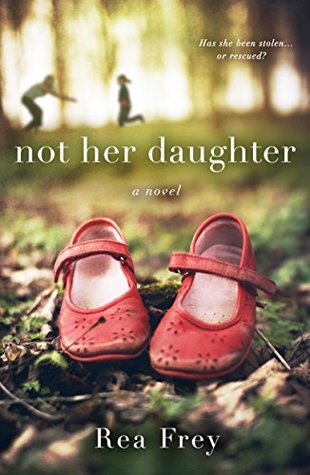 Not Her Daughter by Rea Frey

Links: Goodreads | Amazon* | Book Depository*
Synopsis: Gripping, emotional, and wire-taut, Not Her Daughter raises the question of what it means to be a mother—and how far someone will go to keep a child safe.
Emma Townsend. Five years old. Gray eyes, brown hair. Missing since June.
Emma is lonely. Living with her cruel mother and clueless father, Emma retreats into her own world of quiet and solitude.
Sarah Walker. Successful entrepreneur. Broken-hearted. Kidnapper.
Sarah has never seen a girl so precious as the gray-eyed child in a crowded airport terminal. When a second-chance encounter with Emma presents itself, Sarah takes her—far away from home. But if it's to rescue a little girl from her damaging mother, is kidnapping wrong?
Amy Townsend. Unhappy wife. Unfit mother. Unsure whether she wants her daughter back.
Amy's life is a string of disappointments, but her biggest issue is her inability to connect with her daughter. And now Emma is gone without a trace.
As Sarah and Emma avoid the nationwide hunt, they form an unshakeable bond. But what about Emma's real mother, back at home?
Another thriller for my list!! Check out more of my favorite thrillers here*.
The Black God's Drums by P. Djèlí Clark

Links: Goodreads | Amazon* | Book Depository*
Synopsis: Creeper, a scrappy young teen, is done living on the streets of New Orleans. Instead, she wants to soar, and her sights are set on securing passage aboard the smuggler airship Midnight Robber. Her ticket: earning Captain Ann-Marie's trust using a secret about a kidnapped Haitian scientist and a mysterious weapon he calls The Black God's Drums.
But Creeper keeps another secret close to heart–Oya, the African orisha of the wind and storms, who speaks inside her head and grants her divine powers. And Oya has her own priorities concerning Creeper and Ann-Marie…
Doesn't this novella sound AMAZING?! I need it in my hands.
Fresh Ink: An Anthology edited by Lamar Giles

Links: Goodreads | Amazon* | Book Depository*
Synopsis: In partnership with We Need Diverse Books, thirteen of the most recognizable, diverse authors come together in this remarkable YA anthology featuring ten short stories, a graphic short story, and a one-act play from Walter Dean Myers never before in-print.
Careful–you are holding fresh ink. And not hot-off-the-press, still-drying-in-your-hands ink. Instead, you are holding twelve stories with endings that are still being written–whose next chapters are up to you.
Because these stories are meant to be read. And shared.
Thirteen of the most accomplished YA authors deliver a label-defying anthology that includes ten short stories, a graphic novel, and a one-act play. This collection will inspire you to break conventions, bend the rules, and color outside the lines. All you need is fresh ink.
Ok, so I'm cheating a bit with this one as it actually came out last week. But I didn't post about new releases last week so I didn't get to talk about it! This anthology is amazing and I think everyone should read it!
That's all for me today. Which books are you most excited about?
-Elizabeth
Bookish Connoisseur
Connect with me:
Instagram | Goodreads | Twitter
Please note: All links marked with (*) are affiliate links. Meaning, if you click and make a purchase I will get a small percentage of the purchase price from the retailer. Purchases like these help support my blog!