Happy Book Release Day book nerds! So. Many. Books.
No really, there are a LOT of amazing books out this week and I've actually read/am in the middle of reading a few of them. I've been in a bit of a review-writing rut, if that's a thing? But I'm working through it and hope to be back posting ALL THE REVIEWS soon!
For now, check out these awesome titles out today!
Mirage by Somaiya Daud

Links: Goodreads | Amazon* | Book Depository*
Synopsis: In a star system dominated by the brutal Vathek empire, eighteen-year-old Amani is a dreamer. She dreams of what life was like before the occupation; she dreams of writing poetry like the old-world poems she adores; she dreams of receiving a sign from Dihya that one day, she, too, will have adventure, and travel beyond her isolated moon.
But when adventure comes for Amani, it is not what she expects: she is kidnapped by the regime and taken in secret to the royal palace, where she discovers that she is nearly identical to the cruel half-Vathek Princess Maram. The princess is so hated by her conquered people that she requires a body double, someone to appear in public as Maram, ready to die in her place.
As Amani is forced into her new role, she can't help but enjoy the palace's beauty—and her time with the princess' fiancé, Idris. But the glitter of the royal court belies a world of violence and fear. If Amani ever wishes to see her family again, she must play the princess to perfection…because one wrong move could lead to her death.
I was lucky enough to have the chance to read an ARC of this book and OMG it is AMAZING! It has a little bit of sci-fi and a little bit of fantasy and I was all here for all of it!
Tear Me Apart by J.T. Ellison

Links: Goodreads | Amazon* | Book Depository*
Synopsis: The follow-up to her critically acclaimed Lie to Me, J.T. Ellison's Tear Me Apart is the powerful story of a mother willing to do anything to protect her daughter even as their carefully constructed world unravels around them.
One moment will change their lives forever…
Competitive skier Mindy Wright is a superstar in the making until a spectacular downhill crash threatens not just her racing career but her life. During surgery, doctors discover she's suffering from a severe form of leukemia, and a stem cell transplant is her only hope. But when her parents are tested, a frightening truth emerges. Mindy is not their daughter.
Who knows the answers?
The race to save Mindy's life means unraveling years of lies. Was she accidentally switched at birth or is there something more sinister at play? The search for the truth will tear a family apart…and someone is going to deadly extremes to protect the family's deepest secrets.
With vivid movement through time, Tear Me Apart examines the impact layer after layer of lies and betrayal has on two families, the secrets they guard, and the desperate fight to hide the darkness within.
I have a book tour for this one coming up soon, so I wont' say too much. But it was a super enjoyable and interesting thriller!
Ruin of Stars by Linsey Miller

Links: Goodreads | Amazon* | Book Depository*
Synopsis: The thrilling conclusion to the Mask of Shadows duology that weaves a tale of magic, shadows, and most importantly, revenge.
As one of the Queen's elite assassins, Sal finally has the power, prestige, and permission to hunt down the lords who killed their family. But Sal still has to figure out who the culprits are. They must enlist the help of some old friends and enemies while ignoring a growing distaste for the queen and that the charming Elise is being held prisoner by her father.
But there's something terribly wrong in the north. Talk of the return of shadows, missing children, and magic abounds. As Sal takes out the people responsible for their ruined homeland, Sal learns secrets and truths that can't be forgotten.
I LOVED Mask of Shadows so I cannot wait to get my hands on Ruin of Stars!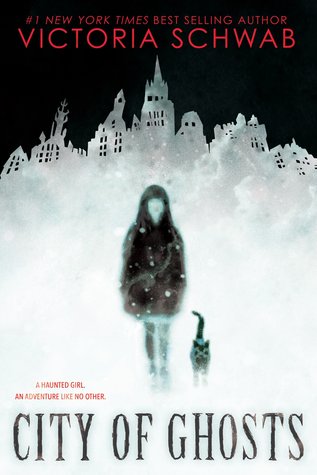 City of Ghosts by Victoria Schwab

Links: Goodreads | Amazon* | Book Depository*
Synopsis: Cassidy Blake's parents are The Inspectres, a (somewhat inept) ghost-hunting team. But Cass herself can REALLY see ghosts. In fact, her best friend, Jacob, just happens to be one.
When The Inspectres head to ultra-haunted Edinburgh, Scotland, for their new TV show, Cass—and Jacob—come along. In Scotland, Cass is surrounded by ghosts, not all of them friendly. Then she meets Lara, a girl who can also see the dead. But Lara tells Cassidy that as an In-betweener, their job is to send ghosts permanently beyond the Veil. Cass isn't sure about her new mission, but she does know the sinister Red Raven haunting the city doesn't belong in her world. Cassidy's powers will draw her into an epic fight that stretches through the worlds of the living and the dead, in order to save herself.
I don't read a *ton* of middle grade, but I'm sold on Victoria Schwab, so any genre, please!
Seafire by Natalie C. Parker

Links: Goodreads | Amazon* | Book Depository*
Synopsis: After her family is killed by corrupt warlord Aric Athair and his bloodthirsty army of Bullets, Caledonia Styx is left to chart her own course on the dangerous and deadly seas. She captains her ship, the Mors Navis, with a crew of girls and women just like her, whose lives have been turned upside down by Aric and his men. The crew has one misson: stay alive, and take down Aric's armed and armored fleet.
But when Caledonia's best friend and second-in-command just barely survives an attack thanks to help from a Bullet looking to defect, Caledonia finds herself questioning whether or not to let him join their crew. Is this boy the key to taking down Aric Athair once and for all…or will he threaten everything the women of the Mors Navis have worked for?

I've been hearing SO MANY good things about this book! I'm dying to read it!
Toil & Trouble: 15 Tales of Women & Witchcraft edited by Jessica Spotswood & Tess Sharpe

Links: Goodreads | Amazon* | Book Depository*
Synopsis: A young adult fiction anthology of 15 stories featuring contemporary, historical, and futuristic stories featuring witchy heroines who are diverse in race, class, sexuality, religion, geography, and era.
Are you a good witch or a bad witch?
Glinda the Good Witch. Elphaba the Wicked Witch. Willow. Sabrina. Gemma Doyle. The Mayfair Witches. Ursula the Sea Witch. Morgan le Fey. The three weird sisters from Macbeth.
History tells us women accused of witchcraft were often outsiders: educated, independent, unmarried, unwilling to fall in line with traditional societal expectations.
Bold. Powerful. Rebellious.
A bruja's traditional love spell has unexpected results. A witch's healing hands begin to take life instead of giving it when she ignores her attraction to a fellow witch. In a terrifying future, women are captured by a cabal of men crying witchcraft and the one true witch among them must fight to free them all. In a desolate past, three orphaned sisters prophesize for a murderous king. Somewhere in the present, a teen girl just wants to kiss a boy without causing a hurricane.
From good witches to bad witches, to witches who are a bit of both, this is an anthology of diverse witchy tales from a collection of diverse, feminist authors. The collective strength of women working together—magically or mundanely–has long frightened society, to the point that women's rights are challenged, legislated against, and denied all over the world. Toil & Trouble delves deep into the truly diverse mythology of witchcraft from many cultures and feminist points of view, to create modern and unique tales of witchery that have yet to be explored.
I'm currently in the middle of reading this gorgeous anthology and so far, I adore it.
That's my round-up of amazing new releases for today. Which books are you most excited about?
-Elizabeth
Bookish Connoisseur
Connect with me:
Instagram | Goodreads | Twitter
Please note: All links marked with (*) are affiliate links. Meaning, if you click and make a purchase I will get a small percentage of the purchase price from the retailer. Purchases like these help support my blog!