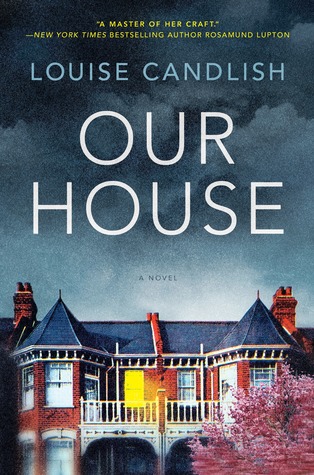 Title: Our House
Author: Louise Candlish
Genre: Mystery / Thriller
Publisher: Berkley
Publication Date: August 7, 2018
Links: Goodreads | Amazon* | Book Depository*
Rating: 4 Stars
Source: Digital ARC from NetGalley
Synopsis: On a bright January morning in the London suburbs, a family moves into the house they've just bought in Trinity Avenue.
Nothing strange about that. Except it is your house. And you didn't sell it.
When Fiona Lawson comes home to find strangers moving into her house, she's sure there's been a mistake. She and her estranged husband, Bram, have a modern co-parenting arrangement: bird's nest custody, where each parent spends a few nights a week with their two sons at the prized family home to maintain stability for their children. But the system built to protect their family ends up putting them in terrible jeopardy. In a domino effect of crimes and misdemeanors, the nest comes tumbling down.
Now Bram has disappeared and so have Fiona's children. As events spiral well beyond her control, Fiona will discover just how many lies her husband was weaving and how little they truly knew each other. But Bram's not the only one with things to hide, and some secrets are best kept to oneself, safe as houses.
This was such an interesting take on the domestic thriller. It just kept getting more twisty, even at the very end.
It starts out with Fiona, or Fi, as she is returning to her home after a weekend away. But when she walks up to her house she finds someone else moving in. First she tries to reason that maybe she's looking at the wrong house or someone is playing a prank, but she soon realizes that her worst nightmare has come true. Her beautiful home that she worked so hard to buy, decorate, and keep, is now sold to someone else.
Fi and her husband Bram have been separated for a while. They had worked out a situation where they shared the home in order to make their separation easier on their children. As we get further into the story we find out that it is this separation that has started the downward spiral to where Fi now finds herself.
The story is told in three different timelines. One is the present as things are unfolding and Fi is trying to find out why her house has been sold. Another is Fi's side of the story, after things have been figured out, as she is interviewed for a podcast. And the final timeline is Bram's side of the story told through a final letter. This makes for an interesting set up and one that kept me engaged the entire time.
I won't say much more because, thriller. You just need to read it for yourself!
And if you like this one, or are looking for more thrillers to add to your list, I wrote an article for The Nerd Daily, 5 Thrillers to Put You On The Edge of Your Seat.
And I also have a list of thrillers here*!
-Elizabeth
Bookish Connoisseur
Connect with me:
Instagram | Goodreads | Twitter
Please note: All links marked with (*) are affiliate links. Meaning, if you click and make a purchase I will get a small percentage of the purchase price from the retailer. Purchases like these help support my blog!