Happy Book Release Day bookish friends! I'm so sorry I've been absent from the blog lately. Life seems to be happening so fast that it's hard to keep up. But I have a ton of reviews to share with you, so I plan to get back into the swing of things soon.
For now, check out these awesome titles out today!
Black Wings Beating by Alex London

Links: Goodreads | Amazon* | Book Depository*
Synopsis: The people of Uztar have long looked to the sky with hope and wonder. Nothing in their world is more revered than the birds of prey and no one more honored than the falconers who call them to their fists.
Brysen strives to be a great falconer–while his twin sister, Kylee, rejects her ancient gifts for the sport and wishes to be free of falconry. She's nearly made it out, too, but a war is rolling toward their home in the Six Villages, and no bird or falconer will be safe.
Together the twins must journey into the treacherous mountains to trap the Ghost Eagle, the greatest of the Uztari birds and a solitary killer. Brysen goes for the boy he loves and the glory he's long craved, and Kylee to atone for her past and to protect her brother's future. But both are hunted by those who seek one thing: power.
I actually just read this one. In one sitting because I couldn't put it down. And now I want to be a falconer.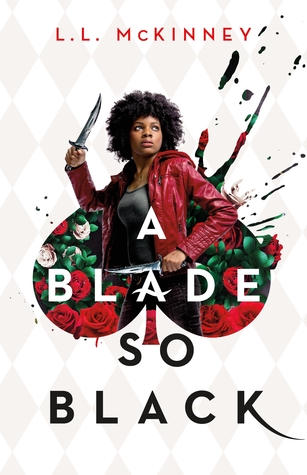 A Blade So Black by L.L. McKinney

Links: Goodreads | Amazon* | Book Depository*
Synopsis: The first time the Nightmares came, it nearly cost Alice her life. Now she's trained to battle monstrous creatures in the dark dream realm known as Wonderland with magic weapons and hardcore fighting skills. Yet even warriors have a curfew.
Life in real-world Atlanta isn't always so simple, as Alice juggles an overprotective mom, a high-maintenance best friend, and a slipping GPA. Keeping the Nightmares at bay is turning into a full-time job. But when Alice's handsome and mysterious mentor is poisoned, she has to find the antidote by venturing deeper into Wonderland than she's ever gone before. And she'll need to use everything she's learned in both worlds to keep from losing her head . . . literally.
I just started this book the other day and the only reason I didn't finish was because I didn't have time! So. Good.
The Sisters of the Winter Wood by Rena Rossner

Links: Goodreads | Amazon* | Book Depository*
Synopsis: 

For a Muse of Fire by Heidi Heilig

Links: Goodreads | Amazon* | Book Depository*
Synopsis: Captivating and boldly imaginative, with a tale of sisterhood at its heart, Rena Rossner's debut fantasy invites you to enter a world filled with magic, folklore, and the dangers of the woods.
Raised in a small village surrounded by vast forests, Liba and Laya have lived a peaceful sheltered life – even if they've heard of troubling times for Jews elsewhere. When their parents travel to visit their dying grandfather, the sisters are left behind in their home in the woods.
But before they leave, Liba discovers the secret that their Tati can transform into a bear, and their Mami into a swan. Perhaps, Liba realizes, the old fairy tales are true. She must guard this secret carefully, even from her beloved sister.
Soon a troupe of mysterious men appear in town and Laya falls under their spell-despite their mother's warning to be wary of strangers. And these are not the only dangers lurking in the woods…
The sisters will need each other if they are to become the women they need to be – and save their people from the dark forces that draw closer
Not only does this story sound fantastic, but that cover!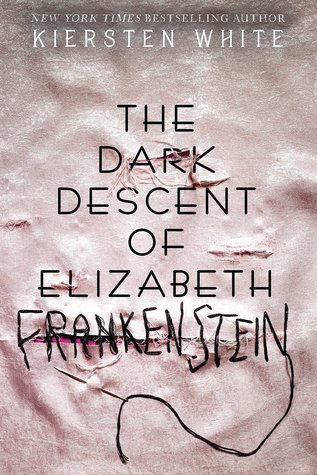 The Dark Descent of Elizabeth Frankenstein by Kiersten White

Links: Goodreads | Amazon* | Book Depository*
Synopsis: Elizabeth Lavenza hasn't had a proper meal in weeks. Her thin arms are covered with bruises from her "caregiver," and she is on the verge of being thrown into the streets . . . until she is brought to the home of Victor Frankenstein, an unsmiling, solitary boy who has everything–except a friend.
Victor is her escape from misery. Elizabeth does everything she can to make herself indispensable–and it works. She is taken in by the Frankenstein family and rewarded with a warm bed, delicious food, and dresses of the finest silk. Soon she and Victor are inseparable.
But her new life comes at a price. As the years pass, Elizabeth's survival depends on managing Victor's dangerous temper and entertaining his every whim, no matter how depraved. Behind her blue eyes and sweet smile lies the calculating heart of a girl determined to stay alive no matter the cost . . . as the world she knows is consumed by darkness.
This sounds so dark. And right up my alley!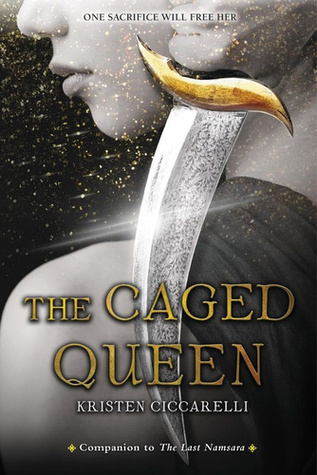 The Caged Queen by Kristen Ciccarelli

Links: Goodreads | Amazon* | Book Depository*
Synopsis:
An Absolutely Remarkable Thing by Hank Green

Links: Goodreads | Amazon* | Book Depository*
Synopsis: Once there were two sisters born with a bond so strong that it forged them together forever. When they were angry, mirrors shattered, and when they were happy, flowers bloomed. It was a magic they cherished—until the day a terrible accident took Essie's life and trapped her soul in this world.
Dax—the heir to Firgaard's throne—was responsible for the accident. Roa swore to hate him forever. But eight years later he returned, begging for her help. He was determined to dethrone his cruel father, under whose oppressive reign Roa's people had suffered. Roa made him a deal: she'd give him the army he needed if he made her queen.
Together with Dax and his sister, Asha, Roa and her people waged war and deposed a tyrant. But now Asha is on the run, hiding from the price on her head. And Roa is an outlander queen, far from home and married to her enemy. Worst of all: Dax's promises go unfulfilled. Roa's people continue to suffer.
Then a chance to right every wrong arises—an opportunity for Roa to rid herself of this enemy king and rescue her beloved sister. During the Reliquishing, when the spirits of the dead are said to return, Roa can reclaim her sister for good.
All she has to do is kill the king.
This is the companion novel to The Last Namsara, of which I own two copies, but of course haven't got around to reading yet. It has dragons though, so I will make the time!
Which of these will you be picking up first?
-Elizabeth
Bookish Connoisseur
Connect with me:
Instagram | Goodreads | Twitter
Please note: All links marked with (*) are affiliate links. Meaning, if you click and make a purchase I will get a small percentage of the purchase price from the retailer. Purchases like these help support my blog!