It's a new week, and that means new books!
I think this is the biggest list I've posted yet, but there were just so many books out this week that I wanted to talk about! So without further ado…
The Rule of One by Ashley & Leslie Saunders

Links: Goodreads | Amazon* | Book Depository*
Synopsis: In their world, telling the truth has become the most dangerous crime of all.
In the near-future United States, a one-child policy is ruthlessly enforced. Everyone follows the Rule of One. But Ava Goodwin, daughter of the head of the Texas Family Planning Division, has a secret—one her mother died to keep and her father has helped to hide for her entire life.
She has an identical twin sister, Mira.
For eighteen years Ava and Mira have lived as one, trading places day after day, maintaining an interchangeable existence down to the most telling detail. But when their charade is exposed, their worst nightmare begins. Now they must leave behind the father they love and fight for their lives.
Branded as traitors, hunted as fugitives, and pushed to discover just how far they'll go in order to stay alive, Ava and Mira rush headlong into a terrifying unknown.
I reviewed this book for The Nerd Daily, so watch for that soon!
(Don't) Call Me Crazy edited by Kelley Jensen

Links: Goodreads | Amazon* | Book Depository*
Synopsis: Who's Crazy?
What does it mean to be crazy? Is using the word crazy offensive? What happens when such a label gets attached to your everyday experiences?
In order to understand mental health, we need to talk openly about it. Because there's no single definition of crazy, there's no single experience that embodies it, and the word itself means different things—wild? extreme? disturbed? passionate?—to different people.
(Don't) Call Me Crazy is a conversation starter and guide to better understanding how our mental health affects us every day. Thirty-three writers, athletes, and artists offer essays, lists, comics, and illustrations that explore their personal experiences with mental illness, how we do and do not talk about mental health, help for better understanding how every person's brain is wired differently, and what, exactly, might make someone crazy.
If you've ever struggled with your mental health, or know someone who has, come on in, turn the pages, and let's get talking.
Another anthology that sounds fantastic and super important.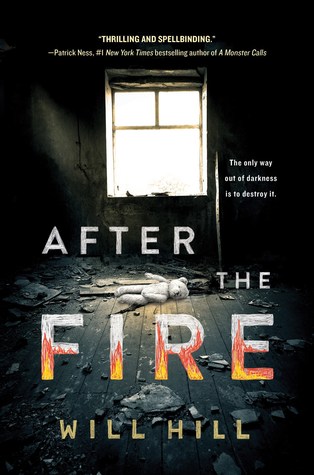 After The Fire by Will Hill

Links: Goodreads | Amazon* | Book Depository*
Synopsis: The things I've seen are burned into me, like scars that refuse to fade.
Before, she lived inside the fence. Before, she was never allowed to leave the property, never allowed to talk to Outsiders, never allowed to speak her mind. Because Father John controlled everything—and Father John liked rules. Disobeying Father John came with terrible consequences.
But there are lies behind Father John's words. Outside, there are different truths.
Then came the fire.
This book sounds very intense and intriguing.
Broken Things by Lauren Oliver

Links: Goodreads | Amazon* | Book Depository*
Synopsis: It's been five years since Summer Marks was brutally murdered in the woods.
Everyone thinks Mia and Brynn killed their best friend. That driven by their obsession with a novel called The Way into Lovelorn the three girls had imagined themselves into the magical world where their fantasies became twisted, even deadly.
The only thing is: they didn't do it.
On the anniversary of Summer's death, a seemingly insignificant discovery resurrects the mystery and pulls Mia and Brynn back together once again. But as the lines begin to blur between past and present and fiction and reality, the girls must confront what really happened in the woods all those years ago—no matter how monstrous.
Another that sounds super intense, but also so good!
Damsel by Elana K. Arnold

Links: Goodreads | Amazon* | Book Depository*
Synopsis: The rite has existed for as long as anyone can remember: when the prince-who-will-be-king comes of age, he must venture out into the gray lands, slay a fierce dragon, and rescue a damsel to be his bride. This is the way things have always been.
When Ama wakes in the arms of Prince Emory, however, she knows none of this. She has no memory of what came before she was captured by the dragon, or what horrors she has faced in its lair. She knows only this handsome prince, the story he tells of her rescue, and her destiny to sit on the throne beside him. Ama comes with Emory back to the kingdom of Harding, hailed as the new princess, welcomed to the court.
However, as soon as her first night falls, she begins to realize that not all is as it seems, that there is more to the legends of the dragons and the damsels than anyone knows–and that the greatest threats to her life may not be behind her, but here, in front of her.
I love a good fantasy, and this one sounds interesting and..dark.
Exit Strategy by Martha Wells
Links: Goodreads | Amazon* | Book Depository*
Synopsis: 
The fourth and final part of the Murderbot Diaries series that began with All Systems Red.
Murderbot wasn't programmed to care. So, its decision to help the only human who ever showed it respect must be a system glitch, right?
Having traveled the width of the galaxy to unearth details of its own murderous transgressions, as well as those of the GrayCris Corporation, Murderbot is heading home to help Dr. Mensah—its former owner (protector? friend?)—submit evidence that could prevent GrayCris from destroying more colonists in its never-ending quest for profit.
But who's going to believe a SecUnit gone rogue?
And what will become of it when it's caught?
I've heard so many great things about this novella series and I'm dying to get my hands on them. Especially now that all 4 books in the series are published!
Grim Lovelies by Megan Shepherd

Links: Goodreads | Amazon* | Book Depository*
Synopsis: Seventeen-year-old Anouk envies the human world, where people known as Pretties lavish themselves in fast cars, high fashion, and have the freedom to fall in love. But Anouk can never have those things, because she is not really human. Enchanted from animal to human girl and forbidden to venture beyond her familiar Parisian prison, Anouk is a Beastie: destined for a life surrounded by dust bunnies and cinders serving Mada Vittora, the evil witch who spelled her into existence. That is, until one day she finds her mistress murdered in a pool of blood—and Anouk is accused of the crime.
Now, the world she always dreamed of is rife with danger. Pursued through Paris by the underground magical society known as the Haute, Anouk and her fellow Beasties only have three days to find the real killer before the spell keeping them human fades away. If they fail, they will lose the only lives they've ever known…but if they succeed, they could be more powerful than anyone ever bargained for.
Did I mention I adore YA fantasy?
Muse of Nightmares by Laini Taylor

Links: Goodreads | Amazon* | Book Depository*
Synopsis: In the wake of tragedy, neither Lazlo nor Sarai are who they were before. One a god, the other a ghost, they struggle to grasp the new boundaries of their selves as dark-minded Minya holds them hostage, intent on vengeance against Weep.
Lazlo faces an unthinkable choice—save the woman he loves, or everyone else?—while Sarai feels more helpless than ever. But is she? Sometimes, only the direst need can teach us our own depths, and Sarai, the muse of nightmares, has not yet discovered what she's capable of.
As humans and godspawn reel in the aftermath of the citadel's near fall, a new foe shatters their fragile hopes, and the mysteries of the Mesarthim are resurrected: Where did the gods come from, and why? What was done with thousands of children born in the citadel nursery? And most important of all, as forgotten doors are opened and new worlds revealed: Must heroes always slay monsters, or is it possible to save them instead?

I'm dying to read this book! Laini Taylor is easily one of my favorite authors and I loved Strange the Dreamer so much I can't wait to see how this story ends.
On a Sunbeam by Tillie Walden

Links: Goodreads | Amazon* | Book Depository*
Synopsis: An epic graphic novel about a girl who travels to the ends of the universe to find a long lost love, from acclaimed author Tillie Walden.
Throughout the deepest reaches of space, a crew rebuilds beautiful and broken-down structures, painstakingly putting the past together. As Mia, the newest member, gets to know her team, the story flashes back to her pivotal year in boarding school, where she fell in love with a mysterious new student. When Mia grows close to her new friends, she reveals her true purpose for joining their ship—to track down her long-lost love.
An inventive world, a breathtaking love story, and stunning art come together in this new work by award-winning artist Tillie Walden.
I read Tillie Walden's Spinning last year and loved it so much. I cannot wait to read her newest story!
Sawkill Girls by Claire Legrand

Links: Goodreads | Amazon* | Book Depository*
Synopsis: Beware of the woods and the dark, dank deep.
He'll follow you home, and he won't let you sleep.
Who are the Sawkill Girls?
Marion: the new girl. Awkward and plain, steady and dependable. Weighed down by tragedy and hungry for love she's sure she'll never find.
Zoey: the pariah. Luckless and lonely, hurting but hiding it. Aching with grief and dreaming of vanished girls. Maybe she's broken—or maybe everyone else is.
Val: the queen bee. Gorgeous and privileged, ruthless and regal. Words like silk and eyes like knives, a heart made of secrets and a mouth full of lies.
Their stories come together on the island of Sawkill Rock, where gleaming horses graze in rolling pastures and cold waves crash against black cliffs. Where kids whisper the legend of an insidious monster at parties and around campfires.
Where girls have been disappearing for decades, stolen away by a ravenous evil no one has dared to fight… until now.
Doesn't this sound like the perfect book for October spooky reading??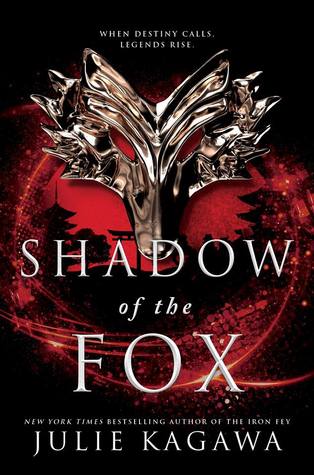 Shadow of the Fox by Julie Kagawa

Links: Goodreads | Amazon* | Book Depository*
Synopsis: One thousand years ago, the great Kami Dragon was summoned to grant a single terrible wish—and the land of Iwagoto was plunged into an age of darkness and chaos.
Now, for whoever holds the Scroll of a Thousand Prayers, a new wish will be granted. A new age is about to dawn.
Raised by monks in the isolated Silent Winds temple, Yumeko has trained all her life to hide her yokai nature. Half kitsune, half human, her skill with illusion is matched only by her penchant for mischief. Until the day her home is burned to the ground, her adoptive family is brutally slain and she is forced to flee for her life with the temple's greatest treasure—one part of the ancient scroll.
There are many who would claim the dragon's wish for their own. Kage Tatsumi, a mysterious samurai of the Shadow Clan, is one such hunter, under orders to retrieve the scroll…at any cost. Fate brings Kage and Yumeko together. With a promise to lead him to the scroll, an uneasy alliance is formed, offering Yumeko her best hope for survival. But he seeks what she has hidden away, and her deception could ultimately tear them both apart.
With an army of demons at her heels and the unlikeliest of allies at her side, Yumeko's secrets are more than a matter of life or death. They are the key to the fate of the world itself.
More YA fantasy! Yay!
The Boneless Mercies by April Genevieve Tucholke

Links: Goodreads | Amazon* | Book Depository*
Synopsis: A dark standalone YA fantasy about a band of mercenary girls in search of female glory.
Frey, Ovie, Juniper, and Runa are the Boneless Mercies—girls hired to kill quickly, quietly, and mercifully. But Frey is weary of the death trade and, having been raised on the heroic sagas of her people, dreams of a bigger life.
When she hears of an unstoppable monster ravaging a nearby town, Frey decides this is the Mercies' one chance out. The fame and fortune of bringing down such a beast would ensure a new future for all the Mercies. In fact, her actions may change the story arc of women everywhere.
I was lucky enough to snag an ARC of this one and I hope to read it super soon! It sounds so good!
The Chaos of Now by Erin Jade Lange

Links: Goodreads | Amazon* | Book Depository*
Synopsis: Is it real if it happens online?
Life at Eli's high school hasn't been the same since his classmate Jordan committed suicide after being tirelessly bullied. Schools now have access to students' online activities and students have less privacy than ever. Eli just wants to graduate—so he can get out of town, get away from his father's embarrassingly young fiancée, and get himself a prestigious coding job. But Eli's hacking skills get him roped into a vigilante website that—while subverting the school's cybersnoops— seeks justice for Jordan and everyone else being bullied. Suddenly Eli finds himself in way over his head as his keystrokes start to have devastating consequences in the real world . . . This timely story from the author of Butter is a thrilling tale about the power of the internet, the young people who wield it, and the fine lines between bully and victim, justice and vengeance.
This one sounds like a great read!
The Lady's Guide to Petticoats and Piracy by Mackenzi Lee
Links: Goodreads | Amazon* | Book Depository*
Synopsis: Felicity Montague is through with pretending she prefers society parties to books about bone setting—or that she's not smarter than most people she knows, or that she cares about anything more than her dream of becoming a doctor.
A year after an accidentally whirlwind tour of Europe, which she spent evading highwaymen and pirates with her brother Monty, Felicity has returned to England with two goals in mind—avoid the marriage proposal of Callum Doyle, a lovestruck suitor from Edinburgh; and enroll in medical school. However, her intellect and passion will never be enough in the eyes of the administrators, who see men as the sole guardians of science.
But then a small window of hope opens. Doctor Alexander Platt, an eccentric physician that Felicity idolizes, is looking for research assistants, and Felicity is sure that someone as forward thinking as her hero would be willing to take her on. However, Platt is in Germany, preparing to wed Felicity's estranged childhood friend Johanna. Not only is Felicity reluctant to opening old wounds, she also has no money to make the trip.
Luckily, a mysterious young woman is willing to pay Felicity's way, so long as she's allowed to travel with Felicity disguised as her maid. In spite of her suspicions, Felicity agrees, but once the girl's true motives are revealed, Felicity becomes part of a perilous quest that will lead her from the German countryside to the promenades of Zurich to secrets lurking beneath the Atlantic.
I haven't read the first book in this series, The Gentleman's Guide to Vice and Virtue yet, but here's more incentive!
The Oyster Thief by Sonia Faruqi
Links: Goodreads | Amazon* | Book Depository*
Synopsis: Coralline is a shy mermaid in the Atlantic Ocean whose idyllic life is ruined by an oil spill that gravely sickens her little brother. Desperate to save him, she embarks on a quest to find a legendary elixir.
She encounters a human man, Izar, who's left his life on land behind to find a cure for his dying father. He doesn't tell her that his family runs Ocean Dominion, an enemy corporation whose ships plunder her waters daily.
Fate pushes the two of them together, even though their worlds are at odds. Accompanied by a colorful troupe of animals, Coralline and Izar travel through coral reefs and seabed cities, trailed by murderous adversaries and warring ships. Their secrets threaten to tear them apart, while a growing attraction adds to the danger. Ultimately, each of them faces an impossible choice. Should Coralline remain with the world she knows, including her fiancé, or should she relinquish everything for a stranger who might betray her? And Izar holds a secret of his own—one that might cause him to lose Coralline forever.
Magnificent and moving, set against a breathtaking ocean landscape, The Oyster Thief is an enthralling fantasy destined to become a classic.
I just got this one in the mail and not only do I love the cover, but I love a good mermaid story, so I can't wait to read this one!
The Greatest Love Story Ever Told by Megan Mullally & Nick Offerman

Links: Goodreads | Amazon* | Book Depository*
Synopsis: At last, the full story behind Megan Mullally and Nick Offerman's epic romance, including stories, portraits, and the occasional puzzle, all telling the smoldering tale that has fascinated Hollywood for over a decade.
The year: 2000. The setting: Los Angeles. A gorgeous virtuoso of an actress had agreed to star in a random play, and a basement-dwelling scenic carpenter had said he would assay a supporting role in the selfsame pageant. At the first rehearsal, she surveyed her fellow cast members, as one does, determining if any of the men might qualify to provide her with a satisfying fling. Her gaze fell upon the carpenter, and like a bolt of lightning, the thought struck her: No dice. Moving on.
Yet, unbeknownst to our protagonists, Cupid had merely set down his bow and picked up a rocket launcher. Then fired a love rocket (not a euphemism). The players were Megan Mullally and Nick Offerman, and the resulting romance, once it ignited, was . . . epic. Beyond epic. It resulted in a coupling that has endured to this day; a sizzling, perpetual tryst that has captivated the world with its kindness, athleticism, astonishingly low-brow humor, and true (fire emoji) passion.
How did they do it? They came from completely different families, endured a significant age difference, and were separated by the gulf of several social strata. Megan loved books and art history; Nick loved hammers. But much more than these seemingly unsurpassable obstacles were the values they held in common: respect, decency, the ability to mention genitalia in almost any context, and an abiding obsession with the songs of Tom Waits.
Eighteen years later, they're still very much in love, and have finally decided to reveal the philosophical mountains they have conquered, the lessons they've learned, and the myriad jigsaw puzzles they've completed, in a book. Featuring anecdotes, hijinks, interviews, photos, and a veritable grab bag of tomfoolery, this is not only the intoxicating book that Mullally's and Offerman's fans have been waiting for, it might just hold the solution to the greatest threat facing our modern world: the single life.
Ok, I love both Megan Mullally & Nick Offerman, so I can't wait to read more about their lives and their love! They're both just so funny I can imagine this book being non-stop fun!
That's my list for today! What books are you looking forward to?
-Elizabeth
Bookish Connoisseur
Connect with me:
Instagram | Goodreads | Twitter
Please note: All links marked with (*) are affiliate links. Meaning, if you click and make a purchase I will get a small percentage of the purchase price from the retailer. Purchases like these help support my blog!