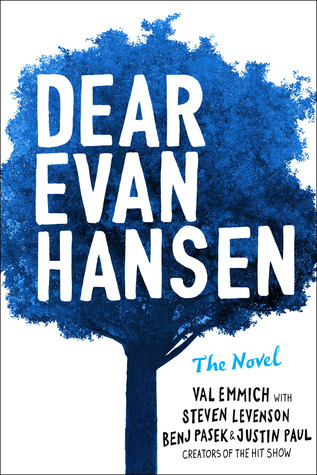 Title: Dear Evan Hansen
Author: Val Emmich, Steven Levenson, Benj Pasek, & Justin Paul
Genre: YA Contemporary
Publisher: Poppy
Publication Date: October 9, 2018
Links: Goodreads | Amazon* | Book Depository*
Rating: 5 Wonderful Stars!
Source: Physical ARC from TheNovl
I have to start my review with a confession: before two months ago I had never heard of the Broadway show Dear Evan Hansen. However, as soon as I finished this book I ran straight to iTunes and listened to the soundtrack with the original cast about a hundred times in a row. And obviously I need to see it live now!
Today is going to be an amazing day and here is why: I have now read Dear Evan Hansen and am so thankful. Truly, this is one of those stories that will stick with you long after you close the book. Evan is a high schooler just trying to get through most days. He is a senior, mostly unsure of what he wants to do with his life and though his mother is trying as hard as she can, she isn't around much. He sees a therapist that suggests he write letters to himself beginning with "Today is going to be an amazing day and here is why…". But one day while printing his letter off in the computer lab it falls into the hands of a boy named Connor Murphy. What Evan doesn't realize is this letter will completely change his life.
I don't want to say too much because I really feel this is a story you need to experience for yourself without knowing everything first. It is heartbreaking and touching. It will make you frustrated and bring you to tears. Give this one a read if YA contemporary is your thing and then go listen to the soundtrack so we can sing along together!
"That's what happens when people leave, I think. When they're gone, you don't have to be reminded of all the bad things. They can just stay the way you want them forever. Perfect."
-Val Emmich, Steven Levenson, Benj Pasek, & Justin Paul, Dear Evan Hansen
*Please note, this quote is from an ARC copy, so it may change in the final copy.
Synopsis: From the show's creators comes the groundbreaking novel inspired by the Broadway smash hit Dear Evan Hansen.
Dear Evan Hansen,
Today's going to be an amazing day and here's why…
When a letter that was never meant to be seen by anyone draws high school senior Evan Hansen into a family's grief over the loss of their son, he is given the chance of a lifetime: to belong. He just has to stick to a lie he never meant to tell, that the notoriously troubled Connor Murphy was his secret best friend.
Suddenly, Evan isn't invisible anymore–even to the girl of his dreams. And Connor Murphy's parents, with their beautiful home on the other side of town, have taken him in like he was their own, desperate to know more about their enigmatic son from his closest friend. As Evan gets pulled deeper into their swirl of anger, regret, and confusion, he knows that what he's doing can't be right, but if he's helping people, how wrong can it be?
No longer tangled in his once-incapacitating anxiety, this new Evan has a purpose. And a website. He's confident. He's a viral phenomenon. Every day is amazing. Until everything is in danger of unraveling and he comes face to face with his greatest obstacle: himself.
A simple lie leads to complicated truths in this big-hearted coming-of-age story of grief, authenticity and the struggle to belong in an age of instant connectivity and profound isolation.
Big thank you to TheNovl for sending along an ARC of this gorgeous book for me to review!
-Elizabeth
Bookish Connoisseur
Connect with me:
Instagram | Goodreads | Twitter
Please note: All links marked with (*) are affiliate links. Meaning, if you click and make a purchase I will get a small percentage of the purchase price from the retailer. Purchases like these help support my blog!