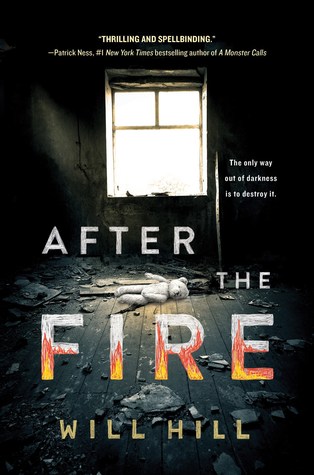 Title: After the Fire
Author: Will Hill
Genre: YA Contemporary
Publisher: Sourcebooks Fire
Publication Date: October 2, 2018
Links: Goodreads | Amazon* | Book Depository*
Rating: 5 Stars
Source: Digital ARC via NetGalley
This story was so moving, compelling, and just plain heartbreaking. Moonbeam is a seventeen year old girl that has escaped from a life within a hyper religious compound. The book follows her as she tells her story to her new psychiatrist and tries to deal with life after the fire. Moonbeam is an incredibly intelligent and sarcastic character that was easy to fall in love with. She is just so strong despite everything she's been through and I loved how protective she is of the other children that escaped the compound with her. She is also very guarded and reveals information about her life slowly and methodically, saving a few secrets that she vows never to tell anyone.
I literally could not put this book down and flew through it. It truly is just incredibly compelling. The entire time I was reminded of the siege of the Branch of Davidian in Waco, Texas. Upon completing the story, I saw that the author was inspired by this story and wanted to explore it from the victims point of view. I thought it was very respectfully and well done and would absolutely recommend this book!
"I don't need to write down the things that happened to me, the things I've seen. They're burned into me, like scars that refuse to fade."
-Will Hill, After the Fire
*Please note, this quote is from an ARC copy, so it may change in the final copy.
Synopsis: The things I've seen are burned into me, like scars that refuse to fade.
Before, she lived inside the fence. Before, she was never allowed to leave the property, never allowed to talk to Outsiders, never allowed to speak her mind. Because Father John controlled everything—and Father John liked rules. Disobeying Father John came with terrible consequences.
But there are lies behind Father John's words. Outside, there are different truths.
Then came the fire.
-Elizabeth
Bookish Connoisseur
Connect with me:
Instagram | Goodreads | Twitter
Please note: All links marked with (*) are affiliate links. Meaning, if you click and make a purchase I will get a small percentage of the purchase price from the retailer. Purchases like these help support my blog!