It's a new week, and that means new books! And what a week of new books it is! There are SO MANY amazing books out this week I don't know how I'll find the time to read them all.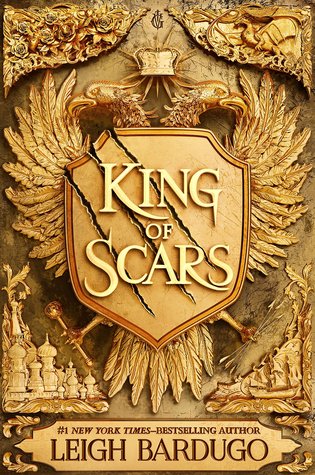 King of Scars by Leigh Bardugo
Links: Goodreads | Amazon* | Book Depository*
Synopsis: Nikolai Lantsov has always had a gift for the impossible. No one knows what he endured in his country's bloody civil war—and he intends to keep it that way. Now, as enemies gather at his weakened borders, the young king must find a way to refill Ravka's coffers, forge new alliances, and stop a rising threat to the once-great Grisha Army.
Yet with every day a dark magic within him grows stronger, threatening to destroy all he has built. With the help of a young monk and a legendary Grisha Squaller, Nikolai will journey to the places in Ravka where the deepest magic survives to vanquish the terrible legacy inside him. He will risk everything to save his country and himself. But some secrets aren't meant to stay buried—and some wounds aren't meant to heal.
The Severed Moon: A Year Long Journal of Magic by Leigh Bardugo
Links: Goodreads | Amazon* | Book Depository*
Synopsis: A bewitching journal filled with prompts and quotations from the imagination of worldwide #1 bestselling author Leigh Bardugo.
"We learn to wring magic from the ordinary."
Find the magic in your life with this year-long journal. On every page you will find an introspective question to respond to, or an evocative quotation from the novels of the Grishaverse—a magical world created by bestselling author Leigh Bardugo. Open your windows to the moon, write down what each prompt or quote conjures in your mind, and let this journal guide you through 365 days of magical self reflection.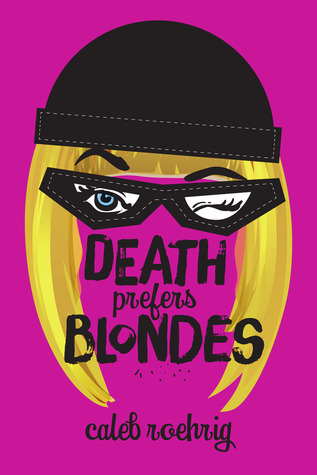 Death Prefers Blondes by Caleb Roehrig
Links: Goodreads | Amazon* | Book Depository*
Synopsis: Teenage socialite Margo Manning leads a dangerous double life. By day, she dodges the paparazzi while soaking up California sunshine. By night, however, she dodges security cameras and armed guards, pulling off high-stakes cat burglaries with a team of flamboyant young men. In and out of disguise, she's in all the headlines.
But then Margo's personal life takes a sudden, dark turn, and a job to end all jobs lands her crew in deadly peril. Overnight, everything she's ever counted on is put at risk. Backs against the wall, the resourceful thieves must draw on their special skills to survive. But can one rebel heiress and four kickboxing drag queens withstand the slings and arrows of truly outrageous fortune? Or will a mounting sea of troubles end them — for good?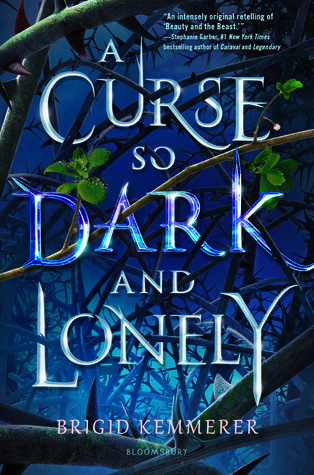 A Curse So Dark and Lonely by Brigid Kemmerer
Links: Goodreads | Amazon* | Book Depository*
Synopsis: Fall in love, break the curse. 
It once seemed so easy to Prince Rhen, the heir to Emberfall. Cursed by a powerful enchantress to repeat the autumn of his eighteenth year over and over, he knew he could be saved if a girl fell for him. But that was before he learned that at the end of each autumn, he would turn into a vicious beast hell-bent on destruction. That was before he destroyed his castle, his family, and every last shred of hope.
Nothing has ever been easy for Harper Lacy. With her father long gone, her mother dying, and her brother barely holding their family together while constantly underestimating her because of her cerebral palsy, she learned to be tough enough to survive. But when she tries to save someone else on the streets of Washington, DC, she's instead somehow sucked into Rhen's cursed world.
Break the curse, save the kingdom. 
A prince? A monster? A curse? Harper doesn't know where she is or what to believe. But as she spends time with Rhen in this enchanted land, she begins to understand what's at stake. And as Rhen realizes Harper is not just another girl to charm, his hope comes flooding back. But powerful forces are standing against Emberfall . . . and it will take more than a broken curse to save Harper, Rhen, and his people from utter ruin.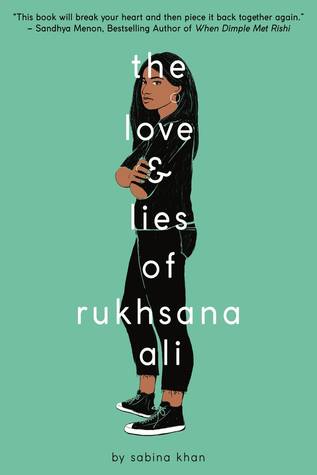 The Love & Lies of Rukhsana Ali by Sabina Khan
Links: Goodreads | Amazon* | Book Depository*
Synopsis: Seventeen-year-old Rukhsana Ali tries her hardest to live up to her conservative Muslim parents' expectations, but lately she's finding that harder and harder to do. She rolls her eyes instead of screaming when they blatantly favor her brother and she dresses conservatively at home, saving her crop tops and makeup for parties her parents don't know about. Luckily, only a few more months stand between her carefully monitored life in Seattle and her new life at Caltech, where she can pursue her dream of becoming an engineer.
But when her parents catch her kissing her girlfriend Ariana, all of Rukhsana's plans fall apart. Her parents are devastated; being gay may as well be a death sentence in the Bengali community. They immediately whisk Rukhsana off to Bangladesh, where she is thrown headfirst into a world of arranged marriages and tradition. Only through reading her grandmother's old diary is Rukhsana able to gain some much needed perspective.
Rukhsana realizes she must find the courage to fight for her love, but can she do so without losing everyone and everything in her life?
The Dead Queens Club by Hannah Capin
Links: Goodreads | Amazon* | Book Depository*
Synopsis: Mean Girls meets The Tudors in Hannah Capin's The Dead Queens Club, a clever contemporary YA retelling of Henry VIII and his wives (or, in this case, his high school girlfriends). Told from the perspective of Annie Marck ("Cleves"), a 17-year-old aspiring journalist from Cleveland who meets Henry at summer camp, The Dead Queens Club is a fun, snarky read that provides great historical detail in an accessible way for teens while giving the infamous tale of Henry VIII its own unique spin.
What do a future ambassador, an overly ambitious Francophile, a hospital-volunteering Girl Scout, the new girl from Cleveland, the junior cheer captain, and the vice president of the debate club have in common? It sounds like the ridiculously long lead-up to an astoundingly absurd punchline, right? Except it's not. Well, unless my life is the joke, which is kind of starting to look like a possibility given how beyond soap opera it's been since I moved to Lancaster. But anyway, here's your answer: we've all had the questionable privilege of going out with Lancaster High School's de facto king. Otherwise known as my best friend. Otherwise known as the reason I've already helped steal a car, a jet ski, and one hundred spray-painted water bottles when it's not even Christmas break yet. Otherwise known as Henry. Jersey number 8.
Meet Cleves. Girlfriend number four and the narrator of The Dead Queens Club, a young adult retelling of Henry VIII and his six wives. Cleves is the only girlfriend to come out of her relationship with Henry unscathed—but most breakups are messy, right? And sometimes tragic accidents happen…twice…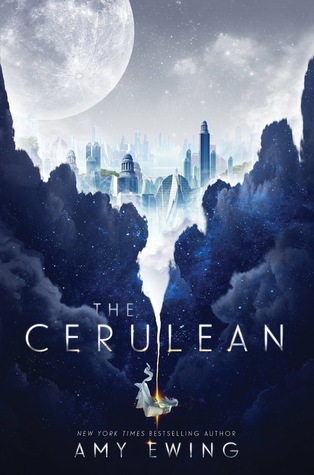 The Cerulean by Amy Ewing
Links: Goodreads | Amazon* | Book Depository*
Synopsis: Sera has always felt as if she didn't belong among her people, the Cerulean. She is curious about everything and can't stop questioning her three mothers, her best friend, Leela, and even the High Priestess. Sera has longed for the day when the tether that connects her City Above the Sky to the earthly world below finally severs and sends the Cerulean to a new planet.
But when Sera is chosen as the sacrifice to break the tether, she doesn't know what to feel. To save her City, Sera must throw herself from its edge and end her own life. But something goes wrong and she survives the fall, landing in a place called Kaolin. She has heard tales about the humans there, and soon learns that the dangers her mothers warned her of are real. If Sera has any hope to return to her City, she'll have to find the magic within herself to survive.
Once A Liar by A.F. Brady
Links: Goodreads | Amazon* | Book Depository*
Synopsis: Peter Caine, a cutthroat Manhattan defense attorney, is extremely adept at his job. On the surface, he is charming and handsome, but inside he is cold and heartless. A sociopath practically incapable of human emotions, he has no remorse when he fights to acquit murderers, pedophiles and rapists.
When Charlie Doyle, the daughter of the Manhattan DA—and Peter's former lover—is murdered, Peter's world is quickly sent into a tailspin as the DA, a professional enemy of Peter's, embarks on a witch hunt to avenge his daughter's death, stopping at nothing to ensure Peter is found guilty of the murder.
Peter sets out to prove his innocence, and as he pieces together his defense, he finds that it's those closest to us who are capable of the greatest harm.
We Cast A Shadow by Maurice Carlos Ruffin 
Links: Goodreads | Amazon* | Book Depository*
Synopsis: How far would you go to protect your child?
Our narrator faces an impossible decision. Like any father, he just wants the best for his son Nigel, a biracial boy whose black birthmark is growing larger by the day. In this near-future society plagued by resurgent racism, segregation, and expanding private prisons, our narrator knows Nigel might not survive. Having watched the world take away his own father, he is determined to stop history from repeating itself.
There is one potential solution: a new experimental medical procedure that promises to save lives by turning people white. But in order to afford Nigel's whiteness operation, our narrator must make partner as one of the few Black associates at his law firm, jumping through a series of increasingly surreal hoops–from diversity committees to plantation tours to equality activist groups–in an urgent quest to protect his son.
This electrifying, suspenseful novel is at once a razor-sharp satire of surviving racism in America and a profoundly moving family story. Writing in the tradition of Ralph Ellison and Franz Kafka, Maurice Carlos Ruffin fearlessly shines a light on the violence we inherit, and on the desperate things we do for the ones we love.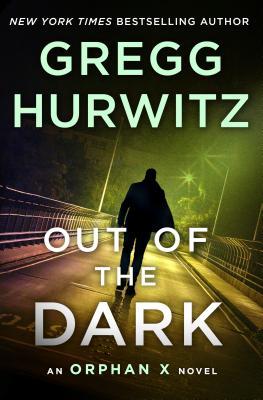 Out of the Dark by Gregg Hurwitz 
Links: Goodreads | Amazon* | Book Depository*
Synopsis: When darkness closes in―he's your last, best hope. Evan Smoak returns in Gregg Hurwitz's #1 international bestselling Orphan X series.
Taken from a group home at age twelve, Evan Smoak was raised and trained as part of the Orphan Program, an off-the-books operation designed to create deniable intelligence assets―i.e. assassins. Evan was Orphan X. He broke with the Program, using everything he learned to disappear and reinvent himself as the Nowhere Man, a man who helps the truly desperate when no one else can. But now Evan's past in the Orphan Program is reaching out to him.
Someone at the very highest level of government has been trying to eliminate every trace of the Orphan Program by killing all the remaining Orphans and their trainers. After Evan's mentor and the only father he ever knew was killed, he decided to strike back. His target is the man who started the program and who is now the most heavily guarded person in the world: the President of the United States.
But President Bennett knows that Orphan X is after him and, using weapons of his own, he's decided to counter-attack. Bennett activates the one man who has the skills and experience to track down and take out Orphan X―the first recruit of the program, Orphan A.
With Evan devoting all his skills, resources, and intelligence to find a way through the layers of security that surround the President, suddenly he also has to protect himself against the deadliest of opponents. It's Orphan vs. Orphan with the future of the country―even the world―on the line.
The Line Between by Tosca Lee 
Links: Goodreads | Amazon* | Book Depository*
Synopsis: When Wynter Roth is turned out of New Earth, a self-contained doomsday cult on the American prairie, she emerges into a world poised on the brink of madness as a mysterious outbreak of rapid early onset dementia spreads across the nation.
As Wynter struggles to start over in a world she's been taught to regard as evil, she finds herself face-to-face with the apocalypse she's feared all her life—until the night her sister shows up at her doorstep with a set of medical samples. That night, Wynter learns there's something far more sinister at play and that these samples are key to understanding the disease.
Now, as the power grid fails and the nation descends into chaos, Wynter must find a way to get the samples to a lab in Colorado. Uncertain who to trust, she takes up with former military man Chase Miller, who has his own reasons for wanting to get close to the samples in her possession, and to Wynter herself.
Filled with action, conspiracy, romance, and questions of whom—and what—to believe, THE LINE BETWEEN is a high-octane story of survival and love in a world on the brink of madness.
Come Find Me By Megan Miranda
Links: Goodreads | Amazon* | Book Depository*
Synopsis: After surviving an infamous family tragedy, sixteen-year-old Kennedy Jones has made it her mission to keep her brother's search through the cosmos alive. But then something disturbs the frequency on his radio telescope–a pattern registering where no signal should transmit.
In a neighboring county, seventeen-year-old Nolan Chandler is determined to find out what really happened to his brother, who disappeared the day after Nolan had an eerie premonition. There hasn't been a single lead for two years, until Nolan picks up an odd signal–a pattern coming from his brother's bedroom.
Drawn together by these strange signals–and their family tragedies–Kennedy and Nolan search for the origin of the mysterious frequency. But the more they uncover, the more they believe that everything's connected–even their pasts–as it appears the signal is meant for them alone, sharing a message that only they can understand. Is something coming for them? Or is the frequency warning them about something that's already here?
Raspberry Danish Murder by Joanne Fluke
Links: Goodreads | Amazon* | Book Depository*
Synopsis: Thanksgiving has a way of thawing the frostiest hearts in Lake Eden. But that won't be happening for newlywed Hannah Swensen Barton—not after her husband suddenly disappears . . .
Hannah has felt as bitter as November in Minnesota since Ross vanished without a trace and left their marriage in limbo. Still, she throws herself into a baking frenzy for the sake of pumpkin pie and Thanksgiving-themed treats while endless holiday orders pour into The Cookie Jar. Hannah even introduces a raspberry Danish pastry to the menu, and P.K., her husband's assistant at KCOW-TV, will be one of the first to sample it. But instead of taking a bite, P.K., who is driving Ross's car and using his desk at work, is murdered. Was someone plotting against P.K. all along or did Ross dodge a deadly dose of sweet revenge? Hannah will have to quickly sift through a cornucopia of clues and suspects to stop a killer from bringing another murder to the table . . .
---
I have to admit, King of Scars is one of my most highly anticipated reads this year. I'm dying to pick it up, but the review list calls and I'm booked up for the next few months.
Which new releases are you most excited about?
-Elizabeth
Bookish Connoisseur
Connect with me:
Instagram | Goodreads | Twitter | Podcast
Please note: All links marked with (*) are affiliate links. Meaning, if you click and make a purchase I will get a small percentage of the purchase price from the retailer. Purchases like these help support my blog!