We're kicking off the first Tuesday of February with some FANTASTIC new releases. I want to read all the books!
Vortex Visions by Elise Kova
Links: Goodreads | Amazon* | Book Depository*
Synopsis: A desperate princess, a magical traveler, and a watch that binds them together with the fate of a dying world.
Vi Solaris is the heir to an Empire she's barely seen. Her parents sacrificed a life with her to quell a rebellion and secure peace with a political alliance. Now, three years past when her wardship should've ended, Vi will do anything to be reunited with her family.
The Empire is faltering beneath the burden of political infighting and a deadly plague. Yet, Vi can't help but wonder if her inability to control her magic is the true reason her parents haven't brought her home. Suspicion becomes reality when she unleashes powers she's not supposed to have.
Powers that might well cost her the throne.
As Vi fights to get her magic under control, a mysterious stranger appears from across the world. He holds the keys to unlocking her full potential, but the knowledge has an unspeakable price — some truths, once seen, cannot be ignored.
All eyes are on her and Vi must make the hardest choice of her life: Play by the rules and claim her throne. Or, break them and save the world.

On The Come Up by Angie Thomas
Links: Goodreads | Amazon* | Book Depository*
Synopsis: Sixteen-year-old Bri wants to be one of the greatest rappers of all time. Or at least make it out of her neighborhood one day. As the daughter of an underground rap legend who died before he hit big, Bri's got big shoes to fill. But now that her mom has unexpectedly lost her job, food banks and shutoff notices are as much a part of Bri's life as beats and rhymes. With bills piling up and homelessness staring her family down, Bri no longer just wants to make it—she has to make it.
On the Come Up is Angie Thomas's homage to hip-hop, the art that sparked her passion for storytelling and continues to inspire her to this day. It is the story of fighting for your dreams, even as the odds are stacked against you; of the struggle to become who you are and not who everyone expects you to be; and of the desperate realities of poor and working-class black families.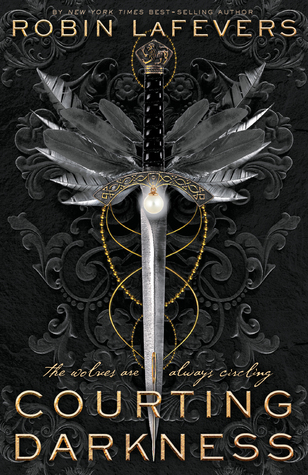 Courting Darkness by Robin LaFevers
Links: Goodreads | Amazon* | Book Depository*
Synopsis: Death wasn't the end, it was only the beginning…
Sybella has always been the darkest of Death's daughters, trained at the convent of Saint Mortain to serve as his justice. But she has a new mission now. In a desperate bid to keep her two youngest sisters safe from the family that nearly destroyed them all, she agrees to accompany the duchess to France, where they quickly find themselves surrounded by enemies. Their one ray of hope is Sybella's fellow novitiates, disguised and hidden deep in the French court years ago by the convent—provided Sybella can find them.
Genevieve has been undercover for so many years, she struggles to remember who she is or what she's supposed to be fighting for. Her only solace is a hidden prisoner who appears all but forgotten by his guards. When tragedy strikes, she has no choice but to take matters into her own hands—even if it means ignoring the long awaited orders from the convent.
As Sybella and Gen's paths draw ever closer, the fate of everything they hold sacred rests on a knife's edge. Will they find each other in time, or will their worlds collide, destroying everything they care about?
Black Leopard, Red Wolf by Marlon James
Links: Goodreads | Amazon* | Book Depository*
Synopsis: Tracker is known far and wide for his skills as a hunter: "He has a nose," people say. Engaged to track down a mysterious boy who disappeared three years earlier, Tracker breaks his own rule of always working alone when he finds himself part of a group that comes together to search for the boy. The band is a hodgepodge, full of unusual characters with secrets of their own, including a shape-shifting man-animal known as Leopard.
As Tracker follows the boy's scent—from one ancient city to another; into dense forests and across deep rivers—he and the band are set upon by creatures intent on destroying them. As he struggles to survive, Tracker starts to wonder: Who, really, is this boy? Why has he been missing for so long? Why do so many people want to keep Tracker from finding him? And perhaps the most important questions of all: Who is telling the truth, and who is lying?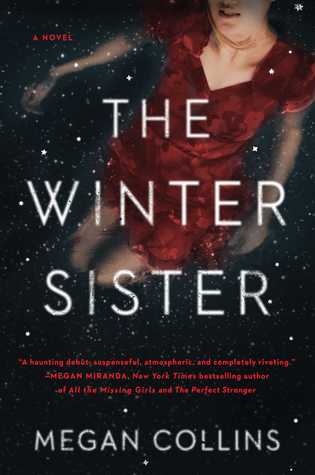 The Winter Sister by Megan Collins
Links: Goodreads | Amazon* | Book Depository*
Synopsis: Sixteen years ago, Sylvie's sister Persephone never came home. Out too late with the boyfriend she was forbidden to see, Persephone was missing for three days before her body was found—and years later, her murder remains unsolved.
In the present day, Sylvie returns home to care for her estranged mother, Annie, as she undergoes treatment for cancer. Prone to unexplained "Dark Days" even before Persephone's death, Annie's once-close bond with Sylvie dissolved in the weeks after their loss, making for an uncomfortable reunion all these years later. Worse, Persephone's former boyfriend, Ben, is now a nurse at the cancer center where Annie is being treated. Sylvie's always believed Ben was responsible for the murder—but she carries her own guilt about that night, guilt that traps her in the past while the world goes on around her.
As she navigates the complicated relationship with her mother, Sylvie begins to uncover the secrets that fill their house—and what really happened the night Persephone died. As it turns out, the truth really will set you free, once you can bear to look at it.
The Winter Sister is a mesmerizing portrayal of the complex bond between sisters, between mothers and daughters alike, and forces us to ask ourselves—how well do we really know the people we love most?
The Ruin of Kings by Jenn Lyons
Links: Goodreads | Amazon* | Book Depository*
Synopsis: There are the old stories. And then there's what actually happens.
Kihrin is a bastard orphan who grew up on storybook tales of long-lost princes and grand quests. When he is claimed against his will as the long-lost son of a treasonous prince, Kihrin finds that being a long-lost prince isn't what the storybooks promised.
Far from living the dream, Kihrin finds himself practically a prisoner, at the mercy of his new family's power plays and ambitions. He also discovers that the storybooks have lied about a lot of other things things, too: dragons, demons, gods, prophecies, true love, and how the hero always wins.
Then again, maybe he's not the hero, for Kihrin isn't destined to save the empire.
He's destined to destroy it . . .
Enchantée by Gita Trelease
Links: Goodreads | Amazon* | Book Depository*
Synopsis: Paris in 1789 is a labyrinth of twisted streets, filled with beggars, thieves, revolutionaries—and magicians…
When smallpox kills her parents, Camille Durbonne must find a way to provide for her frail, naive sister while managing her volatile brother. Relying on petty magic—la magie ordinaire—Camille painstakingly transforms scraps of metal into money to buy the food and medicine they need. But when the coins won't hold their shape and her brother disappears with the family's savings, Camille must pursue a richer, more dangerous mark: the glittering court of Louis XVI and Marie Antoinette.
With dark magic forbidden by her mother, Camille transforms herself into the 'Baroness de la Fontaine' and is swept up into life at the Palace of Versailles, where aristocrats both fear and hunger for la magie. There, she gambles at cards, desperate to have enough to keep herself and her sister safe. Yet the longer she stays at court, the more difficult it becomes to reconcile her resentment of the nobles with the enchantments of Versailles. And when she returns to Paris, Camille meets a handsome young balloonist—who dares her to hope that love and liberty may both be possible.
But la magie has its costs. And when Camille loses control of her secrets, the game she's playing turns deadly. Then revolution erupts, and she must choose—love or loyalty, democracy or aristocracy, freedom or magic—before Paris burns…
The Girls at 17 Swann Street by Yara Zgheib
Links: Goodreads | Amazon* | Book Depository*
Synopsis: The chocolate went first, then the cheese, the fries, the ice cream. The bread was more difficult, but if she could just lose a little more weight, perhaps she would make the soloists' list. Perhaps if she were lighter, danced better, tried harder, she would be good enough. Perhaps if she just ran for one more mile, lost just one more pound.
Anna Roux was a professional dancer who followed the man of her dreams from Paris to Missouri. There, alone with her biggest fears – imperfection, failure, loneliness – she spirals down anorexia and depression till she weighs a mere eighty-eight pounds. Forced to seek treatment, she is admitted as a patient at 17 Swann Street, a peach pink house where pale, fragile women with life-threatening eating disorders live. Women like Emm, the veteran; quiet Valerie; Julia, always hungry. Together, they must fight their diseases and face six meals a day.
Yara Zgheib's poetic and poignant debut novel is a haunting, intimate journey of a young woman's struggle to reclaim her life. Every bite causes anxiety. Every flavor induces guilt. And every step Anna takes toward recovery will require strength, endurance, and the support of the girls at 17 Swann Street.
I am dying to get my hands on so many of these books! But I'm starting with Courting Darkness as I was lucky enough to have gotten it from NetGalley! Which new releases are you most excited about?
-Elizabeth
Bookish Connoisseur
Connect with me:
Instagram | Goodreads | Twitter | Podcast
Please note: All links marked with (*) are affiliate links. Meaning, if you click and make a purchase I will get a small percentage of the purchase price from the retailer. Purchases like these help support my blog!