In the name of blogging more, I've decided to FINALLY bring back one of my favorite reoccurring posts: Five on Friday! I started this back when I first started my blog last year and I miss it. It's simple really, I love books and I love lists, so on Fridays I will put together a list of books that all relate in some way. In the past I've done boarding school books, island books, and books with dragons!
This week I want to talk about standalone fantasy books. These seem to be a rare commodity. Fantasy is one of those genres where there is so much world-building that ultimately having a series just makes sense. But sometimes authors manage to fit it all in one book and IT WORKS. Here are five standalone fantasy books that I've read recently and really enjoyed.
Title: The Queens of Innis Lear by Tessa Gratton
Links: Goodreads | Amazon* | Book Depository*
Synopsis: A kingdom at risk, a crown divided, a family drenched in blood.
The erratic decisions of a prophecy-obsessed king have drained Innis Lear of its wild magic, leaving behind a trail of barren crops and despondent subjects. Enemy nations circle the once-bountiful isle, sensing its growing vulnerability, hungry to control the ideal port for all trade routes.
The king's three daughters—battle-hungry Gaela, master manipulator Reagan, and restrained, starblessed Elia—know the realm's only chance of resurrection is to crown a new sovereign, proving a strong hand can resurrect magic and defend itself. But their father will not choose an heir until the longest night of the year, when prophecies align and a poison ritual can be enacted.
Refusing to leave their future in the hands of blind faith, the daughters of Innis Lear prepare for war—but regardless of who wins the crown, the shores of Innis will weep the blood of a house divided.
I read this book last year and while it IS a massive book, it's still only one book, so it works for this post. It's fantastic and amazing and holy cow I loved it. You can find my full review here.
Title: Dragon Pearl by Yoon Ha Lee
Links: Goodreads | Amazon* | Book Depository*
Synopsis: To keep the family safe, Min's mother insists that none of them use any fox-magic, such as Charm or shape-shifting. They must appear human at all times. Min feels hemmed in by the household rules and resents the endless chores, the cousins who crowd her, and the aunties who judge her. She would like nothing more than to escape Jinju, her neglected, dust-ridden, and impoverished planet. She's counting the days until she can follow her older brother, Jun, into the Space Forces and see more of the Thousand Worlds.
When word arrives that Jun is suspected of leaving his post to go in search of the Dragon Pearl, Min knows that something is wrong. Jun would never desert his battle cruiser, even for a mystical object rumored to have tremendous power. She decides to run away to find him and clear his name.
Min's quest will have her meeting gamblers, pirates, and vengeful ghosts. It will involve deception, lies, and sabotage. She will be forced to use more fox-magic than ever before, and to rely on all of her cleverness and bravery. The outcome may not be what she had hoped, but it has the potential to exceed her wildest dreams.
This book is technically middle grade, but as an adult reader, I adored it. It is a wonderful mix of fantasy and science fiction. The characters are all fantastic and the story keeps you turning the pages. While this is a standalone with no sequels as of yet, the ending does leave an opening for Yoon Ha Lee to expand and create an adventurous series.
Title: The Boneless Mercies by April Genevieve Tucholke
Links: Goodreads | Amazon* | Book Depository*
Synopsis: A dark standalone YA fantasy about a band of mercenary girls in search of female glory.
Frey, Ovie, Juniper, and Runa are the Boneless Mercies—girls hired to kill quickly, quietly, and mercifully. But Frey is weary of the death trade and, having been raised on the heroic sagas of her people, dreams of a bigger life.
When she hears of an unstoppable monster ravaging a nearby town, Frey decides this is the Mercies' one chance out. The fame and fortune of bringing down such a beast would ensure a new future for all the Mercies. In fact, her actions may change the story arc of women everywhere.
This beautifully dark book is a retelling of Beowulf. It is lovely and one that I would love to return to as it just holds that bit of nostalgia feeling for me in the same way that The Hobbit does.
Title: Salt by Hanna Moskowitz
Links: Goodreads | Amazon* | Book Depository*
Synopsis: Even though their parents disappeared during a hunt three months ago, seventeen-year-old Indi and his siblings, Beleza, Oscar, and Zulu, continue to roam the Mediterranean on their sailboat and hunt down monsters–but Indi yearns for a more settled life for his family, and he hopes that his parents' journal with its tantalizing hints of a treasure, will provide them all with the means of escape from their nomadic and dangerous life before it is too late.
This is a strange little book about sea monsters, family, and finding yourself. I could never quite put my finger on what it was that I loved so much about this book, but it just worked for me and is perfect as a standalone.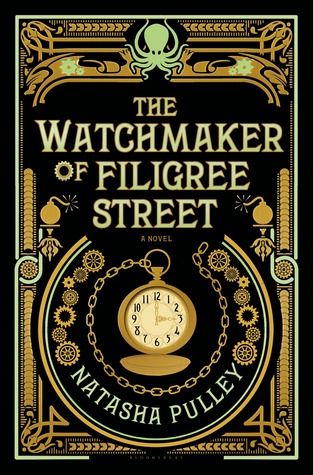 Title: The Watchmaker of Filigree Street by Natasha Pulley
Links: Goodreads | Amazon* | Book Depository*
Synopsis: 1883. Thaniel Steepleton returns home to his tiny London apartment to find a gold pocket watch on his pillow. Six months later, the mysterious timepiece saves his life, drawing him away from a blast that destroys Scotland Yard. At last, he goes in search of its maker, Keita Mori, a kind, lonely immigrant from Japan. Although Mori seems harmless, a chain of unexplainable events soon suggests he must be hiding something. When Grace Carrow, an Oxford physicist, unwittingly interferes, Thaniel is torn between opposing loyalties.
The Watchmaker of Filigree Street is a sweeping, atmospheric narrative that takes the reader on an unexpected journey through Victorian London, Japan as its civil war crumbles long-standing traditions, and beyond. Blending historical events with dazzling flights of fancy, it opens doors to a strange and magical past.
I'm not sure if I've mentioned it before, but magical realism is my favorite little subcategory of fantasy and Natasha Pulley does it beautifully. This book has a clockwork octopus, need I say more?
When I first came up with the idea for today's post I wasn't sure if I'd be able to find five standalone fantasies that I've actually read. I am proud to say that I had to cut a few off the list in order to make five! So many times when I make book lists I find more books I need to read than ones I've already read. So, on that note, recommend me some standalone fantasy books to add to the giant TBR! 🙂
-Elizabeth
Bookish Connoisseur
Connect with me:
Instagram | Goodreads | Twitter | Podcast
Please note: All links marked with (*) are affiliate links. Meaning, if you click and make a purchase I will get a small percentage of the purchase price from the retailer. Purchases like these help support my blog!