Happy Tuesday book lovers! Lots more new books out today. One day I will have time to read them all!
Title: The Care and Feeding of Ravenously Hungry Girls by Anissa Gray
Links: Goodreads | Amazon* | Book Depository*
Synopsis: The Mothers meets An American Marriage in this dazzling debut novel about mothers and daughters, identity and family, and how the relationships that sustain you can also be the ones that consume you.
The Butler family has had their share of trials—as sisters Althea, Viola, and Lillian can attest—but nothing prepared them for the literal trial that will upend their lives.
Althea, the eldest sister and substitute matriarch, is a force to be reckoned with and her younger sisters have alternately appreciated and chafed at her strong will. They are as stunned as the rest of the small community when she and her husband Proctor are arrested, and in a heartbeat the family goes from one of the most respected in town to utter disgrace. The worst part is, not even her sisters are sure exactly what happened.
As Althea awaits her fate, Lillian and Viola must come together in the house they grew up in to care for their sister's teenage daughters. What unfolds is a stunning portrait of the heart and core of an American family in a story that is as page-turning as it is important.
Title: Immoral Code by Lillian Clark
Links: Goodreads | Amazon* | Book Depository*
Synopsis: For Nari, aka Narioka Diane, aka hacker digital alter ego "d0l0s," it's college and then a career at "one of the big ones," like Google or Apple. Keagan, her sweet, sensitive boyfriend, is happy to follow her wherever she may lead. Reese is an ace/aro visual artist with plans to travel the world. Santiago is off to Stanford on a diving scholarship, with very real Olympic hopes. And Bellamy? Physics genius Bellamy is admitted to MIT—but the student loan she'd been counting on is denied when it turns out her estranged father—one Robert Foster—is loaded.
Nari isn't about to let her friend's dreams be squashed by a deadbeat billionaire, so she hatches a plan to steal just enough from Foster to allow Bellamy to achieve her goals.
Title: The Familiars by Stacey Halls
Links: Goodreads | Amazon* | Book Depository*
Synopsis: Young Fleetwood Shuttleworth, a noblewoman, is with child again. None of her previous pregnancies have borne fruit, and her husband, Richard, is anxious for an heir. Then Fleetwood discovers a hidden doctor's letter that carries a dire prediction: she will not survive another birth. By chance she meets a midwife named Alice Grey, who promises to help her deliver a healthy baby. But Alice soon stands accused of witchcraft.
Is there more to Alice than meets the eye? Fleetwood must risk everything to prove her innocence. As the two women's lives become intertwined, the Witch Trials of 1612 loom. Time is running out; both their lives are at stake. Only they know the truth. Only they can save each other.
Rich and compelling, set against the frenzy of the real Pendle Hill Witch Trials, this novel explores the rights of 17th-century women and raises the question: Was witch-hunting really women-hunting? Fleetwood Shuttleworth, Alice Grey and the other characters are actual historical figures. King James I was obsessed with asserting power over the lawless countryside (even woodland creatures, or "familiars," were suspected of dark magic) by capturing "witches"—in reality mostly poor and illiterate women.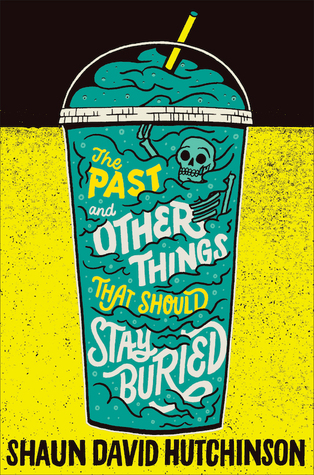 Title: The Past and Other Things That Should Stay Buried by Shaun David Hutchinson
Links: Goodreads | Amazon* | Book Depository*
Synopsis: A good friend will bury your body, a best friend will dig you back up.
Dino doesn't mind spending time with the dead. His parents own a funeral home, and death is literally the family business. He's just not used to them talking back. Until Dino's ex-best friend July dies suddenly—and then comes back to life. Except not exactly. Somehow July is not quite alive, and not quite dead.
As Dino and July attempt to figure out what's happening, they must also confront why and how their friendship ended so badly, and what they have left to understand about themselves, each other, and all those grand mysteries of life.
Title: Broken Stars: Contemporary Chinese Science Fiction in Translation edited by Ken Liu
Links: Goodreads | Amazon* | Book Depository*
Synopsis: Broken Stars, edited by multi award-winning writer Ken Liu–translator of the bestselling and Hugo Award-winning novel The Three Body Problem by acclaimed Chinese author Cixin Liu–is his second thought-provoking anthology of Chinese short speculative fiction. Following Invisible Planets, Liu has now assembled the most comprehensive collection yet available in the English language, sure to thrill and gratify readers developing a taste and excitement for Chinese SF.
Some of the included authors are already familiar to readers in the West (Liu Cixin and Hao Jingfang, both Hugo winners); some are publishing in English for the first time. Because of the growing interest in newer SFF from China, virtually every story here was first published in Chinese in the 2010s.
The stories span the range from short-shorts to novellas, and evoke every hue on the emotional spectrum. Besides stories firmly entrenched in subgenres familiar to Western SFF readers such as hard SF, cyberpunk, science fantasy, and space opera, the anthology also includes stories that showcase deeper ties to Chinese culture: alternate Chinese history, chuanyue time travel, satire with historical and contemporary allusions that are likely unknown to the average Western reader. While the anthology makes no claim or attempt to be "representative" or "comprehensive," it demonstrates the vibrancy and diversity of science fiction being written in China at this moment.
In addition, three essays at the end of the book explore the history of Chinese science fiction publishing, the state of contemporary Chinese fandom, and how the growing interest in science fiction in China has impacted writers who had long labored in obscurity.
Title: The Art of Losing by Lizzy Mason
Links: Goodreads | Amazon* | Book Depository*
Synopsis: On one terrible night, 17-year-old Harley Langston's life changes forever. At a party she discovers her younger sister, Audrey, hooking up with her boyfriend, Mike—and she abandons them both in a rage. When Mike drunkenly attempts to drive Audrey home, he crashes and Audrey ends up in a coma. Now Harley is left with guilt, grief, pain and the undeniable truth that her ex-boyfriend (who is relatively unscathed) has a drinking problem. So it's a surprise that she finds herself reconnecting with Raf, a neighbor and childhood friend who's recently out of rehab and still wrestling with his own demons. At first Harley doesn't want to get too close to him. But as Audrey awakens and slowly recovers, Raf starts to show Harley a path forward that she never would have believed possible—one guided by honesty, forgiveness, and redemption.
Title: The Afterward by E.K. Jonston
Links: Goodreads | Amazon* | Book Depository*
Synopsis: It has been a year since the mysterious godsgem cured Cadrium's king and ushered in what promised to be a new golden age. The heroes who brought the gem home are renowned in story and song, but for two fellows on the quest, peace and prosperity do not come easily.
Apprentice Knight Kalanthe Ironheart wasn't meant for heroism this early in life, and while she has no intention of giving up the notoriety she has earned, her reputation does not pay her bills. With time running out, Kalanthe may be forced to betray not her kingdom or her friends, but her own heart as she seeks a stable future for herself and those she loves.
Olsa Rhetsdaughter was never meant for heroism at all. Beggar, pick pocket, thief, she lived hand to mouth on the city streets until fortune–or fate–pulled her into Kalanthe's orbit. And now she's quite reluctant to leave it. Even more alarmingly, her fame has made her recognizable, which makes her profession difficult, and a choice between poverty and the noose isn't much of a choice at all.
Both girls think their paths are laid out, but the godsgem isn't quite done with them and that new golden age isn't a sure thing yet.
In a tale both sweepingly epic and intensely personal, Kalanthe and Olsa fight to maintain their newfound independence and to find their way back to each other.
Title: Blood Orange by Harriet Tyce
Links: Goodreads | Amazon* | Book Depository*
Synopsis: Alison has it all. A doting husband, adorable daughter, and a career on the rise–she's just been given her first murder case to defend. But all is never as it seems…
Just one more night. Then I'll end it. 
Alison drinks too much. She's neglecting her family. And she's having an affair with a colleague whose taste for pushing boundaries may be more than she can handle.

I did it. I killed him. I should be locked up.
Alison's client doesn't deny that she stabbed her husband – she wants to plead guilty. And yet something about her story is deeply amiss. Saving this woman may be the first step to Alison saving herself.

I'm watching you. I know what you're doing.
But someone knows Alison's secrets. Someone who wants to make her pay for what she's done, and who won't stop until she's lost everything….
And that's my list for today! Which book are you going to pick up next?
-Elizabeth
Bookish Connoisseur
Connect with me:
Instagram | Goodreads | Twitter | Podcast
Please note: All links marked with (*) are affiliate links. Meaning, if you click and make a purchase I will get a small percentage of the purchase price from the retailer. Purchases like these help support my blog!