Happy Friday bookish people!
It's shameless self promotion time. I haven't really talked about it much here on the blog yet, but my cousin and I host a bookish podcast together called Our Life In Books! We release new episodes every Friday and this week our topic was our favorite OTPs. Since we each picked 5 to talk about, I thought it would make a great cross-over blog post for today!
So you can find my 5 picks below, but if you'd like to find out Samantha's picks or more of my reasons for picking these, you'll have to give the podcast a listen. 😉
Title: Outlander by Diana Gabaldon
OTP: Jamie & Claire
Links: Goodreads | Amazon* | Book Depository*
Synopsis: The year is 1945. Claire Randall, a former combat nurse, is just back from the war and reunited with her husband on a second honeymoon when she walks through a standing stone in one of the ancient circles that dot the British Isles. Suddenly she is a Sassenach—an "outlander"—in a Scotland torn by war and raiding border clans in the year of Our Lord…1743.
Hurled back in time by forces she cannot understand, Claire is catapulted into the intrigues of lairds and spies that may threaten her life, and shatter her heart. For here James Fraser, a gallant young Scots warrior, shows her a love so absolute that Claire becomes a woman torn between fidelity and desire—and between two vastly different men in two irreconcilable lives.
Title: Heartless by Marissa Meyer
OTP: Cath & Jest
Links: Goodreads | Amazon* | Book Depository*
Synopsis: Long before she was the terror of Wonderland—the infamous Queen of Hearts—she was just a girl who wanted to fall in love.
Catherine may be one of the most desired girls in Wonderland, and a favorite of the unmarried King of Hearts, but her interests lie elsewhere. A talented baker, all she wants is to open a shop with her best friend. But according to her mother, such a goal is unthinkable for the young woman who could be the next queen.
Then Cath meets Jest, the handsome and mysterious court joker. For the first time, she feels the pull of true attraction. At the risk of offending the king and infuriating her parents, she and Jest enter into an intense, secret courtship. Cath is determined to define her own destiny and fall in love on her terms. But in a land thriving with magic, madness, and monsters, fate has other plans.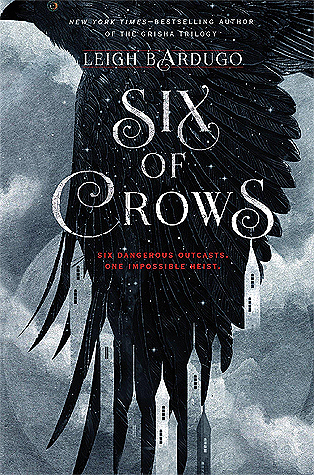 Title: Six of Crows by Leigh Bardugo
OTP: Jesper & Wylan
Links: Goodreads | Amazon* | Book Depository*
Synopsis: Ketterdam: a bustling hub of international trade where anything can be had for the right price—and no one knows that better than criminal prodigy Kaz Brekker. Kaz is offered a chance at a deadly heist that could make him rich beyond his wildest dreams. But he can't pull it off alone. . . .
A convict with a thirst for revenge
A sharpshooter who can't walk away from a wager
A runaway with a privileged past
A spy known as the Wraith
A Heartrender using her magic to survive the slums
A thief with a gift for unlikely escapes
Kaz's crew is the only thing that might stand between the world and destruction—if they don't kill each other first.
Title: The Hunger Games by Suzanne Collins
OTP: Katniss & Peeta
Links: Goodreads | Amazon* | Book Depository*
Synopsis: Could you survive on your own, in the wild, with everyone out to make sure you don't live to see the morning?
In the ruins of a place once known as North America lies the nation of Panem, a shining Capitol surrounded by twelve outlying districts. The Capitol is harsh and cruel and keeps the districts in line by forcing them all to send one boy and one girl between the ages of twelve and eighteen to participate in the annual Hunger Games, a fight to the death on live TV. Sixteen-year-old Katniss Everdeen, who lives alone with her mother and younger sister, regards it as a death sentence when she is forced to represent her district in the Games. But Katniss has been close to dead before – and survival, for her, is second nature. Without really meaning to, she becomes a contender. But if she is to win, she will have to start making choices that weigh survival against humanity and life against love.
Title: Rosemarked by Livia Blackburne
OTP: Zivah & Dineas
Links: Goodreads | Amazon* | Book Depository*
Synopsis: A healer who cannot be healed . . .
When Zivah falls prey to the deadly rose plague, she knows it's only a matter of time before she fully succumbs. Now she's destined to live her last days in isolation, cut off from her people and unable to practice her art—until a threat to her village creates a need that only she can fill.
A soldier shattered by war . . .
Broken by torture at the hands of the Amparan Empire, Dineas thirsts for revenge against his captors. Now escaped and reunited with his tribe, he'll do anything to free them from Amparan rule—even if it means undertaking a plan that risks not only his life but his very self.
Thrust together on a high-stakes mission to spy on the capital, the two couldn't be more different: Zivah, deeply committed to her vow of healing, and Dineas, yearning for vengeance. But as they grow closer, they must find common ground to protect those they love. And amidst the constant fear of discovery, the two grapple with a mutual attraction that could break both of their carefully guarded hearts.
Let me know your favorite OTPs in the comments below!
-Elizabeth
Bookish Connoisseur
Connect with me:
Instagram | Goodreads | Twitter | Podcast
Please note: All links marked with (*) are affiliate links. Meaning, if you click and make a purchase I will get a small percentage of the purchase price from the retailer. Purchases like these help support my blog!