Hello blog book friends! It's been a few weeks since my last post about new books. SO MANY new amazing books have come out, but alas, time has gotten away from me again. Anyway, here are some new amazing books coming out today, the last Tuesday of March!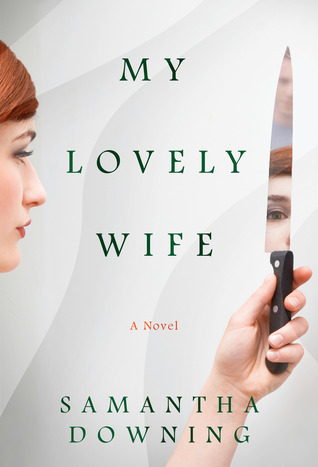 Title: My Lovely Wife by Samantha Downing
Links: Goodreads | Amazon* | Book Depository*
Synopsis: Dexter meets Mr. and Mrs. Smith in this wildly compulsive debut thriller about a couple whose fifteen-year marriage has finally gotten too interesting…
Our love story is simple. I met a gorgeous woman. We fell in love. We had kids. We moved to the suburbs. We told each other our biggest dreams, and our darkest secrets. And then we got bored.
We look like a normal couple. We're your neighbors, the parents of your kid's friend, the acquaintances you keep meaning to get dinner with.
We all have secrets to keeping a marriage alive.
Ours just happens to be getting away with murder.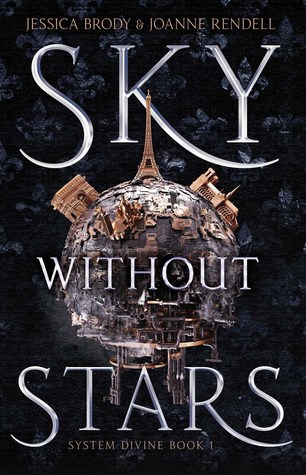 Title: Sky Without Stars by Jessica Brody & Joanne Rendell
Links: Goodreads | Amazon* | Book Depository*
Synopsis: A thief. An officer. A guardian. 
Three strangers, one shared destiny . . .
When the Last Days came, the planet of Laterre promised hope. A new life for a wealthy French family and their descendants. But five hundred years later, it's now a place where an extravagant elite class reigns supreme; where the clouds hide the stars and the poor starve in the streets; where a rebel group, long thought dead, is resurfacing.
Whispers of revolution have begun—a revolution that hinges on three unlikely heroes…
Chatine is a street-savvy thief who will do anything to escape the brutal Regime, including spy on Marcellus, the grandson of the most powerful man on the planet.
Marcellus is an officer—and the son of a renowned traitor. In training to take command of the military, Marcellus begins to doubt the government he's vowed to serve when his father dies and leaves behind a cryptic message that only one person can read: a girl named Alouette.
Alouette is living in an underground refuge, where she guards and protects the last surviving library on the planet. But a shocking murder will bring Alouette to the surface for the first time in twelve years…and plunge Laterre into chaos.
All three have a role to play in a dangerous game of revolution—and together they will shape the future of a planet.
Power, romance, and destiny collide in this sweeping reimagining of Victor Hugo's masterpiece, Les Misérables.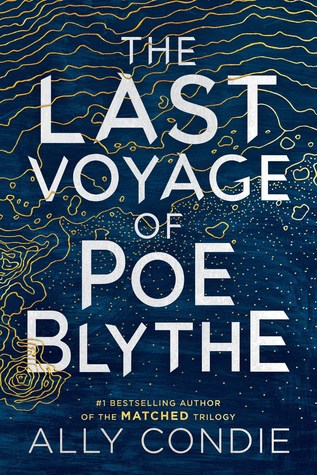 Title: The Last Voyage of Poe Blythe by Ally Condie
Links: Goodreads | Amazon* | Book Depository*
Synopsis: Who do you become when you have nothing left to lose?
There is something Poe Blythe, the seventeen-year-old captain of the Outpost's last mining ship, wants far more than the gold they tear from the Serpentine River.
Revenge.
Poe has vowed to annihilate the river raiders who robbed her of everything two years ago. But as she navigates the treacherous waters of the Serpentine and realizes there might be a traitor among her crew, she must also reckon with who she has become, who she wants to be, and the ways love can change and shape you. Even—and especially—when you think all is lost.
Ally Condie, the international bestselling author of the Matched trilogy, returns with an intricately crafted and emotionally gripping story of one young woman's journey to move beyond the grief and anger that control her and find the inner strength to chart her own course.
Title: I'll Be Watching You by Courtney Evan Tate
Links: Goodreads | Amazon* | Book Depository*
Synopsis: Kate Moretti's The Vanishing Year meets Kimberly Belle's The Marriage Lie in this twisty domestic suspense about a teenaged girl who disappears and is thought drowned–and the dark secrets she leaves behind.
Leah, a popular sixteen year old, is uncharacteristically apprehensive the night before her new school year begins. She decides to take a moonlight paddle at her divorced parents' Florida beachside inn to take the edge off her anxiety. Moments later she vanishes in the water without a trace. The police assume death by drowning since sharks had been sighted nearby earlier in the day. They do a cursory investigation and that's it. The community comes out to give support, but days later her mother Emily is still wondering what happened to her beautiful daughter. And why is there no body?
In the days that follow, Emily accidentally discovers pornographic images of her daughter on her laptop. Some appear to be selfies taken for someone else's pleasure. Others are clearly taken by a voyeur and sent to Leah. Shockingly, they reveal darkly tantalizing clues to an older man's involvement. Emily's heartbreak turns to deep rage as she sets out to unmask who this monster is who has stolen her daughter's innocence–and perhaps more. As her suspicion falls on various locals who, as unlikely as they may seem, may have lured Leah into risky, even deadly, behavior–the youth pastor, the long time resident in bungalow 3, his son who visits from New York–she trusts no one. Suddenly her once close knit community, itself its own paradise, has been invaded by evil, an evil that is still lurking in the shadows–one that she is determined to expose.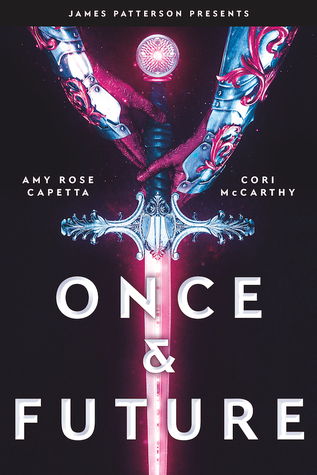 Title: Once & Future by Amy Rose Capetta & Cori McCarthy
Links: Goodreads | Amazon* | Book Depository*
Synopsis: I've been chased my whole life. As a fugitive refugee in the territory controlled by the tyrannical Mercer corporation, I've always had to hide who I am. Until I found Excalibur.
Now I'm done hiding.
My name is Ari Helix. I have a magic sword, a cranky wizard, and a revolution to start.
When Ari crash-lands on Old Earth and pulls a magic sword from its ancient resting place, she is revealed to be the newest reincarnation of King Arthur. Then she meets Merlin, who has aged backward over the centuries into a teenager, and together they must break the curse that keeps Arthur coming back. Their quest? Defeat the cruel, oppressive government and bring peace and equality to all humankind.
No pressure.
Title: The Library of Lost and Found by Phaedra Patrick
Links: Goodreads | Amazon* | Book Depository*
Synopsis: A librarian's discovery of a mysterious book sparks the journey of a lifetime in the delightful new novel from the international bestselling author of The Curious Charms of Arthur Pepper.
Librarian Martha Storm has always found it easier to connect with books than people—though not for lack of trying. She keeps careful lists of how to help others in her superhero-themed notebook. And yet, sometimes it feels like she's invisible.
All of that changes when a book of fairy tales arrives on her doorstep. Inside, Martha finds a dedication written to her by her best friend—her grandmother Zelda—who died under mysterious circumstances years earlier. When Martha discovers a clue within the book that her grandmother may still be alive, she becomes determined to discover the truth. As she delves deeper into Zelda's past, she unwittingly reveals a family secret that will change her life forever.
Filled with Phaedra Patrick's signature charm and vivid characters, The Library of Lost and Found is a heartwarming and poignant tale of how one woman must take control of her destiny to write her own happy ending.
Title: In Another Life by C.C. Hunter
Links: Goodreads | Amazon* | Book Depository*
Synopsis: Chloe was three years old when she became Chloe Holden, but her adoption didn't scar her, and she's had a great life. Now, fourteen years later, her loving parents' marriage has fallen apart and her mom has moved them to Joyful, Texas. Starting twelfth grade as the new kid at school, everything Chloe loved about her life is gone. And feelings of déjà vu from her early childhood start haunting her.
When Chloe meets Cash Colton she feels drawn to him, as though they're kindred spirits. Until Cash tells her the real reason he sought her out: Chloe looks exactly like the daughter his foster parents lost years ago, and he's determined to figure out the truth.
As Chloe and Cash delve deeper into her adoption, the more things don't add up, and the more strange things start happening. Why is Chloe's adoption a secret that people would kill for?
Title: Supermarket by Bobby Hall
Links: Goodreads | Amazon* | Book Depository*
Synopsis: Flynn is stuck—depressed, recently dumped, and living at his mom's house. The supermarket was supposed to change all that. An ordinary job and a steady check. Work isn't work when it's saving you from yourself. But things aren't quite as they seem in these aisles. Arriving to work one day to a crime scene, Flynn's world collapses as the secrets of his tortured mind are revealed. And Flynn doesn't want to go looking for answers at the supermarket. Because something there seems to be looking for him. A darkly funny psychological thriller, Supermarket is a gripping exploration into madness and creativity. Who knew you could find sex, drugs, and murder all in aisle nine?
Title: Chronicles of a Radical Hag by Lorna Landvik
Links: Goodreads | Amazon* | Book Depository*
Synopsis: The curmudgeon who wrote the column "Ramblin's by Walt" in the Granite Creek Gazette dismissed his successor as "puking on paper." But when Haze Evans first appeared in the small-town newspaper, she earned fans by writing a story about her bachelor uncle who brought a Queen of the Rodeo to Thanksgiving dinner. Now, fifty years later, when the beloved columnist suffers a massive stroke and falls into a coma, publisher Susan McGrath fills the void (temporarily, she hopes) with Haze's past columns, along with the occasional reprinted responses from readers. Most letters were favorable, although Haze did have her trolls; one Joseph Snell in particular dubbed her "liberal" ideas the "chronicles of a radical hag." Never censoring herself, Haze chose to mollify her critics with homey recipes—recognizing, in her constantly practical approach to the world and her community, that buttery Almond Crescents will certainly "melt away any misdirected anger."
Framed by news stories of half a century and annotated with the town's chorus of voices, Haze's story unfolds, as do those of others touched by the Granite Creek Gazette, including Susan, struggling with her troubled marriage, and her teenage son Sam, who—much to his surprise—enjoys his summer job reading the paper archives and discovers secrets that have been locked in the files for decades, along with sad and surprising truths about Haze's past.
With her customary warmth and wit, Lorna Landvik summons a lifetime at once lost and recovered, a complicated past that speaks with knowing eloquence to a confused present. Her topical but timeless Chronicles of a Radical Hag reminds us—sometimes with a subtle touch, sometimes with gobsmacking humor—of the power of words and of silence, as well as the wonder of finding in each other what we never even knew we were missing.
---
So many amazing books out this week! March has truly been a fantastic month for new books and I wish I had more time to read them all. Which of these books are you most looking forward to?
-Elizabeth
Bookish Connoisseur
Connect with me:
Instagram | Goodreads | Twitter | Podcast
Please note: All links marked with (*) are affiliate links. Meaning, if you click and make a purchase I will get a small percentage of the purchase price from the retailer. Purchases like these help support my blog!