Holy cow. Can you believe it's April already?! This year is FLYING by and the TBR pile is stacking up. Check out my round-up of books release this week below and let me know which ones you're excited about reading!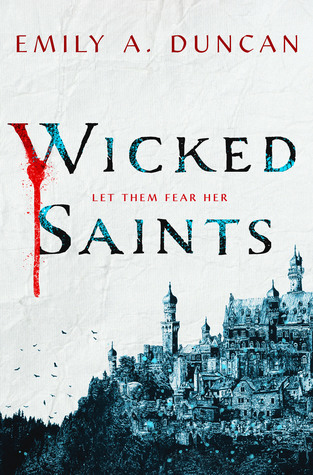 Wicked Saints by Emily A Duncan
Links: Goodreads | Amazon* | Book Depository*
Synopsis: A girl who can speak to gods must save her people without destroying herself.
A prince in danger must decide who to trust.
A boy with a monstrous secret waits in the wings. 
Together, they must assassinate the king and stop the war.
In a centuries-long war where beauty and brutality meet, their three paths entwine in a shadowy world of spilled blood and mysterious saints, where a forbidden romance threatens to tip the scales between dark and light. Wicked Saints is the thrilling start to Emily A. Duncan's devastatingly Gothic Something Dark and Holy trilogy..
This is my current read!! Watch for my part in the blog tour later this week!
Defy Me by  Tahereh Mafi
Links: Goodreads | Amazon* | Book Depository*
Synopsis: The gripping fifth installment in the New York Times, USA Today, and Publishers Weekly bestselling Shatter Me series. Will Juliette's broken heart make her vulnerable to the strengthening darkness within her?
Juliette's short tenure as the supreme commander of North America has been an utter disaster. When the children of the other world leaders show up on her doorstep, she wants nothing more than to turn to Warner for support and guidance. But he shatters her heart when he reveals that he's been keeping secrets about her family and her identity from her—secrets that change everything.
Juliette is devastated, and the darkness that's always dwelled within her threatens to consume her. An explosive encounter with unexpected visitors might be enough to push her over the edge.
Women Talking by Miriam Toews
Links: Goodreads | Amazon* | Book Depository*
Synopsis: One evening, eight Mennonite women climb into a hay loft to conduct a secret meeting. For the past two years, each of these women, and more than a hundred other girls in their colony, has been repeatedly violated in the night by demons coming to punish them for their sins. Now that the women have learned they were in fact drugged and attacked by a group of men from their own community, they are determined to protect themselves and their daughters from future harm.
While the men of the colony are off in the city, attempting to raise enough money to bail out the rapists and bring them home, these women—all illiterate, without any knowledge of the world outside their community and unable even to speak the language of the country they live in—have very little time to make a choice: Should they stay in the only world they've ever known or should they dare to escape?
Based on real events and told through the "minutes" of the women's all-female symposium, Toews's masterful novel uses wry, politically engaged humor to relate this tale of women claiming their own power to decide.
The Devouring Gray by Christine Lynn Herman 
Links: Goodreads | Amazon* | Book Depository*
Synopsis: On the edge of town a beast haunts the woods, trapped in the Gray, its bonds loosening…
Uprooted from the city, Violet Saunders doesn't have much hope of fitting in at her new school in Four Paths, a town almost buried in the woodlands of rural New York. The fact that she's descended from one of the town's founders doesn't help much, either—her new neighbours treat her with distant respect, and something very like fear. When she meets Justin, May, Isaac, and Harper, all children of founder families, and sees the otherworldly destruction they can wreak, she starts to wonder if the townsfolk are right to be afraid.
When bodies start to appear in the woods, the locals become downright hostile. Can the teenagers solve the mystery of Four Paths, and their own part in it, before another calamity strikes?
Stay Up With Hugo Best by Erin Somers 
Links: Goodreads | Amazon* | Book Depository*
Synopsis: June Bloom is a broke, cynical twenty-nine-year-old writer's assistant on the late-night comedy show, Stay Up with Hugo Best. Hugo Best is in his sixties, a beloved icon of TV and humor, and a notorious womanizer. After he unexpectedly retires and a party is held for his now unemployed staff, June ends up at a dive bar for an open-mic night and prepares for the sad return to the anonymous comedian lifestyle. What she's not prepared for is a run-in with Hugo at that dive bar. Nor for the invitation that swiftly follows: Hugo asks June to come to his mansion in Greenwich for the long Memorial Day weekend. "No funny business," he insists.
June, in need of a job and money, confident she can handle herself, but secretly harboring the remains of a childhood crush on the charming older comedian and former role model, accepts. The exact terms of the visit are never spelled out, but June is realistic and clear-eyed enough to guess. Even so, as the weekend unfolds and the enigmatic Hugo gradually reveals himself, their dynamic proves to be much more complicated and less predictable than she expected.
At once hilarious and poignant, brilliantly incisive and terrifically propulsive, Stay Up with Hugo Best is an incredibly timely exploration of sexual politics in the #MeToo age, and the unforgettable story of one young woman's poignant stumbling into adulthood.
I Miss You When I Blink: Essays by Mary Laura Philpott
Links: Goodreads | Amazon* | Book Depository*
Synopsis: Mary Laura Philpott thought she'd cracked the code: Always be right, and you'll always be happy. 
But once she'd completed her life's to-do list (job, spouse, house, babies—check!), she found that instead of feeling content and successful, she felt anxious. Lost. Stuck in a daily grind of overflowing calendars, grueling small talk, and sprawling traffic. She'd done everything "right," but she felt all wrong. What's the worse failure, she wondered: smiling and staying the course, or blowing it all up and running away? And are those the only options?
In this memoir-in-essays full of spot-on observations about home, work, and creative life, Philpott takes on the conflicting pressures of modern adulthood with wit and heart. She offers up her own stories to show that identity crises don't happen just once or only at midlife; reassures us that small, recurring personal re-inventions are both normal and necessary; and advises that if you're going to faint, you should get low to the ground first. Most of all, Philpott shows that when you stop feeling satisfied with your life, you don't have to burn it all down and set off on a transcontinental hike (unless you want to, of course). You can call upon your many selves to figure out who you are, who you're not, and where you belong. Who among us isn't trying to do that?
Like a pep talk from a sister, I Miss You When I Blink is the funny, poignant, and deeply affecting book you'll want to share with all your friends, as you learn what Philpott has figured out along the way: that multiple things can be true of us at once—and that sometimes doing things wrong is the way to do life right.
White Rose by Kip Wilson
Links: Goodreads | Amazon* | Book Depository*
Synopsis: A gorgeous and timely novel based on the incredible story of Sophie Scholl, a young German college student who challenged the Nazi regime during World War II as part of The White Rose, a non-violent resistance group.
Disillusioned by the propaganda of Nazi Germany, Sophie Scholl, her brother, and his fellow soldiers formed the White Rose, a group that wrote and distributed anonymous letters criticizing the Nazi regime and calling for action from their fellow German citizens. The following year, Sophie and her brother were arrested for treason and interrogated for information about their collaborators.
We Rule the Night by Claire Eliza Bartlett
Links: Goodreads | Amazon* | Book Depository*
Synopsis: Seventeen-year-old Revna is a factory worker, manufacturing war machines for the Union of the North. When she's caught using illegal magic, she fears being branded a traitor and imprisoned. Meanwhile, on the front lines, Linné defied her father, a Union general, and disguised herself as a boy to join the army. They're both offered a reprieve from punishment if they use their magic in a special women's military flight unit and undertake terrifying, deadly missions under cover of darkness. Revna and Linné can hardly stand to be in the same cockpit, but if they can't fly together, and if they can't find a way to fly well, the enemy's superior firepower will destroy them–if they don't destroy each other first.
We Rule the Night is a powerful story about sacrifice, complicated friendships, and survival despite impossible odds.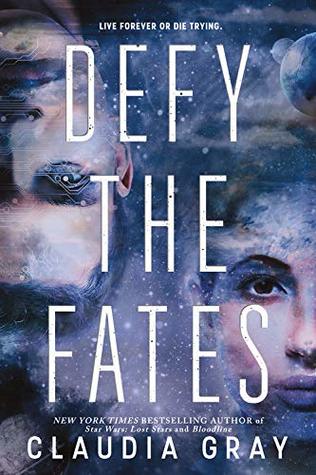 Defy the Fates by Claudia Gray
Links: Goodreads | Amazon* | Book Depository*
Synopsis: Hunted and desperate.
Abel only has one mission left that matters: save the life of Noemi Vidal. To do that, he not only has to escape the Genesis authorities, he also must face the one person in the galaxy who still has the means to destroy him. Burton Mansfield's consciousness lives on, desperate for a home, and Abel's own body is his last bargaining chip. 
Alone in the universe.
Brought back from the brink of death, Noemi Vidal finds Abel has not only saved her life, but he's made her into something else, something more. Not quite mech, yet not quite human any longer, Noemi must find her place in a universe where she is utterly unique, all while trying to create a world where anyone–even a mech–can be free.
The final battle between Earth and the colony planets is here, and there's no lengths to which Earth won't go to preserve its domination over all humanity. But together, the universe's most advanced mech and its first human-mech hybrid might have the power to change the galaxy for good.
I read the first book in this series and I'm dying for the time to get back and see how it all ends!
We Are Blood and Thunder by Kesia Lupo
Links: Goodreads | Amazon* | Book Depository*
Synopsis: In a sealed-off city, it begins with a hunt. A young woman, Lena, running for her life, convicted of being a mage and sentenced to death. Her only way to survive is to trust those she has been brought up to fear – those with magic.
On the other side of the locked gates is a masked lady, Constance, determined to find a way back in. She knows only too well how the people of Duke's Forest loathe magic. Years ago she escaped before her powers were discovered. But now she won't hide who she is any longer.
A powerful and terrifying storm cloud unites them. It descends over the dukedom and devastates much in its wake. But this is more than a thunderstorm. This is a spell, and the truth behind why it has been cast is more sinister than anyone can imagine … Only Lena and Constance hold the key to destroying the spell. Though neither of them realise it, they need each other. They are the blood and they have the thunder within.
The Princess and the Fangirl by Ashley Poston
Links: Goodreads | Amazon* | Book Depository*
Synopsis: The Prince and the Pauper gets a modern makeover in this adorable, witty, and heartwarming young adult novel set in the Geekerella universe by national bestselling author Ashley Poston.
Imogen Lovelace is an ordinary fangirl on an impossible mission: save her favorite character, Princess Amara, from being killed off from her favorite franchise, Starfield. The problem is, Jessica Stone—the actress who plays Princess Amara—wants nothing more than to leave the intense scrutiny of the fandom behind. If this year's ExcelsiCon isn't her last, she'll consider her career derailed.
When a case of mistaken identity throws look-a-likes Imogen and Jess together, they quickly become enemies. But when the script for the Starfield sequel leaks, and all signs point to Jess, she and Imogen must trade places to find the person responsible. That's easier said than done when the girls step into each other's shoes and discover new romantic possibilities, as well as the other side of intense fandom. As these "princesses" race to find the script-leaker, they must rescue themselves from their own expectations, and redefine what it means to live happily ever after.
You'd Be Mine by Erin Hahn
Links: Goodreads | Amazon* | Book Depository*
Synopsis: Annie Mathers is America's sweetheart and heir to a country music legacy full of all the things her Gran warned her about. Superstar Clay Coolidge is most definitely going to end up one of those things. 
But unfortunately for Clay, if he can't convince Annie to join his summer tour, his music label is going to drop him. That's what happens when your bad boy image turns into bad boy reality. Annie has been avoiding the spotlight after her parents' tragic death, except on her skyrocketing YouTube channel. Clay's label wants to land Annie, and Clay has to make it happen. 
Swayed by Clay's undeniable charm and good looks, Annie and her band agree to join the tour. From the start fans want them to be more than just tour mates, and Annie and Clay can't help but wonder if the fans are right. But if there's one part of fame Annie wants nothing to do with, it's a high-profile relationship. She had a front row seat to her parents' volatile marriage and isn't interested in repeating history. If only she could convince her heart that Clay, with his painful past and head over heels inducing tenor, isn't worth the risk.
I'm Fine and Neither Are You by Camille Pagán
Links: Goodreads | Amazon* | Book Depository*
Synopsis: Wife. Mother. Breadwinner. Penelope Ruiz-Kar is doing it all—and barely keeping it together. Meanwhile, her best friend, Jenny Sweet, appears to be sailing through life. As close as the two women are, Jenny's passionate marriage, pristine house, and ultra-polite child stand in stark contrast to Penelope's underemployed husband, Sanjay, their unruly brood, and the daily grind she calls a career.
Then a shocking tragedy reveals that Jenny's life is far from perfect. Reeling, Penelope vows to stop keeping the peace and finally deal with the issues in her relationship. So she and Sanjay agree to a radical proposal: both will write a list of changes they want each other to make—then commit to complete and total honesty.
What seems like a smart idea quickly spirals out of control, revealing new rifts and even deeper secrets. As Penelope stares down the possible implosion of her marriage, she must ask herself: When it comes to love, is honesty really the best policy?
Maybe You Should Talk to Someone: A Therapist, Her Therapist, and Our Lives Revealed by Lori Gottlieb
Links: Goodreads | Amazon* | Book Depository*
Synopsis: From a New York Times best-selling author, psychotherapist, and national advice columnist, a hilarious, thought-provoking, and surprising new book that takes us behind the scenes of a therapist's world—where her patients are looking for answers (and so is she).
One day, Lori Gottlieb is a therapist who helps patients in her Los Angeles practice. The next, a crisis causes her world to come crashing down. Enter Wendell, the quirky but seasoned therapist in whose office she suddenly lands. As Gottlieb explores the inner chambers of her patients' lives—a self-absorbed Hollywood producer, a young newlywed diagnosed with a terminal illness, a senior citizen threatening to end her life on her birthday if nothing gets better, and a twenty-something who can't stop hooking up with the wrong guys—she finds that the questions they are struggling with are the very ones she is now bringing to Wendell: about desire and need, guilt and redemption, meaning and mortality, loneliness and love.
Maybe You Should Talk to Someone is revolutionary in its candor, pulling back the curtain on the therapeutic process and offering the rarest of gifts: an entertaining, illuminating, and quite possibly life-changing account of our own mysterious lives and our power to transform them.
---
-Elizabeth
Bookish Connoisseur
Connect with me:
Instagram | Goodreads | Twitter | Podcast
Please note: All links marked with (*) are affiliate links. Meaning, if you click and make a purchase I will get a small percentage of the purchase price from the retailer. Purchases like these help support my blog!