Happy happy Tuesday! This New Release Tuesday is extra special because it's also my birthday! So a happy book birthday to each of these books! So many to add to the TBR.
Which books will you be picking up?
---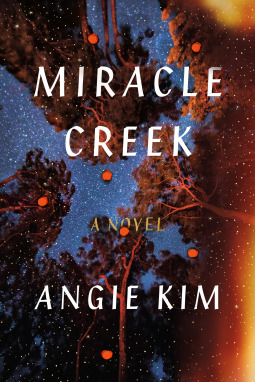 Miracle Creek by Angie Kim
Links: Goodreads | Amazon* | Book Depository*
Synopsis: My husband asked me to lie. Not a big lie. He probably didn't even consider it a lie, and neither did I, at first . . .
In the small town of Miracle Creek, Virginia, Young and Pak Yoo run an experimental medical treatment device known as the Miracle Submarine—a pressurized oxygen chamber that patients enter for therapeutic "dives" with the hopes of curing issues like autism or infertility. But when the Miracle Submarine mysteriously explodes, killing two people, a dramatic murder trial upends the Yoos' small community.
Who or what caused the explosion? Was it the mother of one of the patients, who claimed to be sick that day but was smoking down by the creek? Or was it Young and Pak themselves, hoping to cash in on a big insurance payment and send their daughter to college? The ensuing trial uncovers unimaginable secrets from that night—trysts in the woods, mysterious notes, child-abuse charges—as well as tense rivalries and alliances among a group of people driven to extraordinary degrees of desperation and sacrifice.
Angie Kim's Miracle Creek is a thoroughly contemporary take on the courtroom drama, drawing on the author's own life as a Korean immigrant, former trial lawyer, and mother of a real-life "submarine" patient. An addictive debut novel for fans of Liane Moriarty and Celeste Ng, Miracle Creek is both a twisty page-turner and a deeply moving story about the way inconsequential lies and secrets can add up—with tragic consequences.
Normal People by Sally Rooney
Links: Goodreads | Amazon* | Book Depository*
Synopsis: At school Connell and Marianne pretend not to know each other. He's popular and well-adjusted, star of the school soccer team while she is lonely, proud, and intensely private. But when Connell comes to pick his mother up from her housekeeping job at Marianne's house, a strange and indelible connection grows between the two teenagers—one they are determined to conceal.
A year later, they're both studying at Trinity College in Dublin. Marianne has found her feet in a new social world while Connell hangs at the sidelines, shy and uncertain. Throughout their years in college, Marianne and Connell circle one another, straying toward other people and possibilities but always magnetically, irresistibly drawn back together. Then, as she veers into self-destruction and he begins to search for meaning elsewhere, each must confront how far they are willing to go to save the other.
Sally Rooney brings her brilliant psychological acuity and perfectly spare prose to a story that explores the subtleties of class, the electricity of first love, and the complex entanglements of family and friendship.
The Binding by Bridget Collins
Links: Goodreads | Amazon* | Book Depository*
Synopsis: Imagine you could erase grief.
Imagine you could remove pain.
Imagine you could hide the darkest, most horrifying secret.
Forever.
Young Emmett Farmer is working in the fields when a strange letter arrives summoning him away from his family. He is to begin an apprenticeship as a Bookbinder—a vocation that arouses fear, superstition, and prejudice among their small community but one neither he nor his parents can afford to refuse.
For as long as he can recall, Emmett has been drawn to books, even though they are strictly forbidden. Bookbinding is a sacred calling, Seredith informs her new apprentice, and he is a binder born. Under the old woman's watchful eye, Emmett learns to hand-craft the elegant leather-bound volumes. Within each one they will capture something unique and extraordinary: a memory. If there's something you want to forget, a binder can help. If there's something you need to erase, they can assist. Within the pages of the books they create, secrets are concealed and the past is locked away. In a vault under his mentor's workshop, rows upon rows of books are meticulously stored.
But while Seredith is an artisan, there are others of their kind, avaricious and amoral tradesman who use their talents for dark ends—and just as Emmett begins to settle into his new circumstances, he makes an astonishing discovery: one of the books has his name on it. Soon, everything he thought he understood about his life will be dramatically rewritten.
The Mister by E.L. James
Links: Goodreads | Amazon* | Book Depository*
Synopsis: London, 2019. Life has been easy for Maxim Trevelyan. With his good looks, aristocratic connections, and money, he's never had to work and he's rarely slept alone. But all that changes when tragedy strikes and Maxim inherits his family's noble title, wealth, and estates, and all the responsibility that entails. It's a role he's not prepared for and one that he struggles to face.
But his biggest challenge is fighting his desire for an unexpected, enigmatic young woman who's recently arrived in England, possessing little more than a dangerous and troublesome past.  Reticent, beautiful, and musically gifted, she's an alluring mystery, and Maxim's longing for her deepens into a passion that he's never experienced and dares not name. Just who is Alessia Demachi? Can Maxim protect her from the malevolence that threatens her? And what will she do when she learns that he's been hiding secrets of his own?
From the heart of London through wild, rural Cornwall to the bleak, forbidding beauty of the Balkans, The Mister is a roller-coaster ride of danger and desire that leaves the reader breathless to the very last page.
Serious Moonlight by Jenn Bennett
Links: Goodreads | Amazon* | Book Depository*
Synopsis: After an awkward first encounter, Birdie and Daniel are forced to work together in a Seattle hotel where a famous author leads a mysterious and secluded life in this romantic contemporary novel from the author of Alex, Approximately.
Mystery-book aficionado Birdie Lindberg has an overactive imagination. Raised in isolation and homeschooled by strict grandparents, she's cultivated a whimsical fantasy life in which she plays the heroic detective and every stranger is a suspect. But her solitary world expands when she takes a job the summer before college, working the graveyard shift at a historic Seattle hotel.
In her new job, Birdie hopes to blossom from introverted dreamer to brave pioneer, and gregarious Daniel Aoki volunteers to be her guide. The hotel's charismatic young van driver shares the same nocturnal shift and patronizes the waterfront Moonlight Diner where she waits for the early morning ferry after work. Daniel also shares her appetite for intrigue, and he's stumbled upon a real-life mystery: a famous reclusive writer—never before seen in public—might be secretly meeting someone at the hotel.
To uncover the writer's puzzling identity, Birdie must come out of her shell…discovering that most confounding mystery of all may be her growing feelings for the elusive riddle that is Daniel.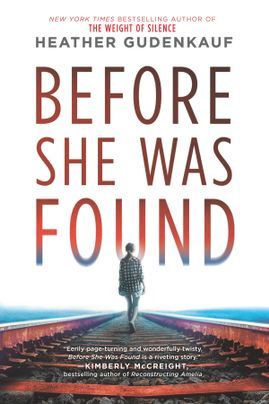 Before She Was Found by Heather Gudenkauf
Links: Goodreads | Amazon* | Book Depository*
Synopsis: For twelve-year-old Cora Landry and her friends Violet and Jordyn, it was supposed to be an ordinary sleepover–movies and Ouija and talking about boys. But when they decide to sneak out to go to the abandoned rail yard on the outskirts of town, little do they know that their innocent games will have dangerous consequences.
Later that night, Cora Landry is discovered on the tracks, bloody and clinging to life, her friends nowhere to be found. Soon their small rural town is thrust into a maelstrom. Who would want to hurt a young girl like Cora–and why? In an investigation that leaves no stone unturned, everyone is a suspect and no one can be trusted–not even those closest to Cora.
Before She Was Found is a timely and gripping thriller about friendship and betrayal, about the power of social pressure and the price of needing to fit in. It is about the great lengths a parent will go to protect their child and keep them safe–even if that means burying the truth, no matter the cost.
The Better Sister by Alafair Burke
Links: Goodreads | Amazon* | Book Depository*
Synopsis: Though Chloe was the younger of the two Taylor sisters, she always seemed to be in charge. She was the honor roll student with big dreams and an even bigger work ethic. Nicky was always restless . . . and more than a little reckless—the opposite of her ambitious little sister. She floated from job to job and man to man, and stayed close to home in Cleveland.
For a while, it seemed like both sisters had found happiness. Chloe earned a scholarship to an Ivy League school and moved to New York City, where she landed a coveted publishing job. Nicky married promising young attorney Adam Macintosh, and gave birth to a baby boy they named Ethan. The Taylor sisters became virtual strangers.
Now, more than fifteen years later, their lives are drastically different—and Chloe is married to Adam. When he's murdered by an intruder at the couple's East Hampton beach house, Chloe reluctantly allows her teenaged stepson's biological mother—her estranged sister, Nicky—back into her life. But when the police begin to treat Ethan as a suspect in his father's death, the two sisters are forced to unite . . . and to confront the truth behind family secrets they have tried to bury in the past.
Southern Lady Code by Helen Ellis
Links: Goodreads | Amazon* | Book Depository*
Synopsis: Helen Ellis has a mantra: "If you don't have something nice to say, say something not-so-nice in a nice way." Say "weathered" instead of "she looks like a cake left out in the rain." Say "early-developed" instead of "brace face and B cups." And for the love of Coke Salad, always say "Sorry you saw something that offended you" instead of "Get that stick out of your butt, Miss Prissy Pants." In these twenty-three raucous essays Ellis transforms herself into a dominatrix Donna Reed to save her marriage, inadvertently steals a $795 Burberry trench coat, witnesses a man fake his own death at a party, avoids a neck lift, and finds a black-tie gown that gives her the confidence of a drag queen. While she may have left her home in Alabama, married a New Yorker, forgotten how to drive, and abandoned the puffy headbands of her youth, Helen Ellis is clinging to her Southern accent like mayonnaise to white bread, and offering readers a hilarious, completely singular view on womanhood for both sides of the Mason-Dixon
Roar by Cecelia Ahern
Links: Goodreads | Amazon* | Book Depository*
Synopsis: In this singular and imaginative story collection, Cecelia Ahern explores the endless ways in which women blaze through adversity with wit, resourcefulness, and compassion. Ahern takes the familiar aspects of women's lives–the routines, the embarrassments, the desires–and elevates these moments to the outlandish and hilarious with her astute blend of magical realism and social insight.
One woman is tortured by sinister bite marks that appear on her skin; another is swallowed up by the floor during a mortifying presentation; yet another resolves to return and exchange her boring husband at the store where she originally acquired him. The women at the center of this curious universe learn that their reality is shaped not only by how others perceive them, but also how they perceive the power within themselves.
By turns sly, whimsical, and affecting, these thirty short stories are a dynamic examination of what it means to be a woman in this very moment. Like women themselves, each story can stand alone; yet together, they have a combined power to shift consciousness, inspire others, and create a multi-voiced ROAR that will not be ignored.
The Raven's Tale by Cat Winters
Links: Goodreads | Amazon* | Book Depository*
Synopsis: Seventeen-year-old Edgar Poe counts down the days until he can escape his foster family—the wealthy Allans of Richmond, Virginia. He hungers for his upcoming life as a student at the prestigious new university, almost as much as he longs to marry his beloved Elmira Royster. However, on the brink of his departure, all his plans go awry when a macabre Muse named Lenore appears to him. Muses are frightful creatures that lead Artists down a path of ruin and disgrace, and no respectable person could possibly understand or accept them. But Lenore steps out of the shadows with one request: "Let them see me!"
Under the Table by Stephanie Evanovich
Links: Goodreads | Amazon* | Book Depository*
Synopsis: Suffocating in a dead-end marriage, Midwesterner Zoey Sullivan fled to New York and moved in with her little sister Ruth, a carefree, vivacious beauty with a string of eligible bachelors at her beck and call. Giving herself three months in the city to clear her head and find a direction, Zoey dodges calls from her ex Derek, and distracts herself by cooking and catering a few private dinners and parties. Pursuing her passion for cooking was never an option when she was with Derek, and now Zoey relishes her independence.
When Zoey's meets reclusive millionaire Tristan Malloy, she's blown away by his kitchen—a marble and stainless steel temple worthy of the culinary gods—and charmed by his impeccable gentlemanly manners. But despite his firm body, handsome looks, and piles of cash, Tristan—a computer programmer—is shy and more than a little socially awkward. Zoey is sure that Tristan has all the right raw ingredients—and she's the right person to spice them up turn him into a delectable dish.
But Zoey's unprepared for just how well her makeover works. Tristan turns out to be even sexier once he's gained a little confidence and the right wardrobe. Beneath the gorgeous package, Tristan is a great guy who deserves a woman who really appreciates him. Slowly but surely, Zoey realizes she may have found her perfect match—but does Tristan even know how her feelings have changed? Is that warm look in his eyes gratitude for the new and exciting world she's ushered him into, or something more? And what will happen when Zoey's ex comes to town, looking to win her back?
The Department of Sensitive Crimes by Älexander McCall Smith
Links: Goodreads | Amazon* | Book Depository*
Synopsis: In the Swedish criminal justice system, certain cases are considered especially strange and difficult, in Malm, the dedicated detectives who investigate these crimes are members of an elite squad known as the Sensitive Crimes Division. 
These are their stories.
The first case: the small matter of a man stabbed in the back of the knee. Who would perpetrate such a crime and why? Next: a young woman's imaginary boyfriend goes missing. But how on earth do you search for someone who doesn't exist? And in the final investigation: eerie secrets that are revealed under a full moon may not seem so supernatural in the light of day. No case is too unusual, too complicated, or too, well insignificant for this squad to solve.
The team: Ulf 'the Wolf" Varg, the top dog, thoughtful and diligent; Anna Bengsdotter, who's in love with Varg's car (and possibly Varg too); Carl Holgersson, who likes nothing more than filling out paperwork; and Erik Nykvist, who is deeply committed to fly fishing.
With the help of a rather verbose local police officer, this crack team gets to the bottom of cases other detectives can't or won't bother to handle. Equal parts hilarious and heartening, The Department of Sensitive Crimes is a tour de farce from a true master.
The Meaning of Birds by Jaye Robin Brown
Links: Goodreads | Amazon* | Book Depository*
Synopsis: Before, Jessica has always struggled with anger issues, but come sophomore year that all changes when Vivi crashes into her life. As their relationship blossoms, Vivi not only helps Jess deal with her pain, she also encourages her to embrace her talent as an artist. And for the first time, it feels like the future is filled with possibilities. After In the midst of senior year, Jess's perfect world is erased when Vivi suddenly passes away. Reeling from the devastating loss, Jess pushes everyone away, and throws out her plans to go to art school. Because art is Vivi and Vivi is gone forever.
Desperate for an escape, Jess gets consumed in her work-study program, letting all of her dreams die. Until she makes an unexpected new friend who shows her a new way to channel her anger, passion, and creativity. Although Jess may never draw again, if she can find a way to heal and room in her heart, she just might be able to forge a new path for herself without Vivi.
Aru Shah and thevSong of Death by Roshani Chokshi
Links: Goodreads | Amazon* | Book Depository*
Synopsis: Aru is only just getting the hang of this whole Pandava thing when the Otherworld goes into full panic mode. The god of love's bow and arrow have gone missing, and the thief isn't playing Cupid. Instead, they're turning people into heartless fighting-machine zombies. If that weren't bad enough, somehow Aru gets framed as the thief. If she doesn't find the arrow by the next full moon, she'll be kicked out of the Otherworld. For good.
But, for better or worse, she won't be going it alone.
Along with her soul-sister, Mini, Aru will team up with Brynne, an ultra-strong girl who knows more than she lets on, and Aiden, the boy who lives across the street and is also hiding plenty of secrets. Together they'll battle demons, travel through a glittering and dangerous serpent realm, and discover that their enemy isn't at all who they expected.
City of Flickering Light by Juliette Fay
Links: Goodreads | Amazon* | Book Depository*
Synopsis: It's July 1921, "flickers" are all the rage, and Irene Van Beck has just declared her own independence by jumping off a moving train to escape her fate in a traveling burlesque show. When her friends, fellow dancer Millie Martin and comedian Henry Weiss, leap after her, the trio finds their way to the bright lights of Hollywood with hopes of making it big in the burgeoning silent film industry.
At first glance, Hollywood in the 1920s is like no other place on earth—iridescent, scandalous, and utterly exhilarating—and the three friends yearn for a life they could only have dreamed of before. But despite the glamour and seduction of Tinseltown, success doesn't come easy, and nothing can prepare Irene, Millie, and Henry for the poverty, temptation, and heartbreak that lie ahead. With their ambitions challenged by both the men above them and the prejudice surrounding them, their friendship is the only constant through desperate times, as each struggles to find their true calling in an uncertain world. What begins as a quest for fame and fortune soon becomes a collective search for love, acceptance, and fulfillment as they navigate the backlots and stage sets where the illusions of the silver screen are brought to life.
Starworld by Audrey Coulthurst & Paula Garner
Links: Goodreads | Amazon* | Book Depository*
Synopsis: Sam Jones and Zoe Miller have one thing in common: they both want an escape from reality. Loner Sam flies under the radar at school and walks on eggshells at home to manage her mom's obsessive-compulsive disorder, wondering how she can ever leave to pursue her dream of studying aerospace engineering. Popular, people-pleasing Zoe puts up walls so no one can see her true self: the girl who was abandoned as an infant, whose adoptive mother has cancer, and whose disabled brother is being sent away to live in a facility. When an unexpected encounter results in the girls' exchanging phone numbers, they forge a connection through text messages that expands into a private universe they call Starworld. In Starworld, they find hilarious adventures, kindness and understanding, and the magic of being seen for who they really are. But when Sam's feelings for Zoe turn into something more, will the universe they've built survive the inevitable explosion?
In a novel in two voices, a popular teen and an artistic loner forge an unlikely bond — and create an entire universe — via texts. But how long before the real world invades Starworld?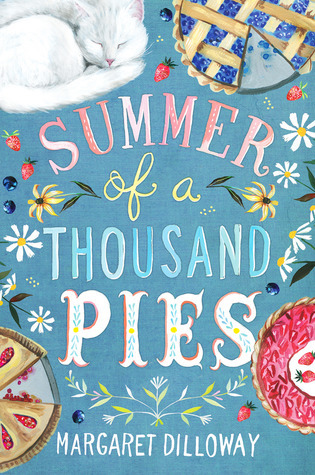 Summer of a Thousand Pies by Margaret Dilloway
Links: Goodreads | Amazon* | Book Depository*
Synopsis: When twelve-year-old Cady Bennett is sent to live with the aunt she didn't even know she had in the quaint mountain town of Julian, she doesn't know what to expect. Cady isn't used to stability, or even living inside, after growing up homeless in San Diego with her dad.
Now she's staying in her mother's old room, exploring the countryside filled with apple orchards and pie shops, making friends, and working in Aunt Shell's own pie shop—and soon, Cady starts to feel like she belongs. Then she finds out that Aunt Shell's pie shop is failing. Saving the business and protecting the first place she's ever really felt safe will take everything she's learned and the help of all her new friends. But are there some things even the perfect pie just can't fix?
Summer of a Thousand Pies is a sweet and satisfying treat of a novel full of friendship, family, and, of course, pie.
The Rose (The Red #2) by Tiffany Reisz
Links: Goodreads | Amazon* | Book Depository*
Synopsis: On the day of Lia's university graduation party, her parents–wealthy art collectors with friends in high places–gift her a beautiful wine cup, a rare artifact decorated with roses. It's a stunning gift, and one that August Bowman, a friend of her parents and a guest at Lia's party, also has his eye on. The cup, August tells her, is known as the Rose Kylix, and it's no ordinary cup. It was used in the temple ceremonies of Eros, Greek god of erotic love, and has the power to bring the most intimate sexual fantasies to life.But Lia is skeptical of August's claims of the cup's mythology and magic–after all, he's a collector himself, and she suspects he just wants to get his hands on this impressive piece of art. So he dares her to try it for herself, and when Lia drinks from the Rose Kylix she is suddenly immersed in an erotic myth so vivid it seems real–as though she's living out the most sensual fantasy with August by her side…Realizing the true power of this ancient and dangerous relic, Lia is even more wary of giving it up, though August insists it is only safe with him. He's willing to pay the full value of the cup, but Lia has another type of trade in mind. One that finds them more tangled up in each other–and in fantasy–than either was prepared for.
The Hummingbird Dagger by Cindy Anstey
Links: Goodreads | Amazon* | Book Depository*
Synopsis: 1833. After young Lord James Ellerby witnesses a near-fatal carriage accident on the outskirts of his estate, he doesn't think twice about bringing the young woman injured in the wreck to his family's manor to recuperate. But then she finally regains consciousness only to find that she has no memory of who she is or where she belongs.
Beth, as she takes to calling herself, is an enigma even to herself. She has the rough hands of a servant, but the bearing and apparent education of a lady. Her only clue to her identity is a gruesome recurring nightmare about a hummingbird dripping blood from its steel beak.
With the help of James and his sister, Caroline, Beth slowly begins to unravel the mystery behind her identity and the sinister circumstances that brought her to their door. But the dangerous secrets they discover in doing so could have deadly ramifications reaching the highest tiers of London society.
The Great Pretenders by Laura Kalpakian
Links: Goodreads | Amazon* | Book Depository*
Synopsis: The daughter of Hollywood royalty, Roxanne Granville is used to getting what she wants–even if she has to break the rules. But after a falling-out with her grandfather, a powerful movie mogul, she has to face life on her own for the first time….
Roxanne forges a career unique for women in the 1950s, becoming an agent for hungry young screenwriters. She struggles to be taken seriously by the men who rule Hollywood and who often assume that sexual favors are just a part of doing business. When she sells a script by a blacklisted writer under the name of a willing front man, more exiled writers seek her help. Roxanne wades into a world murky with duplicity and deception, and she can't afford any more risks.
Then she meets Terrence Dexter, a compelling African American journalist unlike anyone she's ever known. Roxanne again breaks the rules, and is quickly swept up in a passionate relationship with very real dangers that could destroy everything she's carefully built.
Roxanne Granville is a woman who bravely defies convention. She won't let men make all the rules, and won't let skin color determine whom she can love. The Great Pretenders is a riveting, emotional novel that resonates in today's world, and reminds us that some things are worth fighting for.
The Parrot's Perch by Karen Keilt
Links: Goodreads | Amazon* | Book Depository*
Synopsis: The Parrot's Perch opens in 2013, when Karen Keilt, age sixty, receives an invitation to testify at the Brazilian National Truth Commission at the UN in New York. The email sparks memories of her "previous life"―the one she has kept safely bottled up for more than thirty-seven years. Hopeful of helping to raise awareness about ongoing human rights violations in Brazil, she wants to testify, but she anguishes over reliving the horrific events of her youth.
In the pages that follow, Keilt tells the story of her life in Brazil―from her exclusive, upper-class lifestyle and dreams of Olympic medals to her turmoil-filled youth. Full of hints of a dark oligarchy in Brazil, corruption, crime, and military interference, The Parrot's Perch is a searing, sometimes shocking true tale of suffering, struggle―and survival.
The Time Collector by Gwendolyn Womack
Links: Goodreads | Amazon* | Book Depository*
Synopsis: Travel through time with the touch of a hand.
Roan West was born with an extraordinary gift: he can perceive the past of any object he touches. A highly skilled pyschometrist, he uses his talents to find and sell valuable antiques, but his quiet life in New Orleans is about to change. Stuart, a fellow pyschometrist and Roan's close friend, has used his own abilities to unearth several out-of-place-artifacts or "ooparts"—like a ring that once belonged to the seventeenth-century mathematician and philosopher René Descartes, but was found buried in prehistoric bedrock.
The relics challenge recorded history, but soon after the discovery, Stuart disappears, making him one of several psychometrists who have recently died or vanished without a trace. When Roan comes across a viral video of a young woman who has discovered a priceless pocket watch just by "sensing" it, he knows he has to warn her—but will Melicent Tilpin listen? And can Roan find Stuart before it's too late?
The quest for answers will lead Roan and Melicent around the world—before it brings them closer to each other and a startling truth—in the latest romantic thriller from Gwendolyn Womack, the bestselling, PRISM Award-winning author of The Memory Painter and The Fortune Teller.
Don't Even Breathe by Keith Houghton
Links: Goodreads | Amazon* | Book Depository*
Synopsis: Florida homicide detective Maggie Novak has seen hundreds of brutal murder cases, but when she is called out to investigate the charred remains of a young woman, in what appears to be a Halloween prank gone wrong, she is confronted with a twenty-year-old secret. The body is formally identified as that of school counselor Dana Cullen, but a distinguishing mark makes Maggie look again. She believes it is the body of her school friend Rita, who perished in a fire twenty years ago.
Maggie's hunt for the truth behind the murder takes her back to a cruel high school trick she's desperate to forget. And when another body turns up, Maggie realizes she too may be the target of a sinister plot creeping toward its final act.
Maggie needs emotional distance to do her job, but she's so close to this case that she can't even breathe. Will Maggie be able to uncover the truth of who wanted Rita dead? Or will her past mistakes catch up with her first?
Upon A Burning Throne by Ashes K. Banker
Links: Goodreads | Amazon* | Book Depository*
Synopsis: From international sensation Ashok K. Banker, pioneer of the fantasy genre in India, comes the first book in a ground-breaking, epic fantasy series inspired by the ancient Indian classic, The Mahabharata
In a world where demigods and demons walk among mortals, the Emperor of the vast Burnt Empire has died, leaving a turbulent realm without an emperor. Two young princes, Adri and Shvate, are in line to rule, but birthright does not guarantee inheritance: For any successor must sit upon the legendary Burning Throne and pass The Test of Fire. Imbued with dark sorceries, the throne is a crucible—one that incinerates the unworthy.
Adri and Shvate pass The Test and are declared heirs to the empire… but there is another with a claim to power, another who also survives: a girl from an outlying kingdom. When this girl, whose father is the powerful demonlord Jarsun, is denied her claim by the interim leaders, Jarsun declares war, vowing to tear the Burnt Empire apart—leaving the young princes Adri and Shvate to rule a shattered realm embroiled in rebellion and chaos….
Welcome to the Burnt Empire Saga
The Aftermath by Rhidian Brook
Links: Goodreads | Amazon* | Book Depository*
Synopsis: 1946, post-World War II Hamburg. While thousands wander the rubble, lost and homeless, Colonel Lewis Morgan, charged with overseeing the rebuilding of this devastated city and the denazification of its defeated people, is stationed in a grand house on the River Elbe. He is awaiting the arrival of his wife, Rachael–still grieving for their eldest son–and their only surviving son, Edmund. But rather than force the owners of the house, a German widower and his rebellious daughter, out onto the streets, Lewis insists that the two families live together. In this charged atmosphere, both parents and children will be forced to confront their true selves as enmity and grief give way to passion and betrayal, to their deepest desires, their fiercest loyalties, and the transforming power of forgiveness.
This courageous new novel from award-winning author Rhidian Brook tells an emotionally riveting story of two families, one house, and love grown from hate.
Happiness Is Baking: Favorite Desserts from the Queen of Cake by Maida Heatter
Links: Goodreads | Amazon* | Book Depository*
Synopsis: Maida Heatter is one of the most iconic and fondly-remembered cookbook authors of all time. Her recipes, each a modern classic, are must-haves in every home baker's bag of tricks: her cookies, cakes, muffins, tarts, pies, and sweets of all kinds range from extravagantly special to the comforting and everyday. Her brown-sugary Budapest Coffee Cake, her minty Palm Beach Brownies, her sophisticated East 62nd Street Lemon Cake, and many other desserts have inspired legions of devotees.
Happiness is Baking reproduces Maida's best-loved recipes in a fully illustrated new edition with a foreword by Dorie Greenspan. Developed for foolproof baking by experienced cooks and novices alice, these recipes bear Maida's trademark warmth, no-nonsense style, and her promise that they will work every time.
Happiness is Baking is the perfect gift for anyone who loves baking–or who knows the happiness that comes from a delicious dessert.
---
Connect with me:
Instagram | Goodreads | Twitter | Podcast
Please note: All links marked with (*) are affiliate links. Meaning, if you click and make a purchase I will get a small percentage of the purchase price from the retailer. Purchases like these help support my blog!