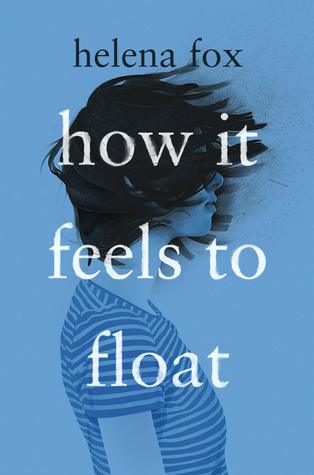 Title: How It Feels to Float
Author: Helena Fox
Genre: Ya Contemporary
Publisher: Dial Books
Publication Date: May 7, 2019
Links: Goodreads | Amazon* | Book Depository*
Rating: 5 / 5 Stars
Source: Physical copy from publisher
This book is a beautifully written, raw look into living with mental illness. Helena Fox writes in such a way that you really feel everything Biz is feeling and it's so poetic and personal that you can't help but continue along this journey with her. You'll want to carve out some reading time because stopping mid-book does not feel like an option, you have to see the story through until the very end.
Biz, or Elizabeth Martin Grey, is a teenager living with her mom and younger siblings in Australia. The love and closeness of the family is apparent right from the beginning. Biz's siblings are 10 years younger than her and twins and they are such a light-hearted and  innocent juxtaposition to the other things happening in Biz's life. When the book opens it is just days after Biz has kissed her best friend Grace and they haven't really spoken since. While Grace did not reciprocate the kiss, she let Biz down in the nicest way possible, but of course this has left Biz feeling confused. She's unsure of who she is and what her sexuality is. Then a new boy named Jasper arrives at school and Biz feels drawn to him.
We find out that her father died when she was only seven years old, but we only learn about him in pieces and snippets. He still visits her and tells her about what she was like as a little girl. But Biz tells no one about these visits or the floating feelings she gets when she could just let go and leave everything behind.
This will be a book that stays with me for a long time. The struggles that Biz has while dealing with her mental illness feel so real and at times completely relatable. While our stories differ, some of the feelings and thoughts Biz has are very familiar to me. I struggle with anxiety and depression and to have it written out on the page makes me feel seen and helps to feel like I'm not alone. This book and others like it are so very important for teens and adults alike. Pick it up, give it a read, and carry Biz's story around with you too.
Thank you so much to Penguin Teen for the opportunity to read and review this book.
"I think of Jasper tilting through the school corridors, carrying his history. All those glances, the unspoken everythings. I think of all of us, passing each other like turtles, heaving our pasts on our backs."
-Helena Fox, How It Feels to Float
*Please note, this quote is from an ARC copy, so it may change in the final copy.
Synopsis: Biz knows how to float. She has her people, her posse, her mom and the twins. She has Grace. And she has her dad, who tells her about the little kid she was, who loves her so hard, and who shouldn't be here but is. So Biz doesn't tell anyone anything. Not about her dark, runaway thoughts, not about kissing Grace or noticing Jasper, the new boy. And she doesn't tell anyone about her dad. Because her dad died when she was six. And Biz knows how to float, right there on the surface–normal okay regular fine.
But after what happens on the beach–first in the ocean, and then in the sand–the tethers that hold Biz steady come undone. Dad disappears, and with him, all comfort. It might be easier, better, sweeter to float all the way away? Or maybe stay a little longer, find her father, bring him back to her. Or maybe–maybe maybe maybe–there's a third way Biz just can't see yet.
Helena Fox lives in Wollongong, Australia, where she runs creative writing workshops for young people. She's a graduate of the MFA Program for Writers at Warren Wilson College in North Carolina. How It Feels to Float is her debut novel. She can be found at www.helenafoxauthor.com
---
Connect with me:
Instagram | Goodreads | Twitter | Podcast
Please note: All links marked with (*) are affiliate links. Meaning, if you click and make a purchase I will get a small percentage of the purchase price from the retailer. Purchases like these help support my blog!