It's a new week, and that means new books! I have so many of these on my TBR and a few ARCs left to finish from this list of releases. There is simply not enough time in the day.
Which of these books will you be picking up?
---
Little Darlings by Melanie Golding
Links: Goodreads | Amazon* | Book Depository*
Synopsis: Everyone says Lauren Tranter is exhausted, that she needs rest. And they're right; with newborn twins, Morgan and Riley, she's never been more tired in her life. But she knows what she saw: that night, in her hospital room, a woman tried to take her babies and replace them with her own…creatures. Yet when the police arrived, they saw no one. Everyone, from her doctor to her husband, thinks she's imagining things.
A month passes. And one bright summer morning, the babies disappear from Lauren's side in a park. But when they're found, something is different about them. The infants look like Morgan and Riley―to everyone else. But to Lauren, something is off. As everyone around her celebrates their return, Lauren begins to scream, These are not my babies.
Determined to bring her true infant sons home, Lauren will risk the unthinkable. But if she's wrong about what she saw…she'll be making the biggest mistake of her life.
Compulsive, creepy, and inspired by some our darkest fairy tales, Little Darlings will have you checking―and rechecking―your own little ones. Just to be sure. Just to be safe.
The Invited by Jennifer McMahon
Links: Goodreads | Amazon* | Book Depository*
Synopsis: In a quest for a simpler life, Helen and Nate abandon the comforts of suburbia and their teaching jobs to take up residence on forty-four acres of rural land where they will begin the ultimate, aspirational do-it-yourself project: building the house of their dreams. When they discover that this charming property has a dark and violent past, Helen, a former history teacher, becomes consumed by the legend of Hattie Breckenridge, a woman who lived and died there a century ago. As Helen starts carefully sourcing decorative building materials for her home–wooden beams, mantles, historic bricks–she starts to unearth, and literally conjure, the tragic lives of Hattie's descendants, three generations of "Breckenridge women," each of whom died amidst suspicion, and who seem to still be seeking something precious and elusive in the present day.
Park Avenue Summer by Renée Rosen
Links: Goodreads | Amazon* | Book Depository*
Synopsis: Mad Men meets The Devil Wears Prada as Renée Rosen draws readers into the glamour of 1965 New York City and Cosmopolitan Magazine, where a brazen new Editor-in-Chief–Helen Gurley Brown–shocks America by daring to talk to women about all things off limits…
New York City is filled with opportunities for single girls like Alice Weiss who leaves her small Midwestern town to chase her big city dreams and unexpectedly lands the job of a lifetime working for Helen Gurley Brown, the first female Editor-in-Chief of a then failing Cosmopolitan Magazine.
Nothing could have prepared Alice for the world she enters as editors and writers resign on the spot, refusing to work for the woman who wrote the scandalous bestseller, Sex and the Single Girl. While confidential memos, article ideas, and cover designs keep finding their way into the wrong hands, someone tries to pull Alice into this scheme to sabotage her boss. But Alice remains loyal and becomes all the more determined to help Helen succeed. As pressure mounts at the magazine and Alice struggles to make her way in New York, she quickly learns that in Helen Gurley Brown's world, a woman can demand to have it all.
The Rise and Fall of the Dinosaurs: A New History of Their Lost World by Steve Brusatte (Paperback Release)
Links: Goodreads | Amazon* | Book Depository*
Synopsis: The dinosaurs. Sixty-six million years ago, the Earth's most fearsome creatures vanished. Today they remain one of our planet's great mysteries. Now The Rise and Fall of the Dinosaurs reveals their extraordinary, 200-million-year-long story as never before.
In this captivating narrative (enlivened with more than seventy original illustrations and photographs), Steve Brusatte, a young American paleontologist who has emerged as one of the foremost stars of the field—naming fifteen new species and leading groundbreaking scientific studies and fieldwork—masterfully tells the complete, surprising, and new history of the dinosaurs, drawing on cutting-edge science to dramatically bring to life their lost world and illuminate their enigmatic origins, spectacular flourishing, astonishing diversity, cataclysmic extinction, and startling living legacy. Captivating and revelatory, The Rise and Fall of the Dinosaurs is a book for the ages.
Brusatte traces the evolution of dinosaurs from their inauspicious start as small shadow dwellers—themselves the beneficiaries of a mass extinction caused by volcanic eruptions at the beginning of the Triassic period—into the dominant array of species every wide-eyed child memorizes today, T. rex,Triceratops, Brontosaurus, and more. This gifted scientist and writer re-creates the dinosaurs' peak during the Jurassic and Cretaceous, when thousands of species thrived, and winged and feathered dinosaurs, the prehistoric ancestors of modern birds, emerged. The story continues to the end of the Cretaceous period, when a giant asteroid or comet struck the planet and nearly every dinosaur species (but not all) died out, in the most extraordinary extinction event in earth's history, one full of lessons for today as we confront a "sixth extinction."
Brusatte also recalls compelling stories from his globe-trotting expeditions during one of the most exciting eras in dinosaur research—which he calls "a new golden age of discovery"—and offers thrilling accounts of some of the remarkable findings he and his colleagues have made, including primitive human-sized tyrannosaurs; monstrous carnivores even larger than T. rex; and paradigm-shifting feathered raptors from China.
An electrifying scientific history that unearths the dinosaurs' epic saga, The Rise and Fall of the Dinosaurs will be a definitive and treasured account for decades to come.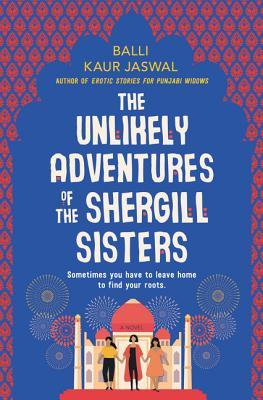 The Unlikely Adventures of the Shergill Sisters by Balli Kaur Jaswal
Links: Goodreads | Amazon* | Book Depository*
Synopsis: The British-born Punjabi Shergill sisters—Rajni, Jezmeen, and Shirina—were never close and barely got along growing up, and now as adults, have grown even further apart. Rajni, a school principal is a stickler for order. Jezmeen, a thirty-year-old struggling actress, fears her big break may never come. Shirina, the peacemaking "good" sister married into wealth and enjoys a picture-perfect life.
On her deathbed, their mother voices one last wish: that her daughters will make a pilgrimage together to the Golden Temple in Amritsar to carry out her final rites. After a trip to India with her mother long ago, Rajni vowed never to return. But she's always been a dutiful daughter, and cannot, even now, refuse her mother's request. Jezmeen has just been publicly fired from her television job, so the trip to India is a welcome break to help her pick up the pieces of her broken career. Shirina's in-laws are pushing her to make a pivotal decision about her married life; time away will help her decide whether to meekly obey, or to bravely stand up for herself for the first time.
Arriving in India, these sisters will make unexpected discoveries about themselves, their mother, and their lives—and learn the real story behind the trip Rajni took with their Mother long ago—a momentous journey that resulted in Mum never being able to return to India again.
The Abolitionist's Daughter by Diane C. McPhail
Links: Goodreads | Amazon* | Book Depository*
Synopsis: On a Mississippi morning in 1859, Emily Matthews begs her father to save a slave, Nathan, about to be auctioned away from his family. Judge Matthews is an abolitionist who runs an illegal school for his slaves, hoping to eventually set them free. One, a woman named Ginny, has become Emily's companion and often her conscience–and understands all too well the hazards an educated slave must face. Yet even Ginny could not predict the tangled, tragic string of events set in motion as Nathan's family arrives at the Matthews farm.
A young doctor, Charles Slate, tends to injured Nathan and begins to court Emily, finally persuading her to become his wife. But their union is disrupted by a fatal clash and a lie that will tear two families apart. As Civil War erupts, Emily, Ginny, and Emily's stoic mother-in-law, Adeline, each face devastating losses. Emily–sheltered all her life–is especially unprepared for the hardships to come. Struggling to survive in this raw, shifting new world, Emily will discover untapped inner strength, an unlikely love, and the courage to confront deep, painful truths.

In the tradition of Cold Mountain, The Abolitionist's Daughtereschews stereotypes of the Civil War South, instead weaving an intricate and unforgettable story of survival, loyalty, hope, and redemption.
King of Fools by Amanda Foody
Links: Goodreads | Amazon* | Book Depository*
Synopsis: On the quest to find her missing mother, prim and proper Enne Salta became reluctant allies with Levi Glaisyer, the city's most famous con man. Saving his life in the Shadow Game forced Enne to assume the identity of Seance, a mysterious underworld figure. Now, with the Chancellor of the Republic dead and bounties on both their heads, she and Levi must play a dangerous game of crime and politics…with the very fate of New Reynes at stake.
Thirsting for his freedom and the chance to build an empire, Levi enters an unlikely partnership with Vianca Augustine's estranged son. Meanwhile, Enne remains trapped by the mafia donna's binding oath, playing the roles of both darling lady and cunning street lord, unsure which side of herself reflects the truth.
As Enne and Levi walk a path of unimaginable wealth and opportunity, new relationships and deadly secrets could quickly lead them into ruin. And when unforeseen players enter the game, they must each make an impossible choice: To sacrifice everything they've earned in order to survive…
Or die as legends.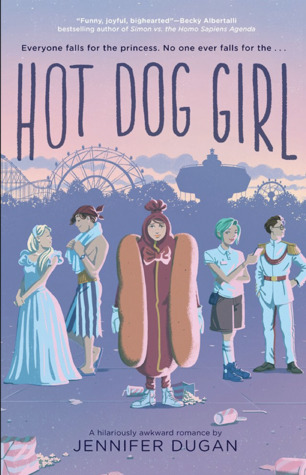 Hot Dog Girl by Jennifer Dugan
Links: Goodreads | Amazon* | Book Depository*
Synopsis: Elouise (Lou) Parker is determined to have the absolute best, most impossibly epic summer of her life. There are just a few things standing in her way:
* She's landed a job at Magic Castle Playland . . . as a giant dancing hot dog.
* Her crush, the dreamy Diving Pirate Nick, already has a girlfriend, who is literally the Princess of the park. But Lou's never liked anyone, guy or otherwise, this much before, and now she wants a chance at her own happily ever after.
* Her best friend, Seeley, the carousel operator, who's always been up for anything, suddenly isn't when it comes to Lou's quest to set her up with the perfect girl or Lou's scheme to get close to Nick.
* And it turns out that this will be their last summer at Magic Castle Playland–ever–unless she can find a way to stop it from closing.
Jennifer Dugan's sparkling debut coming-of-age queer romance stars a princess, a pirate, a hot dog, and a carousel operator who find love–and themselves–in unexpected people and unforgettable places.
Hearts Made For Breaking by Jen Klein
Links: Goodreads | Amazon* | Book Depository*
Synopsis: 17-year old Lark knows how to survive high school dating: date boys briefly, let them down gently, remain friends, and move on. Her best friends, Copper and Katie, think that Lark is denying herself the opportunity for true love because she does not want to be hurt. They challenge her to break her pattern by staying in a relationship long enough for Lark — or the boy — to fall in love. Intrigued by the challenge, Lark sets her sights on the mysterious new boy, Ardy, who has been labeled "undateable" by the other girls in school. Lark is curious about, and then completely intrigued by, the enigmatic Ardy — so much so that she finds herself falling for him, only to risk having her own heart completely broken.
Jen Klein has once again crafted a funny, contemporary story sure to resonate with teen readers.
The Slow Burn by Kristen Ashley
Synopsis: Tobias Gamble knew from a young age precisely the kind of woman he was going to make his. She was not going to be like his mother. She was going to be like the mother he claimed.
In other words, she was going to be just right.
And when Toby returns to his hometown of Matlock, Kentucky and claps eyes on Adeline Forrester, he knows she's the one.
The problem is, his brother Johnny has a new girlfriend. And Addie is her sister. Last, Toby would do nothing to hurt Johnny's chance at happiness.
Toby hangs around town to get to know the woman Johnny fell in love with. He also hangs around to get to know Addie.
But he's fallen hard, and he knows the best thing for him—and Addie—is for him to leave.
Addie Forrester is thrilled her sister Eliza found a good, solid man. Johnny Gamble is the salt of the earth. The best guy in the world.
The best except for his brother, Toby.
Toby doesn't know it, but Addie's fallen hard too. He's perfect, except for the fact that he's hands off and it's torture, being friends with Toby when she wants so much more.
Addie also has a lot on her mind. She's got bills to pay, her young son needs food, Christmas is coming and her job at the grocery store just isn't cutting it.
Toby is steering clear of Addie. Addie is steering clear of Toby. But everyone around them knows this is the slow burn.
Because just like Eliza and Johnny, Addie and Toby were made for each other.
The View from Alameda Island by Robyn Carr
Links: Goodreads | Amazon* | Book Depository*
Synopsis: From the outside looking in, Lauren Delaney has a life to envy—a successful career, a solid marriage to a prominent surgeon and two beautiful daughters who are off to good colleges. But on her twenty-fourth wedding anniversary Lauren makes a decision that will change everything.
Lauren won't pretend things are perfect anymore. She defies the controlling husband who has privately mistreated her throughout their marriage and files for divorce. And as she starts her new life, she meets a kindred spirit—a man who is also struggling with the decision to end his unhappy marriage.
But Lauren's husband wants his "perfect" life back and his actions are shocking. Facing an uncertain future, Lauren discovers an inner strength she didn't know she had as she fights for the love and happiness she deserves.
Into the Jungle by Erica Ferencik
Links: Goodreads | Amazon* | Book Depository*
Synopsis: Lily Bushwold thought she'd found the antidote to endless foster care and group homes: a teaching job in Cochabamba, Bolivia. As soon as she could steal enough cash for the plane, she was on it.
When the gig falls through and Lily stays in Bolivia, she finds bonding with other broke, rudderless girls at the local hostel isn't the life she wants either. Tired of hustling and already world-weary, crazy love finds her in the form she least expected: Omar, a savvy, handsome local man who'd abandoned his life as a hunter in Ayachero—a remote jungle village—to try his hand at city life.
When Omar learns that a jaguar has killed his four-year-old nephew in Ayachero, he gives Lily a choice: Stay alone in the unforgiving city, or travel to the last in a string of ever-more-isolated river towns in the jungles of Bolivia. Thirty-foot anaconda? Puppy-sized spiders? Vengeful shamans with unspeakable powers? Love-struck Lily is oblivious. She follows Omar to this ruthless new world of lawless poachers, bullheaded missionaries, and desperate indigenous tribes driven to the brink of extinction. To survive, Lily must navigate the jungle–its wonders as well as its terrors—using only her wits and resilience.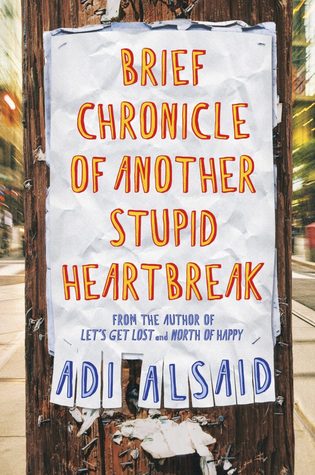 Brief Chronicle of Another Stupid Heartbreak by Adi Alsaid
Links: Goodreads | Amazon* | Book Depository*
Synopsis: The summer after senior year is not going as eighteen-year-old Lu Charles expected: after her longtime boyfriend unexpectedly breaks up with her, Lu can't write a single word, despite the fact that her college scholarship is tied to her columnist job at hip online magazine Misnomer. Then, she meets Cal.
Cal's ever-practical girlfriend Iris is looking ahead to her first year of college, and her plans do not include a long-distance boyfriend. When Lu learns that Cal and Iris have planned to end their relationship at the end of the summer, she becomes fascinated and decides to chronicle the last months the couple will spend together.
The closer she gets to the couple, the more she likes them, and the more she wants to write about them. The summer unfurls, and Lu discovers what it really means to be in love. On the page, or off it. The book is touching exploration of love and how it shapes us both during a relationship and after it has ended.
Love from A to Z by S.K. Ali
Links: Goodreads | Amazon* | Book Depository*
Synopsis: A marvel: something you find amazing. Even ordinary-amazing. Like potatoes—because they make French fries happen. Like the perfect fries Adam and his mom used to make together.
An oddity: whatever gives you pause. Like the fact that there are hateful people in the world. Like Zayneb's teacher, who won't stop reminding the class how "bad" Muslims are.
But Zayneb, the only Muslim in class, isn't bad. She's angry.
When she gets suspended for confronting her teacher, and he begins investigating her activist friends, Zayneb heads to her aunt's house in Doha, Qatar, for an early start to spring break.
Fueled by the guilt of getting her friends in trouble, she resolves to try out a newer, "nicer" version of herself in a place where no one knows her.
Then her path crosses with Adam's.
Since he got diagnosed with multiple sclerosis in November, Adam's stopped going to classes, intent, instead, on perfecting the making of things. Intent on keeping the memory of his mom alive for his little sister.
Adam's also intent on keeping his diagnosis a secret from his grieving father.
Alone, Adam and Zayneb are playing roles for others, keeping their real thoughts locked away in their journals.
Until a marvel and an oddity occurs…
Marvel: Adam and Zayneb meeting.
Oddity: Adam and Zayneb meeting.
A Good Enough Mother by Bev Thomas
Links: Goodreads | Amazon* | Book Depository*
Synopsis: A riveting page-turner that lets us inside the secret world of therapist and patient, where boundaries get crossed, and events spiral out of control. . .
Ruth Hartland is a psychotherapist with years of experience. But professional skill is no guard against private grief. The mother of grown twins, she is haunted by the fact that her beautiful, difficult, fragile son Tom, a boy who never "fit in," disappeared a year and a half earlier. She cannot give up hope of finding him, but feels she is living a kind of half-life, waiting for him to return.
Enter a new patient, Dan–unstable and traumatized–who looks exactly like her missing son. She is determined to help him, but soon, her own complicated feelings, about how she has failed her own boy, cloud her professional judgement. And before long, the unthinkable becomes a shattering reality….
An utterly compelling drama with a timebomb at its core, A Good Enough Mother is a brilliant, beautiful story of mothering, and how to let go of the ones we love when we must.
Cape May by Chip Cheek
Links: Goodreads | Amazon* | Book Depository*
Synopsis: A mesmerizing debut novel by Chip Cheek, Cape May explores the social and sexual mores of 1950s America through the eyes of a newly married couple from the genteel south corrupted by sophisticated New England urbanites.
Late September 1957. Henry and Effie, very young newlyweds from Georgia, arrive in Cape May, New Jersey, for their honeymoon only to find the town is deserted. Feeling shy of each other and isolated, they decide to cut the trip short. But before they leave, they meet a glamorous set of people who sweep them up into their drama. Clara, a beautiful socialite who feels her youth slipping away; Max, a wealthy playboy and Clara's lover; and Alma, Max's aloof and mysterious half-sister, to whom Henry is irresistibly drawn.
The empty beach town becomes their playground, and as they sneak into abandoned summer homes, go sailing, walk naked under the stars, make love, and drink a great deal of gin, Henry and Effie slip from innocence into betrayal, with irrevocable consequences.
Erotic and moving, this is a novel about marriage, love and sexuality, and the lifelong repercussions that meeting a group of debauched cosmopolitans has on a new marriage.
Where the Missing Go by Emma Rowley
Links: Goodreads | Amazon* | Book Depository*
Synopsis: The missing don't always want to be found.
Kate Harlow recognizes this painful truth, even as she keeps searching for her daughter, Sophie, who disappeared two years ago. The police have stopped investigating–after all, Sophie has sent postcards home, insisting that she's fine. To fill the space in her increasingly empty days, Kate volunteers at Message in a Bottle, where runaways can leave messages for loved ones, no questions asked.
Then one evening, a call comes in from a voice Kate instinctively recognizes, even through bursts of static and beyond the sudden dial tone that breaks their connection.
Those closest to Kate worry she's cracking under her grief, imagining that it was Sophie. But Kate knows–that it was her daughter on the phone. And that a stranger has been inside her house. Watching her.
Sophie is out there. And Kate has to find her, even if someone will try anything to stop her . . .
The Wonder of Lost Causes by Nick Trout
Links: Goodreads | Amazon* | Book Depository*
Synopsis: Dr. Kate Blunt will do anything for her son, Jasper. Well, almost anything. Since Jasper has the incurable lung disease cystic fibrosis, Kate's always told him he couldn't get a dog. It's a tough call, but she's a single mom taking care of a kid who fights for every breath he takes. The daily medical routine that keeps Jasper alive is complicated enough. Worse still, Kate's personal resolve runs contrary to her work as the veterinarian in charge of a Cape Cod animal shelter, where she is on a mission to find forever homes for dogs in desperate need.
The scarred, mistreated wreck of a dog that turns up doesn't stand a chance. Named Whistler, he's too old, too ugly. But the dog forms an instantaneous bond with Jasper. Whistler never makes a sound, yet he speaks to Jasper in a myriad of mysterious ways. The clock's ticking, the dog's future hangs in the balance, and Jasper would do anything to find him a home; but Whistler has chosen them—for a reason.
Murder in the Reading Room by Ellery Adams
Links: Goodreads | Amazon* | Book Depository*
Synopsis: Storyton Hall, Virginia, is a paradise for book lovers who come from all over for literary getaways. But manager Jane Steward is temporarily leaving for another renowned resort–in hopes of solving a twist-filled mystery . . .
Jane's boyfriend is missing, and she thinks she may find him at North Carolina's historic Biltmore Estate. Officially, she's there to learn about luxury hotel management, but she's also prowling around the breathtaking buildings and grounds looking for secret passageways and clues. One of the staff gardeners promises to be helpful . . . that is, until his body turns up in the reading room of his cottage, a book on his lap.
When she finally locates the kidnapped Edwin, his captor insists that she lead him back to Storyton Hall, convinced that it houses Ernest Hemingway's lost suitcase, stolen from a Paris train station in 1922. But before they can turn up the treasure, the bell may toll for another victim . . .
One Word Kill by Mark Lawrence
Links: Goodreads | Amazon* | Book Depository*
Synopsis: In January 1986, fifteen-year-old boy-genius Nick Hayes discovers he's dying. And it isn't even the strangest thing to happen to him that week.
Nick and his Dungeons & Dragons-playing friends are used to living in their imaginations. But when a new girl, Mia, joins the group and reality becomes weirder than the fantasy world they visit in their weekly games, none of them are prepared for what comes next. A strange—yet curiously familiar—man is following Nick, with abilities that just shouldn't exist. And this man bears a cryptic message: Mia's in grave danger, though she doesn't know it yet. She needs Nick's help—now.
He finds himself in a race against time to unravel an impossible mystery and save the girl. And all that stands in his way is a probably terminal disease, a knife-wielding maniac and the laws of physics.
Challenge accepted.
The Overdue Life of Amy Byler by Kelly Harms
Links: Goodreads | Amazon* | Book Depository*
Synopsis: Overworked and underappreciated, single mom Amy Byler needs a break. So when the guilt-ridden husband who abandoned her shows up and offers to take care of their kids for the summer, she accepts his offer and escapes rural Pennsylvania for New York City.
Usually grounded and mild mannered, Amy finally lets her hair down in the city that never sleeps. She discovers a life filled with culture, sophistication, and—with a little encouragement from her friends—a few blind dates. When one man in particular makes quick work of Amy's heart, she risks losing herself completely in the unexpected escape, and as the summer comes to an end, Amy realizes too late that she must make an impossible decision: stay in this exciting new chapter of her life, or return to the life she left behind.
But before she can choose, a crisis forces the two worlds together, and Amy must stare down a future where she could lose both sides of herself, and every dream she's ever nurtured, in the beat of a heart.
Cold Waters (Normal, Alabama #1) by Debbie Herbert
Links: Goodreads | Amazon* | Book Depository*
Synopsis: Everyone thinks fourteen-year-old Violet is a murderer. After a summer-night swim with her best friend, Ainsley, Violet is found confused, wandering in the forest—and Ainsley's never seen again. But without a body, murder charges won't stick, so Violet is sent away.
After more than a decade in a psychiatric ward, Violet returns to her broken-down hometown of Normal, Alabama, to claim her dead mother's inheritance and help her overworked sister care for their unstable, alcoholic father. Violet, still haunted by that night eleven years ago, endures horrific flashbacks and twisted hallucinations while townsfolk spit accusations—and for all she knows, they're right.
As the summer heats up, details of Ainsley's fate appear like a beast's wild eyes, watching in the darkness, and grim revelations about Violet's family threaten to devour her. Already on the edge of madness, Violet must fight to keep her sanity long enough for the terrible truth to burst from the cold, dark waters.
Where the Desert Meets the Sea by Werner Sonne
Links: Goodreads | Amazon* | Book Depository*
Synopsis: Jerusalem, 1947: Judith, a young Jewish survivor of the Dachau concentration camp, arrives in Mandatory Palestine, seeking refuge with her only remaining relative, her uncle. When she learns that he has died, she tries to take her own life in despair.
After awakening in the hospital, Judith learns that Hana, a Muslim Arab nurse, has saved her life by donating her own blood. While the two women develop a fragile bond, each can't help but be drawn deeper into the political machinations tearing the country apart. After witnessing the repeated attacks inflicted on the Jews, Judith makes the life-changing decision to join the Zionist fight for Jerusalem. And Hana's star-crossed love for Dr. David Cohen, an American Jew out of his element and working only to save lives, will put her own life in danger.
Then the political situation worsens. When tensions erupt, a shocking act of violence threatens Judith and Hana's friendship—and the destinies of everyone they love
A Well-Read Woman: The Life, Loves, and Legacy of Ruth Rappaport by Kate Stewart
Links: Goodreads | Amazon* | Book Depository*
Synopsis: The inspiring true story of an indomitable librarian's journey from Nazi Germany to Seattle to Vietnam—all for the love of books.
Growing up under Fascist censorship in Nazi Germany, Ruth Rappaport absorbed a forbidden community of ideas in banned books. After fleeing her home in Leipzig at fifteen and losing both parents to the Holocaust, Ruth drifted between vocations, relationships, and countries, searching for belonging and purpose. When she found her calling in librarianship, Ruth became not only a witness to history but an agent for change as well.
Culled from decades of diaries, letters, and photographs, this epic true story reveals a driven woman who survived persecution, political unrest, and personal trauma through a love of books. It traces her activism from the Zionist movement to the Red Scare to bibliotherapy in Vietnam and finally to the Library of Congress, where Ruth made an indelible mark and found a home. Connecting it all, one constant thread: Ruth's passion for the printed word, and the haven it provides—a haven that, as this singularly compelling biography proves, Ruth would spend her life making accessible to others.
This wasn't just a career for Ruth Rappaport. It was her purpose.
The Inn at Hidden Run (Tree of Life #1) by Olivia Newport
Links: Goodreads | Amazon* | Book Depository*
Synopsis: A Father-Daughter Genealogy Team Link Present to Past on Family Trees
Meri's family has been producing doctors for so many generations that no one remembers why, so when she flunks out of medical school, she runs as far from her parents as she can get. In the small mountain town of Canyon Mines, Colorado, she takes a job at the Inn at Hidden Run B&B. And waits. It's only a matter of time.
What she doesn't count on is genealogist Jillian Parisi-Duffy and her father, Nolan, having her back when it takes everything she has not to bolt again but to stay and face the truth that only unfolding her family's history will reveal. While Nolan works on keeping Meri calm–and in town–Jillian pulls out of her gems of information she doesn't know she has and arranges the puzzle pieces.
But none of that changes the fact that Meri's family is closing in to haul her back to her "real" life. When their arrival inflames tensions and Meri finally does bolt, Nolan and Jillian may be out of time.
Next Girl to Die (The Calderwood Cases #1) by Dea Poirier 
Links: Goodreads | Amazon* | Book Depository*
Synopsis: Solving the case will avenge her sister—unless the killer finds her first.
It's been fifteen years since Claire Calderwood's sister, Rachel, was brutally murdered in their small hometown in Maine. Claire has finally carved out a life for herself as a homicide detective in Detroit, but the past comes calling when the local police back home ask for her help with a murder eerily similar to Rachel's.
Still haunted by Rachel's cold case, Claire returns home, hoping to solve the crime and finally put her grief to rest. As she starts investigating, the last thing she needs is tenacious journalist Noah Washington asking questions she's not ready to answer. But like her, Noah won't give up until he finds the truth—and Claire reluctantly finds herself relying on him more and more when disturbing new details about Rachel's death come to light.
When the killer strikes once again, Claire knows he's not done. Now he's set his sights on Claire, who will have to find the courage she needs to survive a deadly confrontation years in the making.
A Good Girl's Guide to Murder by Holly Jackson
Links: Goodreads | Amazon* | Book Depository*
Synopsis: The case is closed. Five years ago, schoolgirl Andie Bell was murdered by Sal Singh. The police know he did it. Everyone in town knows he did it.
But having grown up in the same small town that was consumed by the murder, Pippa Fitz-Amobi isn't so sure. When she chooses the case as the topic for her final year project, she starts to uncover secrets that someone in town desperately wants to stay hidden. And if the real killer is still out there, how far will they go to keep Pip from the truth?
A debut YA crime thriller as addictive as Serial and as page-turning as One of Us Is Lying.
You Then, Me Now by Nick Alexander
Links: Goodreads | Amazon* | Book Depository*
Synopsis: She's given her daughter everything. Now it's time to give her the truth.
Becky's father is not just absent: he's a mystery, a gaping hole in her past. He died before she was born and for her mother, Laura, the subject is strictly off-limits. But when Laura books an unexpected trip to Greece, Becky decides to join her, determined to get closer to her mother—and to the truth.
As they make their way to the beautiful island of Santorini, it becomes clear that this holiday is not as impulsive as Becky thought. Laura's hiding something from her daughter—and she's been hiding it for as long as Becky can remember. Laura has been here before, and that last visit holds the answers to Becky's past.
But Laura's memories of that first trip are tinged with pain and heartbreak, secrets she's kept buried for twenty-five years. Now, with the truth emerging into the sunlight at last, can mother and daughter lay the ghosts of their past to rest and find the happiness they've both been looking for?
Chosen Champion by Elise Kova (Air Awakens: Vortex Visions #2)
Links: Goodreads | Amazon* | Book Depository*
Synopsis:
A princess on the run, with enemies on all sides…
Vi Solaris is on the eve of getting everything she's ever wanted—her family, her home, her throne—and to save the world she's going to have to give it all up.
The Empire sees her as their Crown Princess, returning at long last. But Vi only sees visions of fate guiding her to the world's gruesome end. Across the sea is a man who holds the keys to deciphering her premonitions and thwarting the ancient evil ravaging their world. But to get to him, Vi will have to contend with enemies of the crown, romance she didn't expect, sorcerer pirates, and a betrayal she never saw coming.
She will learn the hard way that some evils never die… They only bide their time…
---
Connect with me:
Instagram | Goodreads | Twitter | Podcast
Please note: All links marked with (*) are affiliate links. Meaning, if you click and make a purchase I will get a small percentage of the purchase price from the retailer. Purchases like these help support my blog!