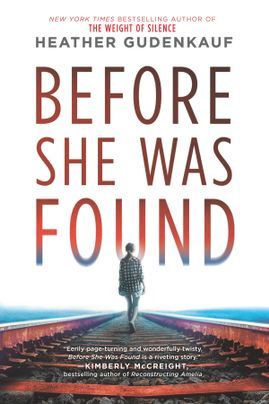 Title: Before She Was Found
Author: Heather Gudenkauf
Genre: Suspense /  Thriller
Publisher: Park Row Books
Publication Date: April 16, 2019
Links: Goodreads | Amazon* | Book Depository*
Rating: 5 / 5 Stars
Source: Physical copy provided by publisher via TLC Book Tours
I want to start this review by saying, I had no idea this book was set in Iowa (where I live btw)! It was so strange/interesting to see places I know well mentioned throughout the book as well as fictional places that I believe are based on real places. Just very surreal given the fact that not many books I've read are set in Iowa, let alone rural Iowa. And the author lives in Iowa, so yay, fellow Iowans!

Anyhow, this book was INTENSE. Holy cow. I love the way it is written through text messages, direct messages, social media, as well as the point of view of various characters. It was such a fun way to get various takes on the same situation while also keeping the reader engaged and wanting more.
The story is about three pre-teen girls. At the start of the book one, Cora, of them is gravely injured. She has been stabbed and her face is badly damaged. Another of them, Violet, is in complete shock and covered in blood, though she has no physical injuries. And the third, Jordyn is home though she was supposed to be at a sleepover with the other two. As the story unfolds, we learn the dynamics between the three girls as well as the various adults in their lives. It is a very twisty story and there were quite a few times I thought I had everything figured out only to be wrong.
If you're interested in reading an excerpt from this book, it can be found here. If you are a fan of thrillers, you'll definitely want to pick this one up!
Thank you so much to Park Row Books, Harlequin Books, and TLC Book Tours for the opportunity to read and review this book!
---
Synopsis: For twelve-year-old Cora Landry and her friends Violet and Jordyn, it was supposed to be an ordinary sleepover–movies and Ouija and talking about boys. But when they decide to sneak out to go to the abandoned rail yard on the outskirts of town, little do they know that their innocent games will have dangerous consequences.
Later that night, Cora Landry is discovered on the tracks, bloody and clinging to life, her friends nowhere to be found. Soon their small rural town is thrust into a maelstrom. Who would want to hurt a young girl like Cora–and why? In an investigation that leaves no stone unturned, everyone is a suspect and no one can be trusted–not even those closest to Cora.
Before She Was Found is a timely and gripping thriller about friendship and betrayal, about the power of social pressure and the price of needing to fit in. It is about the great lengths a parent will go to protect their child and keep them safe–even if that means burying the truth, no matter the cost.
Connect with me:
Instagram | Goodreads | Twitter | Podcast
Please note: All links marked with (*) are affiliate links. Meaning, if you click and make a purchase I will get a small percentage of the purchase price from the retailer. Purchases like these help support my blog!