I started making a list titled: 5 May Releases I'm Excited About, and then realized that I have ARCs of all of these books and I need to read them ASAP. So here we are! 5 books coming out in May that not only am I excited about, but that I still have in my ARC queue to finish up and review! I have a lot of work ahead of me. I'll be in my reading hole, send snacks.
---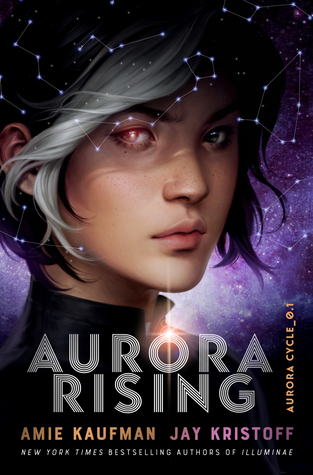 Aurora Rising by Amie Kaufman & Jay Kristoff
Links: Goodreads | Amazon* | Book Depository*
Synopsis: The year is 2380, and the graduating cadets of Aurora Academy are being assigned their first missions. Star pupil Tyler Jones is ready to recruit the squad of his dreams, but his own boneheaded heroism sees him stuck with the dregs nobody else in the Academy would touch…
A cocky diplomat with a black belt in sarcasm
A sociopath scientist with a fondness for shooting her bunkmates
A smart-ass techwiz with the galaxy's biggest chip on his shoulder
An alien warrior with anger management issues
A tomboy pilot who's totally not into him, in case you were wondering
And Ty's squad isn't even his biggest problem—that'd be Aurora Jie-Lin O'Malley, the girl he's just rescued from interdimensional space. Trapped in cryo-sleep for two centuries, Auri is a girl out of time and out of her depth. But she could be the catalyst that starts a war millions of years in the making, and Tyler's squad of losers, discipline-cases and misfits might just be the last hope for the entire galaxy.
They're not the heroes we deserve. They're just the ones we could find. Nobody panic.
We Hunt the Flame by Hafsah Faizal
Links: Goodreads | Amazon* | Book Depository*
Synopsis: People lived because she killed.
People died because he lived.
Zafira is the Hunter, disguising herself as a man when she braves the cursed forest of the Arz to feed her people. Nasir is the Prince of Death, assassinating those foolish enough to defy his autocratic father, the king. If Zafira was exposed as a girl, all of her achievements would be rejected; if Nasir displayed his compassion, his father would punish him in the most brutal of ways.
Both are legends in the kingdom of Arawiya—but neither wants to be.
War is brewing, and the Arz sweeps closer with each passing day, engulfing the land in shadow. When Zafira embarks on a quest to uncover a lost artifact that can restore magic to her suffering world and stop the Arz, Nasir is sent by the king on a similar mission: retrieve the artifact and kill the Hunter. But an ancient evil stirs as their journey unfolds—and the prize they seek may pose a threat greater than either can imagine.
Set in a richly detailed world inspired by ancient Arabia, We Hunt the Flame is a gripping debut of discovery, conquering fear, and taking identity into your own hands.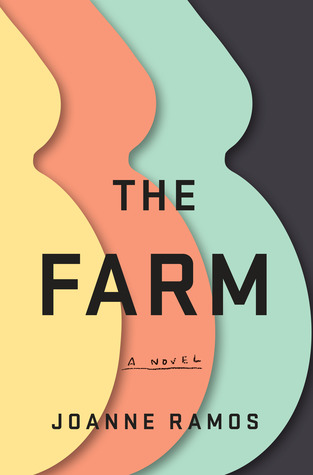 The Farm by Joanne Ramos
Links: Goodreads | Amazon* | Book Depository*
Synopsis: Nestled in the Hudson Valley is a sumptuous retreat boasting every amenity: organic meals, private fitness trainers, daily massages—and all of it for free. In fact, you get paid big money—more than you've ever dreamed of—to spend a few seasons in this luxurious locale. The catch? For nine months, you belong to the Farm. You cannot leave the grounds; your every move is monitored. Your former life will seem a world away as you dedicate yourself to the all-consuming task of producing the perfect baby for your überwealthy clients.
Jane, an immigrant from the Philippines and a struggling single mother, is thrilled to make it through the highly competitive Host selection process at the Farm. But now pregnant, fragile, consumed with worry for her own young daughter's well-being, Jane grows desperate to reconnect with her life outside. Yet she cannot leave the Farm or she will lose the life-changing fee she'll receive on delivery—or worse.
Heartbreaking, suspenseful, provocative, The Farm pushes our thinking on motherhood, money, and merit to the extremes, and raises crucial questions about the trade-offs women will make to fortify their futures and the futures of those they love.
Middlegame by Seanan McGuire
Links: Goodreads | Amazon* | Book Depository*
Synopsis: Meet Roger. Skilled with words, languages come easily to him. He instinctively understands how the world works through the power of story.
Meet Dodger, his twin. Numbers are her world, her obsession, her everything. All she understands, she does so through the power of math.
Roger and Dodger aren't exactly human, though they don't realise it. They aren't exactly gods, either. Not entirely. Not yet.
Meet Reed, skilled in the alchemical arts like his progenitor before him. Reed created Dodger and her brother. He's not their father. Not quite. But he has a plan: to raise the twins to the highest power, to ascend with them and claim their authority as his own.
Godhood is attainable. Pray it isn't attained.
Mine by Courtney Cole
Links: Goodreads | Amazon* | Book Depository*
Synopsis: Our world was crumbling. You took advantage.
He was weak. You're weaker.
A wedding ring isn't a challenge.  It's a promise.
But that promise wasn't for you.
Get some self respect.  And get your own life.
My husband isn't yours.
He's mine.
And no matter how hard you try, you'll never be me.
You don't have the balls.
PS
F@ck you.
---
Connect with me:
Instagram | Goodreads | Twitter | Podcast
Please note: All links marked with (*) are affiliate links. Meaning, if you click and make a purchase I will get a small percentage of the purchase price from the retailer. Purchases like these help support my blog!