Happy new release Tuesday!! I've decided to split up my post between YA/MG books and adult releases. Only because my lists are getting so long, it made sense to split them up somehow.
So without further ado, the YA and Middle Grade releases for this week!
---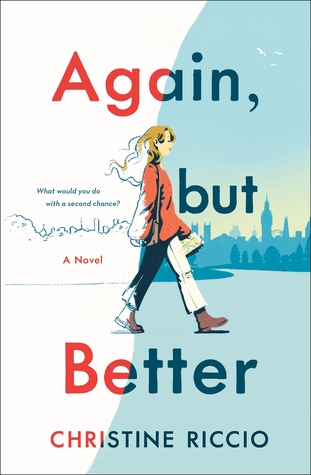 Again, but Better by Christine Riccio
Links: Goodreads | Amazon* | Book Depository*
Synopsis: Shane has been doing college all wrong. Pre-med, stellar grades, and happy parents…sounds ideal—but Shane's made zero friends, goes home every weekend, and romance…what's that?
Her life has been dorm, dining hall, class, repeat. Time's a ticking, and she needs a change—there's nothing like moving to a new country to really mix things up. Shane signs up for a semester abroad in London. She's going to right all her college mistakes: make friends, pursue boys, and find adventure!
Easier said than done. She is soon faced with the complicated realities of living outside her bubble, and when self-doubt sneaks in, her new life starts to fall apart.
Shane comes to find that, with the right amount of courage and determination one can conquer anything. Throw in some fate and a touch of magic—the possibilities are endless.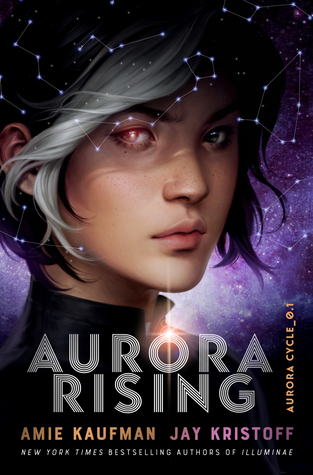 Aurora Rising (The Aurora Cycle #1) by Amie Kaufman & Jay Kristoff
Links: Goodreads | Amazon* | Book Depository*
Synopsis: The year is 2380, and the graduating cadets of Aurora Academy are being assigned their first missions. Star pupil Tyler Jones is ready to recruit the squad of his dreams, but his own boneheaded heroism sees him stuck with the dregs nobody else in the Academy would touch…
A cocky diplomat with a black belt in sarcasm
A sociopath scientist with a fondness for shooting her bunkmates
A smart-ass techwiz with the galaxy's biggest chip on his shoulder
An alien warrior with anger management issues
A tomboy pilot who's totally not into him, in case you were wondering
And Ty's squad isn't even his biggest problem—that'd be Aurora Jie-Lin O'Malley, the girl he's just rescued from interdimensional space. Trapped in cryo-sleep for two centuries, Auri is a girl out of time and out of her depth. But she could be the catalyst that starts a war millions of years in the making, and Tyler's squad of losers, discipline-cases and misfits might just be the last hope for the entire galaxy.
They're not the heroes we deserve. They're just the ones we could find. Nobody panic.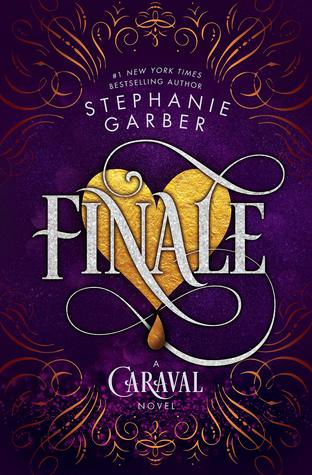 Finale (Caraval #3) by Stephanie Garber
Links: Goodreads | Amazon* | Book Depository*
Synopsis: Welcome, welcome to Caraval…all games must come to an end.
It's been two months since the last Caraval concluded, two months since the Fates have been freed from an enchanted deck of cards, two months since Tella has seen Legend, and two months since Legend claimed the empire's throne as his own. Now, Legend is preparing for his official coronation and Tella is determined to stop it. She believes her own mother, who still remains in an enchanted sleep, is the rightful heir to the throne.
Meanwhile, Scarlett has started a game of her own. She's challenged Julian and her former fiancé, Count Nicolas d'Arcy, to a competition where the winner will receive her hand in marriage. Finaly, Scarlett feels as if she is in complete control over her life and future. She is unaware that her mother's past has put her in the greatest danger of all.
Caraval is over, but perhaps the greatest game of all has begun―with lives, empires, and hearts all at stake. There are no spectators this time: only those who will win…and those who will lose everything. . .
Romanov by Nadine Brandes
Links: Goodreads | Amazon* | Book Depository*
Synopsis: The history books say I died.
They don't know the half of it.
Anastasia "Nastya" Romanov was given a single mission: to smuggle an ancient spell into her suitcase on her way to exile in Siberia. It might be her family's only salvation. But the leader of the Bolshevik army is after them . . . and he's hunted Romanov before.
Nastya's only chances of survival are to either release the spell, and deal with the consequences, or enlist help from Zash, the handsome soldier who doesn't act like the average Bolshevik. Nastya's never dabbled in magic before, but it doesn't frighten her as much as her growing attraction for Zash. She likes him. She thinks he might even like her . . .
That is, until she's on one side of a firing squad . . . and he's on the other
With the Fire on High by Elizabeth Acevedo
Links: Goodreads | Amazon* | Book Depository*
Synopsis: With her daughter to care for and her abuela to help support, high school senior Emoni Santiago has to make the tough decisions, and do what must be done. The one place she can let her responsibilities go is in the kitchen, where she adds a little something magical to everything she cooks, turning her food into straight-up goodness. Still, she knows she doesn't have enough time for her school's new culinary arts class, doesn't have the money for the class's trip to Spain — and shouldn't still be dreaming of someday working in a real kitchen. But even with all the rules she has for her life — and all the rules everyone expects her to play by — once Emoni starts cooking, her only real choice is to let her talent break free.
Her Royal Highness (Royals #2) by Rachel Hawkins
Links: Goodreads | Amazon* | Book Depository*
Synopsis: Millie Quint is devastated when she discovers that her sort-of-best friend/sort-of-girlfriend has been kissing someone else. And because Millie cannot stand the thought of confronting her ex every day, she decides to apply for scholarships to boarding schools . . . the farther from Houston the better.
Millie can't believe her luck when she's accepted into one of the world's most exclusive schools, located in the rolling highlands of Scotland. Everything about Scotland is different: the country is misty and green; the school is gorgeous, and the students think Americans are cute.
The only problem: Mille's roommate Flora is a total princess.
She's also an actual princess. Of Scotland.
At first, the girls can barely stand each other–Flora is both high-class and high-key–but before Millie knows it, she has another sort-of-best-friend/sort-of-girlfriend. Even though Princess Flora could be a new chapter in her love life, Millie knows the chances of happily ever afters are slim . . . after all, real life isn't a fairy tale . . . or is it?
Broken Throne (Red Queen #4.5) by Victoria Aveyard
Links: Goodreads | Amazon* | Book Depository*
Synopsis: Return once more to the deadly and dazzling world of Red Queen in Broken Throne, a beautifully designed, must-have companion to the chart-topping series from #1 New York Times bestselling author Victoria Aveyard.
The perfect addition to the #1 New York Times bestselling Red Queen series, this gorgeously designed package features three brand-new novellas, two previously published novellas, Steel Scars and Queen Song, and never-before-seen maps, flags, bonus scenes, journal entries, and much more exclusive content.
Fans will be delighted to catch up with beloved characters after the drama of War Storm and be excited to hear from brand-new voices as well. This stunning collection is not to be missed!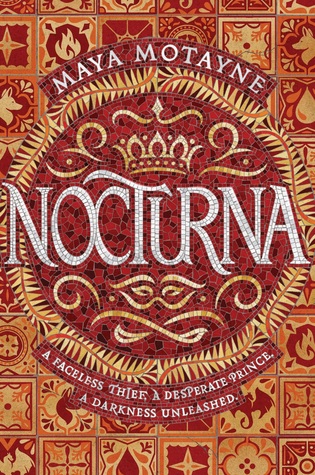 Nocturna (A Forgery of Magic #1) by Maya Motayne
Links: Goodreads | Amazon* | Book Depository*
Synopsis: Set in a Latinx-inspired world, a face-changing thief and a risk-taking prince must team up to defeat a powerful evil they accidentally unleashed.
To Finn Voy, magic is two things: a knife to hold under the chin of anyone who crosses her…and a disguise she shrugs on as easily as others pull on cloaks.
As a talented faceshifter, it's been years since Finn has seen her own face, and that's exactly how she likes it. But when Finn gets caught by a powerful mobster, she's forced into an impossible mission: steal a legendary treasure from Castallan's royal palace or be stripped of her magic forever.
After the murder of his older brother, Prince Alfehr is first in line for the Castallan throne. But Alfie can't help but feel that he will never live up to his brother's legacy. Riddled with grief, Alfie is obsessed with finding a way to bring his brother back, even if it means dabbling in forbidden magic.
But when Finn and Alfie's fates collide, they accidentally unlock a terrible, ancient power—which, if not contained, will devour the world. And with Castallan's fate in their hands, Alfie and Finn must race to vanquish what they have unleashed, even if it means facing the deepest darkness in their pasts.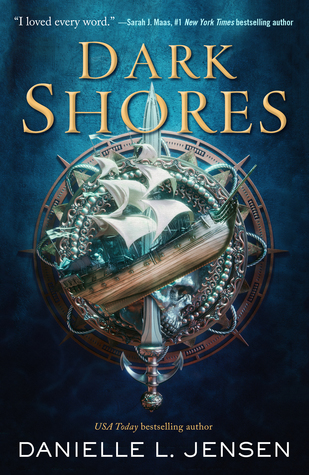 Dark Shores by Danielle L. Jensen
Links: Goodreads | Amazon* | Book Depository*
Synopsis: In a world divided by meddlesome gods and treacherous oceans, only the Maarin possess the knowledge to cross the Endless Seas. But they have one mandate: East must never meet West.
A PIRATE WITH A WILL OF IRON
Teriana is the second mate of the Quincense and heir to the Maarin Triumvirate. Her people are born of the seas and the keepers of its secrets, but when her closest friend is forced into an unwanted betrothal, Teriana breaks her people's mandate so her friend might escape—a choice with devastating consequences.
A SOLDIER WITH A SECRET
Marcus is the commander of the Thirty-Seventh, the notorious legion that has led the Celendor Empire to conquer the entire East. The legion is his family, but even they don't know the truth he's been hiding since childhood. It's a secret he'll do anything to protect, no matter how much it costs him – and the world.
A DANGEROUS QUEST
When an Empire senator discovers the existence of the Dark Shores, he captures Teriana's crew and threatens to reveal Marcus's secret unless they sail in pursuit of conquest, forcing the two into an unlikely—and unwilling—alliance. They unite for the sake of their families, but both must decide how far they are willing to go, and how much they are willing to sacrifice.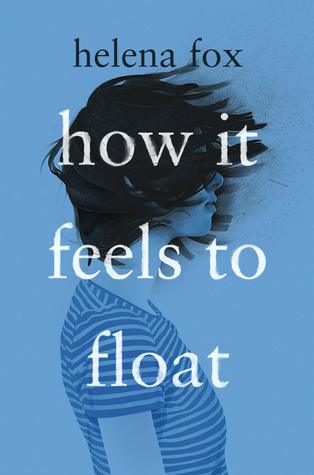 How It Feels to Float by Helena Fox
Links: Goodreads | Amazon* | Book Depository*
Synopsis: Biz knows how to float. She has her people, her posse, her mom and the twins. She has Grace. And she has her dad, who tells her about the little kid she was, who loves her so hard, and who shouldn't be here but is. So Biz doesn't tell anyone anything. Not about her dark, runaway thoughts, not about kissing Grace or noticing Jasper, the new boy. And she doesn't tell anyone about her dad. Because her dad died when she was six. And Biz knows how to float, right there on the surface–normal okay regular fine.
But after what happens on the beach–first in the ocean, and then in the sand–the tethers that hold Biz steady come undone. Dad disappears, and with him, all comfort. It might be easier, better, sweeter to float all the way away? Or maybe stay a little longer, find her father, bring him back to her. Or maybe–maybe maybe maybe–there's a third way Biz just can't see yet.
This Is Not a Love Scene by S.C. Megale
Links: Goodreads | Amazon* | Book Depository*
Synopsis: Lights, camera—all Maeve needs is action. But at eighteen, a rare form of muscular dystrophy usually stands in the way of romance. She's got her friends, her humor, and a passion for filmmaking to keep her focus off consistent rejection…and the hot older guy starring in her senior film project.
Tall, bearded, and always swaying, Cole Stone is everything Maeve can't be. And she likes it. Between takes, their chemistry is shockingly electric.
Suddenly Maeve gets a taste of typical teenage dating life, but girls in wheelchairs don't get the hot guy—right? Cole's attention challenges everything she once believed about her self-image and hopes for love. But figuring this out, both emotionally and physically, won't be easy for either of them. Maeve must choose between what she needs and what she wants, while Cole has a tendency to avoid decisions altogether. And her failing lungs might not wait for either.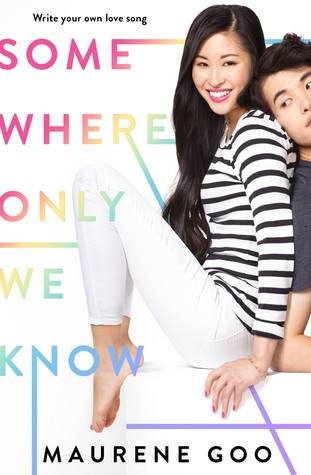 Somewhere Only We Know by Maurene Goo
Links: Goodreads | Amazon* | Book Depository*
Synopsis: 10 00 p.m.: Lucky is the biggest K-pop star on the scene, and she's just performed her hit song "Heartbeat" in Hong Kong to thousands of adoring fans. She's about to debut on The Tonight Show in America, hopefully a breakout performance for her career. But right now? She's in her fancy hotel, trying to fall asleep but dying for a hamburger.
11 00 p.m.: Jack is sneaking into a fancy hotel, on assignment for his tabloid job that he keeps secret from his parents. On his way out of the hotel, he runs into a girl wearing slippers, a girl who is single-mindedly determined to find a hamburger. She looks kind of familiar. She's very cute. He's maybe curious.
12:00 a.m.: Nothing will ever be the same.
Kings, Queens, and In-Betweens by Tanya Boteju
Links: Goodreads | Amazon* | Book Depository*
Synopsis: Perpetually awkward Nima Kumara-Clark is bored with her insular community of Bridgeton, in love with her straight girlfriend, and trying to move past her mother's unexpected departure. After a bewildering encounter at a local festival, Nima finds herself suddenly immersed in the drag scene on the other side of town.
Macho drag kings, magical queens, new love interests, and surprising allies propel Nima both painfully and hilariously closer to a self she never knew she could be—one that can confidently express and accept love. But she'll have to learn to accept lost love to get there.
Laura Deen Keeps Breaking Up with Me by Mariko Tamaki & illustrated by Rosemary Valero-O'Connell
Links: Goodreads | Amazon* | Book Depository*
Synopsis: Laura Dean, the most popular girl in high school, was Frederica Riley's dream girl: charming, confident, and SO cute. There's just one problem: Laura Dean is maybe not the greatest girlfriend.
Reeling from her latest break up, Freddy's best friend, Doodle, introduces her to the Seek-Her, a mysterious medium, who leaves Freddy some cryptic parting words: break up with her. But Laura Dean keeps coming back, and as their relationship spirals further out of her control, Freddy has to wonder if it's really Laura Dean that's the problem. Maybe it's Freddy, who is rapidly losing her friends, including Doodle, who needs her now more than ever. Fortunately for Freddy, there are new friends, and the insight of advice columnists like Anna Vice to help her through being a teenager in love.
Mariko Tamaki and Rosemary Valero-O'Connell bring to life a sweet and spirited tale of young love that asks us to consider what happens when we ditch the toxic relationships we crave to embrace the healthy ones we need.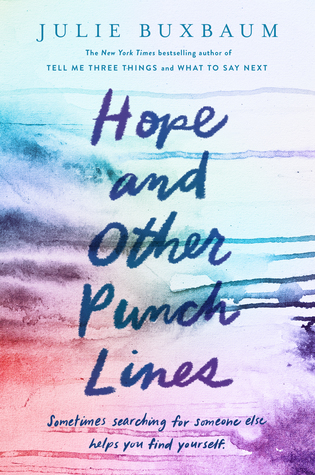 Hope and Other Punch Lines by Julie Buxbaum
Links: Goodreads | Amazon* | Book Depository*
Synopsis: Abbi Hope Goldstein is like every other teenager, with a few smallish exceptions: her famous alter ego, Baby Hope, is the subject of internet memes, she has asthma, and sometimes people spontaneously burst into tears when they recognize her. Abbi has lived almost her entire life in the shadow of the terrorist attacks of September 11. On that fateful day, she was captured in what became an iconic photograph: in the picture, Abbi (aka "Baby Hope") wears a birthday crown and grasps a red balloon; just behind her, the South Tower of the World Trade Center is collapsing.
Now, fifteen years later, Abbi is desperate for anonymity and decides to spend the summer before her seventeenth birthday incognito as a counselor at Knights Day Camp two towns away. She's psyched for eight weeks in the company of four-year-olds, none of whom have ever heard of Baby Hope.
Too bad Noah Stern, whose own world was irrevocably shattered on that terrible day, has a similar summer plan. Noah believes his meeting Baby Hope is fate. Abbi is sure it's a disaster. Soon, though, the two team up to ask difficult questions about the history behind the Baby Hope photo. But is either of them ready to hear the answers?
Finding Orion by John David Anderson
Links: Goodreads | Amazon* | Book Depository*
Synopsis: Rion Kwirk comes from a rather odd family. His mother named him and his sisters after her favorite constellations, and his father makes funky-flavored jelly beans for a living. One sister acts as if she's always onstage and the other is a walking dictionary. But no one in the family is more odd than Rion's grandfather, Papa Kwirk. He's the kind of guy who shows up on his motorcycle only on holidays, handing out crossbows and stuffed squirrels as presents. Rion has always been fascinated by Papa Kwirk, especially since his son—Rion's father—is the complete opposite. Where Dad is predictable, nerdy, and reassuringly boring, Papa Kwirk is mysterious, dangerous, and cool.
Which is why, when Rion and his family learn of Papa Kwirk's death and pile into the car to attend his funeral and pay their respects, Rion can't help but feel that that's not the end of his story. That there's so much more to Papa Kwirk to discover.
He doesn't know how right he is.
Last Things by Jacqueline West
Links: Goodreads | Amazon* | Book Depository*
Synopsis: When strange things start happening to local music idol Anders Thorson, everyone blames his number-one-fan, Thea. But is she out to hurt him? Or protect him?
High school senior Anders Thorson is unusually gifted. His band, Last Things, is legendary in their northern Minnesota hometown. With guitar skills that would amaze even if he weren't only eighteen, Anders is the focus of head-turning admiration. And Thea Malcom, a newcomer to the insular town, is one of his admirers. Thea seems to turn up everywhere Anders goes: gigs at the local coffeehouse, guitar lessons, even in the woods near Anders's home. When strange things start happening to Anders—including the disappearance of his beloved cat, then his sort-of girlfriend, and, somehow, his musical talent—blame immediately falls on Thea. But is she trying to hurt him? Or save him? Can he trust a girl who doesn't seem to know the difference between dreams and reality? And how much are they both willing to compromise to get what they want?
The First (Endling #2) by Katherine Applegate & illustrated by Max Kostenko
Links: Goodreads | Amazon* | Book Depository*
Synopsis: To learn if she truly is the last dairne in the world—the endling—Byx and her friends must travel into the snow-covered mountains of the country of Dreyland, where they hope to uncover the truth behind the legend of a hidden dairne colony. But the threat of war across the lands continues to grow with each passing day.
As the group confronts untold dangers at every turn, they will ultimately uncover a treacherous plot that involves the other powerful governing species. With both her dreams and all the creatures of Nedarra on the brink of extinction, Byx and her friends are determined to never give up hope.
Soon they find themselves the unlikely leaders in a simmering rebellion that risks everything they hold dear. Byx may be the last of her kind, but will she also be the first to lead the revolution?
A Wolf Called Wander by Rosanne Parry & illustrated by Mónica Armiño
Links: Goodreads | Amazon* | Book Depository*
Synopsis: The wolf star, brightest of all in the summer sky, shines over my home ground. I know every hidden lake and rocky ridge, but if my pack is not in the mountains, then it is no home to me. I feel a howl deep inside, but dare not let it out.

Swift lives with his pack in the mountains, until one day his home and family are lost. Alone and starving, Swift must make a choice: stay and try to eke out a desperate life on the borders of his old hunting grounds, or strike out and find a new place to call home. The journey Swift must go on is long and full of peril for a lone wolf, and he'll need to take every chance he can. Will he find the courage to survive all by himself?
Inspired by a true story, A Wolf Called Wander is about family, courage and survival. With beautiful illustrations from artist Mónica Armiño and an extra factual section about wolves and their environment, this book is perfect for animal lovers.
Just Jaime by Terri Libenson
Links: Goodreads | Amazon* | Book Depository*
Synopsis: Friends. Frenemies. Middle school…
The last day of seventh grade has Jaime and Maya wondering who their real friends are.
Jaime knows something is off with her friend group. They've started to exclude her and make fun of the way she dresses and the things she likes. At least she can count on her BFF, Maya, to have her back . . . right?
Maya feels more and more annoyed with Jaime, who seems babyish compared to the other girls in their popular group. It's like she has nothing in common with Jai anymore. Are their days as BFFs numbered . . . ?
Shouting at the Rain by Lynda Mullaly Hunt
Links: Goodreads | Amazon* | Book Depository*
Synopsis: Delsie loves tracking the weather–lately, though, it seems the squalls are in her own life. She's always lived with her kindhearted Grammy, but now she's looking at their life with new eyes and wishing she could have a "regular family." Delsie observes other changes in the air, too–the most painful being a friend who's outgrown her. Luckily, she has neighbors with strong shoulders to support her, and Ronan, a new friend who is caring and courageous but also troubled by the losses he's endured. As Ronan and Delsie traipse around Cape Cod on their adventures, they both learn what it means to be angry versus sad, broken versus whole, and abandoned versus loved. And that, together, they can weather any storm.
The Karate Kid illustrated by Kim Smith
Links: Goodreads | Amazon* | Book Depository*
Synopsis: When The Karate Kid appeared in theaters in 1984, its heartwarming story of an unlikely friendship between a bullied boy and the Japanese maintenance man in his new apartment building became an instant classic. Now the beloved film is reimagined as a cute and colorful picture book, with charming illustrations by Kim Smith. When young Daniel is targeted by students from the Cobra Kai dojo, his neighbor Mr. Miyagi agrees to train him for the upcoming karate tournament. But why is Mr. Miyagi making Daniel wax his cars, sand his deck, and paint his house? Will Daniel ever master the art of karate? This timeless story of overcoming the odds will delight kids, their parents, and anyone who has ever had that one special teacher.
Breathing Underwater (Breathing Underwater #1) by Alex Flinn
Links: Goodreads | Amazon* | Book Depository*
Synopsis: Like father, like son.
Intelligent, popular, handsome, and wealthy, sixteen-year-old Nick Andreas is pretty much perfect–on the outside, at least. What no one knows–not even his best friend–is the terror that Nick faces every time he is alone with his father. Then he and Caitlin fall in love, and Nick thinks his problems are over. Caitlin is the one person who he can confide in. But when things start to spiral out of control, Nick must face the fact that he's gotten more from his father than green eyes and money.
---
So many fantastic books! Which ones are you going to pick up?
Connect with me:
Instagram | Goodreads | Twitter | Podcast
Please note: All links marked with (*) are affiliate links. Meaning, if you click and make a purchase I will get a small percentage of the purchase price from the retailer. Purchases like these help support my blog!