It's a new week, and that means new books! Check out the week's new YA and MG books and then check back a little later today for the rest of the week's new books!
---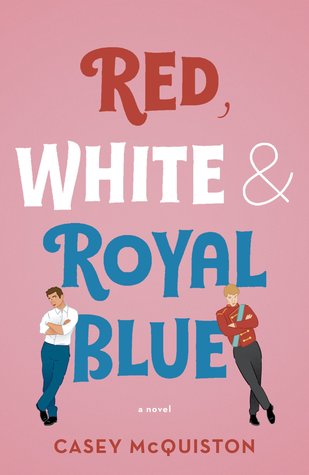 Red, White, & Royal Blue by Casey McQuiston
Links: Goodreads | Amazon* | Book Depository*
Synopsis: A big-hearted romantic comedy in which First Son Alex falls in love with Prince Henry of Wales after an incident of international proportions forces them to pretend to be best friends…
First Son Alex Claremont-Diaz is the closest thing to a prince this side of the Atlantic. With his intrepid sister and the Veep's genius granddaughter, they're the White House Trio, a beautiful millennial marketing strategy for his mother, President Ellen Claremont. International socialite duties do have downsides—namely, when photos of a confrontation with his longtime nemesis Prince Henry at a royal wedding leak to the tabloids and threaten American/British relations.
The plan for damage control: staging a fake friendship between the First Son and the Prince. Alex is busy enough handling his mother's bloodthirsty opponents and his own political ambitions without an uptight royal slowing him down. But beneath Henry's Prince Charming veneer, there's a soft-hearted eccentric with a dry sense of humor and more than one ghost haunting him.
As President Claremont kicks off her reelection bid, Alex finds himself hurtling into a secret relationship with Henry that could derail the campaign and upend two nations. And Henry throws everything into question for Alex, an impulsive, charming guy who thought he knew everything: What is worth the sacrifice? How do you do all the good you can do? And, most importantly, how will history remember you?
We Hunt the Flame (Sands of Arawiya #1) by Hafsah Faizal
Links: Goodreads | Amazon* | Book Depository*
Synopsis: People lived because she killed.
People died because he lived.
Zafira is the Hunter, disguising herself as a man when she braves the cursed forest of the Arz to feed her people. Nasir is the Prince of Death, assassinating those foolish enough to defy his autocratic father, the king. If Zafira was exposed as a girl, all of her achievements would be rejected; if Nasir displayed his compassion, his father would punish him in the most brutal of ways.
Both are legends in the kingdom of Arawiya—but neither wants to be.
War is brewing, and the Arz sweeps closer with each passing day, engulfing the land in shadow. When Zafira embarks on a quest to uncover a lost artifact that can restore magic to her suffering world and stop the Arz, Nasir is sent by the king on a similar mission: retrieve the artifact and kill the Hunter. But an ancient evil stirs as their journey unfolds—and the prize they seek may pose a threat greater than either can imagine.
Set in a richly detailed world inspired by ancient Arabia, We Hunt the Flame is a gripping debut of discovery, conquering fear, and taking identity into your own hands.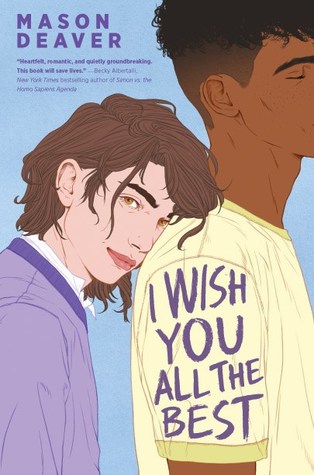 I Wish You All the Best by Mason Deaver
Links: Goodreads | Amazon* | Book Depository*
Synopsis: When Ben De Backer comes out to their parents as nonbinary, they're thrown out of their house and forced to move in with their estranged older sister, Hannah, and her husband, Thomas, whom Ben has never even met. Struggling with an anxiety disorder compounded by their parents' rejection, they come out only to Hannah, Thomas, and their therapist and try to keep a low profile in a new school.
But Ben's attempts to survive the last half of senior year unnoticed are thwarted when Nathan Allan, a funny and charismatic student, decides to take Ben under his wing. As Ben and Nathan's friendship grows, their feelings for each other begin to change, and what started as a disastrous turn of events looks like it might just be a chance to start a happier new life.
At turns heartbreaking and joyous, I Wish You All the Best is both a celebration of life, friendship, and love, and a shining example of hope in the face of adversity.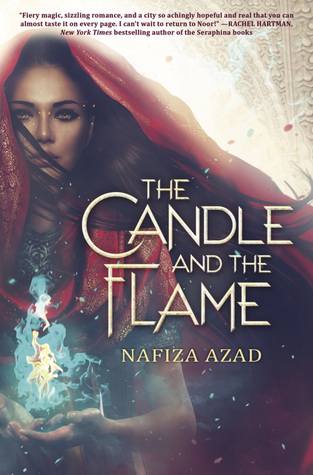 The Candle and the Flame by Nafiza Azad
Links: Goodreads | Amazon* | Book Depository*
Synopsis: Fatima lives in the city of Noor, a thriving stop along the Silk Road. There the music of myriad languages fills the air, and people of all faiths weave their lives together. However, the city bears scars of its recent past, when the chaotic tribe of Shayateen djinn slaughtered its entire population — except for Fatima and two other humans. Now ruled by a new maharajah, Noor is protected from the Shayateen by the Ifrit, djinn of order and reason, and by their commander, Zulfikar.
But when one of the most potent of the Ifrit dies, Fatima is changed in ways she cannot fathom, ways that scare even those who love her. Oud in hand, Fatima is drawn into the intrigues of the maharajah and his sister, the affairs of Zulfikar and the djinn, and the dangers of a magical battlefield.
Nafiza Azad weaves an immersive tale of magic and the importance of names; fiercely independent women; and, perhaps most importantly, the work for harmony within a city of a thousand cultures and cadences.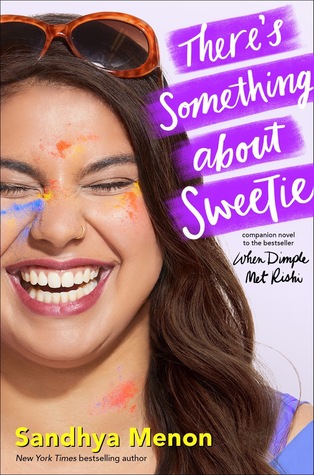 There's Something About Sweetie by Sandhya Menon
Links: Goodreads | Amazon* | Book Depository*
Synopsis: Ashish Patel didn't know love could be so…sucky. After he's dumped by his ex-girlfriend, his mojo goes AWOL. Even worse, his parents are annoyingly, smugly confident they could find him a better match. So, in a moment of weakness, Ash challenges them to set him up.
The Patels insist that Ashish date an Indian-American girl—under contract. Per subclause 1(a), he'll be taking his date on "fun" excursions like visiting the Hindu temple and his eccentric Gita Auntie. Kill him now. How is this ever going to work?
Sweetie Nair is many things: a formidable track athlete who can outrun most people in California, a loyal friend, a shower-singing champion. Oh, and she's also fat. To Sweetie's traditional parents, this last detail is the kiss of death.
Sweetie loves her parents, but she's so tired of being told she's lacking because she's fat. She decides it's time to kick off the Sassy Sweetie Project, where she'll show the world (and herself) what she's really made of.
Ashish and Sweetie both have something to prove. But with each date they realize there's an unexpected magic growing between them. Can they find their true selves without losing each other?
Stepsister by Jennifer Donnelly
Links: Goodreads | Amazon* | Book Depository*
Synopsis: Isabelle should be blissfully happy – she's about to win the handsome prince. Except Isabelle isn't the beautiful girl who lost the glass slipper and captured the prince's heart. She's the ugly stepsister who's cut off her toes to fit into Cinderella's shoe … which is now filling with blood.
When the prince discovers Isabelle's deception, she is turned away in shame. It's no more than she deserves: she is a plain girl in a world that values beauty; a feisty girl in a world that wants her to be pliant.
Isabelle has tried to fit in. To live up to her mother's expectations. To be like her stepsister. To be sweet. To be pretty. One by one, she has cut away pieces of herself in order to survive a world that doesn't appreciate a girl like her. And that has made her mean, jealous, and hollow.
Until she gets a chance to alter her destiny and prove what ugly stepsisters have always known: it takes more than heartache to break a girl.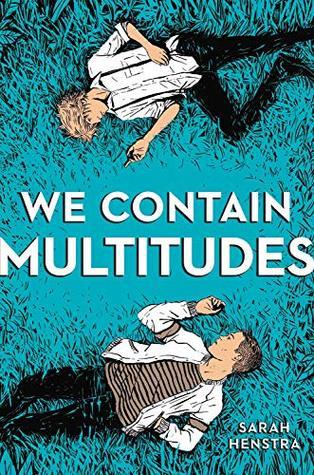 We Contain Multitudes by Sarah Henstra
Links: Goodreads | Amazon* | Book Depository*
Synopsis: Aristotle and Dante Discover the Secrets of the Universemeets I'll Give You the Sun in an exhilarating and emotional novel about the growing relationship between two teen boys, told through the letters they write to one another.
Jonathan Hopkirk and Adam "Kurl" Kurlansky are partnered in English class, writing letters to one another in a weekly pen pal assignment. With each letter, the two begin to develop a friendship that eventually grows into love. But with homophobia, bullying, and devastating family secrets, Jonathan and Kurl struggle to overcome their conflicts and hold onto their relationship…and each other.
This rare and special novel celebrates love and life with engaging characters and stunning language, making it perfect for fans of Jandy Nelson, Nina LaCour, and David Levithan.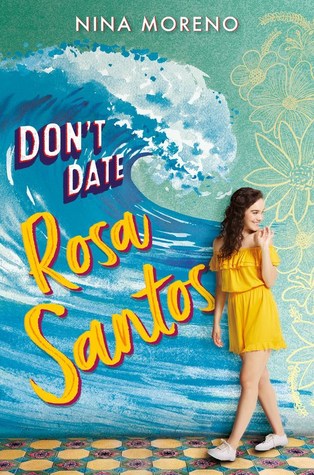 Don't Date Rosa Santos by Nina Moreno
Links: Goodreads | Amazon* | Book Depository*
Synopsis: Rosa Santos is cursed by the sea-at least, that's what they say. Dating her is bad news, especially if you're a boy with a boat.
But Rosa feels more caught than cursed. Caught between cultures and choices. Between her abuela, a beloved healer and pillar of their community, and her mother, an artist who crashes in and out of her life like a hurricane. Between Port Coral, the quirky South Florida town they call home, and Cuba, the island her abuela refuses to talk about.
As her college decision looms, Rosa collides – literally – with Alex Aquino, the mysterious boy with tattoos of the ocean whose family owns the marina. With her heart, her family, and her future on the line, can Rosa break a curse and find her place beyond the horizon?
The Lost Coast by Amy Rose Capetta
Links: Goodreads | Amazon* | Book Depository*
Synopsis: The spellbinding tale of six queer witches forging their own paths, shrouded in the mist, magic, and secrets of the ancient California redwoods.
Danny didn't know what she was looking for when she and her mother spread out a map of the United States and Danny put her finger down on Tempest, California. What she finds are the Grays: a group of friends who throw around terms like queer and witch like they're ordinary and everyday, though they feel like an earthquake to Danny. But Danny didn't just find the Grays. They cast a spell that calls her halfway across the country, because she has something they need: she can bring back Imogen, the most powerful of the Grays, missing since the summer night she wandered into the woods alone. But before Danny can find Imogen, she finds a dead boy with a redwood branch through his heart. Something is very wrong amid the trees and fog of the Lost Coast, and whatever it is, it can kill. Lush, eerie, and imaginative, Amy Rose Capetta's tale overflows with the perils and power of discovery — and what it means to find your home, yourself, and your way forward.
The Clockwork Ghost (York #2) by Laura Ruby
Links: Goodreads | Amazon* | Book Depository*
Synopsis: It was only a few weeks ago that the Biedermann twins, Tess and Theo, along with their friend Jaime Cruz, followed the secrets of the Morningstarrs' cipher further anyone had in its century-and-a-half history—and destroyed their beloved home in the process. But the Old York Cipher still isn't solved. The demolition of 354 W. 73rd Street only revealed the next clue in the greatest mystery of the modern world, and if Tess, Theo, and Jaime want to discover what lies at the end of the puzzle laid into the buildings of New York by its brilliant, enigmatic architects, they will need to press on.
But doing so could prove even more dangerous than they know. It is clear that the Morningstarr twins marshaled all the strange technology they had spent their lives creating in the construction of the Cipher, and that technology has its own plans for those who pursue it. It is also clear that Tess, Theo, and Jaime are not the only ones on the trail of the treasure. As enemies both known and unknown close in on them from all sides and the very foundations of the city seem to crumble around them, they will have to ask themselves how far they will go to change the unchangeable—and whether the price of knowing the secrets of the Morningstarrs is one they are willing to pay.
The Things She's Seen by Ambelin & Ezekiel Kwaymullina
Links: Goodreads | Amazon* | Book Depository*
Synopsis: Nothing's been the same for Beth Teller since the day she died.
Her dad is drowning in grief. He's also the only one who has been able to see and hear her since the accident. But now she's got a mystery to solve, a mystery that will hopefully remind her detective father that he is still alive, that there is a life after Beth that is still worth living.
Who is Isobel Catching, and why is she able to see Beth, too? What is her connection to the crime Beth's father has been sent to investigate–a gruesome fire at a home for troubled youth that left an unidentifiable body behind? What happened to the people who haven't been seen since the fire?
As Beth and her father unravel the mystery, they find a shocking and heartbreaking story lurking beneath the surface of a small town, and a friendship that lasts beyond one life and into another…
Happy Messy Scary Love by Leah Konen
Links: Goodreads | Amazon* | Book Depository*
Synopsis: As everyone at her Brooklyn high school announces their summer adventures, Olivia harbors a dirty secret: Her plan is to binge-watch horror movies and chat with her online friend, Elm. Olivia and Elm have never shared personal details, apart from their ages and the fact that Elm's aunt is a low-budget horror filmmaker. Then Elm pushes Olivia to share her identity and sends her a selfie of his own. Olivia is shocked by how cute he is! In a moment of panic, assuming she and Elm will never meet in real life, she sends a photo of her gorgeous friend Katie. But things are about to get even more complicated when Olivia's parents send her to the Catskills, and she runs into the one person she never thought she would see. This sweet and funny summertime romance is perfect for fans of Love and Gelato and The Unexpected Everything.
Testimony From Your Perfect Girl by Kaui Hart Hemmings
Links: Goodreads | Amazon* | Book Depository*
Synopsis: Annie Tripp has everything she needs–Italian sweaters, vintage chandelier earrings, and elite ice skating lessons–but all that changes when her father is accused of scamming hundreds of people out of their investments. Annie knows her dad wasn't at fault, but she and her brother are exiled to their estranged aunt and uncle's house in a run-down part of Breckenridge–until the trial blows over.
Life with her new family isn't quite up to Annie's usual standard of living, but surprisingly, pretending to be someone else offers a freedom she's never known. As Annie starts to make real friends for the first time, she realizes she has more in common with her aunt and uncle than she ever wanted to know. As the family's lies begin to crumble and truths demand consequences, Annie must decide which secrets need to see the light of day . . . and which are worth keeping.
Spark by Sarah Beth Durst
Links: Goodreads | Amazon* | Book Depository*
Synopsis: When a shy girl and her dragon-like companion discover their country's idyllic weather comes at a steep—and secret—cost, they recruit fellow students to defy authority and attempt to spread the truth.
Storm beasts and their guardians create perfect weather every day, and Mina longs for a storm beast of her own. But when the gentle girl bonds with a lightning beast—a creature of fire and chaos—everyone's certain it's a mistake. Everyone but Mina and the beast himself, Pixit. Quickly enrolled in lightning school, Mina struggles to master a guardian's skills, and she discovers that her country's weather comes at a devastating cost—a cost powerful people wish to hide. Mina's never been the type to speak out, but someone has to tell the truth, and, with Pixit's help, she resolves to find a way to be heard.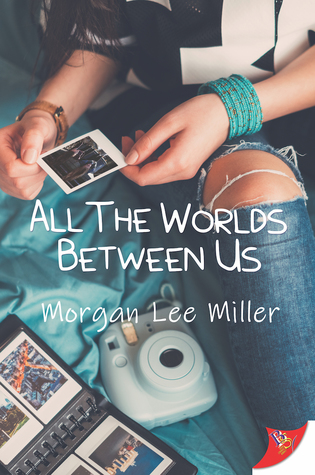 All the Worlds Between Us by Morgan Lee Miller
Links: Goodreads | Amazon* | Book Depository*
Synopsis: Seventeen-year-old Quinn Hughes needs to be in top shape if she wants to medal at the swimming World Championships in ten months. This means no easy distractions, no matter how pretty they are.
She's still piecing her confidence back together after not qualifying for the Olympics, her relationship with her twin brother is getting worse the more he hangs out with the popular kids, and then Kennedy Reed suddenly squeezes herself back into Quinn's life. The girl who was her best friend. The girl who gave Quinn her first kiss. The girl who hasn't spoken to her since.
Soon, Quinn finds herself juggling her new girlfriend, training for the biggest competition of her life, and discovering she's not the only Hughes twin with a crush on Kennedy Reed. All these distractions are getting to her, and if she wants that medal she needs to find a way to stop drowning on dry land.
---
Which of these lovely books are on your TBR?
Connect with me:
Instagram | Goodreads | Twitter | Podcast
Please note: All links marked with (*) are affiliate links. Meaning, if you click and make a purchase I will get a small percentage of the purchase price from the retailer. Purchases like these help support my blog!