Happy new release Tuesday!! This post is full of this week's YA and MG releases, check back later today for Part II with even more books released this week!
---
Kingsbane (Empirium #2) by Claire Legrand
Links: Goodreads | Amazon* | Book Depository*
Synopsis: In this sequel to the instant New York Times bestseller Furyborn, two queens, separated by a thousand years, connected by secrets and lies, must continue their fight amid deadly plots and unthinkable betrayals that will test their strength—and their hearts.
Rielle Dardenne has been anointed Sun Queen, but her trials are far from over. The Gate keeping the angels at bay is falling. To repair it, Rielle must collect the seven hidden castings of the saints. Meanwhile, to help her prince and love Audric protect Celdaria, Rielle must spy on the angel Corien—but his promises of freedom and power may prove too tempting to resist.
Centuries later, Eliana Ferracora grapples with her new reality: She is the Sun Queen, humanity's long-awaited savior. But fear of corruption—fear of becoming another Rielle—keeps Eliana's power dangerous and unpredictable. Hunted by all, racing against time to save her dying friend Navi, Eliana must decide how to wear a crown she never wanted—by embracing her mother's power, or rejecting it forever.
Girl Gone Viral by Arvin Ahmadi
Links: Goodreads | Amazon* | Book Depository*
Synopsis: For seventeen-year-old Opal Hopper, code is magic. She builds entire worlds from scratch: Mars craters, shimmering lakes, any virtual experience her heart desires.
But she can't code her dad back into her life. When he disappeared after her tenth birthday, leaving only a cryptic note, Opal tried desperately to find him. And when he never turned up, she enrolled at a boarding school for technical prodigies and tried to forget.
Until now. Because WAVE, the world's biggest virtual reality platform, has announced a contest where the winner gets to meet its billionaire founder. The same billionaire who worked closely with Opal's dad. The one she always believed might know where he went. The one who maybe even murdered him.
What begins as a small data hack to win the contest spirals out of control when Opal goes viral, digging her deeper into a hole of lies, hacks, and manipulation. How far will Opal go for the answers–or is it the attention–she's wanted for years?
The Bone Charmer by Breeana Shields
Links: Goodreads | Amazon* | Book Depository*
Synopsis: In Saskia's world, bones are the source of all power. They tell the future, reveal the past, and expose secrets in the present. Each village has a designated seer who performs readings for the townsfolk, and in Midwood, the Bone Charmer is Saskia's mother.
On the day of her kenning—a special bone reading that determines the apprenticeships of all seventeen-year-olds—Saskia's worst fears come true. She receives an assignment to train as a Bone Charmer, like her mother, and even worse, a match-making reading that pairs her with Bram—a boy who has suspicious tattoos that hint of violence.
Saskia knows her mother saw multiple paths for her, yet chose one she knew Saskia wouldn't want. Their argument leads to a fracture in one of the bones. Broken bones are always bad luck, but this particular set of bones have been infused with extra magic, and so the break has devastating consequences—Saskia's future has split as well. Now she will live her two potential paths simultaneously. Only one future can survive. And Saskia's life is in danger in both.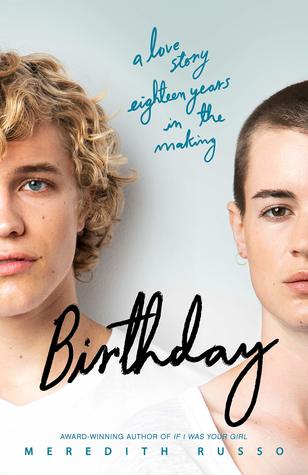 Birthday by Meredith Russo
Links: Goodreads | Amazon* | Book Depository*
Synopsis: Boyhood meets The Sun Is Also a Star in this unconventional love story about two teens bonded for life when they are born on the same day at the same time by award-winning author Meredith Russo!
Two kids, Morgan and Eric, are bonded for life after being born on the same day at the same time. We meet them once a year on their shared birthday as they grow and change: as Eric figures out who he is and how he fits into the world, and as Morgan makes the difficult choice to live as her true self. Over the years, they will drift apart, come together, fight, make up, and break up—and ultimately, realize how inextricably they are a part of each other.
Bright Burning Stars by A.K. Small
Links: Goodreads | Amazon* | Book Depository*
Synopsis: Best friends Marine Duval and Kate Sanders have trained at the Paris Opera Ballet School since childhood, where they've formed an inseparable bond forged by respective family tragedies and a fierce love for dance. When the body of a student is found in the dorms just before the start of their final year, Marine and Kate begin to ask themselves what they would do to win the ultimate prize: to be the one girl selected to join the Opera's prestigious corps de ballet. Would they die? Cheat? Seduce the most talented boy in the school, dubbed the Demigod, hoping his magic would make them shine, too? Neither girl is sure.
But then Kate gets closer to the Demigod, even as Marine has begun to capture his heart. And as selection day draws near, the competition—for the prize, for the Demigod—becomes fiercer, and Marine and Kate realize they have everything to lose, including each other.
The Missing Season by Gillian French
Links: Goodreads | Amazon* | Book Depository*
Synopsis: Whenever another kid goes missing in October, the Pender kids know what is really behind it: a horrific monster out in the marshes they have named the Mumbler.
That's what Clara's new crew tells her when she moves to town: Bree and Sage, who take her under their wing; spirited Trace, who has taken the lead on this year's Halloween prank war; and magnetic Kincaid, whose devil-may-care attitude and air of mystery are impossible for Clara to resist.
Clara doesn't actually believe in the Mumbler. But as Halloween gets closer and tensions build in the town, it's hard to shake the feeling that there really is something dark and dangerous in Pender, lurking in the shadows, waiting to bring the stories to life.
Keep This to Yourself by Tom Ryan
Links: Goodreads | Amazon* | Book Depository*
Synopsis: It's been a year since the Catalog Killer terrorized the sleepy seaside town of Camera Cove, killing four people before disappearing without a trace.
Like everyone else in town, eighteen-year-old Mac Bell is trying to put that horrible summer behind him—easier said than done since Mac's best friend Connor was the murderer's final victim. But when he finds a cryptic message from Connor, he's drawn back into the search for the killer—who might not have been a random drifter after all. Now nobody—friends, neighbors, or even the sexy stranger with his own connection to the case—is beyond suspicion. Sensing that someone is following his every move, Mac struggles to come to terms with his true feelings towards Connor while scrambling to uncover the truth.
Let Me Hear a Rhyme by Tiffany D. Jackson
Links: Goodreads | Amazon* | Book Depository*
Synopsis: Biggie Smalls was right. Things done changed. But that doesn't mean that Quadir and Jarrell are okay letting their best friend Steph's tracks lie forgotten in his bedroom after he's killed—not when his beats could turn any Bed-Stuy corner into a celebration, not after years of having each other's backs.
Enlisting the help of Steph's younger sister, Jasmine, Quadir and Jarrell come up with a plan to promote Steph's music under a new rap name: The Architect. Soon, everyone in Brooklyn is dancing to Steph's voice. But then his mixtape catches the attention of a hotheaded music rep and—with just hours on the clock—the trio must race to prove Steph's talent from beyond the grave.
Now, as the pressure—and danger—of keeping their secret grows, Quadir, Jarrell, and Jasmine are forced to confront the truth about what happened to Steph. Only each has something to hide. And with everything riding on Steph's fame, together they need to decide what they stand for before they lose everything they've worked so hard to hold on to—including each other.
Happily and Madly by Alexis Bass
Links: Goodreads | Amazon* | Book Depository*
Synopsis: Maris Brown has been told two things about her destiny:
1. She will fall happily and madly in love.
2. She could be dead before she turns eighteen.
The summer before that fateful birthday, Maris is in the wealthy beach town of Cross Cove with her estranged father and his new family–and the infamous Duvals. Since the youngest member of the Duval family, Edison, is back from college and back in the arms of Maris's new stepsister, her summer looks to be a long string of lazy days on the Duval's lush beach.
But Edison is hiding something. And the more Maris learns about him, the more she's given signs that she should stay as far away from him as possible. As wrong as it is, Maris is drawn to him. Around Edison, she feels truly alive and she's not willing to give that up. Even if it means a collision course with destiny.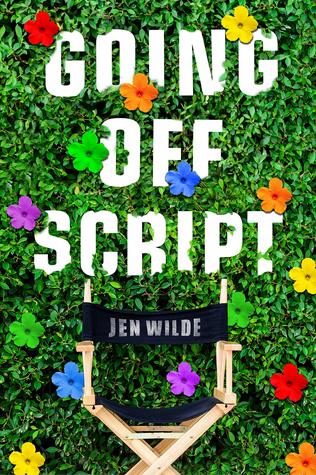 Going Off Script by Jen Wilde
Links: Goodreads | Amazon* | Book Depository*
Synopsis: Seventeen-year-old Bex is thrilled when she gets an internship on her favorite tv show, Silver Falls. Unfortunately, the internship isn't quite what she expected… instead of sitting in a crowded writer's room volleying ideas back and forth, Production Interns are stuck picking up the coffee.
Determined to prove her worth as a writer, Bex drafts her own script and shares it with the head writer―who promptly reworks it and passes it off as his own! Bex is understandably furious, yet…maybe this is just how the industry works? But when they rewrite her proudly lesbian character as straight, that's the last straw! It's time for Bex and her crush to fight back.
Jen Wilde's newest novel is both a fun, diverse love story and a very relevant, modern take on the portrayal of LGBT characters in media.
Amelia Westlake Was Never Here by Erin Gough
Links: Goodreads | Amazon* | Book Depository*
Synopsis: A fiercely funny, queer romantic comedy about two girls who can't stand each other, but join forces in a grand feminist plan to expose harassment and inequality at their elite private school.
Harriet Price is the perfect student: smart, dutiful, over-achieving. Will Everhart is a troublemaker who's never met an injustice she didn't fight. When their swim coach's inappropriate behavior is swept under the rug, the unlikely duo reluctantly team up to expose his misdeeds, pulling provocative pranks and creating the instantly legendary Amelia Westlake–an imaginary student who helps right the many wrongs of their privileged institution. But as tensions burn throughout their school–who is Amelia Westlake?–and between Harriet and Will, how long can they keep their secret? How far will they go to make a difference? And when will they realize they're falling for each other?
Award-winning author Erin Gough's Amelia Westlake Was Never Here is a funny, smart, and all-too-timely story of girls fighting back against power and privilege–and finding love while they're at it.
As Far as the Stars by Virginia Macgregor
Links: Goodreads | Amazon* | Book Depository*
Synopsis: How do you change what's already written in the stars?

Christopher is the sort of guy that no one notices, yet when Air catches sight of him making intricate paper birds in the airport, she can't look away.
But their worlds are about to collide in ways they never expected. Someone they love is on Flight 0217 from London Heathrow. And it's missing.
Convinced that her brother was on a different flight, Air drives them hundreds of miles across the country, on a trip that will change their lives forever.
But how do you tell the person you're falling for that you might just be the reason their life has fallen apart?
The Boy Next Story (Bookish Boyfriends #2) by Tiffany Schmidt
Links: Goodreads | Amazon* | Book Depository*
Synopsis: The second book in a series where your favorite literary characters come to life, inspired by the timeless classic, Little Women!
There's no one better than the boy next door. At least not according to Aurora Campbell, fourteen, who has been in love with Tobias May since their very first sandbox kiss. The problem is, he's in love with her older sister, Merrilee. And Merri is already dating one of his best friends.
Rory is learning all about pining as her class reads The Great Gatsby, a book she doesn't find "great" at all. Also not great—her GPA, something she needs to fix, quickly, if she'd like to apply for the chance to spend a week studying art with her hero in New York City over winter break. But when Ms. Gregoire assigns her to read Little Women for extra credit, Rory discovers more than she expected—both about herself and Toby. Maybe she wasn't in love with the boy next door. . . but the boy next story.
Love is complicated, and it's all about to get even trickier for Rory at Reginald R. Hero Prep . . . where with the help of one quirky English teacher, students' fantasies come true, often with surprising consequences.
I Spy the Boy Next Door by Samantha Armstrong
Links: Goodreads | Amazon* | Book Depository*
Synopsis: Four p.m. spy sessions are the highlight of Mallory Taylor's day. Observing the boy next door—one with a body and an attitude to match—has her perched beside her window so often it can't be healthy.
When she finally convinces her mom to let her go to public school, Mallory comes face to face with her neighbor, Troy Parker. And he makes it clear he wants nothing to do with her. His rejection awakens a newfound tenacity and maybe even a touch of recklessness. But when Troy starts to show up when she needs him the most, Mallory can't help but wonder if there's more to him than he's let on.
Taking chances, breaking rules, and following her heart is all new to Mallory. And no one warned her just how fickle hearts can be. When she discovers that Troy isn't at all the guy she imagined him to be, secrets rise to the surface that will change her life forever.
---
So many fantastic books! Which ones are you going to pick up?
Connect with me:
Instagram | Goodreads | Twitter | Podcast
Please note: All links marked with (*) are affiliate links. Meaning, if you click and make a purchase I will get a small percentage of the purchase price from the retailer. Purchases like these help support my blog!