Happy new release Tuesday!! SO MANY BOOKS are out today that I've split this post into two again. This first post will have YA, MG, and children's books and Part II will have more of the adult titles. Let me know if I missed any, and as always, let me know which books you'll be picking up!
---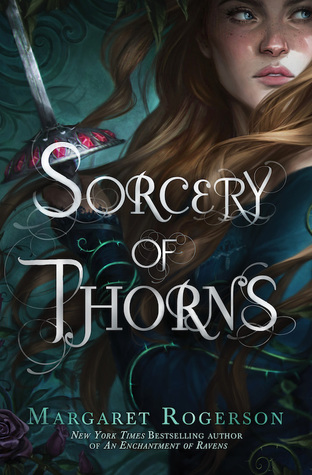 Sorcery of Thorns by Margaret Rogerson
Links: Goodreads | Amazon* | Book Depository*
Synopsis: All sorcerers are evil. Elisabeth has known that as long as she has known anything. Raised as a foundling in one of Austermeer's Great Libraries, Elisabeth has grown up among the tools of sorcery—magical grimoires that whisper on shelves and rattle beneath iron chains. If provoked, they transform into grotesque monsters of ink and leather. She hopes to become a warden, charged with protecting the kingdom from their power.
Then an act of sabotage releases the library's most dangerous grimoire. Elisabeth's desperate intervention implicates her in the crime, and she is torn from her home to face justice in the capital. With no one to turn to but her sworn enemy, the sorcerer Nathaniel Thorn, and his mysterious demonic servant, she finds herself entangled in a centuries-old conspiracy. Not only could the Great Libraries go up in flames, but the world along with them.
As her alliance with Nathaniel grows stronger, Elisabeth starts to question everything she's been taught—about sorcerers, about the libraries she loves, even about herself. For Elisabeth has a power she has never guessed, and a future she could never have imagined.
Ghosts of the Shadow Market by Cassandra Clare, Sarah Rees Brennan, Maureen Johnson, Kelly Link, & Robin Wasserman
Links: Goodreads | Amazon* | Book Depository*
Synopsis: The Shadow Market is a meeting point for faeries, werewolves, warlocks and vampires. There the Downworlders buy and sell magical objects, make dark bargains, and whisper secrets they do not want the Nephilim to know. Through two centuries, however, there has been a frequent visitor to the Shadow Market from the City of Bones, the very heart of the Shadowhunters. As a Silent Brother, Brother Zachariah is sworn keeper of the laws and lore of the Nephilim. But once he was a Shadowhunter called Jem Carstairs, and his love, then and always, is the warlock Tessa Gray.
Follow Brother Zachariah and see, against the backdrop of the Shadow Market's dark dealings and festive celebrations, Anna Lightwood's first romance, Matthew Fairchild's great sin and Tessa Gray plunged into a world war. Valentine Morgenstern buys a soul at the Market and a young Jace Wayland's soul finds safe harbor. In the Market is hidden a lost heir and a beloved ghost, and no one can save you once you have traded away your heart. Not even Brother Zachariah…
The Rest of the Story by Sarah Dessen
Links: Goodreads | Amazon* | Book Depository*
Synopsis: Emma Saylor doesn't remember a lot about her mother, who died when she was ten. But she does remember the stories her mom told her about the big lake that went on forever, with cold, clear water and mossy trees at the edges.
Now it's just Emma and her dad, and life is good, if a little predictable…until Emma is unexpectedly sent to spend the summer with her mother's family—her grandmother and cousins she hasn't seen since she was a little girl.
When Emma arrives at North Lake, she realizes there are actually two very different communities there. Her mother grew up in working class North Lake, while her dad spent summers in the wealthier Lake North resort. The more time Emma spends there, the more it starts to feel like she is divided into two people as well. To her father, she is Emma. But to her new family, she is Saylor, the name her mother always called her.
Then there's Roo, the boy who was her very best friend when she was little. Roo holds the key to her family's history, and slowly, he helps her put the pieces together about her past. It's hard not to get caught up in the magic of North Lake—and Saylor finds herself falling under Roo's spell as well.
For Saylor, it's like a whole new world is opening up to her. But when it's time to go back home, which side of her will win out?
The Beholder by Anna Bright
Links: Goodreads | Amazon* | Book Depository*
Synopsis: Selah has waited her whole life for a happily ever after. As the only daughter of the leader of Potomac, she knows her duty is to find the perfect match, a partner who will help secure the future of her people. Now that day has finally come.
But after an excruciatingly public rejection from her closest childhood friend, Selah's stepmother suggests an unthinkable solution: Selah must set sail across the Atlantic, where a series of potential suitors awaits—and if she doesn't come home engaged, she shouldn't come home at all.
From English castle gardens to the fjords of Norge, and under the eye of the dreaded Imperiya Yotne, Selah's quest will be the journey of a lifetime. But her stepmother's schemes aren't the only secrets hiding belowdecks…and the stakes of her voyage may be higher than any happy ending.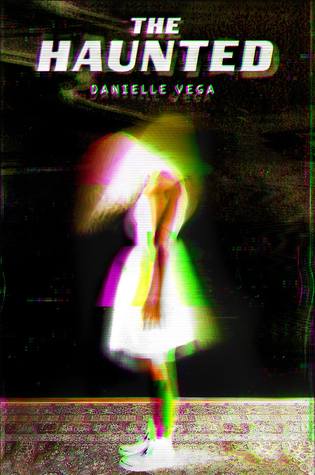 The Haunted by Danielle Vega
Links: Goodreads | Amazon* | Book Depository*
Synopsis: From Danielle Vega, YA's answer to Stephen King, comes a new paranormal novel about dark family secrets, deep-seated vengeance, and the horrifying truth that evil often lurks in the unlikeliest of places.
Hendricks Becker-O'Malley is new in town, and she's bringing baggage with her. With a dark and wild past, Hendricks doesn't think the small town her parents moved her to has much to offer her in terms of excitement. She plans on laying low, but when she's suddenly welcomed into the popular crowd at school, things don't go as expected.
Hendricks learns from her new friends that the fixer-upper her parents are so excited about is notorious in town. Local legend says it's haunted. Hendricks doesn't believe it. Until she's forced to. Blood-curdling screams erupt from the basement, her little brother wakes up covered in scratches, and something, or someone pushes her dad down the stairs. With help from the mysterious boy next door, Hendricks makes it her mission to take down the ghosts . . . if they don't take her first.
Rebel Born (Second Born #3) by Amy A. Bartol
Links: Goodreads | Amazon* | Book Depository*
Synopsis: Roselle faces a mind-reeling showdown with the deep state agent controlling her psyche in the conclusion to the Wall Street Journal bestselling Secondborn series.
Roselle St. Sismode is many things: victim of a conspiracy, unwilling host of an ever-evolving mind algorithm, spy for a rebel army, and heir to the Fate of Swords. As a warrior, she's also the anticipated main event at the Secondborn Trials. When the opening ceremonies erupt in chaos, Roselle is abducted by a sadistic agent with a diabolical plan: transform Roselle into a mind-controlled assassin to topple society. But a rogue scientist has implanted Roselle with a genius technology that is far more powerful. It renders her untouchable. Faster. Stronger. And maybe immortal.
With her enhanced abilities come the highest stakes yet, as Roselle confronts shifting realities at every turn as well as her own mother's stunning betrayal. Racing against time with a determined resistance group, can Roselle overthrow the forces of destruction and reclaim the most valuable of commodities—her humanity?
Wild and Crooked by Leah Thomas
Links: Goodreads | Amazon* | Book Depository*
Synopsis: In Samsboro, Kentucky, Kalyn Spence's name is inseparable from the brutal murder her father committed when he was a teenager. Forced to return to town, Kalyn must attend school under a pseudonym . . . or face the lingering anger of Samsboro's citizens, who refuse to forget the crime.
Gus Peake has never had the luxury of redefining himself. A Samsboro native, he's either known as the "disabled kid" because of his cerebral palsy, or as the kid whose dad was murdered. Gus just wants to be known as himself.
When Gus meets Kalyn, her frankness is refreshing, and they form a deep friendship. Until their families' pasts emerge. And when the accepted version of the truth is questioned, Kalyn and Gus are caught in the center of a national uproar. Can they break free from a legacy of inherited lies and chart their own paths forward?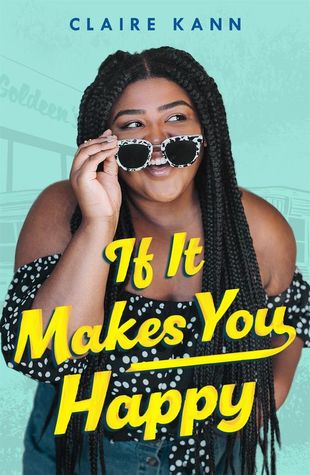 If It Makes You Happy by Claire Kann
Links: Goodreads | Amazon* | Book Depository*
Synopsis: High school finally behind her, Winnie is all set to attend college in the fall. But first she's spending her summer days working at her granny's diner and begins spending her midnights with Dallas—the boy she loves to hate and hates that she likes. Winnie lives in Misty Haven, a small town where secrets are impossible to keep—like when Winnie allegedly snaps on Dr. Skinner, which results in everyone feeling compelled to give her weight loss advice for her own good. Because they care that's she's "too fat."
Winnie dreams of someday inheriting the diner—but it'll go away if they can't make money, and fast. Winnie has a solution—win a televised cooking competition and make bank. But Granny doesn't want her to enter—so Winnie has to find a way around her formidable grandmother. Can she come out on top?
Like A Love Story by Abdi Nazemian
Links: Goodreads | Amazon* | Book Depository*
Synopsis: It's 1989 in New York City, and for three teens, the world is changing.
Reza is an Iranian boy who has just moved to the city with his mother to live with his stepfather and stepbrother. He's terrified that someone will guess the truth he can barely acknowledge about himself. Reza knows he's gay, but all he knows of gay life are the media's images of men dying of AIDS.
Judy is an aspiring fashion designer who worships her uncle Stephen, a gay man with AIDS who devotes his time to activism as a member of ACT UP. Judy has never imagined finding romance…until she falls for Reza and they start dating.
Art is Judy's best friend, their school's only out and proud teen. He'll never be who his conservative parents want him to be, so he rebels by documenting the AIDS crisis through his photographs.
As Reza and Art grow closer, Reza struggles to find a way out of his deception that won't break Judy's heart–and destroy the most meaningful friendship he's ever known.
This Time Will Be Different by Misa Sugiura
Links: Goodreads | Amazon* | Book Depository*
Synopsis: Katsuyamas never quit—but seventeen-year-old CJ doesn't even know where to start. She's never lived up to her mom's type A ambition, and she's perfectly happy just helping her aunt, Hannah, at their family's flower shop.
She doesn't buy into Hannah's romantic ideas about flowers and their hidden meanings, but when it comes to arranging the perfect bouquet, CJ discovers a knack she never knew she had. A skill she might even be proud of.
Then her mom decides to sell the shop—to the family who swindled CJ's grandparents when thousands of Japanese Americans were sent to internment camps during WWII. Soon a rift threatens to splinter CJ's family, friends, and their entire Northern California community; and for the first time, CJ has found something she wants to fight for.
Shadow and Flame (Rime Chronicles #2) by Mindee Arnett
Links: Goodreads | Amazon* | Book Depository*
Synopsis: From acclaimed author Mindee Arnett comes the thrilling conclusion of the stunningly epic, action-packed, and romantic fantasy adventure about a powerful girl possessed of strange magic, the outcast prince she loves, and the kingdom that has torn them apart.
Kate and Corwin are on the run, desperate for allies in a new world of war among the kingdoms of Rime. As the book opens, Kate suffers a massive loss, one that will shape the struggle for freedom of all wilders and magic folk—that is, if Kate can learn to control her own power.
I Wanna Be Where You Are by Kristina Forest
Links: Goodreads | Amazon* | Book Depository*
Synopsis: When Chloe Pierce's mom forbids her to apply for a spot at the dance conservatory of her dreams, she devises a secret plan to drive two hundred miles to the nearest audition. But Chloe hits her first speed bump when her annoying neighbor Eli insists upon hitching a ride, threatening to tell Chloe's mom if she leaves him and his smelly dog, Geezer, behind. So now Chloe's chasing her ballet dreams down the east coast―two unwanted (but kinda cute) passengers in her car, butterflies in her stomach, and a really dope playlist on repeat.
Filled with roadside hijinks, heart-stirring romance, and a few broken rules, I Wanna Be Where You Are is a YA debut perfect for fans of Jenny Han and Sandhya Menon.
The Confusion of Laurel Graham by Adrienne Kisner
Links: Goodreads | Amazon* | Book Depository*
Synopsis: Seventeen-year-old Laurel Graham has a singular, all-consuming ambition in this life: become the most renowned nature photographer and birder in the world. The first step to birding domination is to win the junior nature photographer contest run by prominent Fauna magazine. Winning runs in her blood—her beloved activist and nature-loving grandmother placed when she was a girl.
One day Gran drags Laurel out on a birding expedition where the pair hear a mysterious call that even Gran can't identify. The pair vow to find out what it is together, but soon after, Gran is involved in a horrible car accident.
Now that Gran is in a coma, so much of Laurel's world is rocked. Her gran's house is being sold, developers are coming in to destroy the nature sanctuary she treasures, and she still can't seem to identify the mystery bird.
Laurel's confusion isn't just a group of warblers—it's about what means the most to her, and what she's willing to do to fight to save it. Maybe–just maybe-if she can find the mystery bird, it will save her gran, the conservatory land, and herself.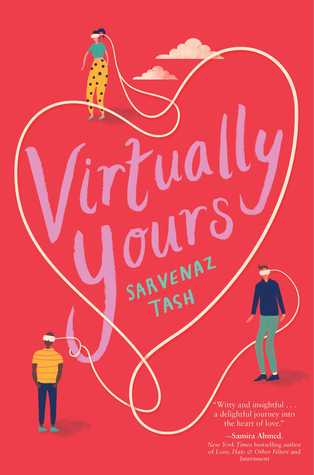 Virtually Yours by Sarvenaz Tash
Links: Goodreads | Amazon* | Book Depository*
Synopsis: How bad can one little virtual lie be?
NYU freshman Mariam Vakilian hasn't dated anyone in five months, not since her high school sweetheart Caleb broke up with her. So, when she decides to take advantage of an expiring coupon and try out a new virtual reality dating service, it's sort of a big deal.
It's an even bigger deal when it chooses as one of her three matches none other than Caleb himself. That has to be a sign, right?
Except that her other match, Jeremy, just happens to be her new best friend IRL.
Mariam's heart is telling her one thing, but the app is telling her another. So, which should she trust? Is all fair in modern love?
Escape from the Isle of the Lost (Descendants #4) by Melissa de la Cruz
Links: Goodreads | Amazon* | Book Depository*
Synopsis: Mal, Evie, Jay, and Carlos may have once been the baddest of the bad, but their wicked ways are (mostly) behind them-and now graduation is almost here! But before the seniors can don their custom-designed caps and gowns, courtesy of Evie, they've got an epic plan to put into action. There are tons of villain kids on the Isle of the Lost who are eager for their chance to come to Auradon Prep-even Celia, Dr. Facilier's trickster daughter, wants in on the deal!-and Mal's crew is using their upcoming visit to the Isle to help make it happen. But Auradon's biggest threat is still at large?
Trapped on the other side of the barrier, Uma is more desperate than ever to get her long-awaited revenge against Mal. When she discovers an underground lair belonging to Hades, god of the underworld, Uma realizes she's found the perfect partner in crime. Together, they can defeat Mal, bring down the barrier, and escape the Isle for good.
Mal and Uma have a score to settle, and they'll come face to face in an explosive underwater battle that could determine the fates of Auradon and the Isle of the Lost once and for all.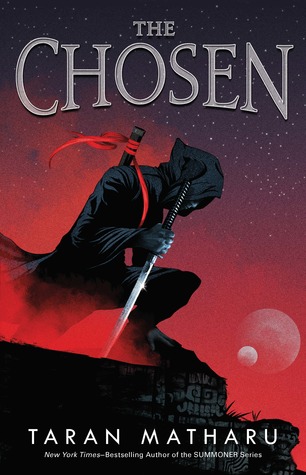 The Chosen (Contender #1) by Taran Matharu
Links: Goodreads | Amazon* | Book Depository*
Synopsis: Throughout history, people have vanished with no explanation. A group of teenagers are about to discover why.
Cade is settling into a new boarding school, contemplating his future, when he finds himself transported to another realm. He soon discovers their new world is populated with lost remnants from the past: prehistoric creatures, ancient relics, and stranger still — people. Overwhelmed by his new surroundings, Cade has little time to adjust, for soon he and his fellow classmates are forced to become contenders in a brutal game, controlled by mysterious overlords.
But who are these beings and why did they choose these teens? Cade must prepare for battle . . . because hiding is not an option.
War of the Bastards (Royal Bastards #3) by Andrew Shvarts
Links: Goodreads | Amazon* | Book Depository*
Synopsis: A year has passed since the fall of Lightspire. The Inquisitor Miles Hampstedt has usurped the throne and rules Noveris with a blood-soaked iron fist. Tilla and her friends have become hardened rebels in the Unbroken, a band of guerilla fighters hiding out in the fringes of the Kingdom. Tilla is plagued with doubt and regret; Lyriana struggles with the burdens of being a fugitive Queen; Zell atones for his guilt by killing for the cause. And even as they all fight, they know their cause is doomed, that with very passing day Miles' power grows, his army of Bloodmages spreading to cover the continent.
Then a raid on an outpost produces two unexpected prisoners: Lord Elric Kent himself, now a prisoner obsessed with revenge, and Syan See, a strange girl from the Red Wastes. Tilla struggles with the emotional weight of confronting her father, but it's Syan that offers the true revelation. She demonstrates a new incredible kind of magic, and speaks of a secret civilization hidden in isolation in the mysterious Wastes. With Miles' forces closing in, Tilla and her friends (alongside a hostage Lord Kent) set out to make contact with Syan's people, to make an pact that could turn the war. The journey will test their character, forge unlikely alliances, reveal the horrifying true nature of magic, and set in motion a battle that will determine the fate of Noveris itself.
Out of Place by Jennifer Blecher
Links: Goodreads | Amazon* | Book Depository*
Synopsis: Twelve-year-old Cove Bernstein's year has gone from bad to worse. First, her best friend, Nina, moved from Martha's Vineyard to New York City. Then, without Nina around, Cove became the target of a bullying campaign at school. Escape seems impossible.
But opportunities can appear when you least expect them. Cove's visit to a secondhand clothing store leads her to a surprising chance to visit Nina, but only if she can win a coveted place in a kids-only design competition. Cove doesn't know how to sew, but her friend at the retirement home, Anna, has promised to teach her. And things start really looking up when a new kid at school, Jack, begins appearing everywhere Cove goes.
Then Cove makes a big mistake. One that could ruin every good thing that has happened to her this year. One that she doesn't know how to undo.
Jennifer Blecher's accessible and beautifully written debut novel explores actions and consequences, loneliness, bullying, and finding your voice.
Refugee 87 by Ele Fountain
Links: Goodreads | Amazon* | Book Depository*
Synopsis: A young refugee crosses continents in this timely, heartbreaking, and ultimately uplifting novel of survival.
Shif has a happy life, unfamiliar with the horrors of his country's regime. He is one of the smartest boys in school, and feels safe and loved in the home he shares with his mother and little sister, right next door to his best friend. But the day that soldiers arrive at his door, Shif knows that he will never be safe again–his only choice is to run. Facing both unthinkable cruelty and boundless kindness, Shif bravely makes his way towards a future he can barely imagine.
Based on real experiences and written in spare, powerful prose, this gripping debut illustrates the realities faced by countless young refugees across the world today. Refugee 87 is a story of friendship, kindness, hardship, survival, and — above all — hope.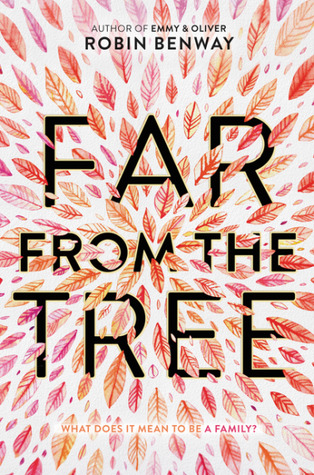 Far From the Tree by Robin Benway (paperback release)
Links: Goodreads | Amazon* | Book Depository*
Synopsis: Being the middle child has its ups and downs.
But for Grace, an only child who was adopted at birth, discovering that she is a middle child is a different ride altogether. After putting her own baby up for adoption, she goes looking for her biological family, including—
Maya, her loudmouthed younger bio sister, who has a lot to say about their newfound family ties. Having grown up the snarky brunette in a house full of chipper redheads, she's quick to search for traces of herself among these not-quite-strangers. And when her adopted family's long-buried problems begin to explode to the surface, Maya can't help but wonder where exactly it is that she belongs.
And Joaquin, their stoic older bio brother, who has no interest in bonding over their shared biological mother. After seventeen years in the foster care system, he's learned that there are no heroes, and secrets and fears are best kept close to the vest, where they can't hurt anyone but him.
Don't miss this moving novel that addresses such important topics as adoption, teen pregnancy, and foster care.

Ordinary Girls by Blair Thornburgh
Links: Goodreads | Amazon* | Book Depository*
Synopsis: For two sisters as different as Plum and Ginny, getting on each other's nerves is par for the course. But when the family's finances hit a snag, sending chaos through the house in a way only characters from a Jane Austen novel could understand, the two drift apart like they never have before. Plum, a self-described social outcast, strikes up a secret friendship with the class jock, while Ginny's usual high-strung nature escalates to pure hysterics.
But this has always been the sisters' dynamic. So why does everything feel different this year? Maybe because Ginny is going to leave for college soon. Maybe because Plum finally has something that she doesn't have to share with her self-involved older sister. Or maybe because the girls are forced to examine who they really are instead of who their late father said they were. And who each girl discovers—beneath the years of missing their dad—could either bring them closer together…or drive them further apart.
Girls of July by Alex Flinn
Links: Goodreads | Amazon* | Book Depository*
Synopsis: Four girls. One unforgettable July.
Britta is the bubbly drama queen. She needs to get away—and a peaceful cabin in the woods sounds like the perfect escape.
Meredith is the overachiever. She's spent her entire life preparing for college, but at what cost? Now she's wondering if that's all there is.
Kate is the reluctant socialite. She's searching for a reason to begin again after fleeing her small Georgia town—and a shameful family secret.
Spider is the quiet intellectual. She's struggling with pain that has isolated her from her peers for much of her life.
When these four very different young women stay together for a month in the mountains, they discover that sometimes getting away from it all can only bring you back to who you really are.
Unicorn Day by Diana Murray, Illustrated by Luke Flowers
Links: Goodreads | Amazon* | Book Depository*
Synopsis: Hooray! Hooray!
It's Unicorn Day!
When unicorns
come out to play.
The most important rule of Unicorn Day is to have fun, fun, fun!
The unicorns are celebrating their favorite day of the year, complete with rainbows, cupcakes, butterflies, and all sorts of joyful things. But when it's revealed there's an impostor in their midst, the party comes to a screeching halt…
Will the unicorns welcome all and continue their fun in all its glittery glory?
A clever, colorful, and over-the-top picture book about unicorns, celebrations, and most importantly, friendship.
All the Greys on Greene Street by Laura Tucker, Illustrated by Kelly Murphy
Links: Goodreads | Amazon* | Book Depository*
Synopsis: SoHo, 1981. Twelve-year-old Olympia is an artist—and in her neighborhood, that's normal. Her dad and his business partner Apollo bring antique paintings back to life, while her mother makes intricate sculptures in a corner of their loft, leaving Ollie to roam the streets of New York with her best friends Richard and Alex, drawing everything that catches her eye.
Then everything falls apart. Ollie's dad disappears in the middle of the night, leaving her only a cryptic note and instructions to destroy it. Her mom has gone to bed, and she's not getting up. Apollo is hiding something, Alex is acting strange, and Richard has questions about the mysterious stranger he saw outside. And someone keeps calling, looking for a missing piece of art. . . .
Olympia knows her dad is the key–but first, she has to find him, and time is running out.
All Eyes on Us by Kit Frick
Links: Goodreads | Amazon* | Book Depository*
Synopsis: PRIVATE NUMBER: Wouldn't you look better without a cheater on your arm?
AMANDA: Who is this?
The daughter of small town social climbers, Amanda Kelly is deeply invested in her boyfriend, real estate heir Carter Shaw. He's kind, ambitious, the town golden boy—but he's far from perfect. Because behind Amanda's back, Carter is also dating Rosalie.
PRIVATE NUMBER: I'm watching you, Sweetheart.
ROSALIE: Who IS this?
Rosalie Bell is fighting to remain true to herself and her girlfriend—while concealing her identity from her Christian fundamentalist parents. After years spent in and out of conversion "therapy," her own safety is her top priority. But maintaining a fake, straight relationship is killing her from the inside.
When an anonymous texter ropes Amanda and Rosalie into a bid to take Carter down, the girls become collateral damage—and unlikely allies in a fight to unmask their stalker before Private uproots their lives.
PRIVATE NUMBER: You shouldn't have ignored me. Now look what you made me do…
---
Connect with me:
Instagram | Goodreads | Twitter | Podcast
Please note: All links marked with (*) are affiliate links. Meaning, if you click and make a purchase I will get a small percentage of the purchase price from the retailer. Purchases like these help support my blog!