Happy new release Tuesday!! June is turning out to be an amazing month for new books. Here in Part I you will find the new YA and MG books published this week. Stay tuned later today for Part II with all of the adult books!
---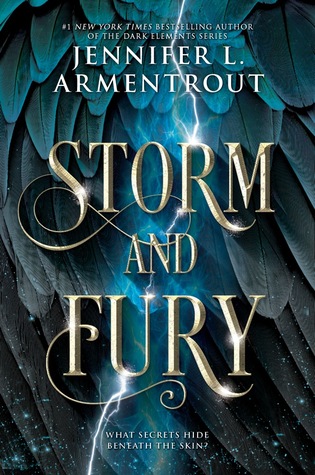 Storm and Fury (The Harbinger #1) by Jennifer L. Armentrout
Links: Goodreads | Amazon* | Book Depository*
Synopsis: Eighteen-year-old Trinity Marrow may be going blind, but she can see and communicate with ghosts and spirits. Her unique gift is part of a secret so dangerous that she's been in hiding for years in an isolated compound fiercely guarded by Wardens—gargoyle shape-shifters who protect humankind from demons. If the demons discover the truth about Trinity, they'll devour her, flesh and bone, to enhance their own powers.
When Wardens from another clan arrive with disturbing reports that something out there is killing both demons and Wardens, Trinity's safe world implodes. Not the least because one of the outsiders is the most annoying and fascinating person she's ever met. Zayne has secrets of his own that will upend her world yet again—but working together becomes imperative once demons breach the compound and Trinity's secret comes to light. To save her family and maybe the world, she'll have to put her trust in Zayne. But all bets are off as a supernatural war is unleashed…
Teeth in the Mist by Dawn Kurtagich
Links: Goodreads | Amazon* | Book Depository*
Synopsis: Before the birth of time, a monk uncovers the Devil's Tongue and dares to speak it. The repercussions will be felt for generations…
Sixteen-year-old photography enthusiast Zoey has been fascinated by the haunted, burnt-out ruins of Medwyn Mill House for as long as she can remember–so she and her best friend, Poulton, run away from home to explore them. But are they really alone in the house? And who will know if something goes wrong?
In 1851, seventeen-year-old Roan arrives at the Mill House as a ward–one of three, all with something to hide from their new guardian. When Roan learns that she is connected to an ancient secret, she must escape the house before she is trapped forever.
1583. Hermione, a new young bride, accompanies her husband to the wilds of North Wales where he plans to build the largest water mill and mansion in the area. But rumors of unholy rituals lead to a tragic occurrence and she will need all her strength to defeat it.
Three women, centuries apart, drawn together by one Unholy Pact. A pact made by a man who, more than a thousand years later, may still be watching…
Tell Me How You Really Feel by Aminah Mae Safi
Links: Goodreads | Amazon* | Book Depository*
Synopsis: Sana Khan is a cheerleader and a straight A student. She's the classic (somewhat obnoxious) overachiever determined to win.
Rachel Recht is a wannabe director who's obsesssed with movies and ready to make her own masterpiece. As she's casting her senior film project, she knows she's found the perfect lead – Sana.
There's only one problem. Rachel hates Sana. Rachel was the first girl Sana ever asked out, but Rachel thought it was a cruel prank and has detested Sana ever since.
Told in alternative viewpoints and inspired by classic romantic comedies, this engaging and edgy YA novel follows two strongwilled young women falling for each other despite themselves.
Maximillian Fly by Angie Sage
Links: Goodreads | Amazon* | Book Depository*
Synopsis: Globally bestselling author of the Septimus Heap series, Angie Sage, brings forth a gripping and darkly humorous tale of Maximillian Fly—a human with cockroach features—whose quiet life is upended when he aids two human children in their escape from an oppressive governing power. Perfect for fans of Lemony Snicket and Adam Gidwitz.
Maximillian Fly wants no trouble. Yet because he stands at six feet two, with beautiful indigo wings, long antennae, and more arms than you or me, many are frightened of him. He is a gentle creature that looks like a giant cockroach. This extraordinary human wants to prove his goodness, so he opens his door to two SilverSeed children in search of a place to hide. Instantly, Maximillian's quiet, solitary life changes. There are dangerous powers after them and they have eyes everywhere. But in this gray city of Hope trapped under the Orb, is escape even possible?
Rise (Rule #2) by Ellen Goodlett
Links: Goodreads | Amazon* | Book Depository*
Synopsis: Sisters Akeylah, Ren, and Zofi are all a step closer to their dying father's throne, a step closer to the crown that will allow one of them to rule over Kolonya. But the sisters' pasts continue to haunt them. Each hides a secret marked with blood and betrayal, and now their blackmailer is holding nothing back. When King Andros discovers the sisters' traitorous pasts, the consequences will shake the entire kingdom to its core.
As Kolonya's greatest threat stalks closer and closer, weaving a web of fear and deceit around Ren, Zofi, and Akeylah, even the people they love are under suspicion. If the sisters are going to survive, they'll have to learn to trust each other above all else and work together, not only to save themselves, but to protect everyone and everything they hold dear.
The Grief Keeper by Alexandra Villasante
Links: Goodreads | Amazon* | Book Depository*
Synopsis: Seventeen-year-old Marisol Morales and her little sister Gabi are detainees of the United States government. They were caught crossing the U.S. border, to escape the gang violence in their country after their brother was murdered. When Marisol learns that the old family friend who had offered them refuge in America has died and they are going to be sent home, they flee.
They hitchhike, snagging a ride with an unassuming woman who agrees to drive them to New Jersey, but when Marisol wakes up in D.C. she learns the woman is actually a government agent. Indranie Patel has a proposal for Marisol: she wants Marisol to be a Grief Keeper, someone who will take another's grief into their body. It's a dangerous experimental study, but if Marisol agrees she and Gabi will be allowed to stay in the United States. If the experiment fails the girls will be sent home, which is a death sentence. Things become more complicated when Marisol meets Rey, the wealthy daughter of a D.C. Senator, and the girl she's helping to heal. Marisol likes Rey's short hair and sarcastic attitude. But she didn't expect the connection from their shared grief to erupt into a powerful love.
Suddenly being forced from the United States isn't just a matter of life and death, but a matter of the heart.
Rules We're Meant to Break by Natalie Williamson
Links: Goodreads | Amazon* | Book Depository*
Synopsis: Rule #1: Don't get attached.
Amber lives by strict rules to survive her mother's love life: Always keep your eyes on the horizon and never get close to anyone connected to Mom's boyfriends.
But after they move in with Kevin, the latest of her mom's "soul mates," the rules become increasingly difficult to follow. Kevin's daughter, Cammie, keeps acting like Amber's friend, even though she's definitely not. And Jordan—star basketball player, hottest boy in school, and Cammie's best friend—keeps showing up at the most inconvenient moments.
Amber has reasons for every one of her rules, and following them is the only way to protect her heart when her mom inevitably moves on. But as she spends more time with Kevin, his daughter, and especially Jordan, she starts to wonder if the rules might be worth breaking this time.
Chosen by readers like you for Macmillan's young adult imprint Swoon Reads, Rules We're Meant to Break is a charming, heartachingly real story of family and young love by debut author Natalie Williamson.
The Paper & Hearts Society by Lucy Powrie
Links: Goodreads | Amazon* | Book Depository*
Synopsis: A brand new series from Booktuber Lucy Powrie – about what happens when you give up on trying to fit in and let your weird out! It's time to join The Paper & Hearts Society … 
Tabby Brown is tired of trying to fit in. She doesn't want to go to parties – in fact, she would much rather snuggle up on the sofa with her favourite book.
It's like she hasn't found her people …
Then Tabby joins a club that promises to celebrate books. What could go wrong? EVERYTHING – especially when making new friends brings out an AWKWARD BUZZING feeling all over her body.
But Olivia, Cassie, Henry and Ed have something that makes Tabby come back. Maybe it's the Austen-themed fancy-dress parties, or Ed's fluffy cat Mrs Simpkins, or could it be Henry himself …
Can Tabby let her weird out AND live THE BEST BOOKISH LIFE POSSIBLE?
The Exact Opposite of Okay by Laura Steven
Links: Goodreads | Amazon* | Book Depository*
Synopsis: Eighteen-year-old Izzy O'Neill knows exactly who she is—a loyal friend, an aspiring comedian, and a person who believes that milk shakes and Reese's peanut butter cups are major food groups. But after she's caught in a compromising position with the son of a politician, it seems like everyone around her is eager to give her a new label: slut.
Izzy is certain that the whole thing will blow over and she can get back to worrying about how she doesn't reciprocate her best friend Danny's feelings for her and wondering how she is ever going to find a way out of their small town. Only it doesn't.
And while she's used to laughing her way out of any situation, as she finds herself first the center of high school gossip and then in the middle of a national scandal, it's hard even for her to find humor in the situation.
Izzy may be determined not to let anyone else define who she is, but that proves easier said than done when it seems like everyone has something to say about her.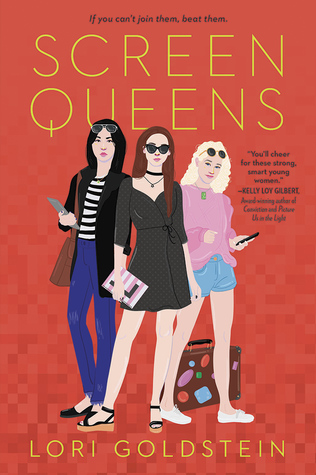 Screen Queens by Lori Goldstein
Links: Goodreads | Amazon* | Book Depository*
Synopsis: This summer Silicon Valley is a girls' club.
Three thousand applicants. An acceptance rate of two percent. A dream internship for the winning team. ValleyStart is the most prestigious high school tech incubator competition in the country. Lucy Katz, Maddie Li, and Delia Meyer have secured their spots. And they've come to win.
Meet the Screen Queens.
Lucy Katz was born and raised in Palo Alto, so tech, well, it runs in her blood. A social butterfly and CEO in-the-making, Lucy is ready to win and party.
East Coast designer, Maddie Li left her home and small business behind for a summer at ValleyStart. Maddie thinks she's only there to bolster her graphic design portfolio, not to make friends.
Delia Meyer taught herself how to code on a hand-me-down computer in her tiny Midwestern town. Now, it's time for the big leagues–ValleyStart–but super shy Delia isn't sure if she can hack it (pun intended).
When the competition kicks off, Lucy, Maddie, and Delia realize just how challenging the next five weeks will be. As if there wasn't enough pressure already, the girls learn that they would be the only all-female team to win ever. Add in one first love, a two-faced mentor, and an ex-boyfriend turned nemesis and things get…complicated.
Stronger Than a Bronze Dragon by Mary Fan
Links: Goodreads | Amazon* | Book Depository*
Synopsis: When a powerful viceroy arrives with a fleet of mechanical dragons and stops an attack on Anlei's village, the villagers see him as a godsend. They agree to give him their sacred, enchanted River Pearl in exchange for permanent protection—if he'll marry one of the village girls to solidify the alliance. Anlei is appalled when the viceroy selects her as a bride, but with the fate of her people at stake, she sees no choice but to consent. Anlei's noble plans are sent into a tailspin, however, when a young thief steals the River Pearl for himself.
Knowing the viceroy won't protect her village without the jewel, she takes matters into her own hands. But once she catches the thief, she discovers he needs the pearl just as much as she does. The two embark on an epic quest across the land and into the Courts of Hell, taking Anlei on a journey that reveals more is at stake than she could have ever imagined.
With incredibly vivid world building and fast-paced storytelling, Stronger Than a Bronze Dragon is great for readers who are looking for something fresh in epic fantasy.
---
So many fantastic books! Which ones are you going to pick up?
Connect with me:
Instagram | Goodreads | Twitter | Podcast
Please note: All links marked with (*) are affiliate links. Meaning, if you click and make a purchase I will get a small percentage of the purchase price from the retailer. Purchases like these help support my blog!