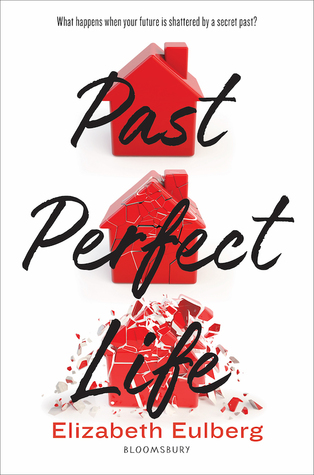 Title: Past Perfect Live
Author: Elizabeth Eulberg
Genre: YA Contemporary
Publisher: Bloomsbury YA
Publication Date: July 9, 2019
Links: Goodreads | Amazon* | Book Depository*
Rating: 5 / 5 Stars
Source: Digital ARC via NetGalley
Ally Smith lives in a small town in Wisconsin. Her life isn't perfect, but she's happy. At home it's just her and her widowed father. They have special traditions each night of the week; Taco Tuesday, Pizza Wednesdays, and Football Sundays. They are close and have built a life for themselves in their small town. Even the town's most prolific family, the Gleasons, has taken them in as their own. Ally's best friend is Marian Gleason and Marian's cousin Neil is the boy Ally is developing feelings for.
Ally and her friends are in their senior year of high school and experiencing the stress of applying for college and making plans for the future. Ally is diligent about getting her applications in and applying for as many scholarships as possible. However, when she sends in her applications, they come right back due to an error with her social security number. What ensues leaves Ally and the whole town reeling. Her entire life is turned upside down and she is left trying to put the pieces back together while not losing herself in the process.
This book was SO intriguing! I could not put it down first because I had to find out what was going on, and then because I loved watching Ally grow and navigate such a difficult and confusing part of her life. As someone who is both a mother and daughter, I felt sympathy for both sides in this story. It was heartbreaking and frustrating and so many times I just wanted to grab the characters and hug them and then tell them to speak to each other, but also to listen!
I love that the author took such a unique situation and really brought the characters and story to life. It was a fantastic read with a story that will definitely stick with me.
Thank you so much to Bloomsbury & NetGalley for the opportunity to read and review this book!
"Nothing big, just the life we had built together. Isn't that what a life is? It's made up of little moments that make you you. Relationships are built over time, not forced."
-Elizabeth Eulberg, Past Perfect Live
*Please note, this quote is from an ARC copy, so it may change in the final copy.
Synopsis: Small-town Wisconsin high school senior Allison Smith loves her life the way it is-spending quality time with her widowed father and her tight-knit circle of friends, including best friend Marian and maybe-more-than-friends Neil. Sure she is stressed out about college applications . . . who wouldn't be? In a few short months, everything's going to change, big time.
But when Ally files her applications, they send up a red flag . . . because she's not Allison Smith. And Ally's-make that Amanda's-ordinary life is suddenly blown apart. Was everything before a lie? Who will she be after? And what will she do as now comes crashing down around her?
---
Connect with me:
Instagram | Goodreads | Twitter | Podcast
Please note: All links marked with (*) are affiliate links. Meaning, if you click and make a purchase I will get a small percentage of the purchase price from the retailer. Purchases like these help support my blog!