Happy new release Tuesday!!
So. Many. Books. One of these days I'll find time to read them all! Until then, I'll continue making TBR lists and hoarding books like a dragon with treasure.
---
Summer of '69 by Elin Hilderbrand
Links: Goodreads | Amazon* | Book Depository*
Synopsis: Welcome to the most tumultuous summer of the twentieth century! It's 1969, and for the Levin family, the times they are a-changing. Every year the children have looked forward to spending the summer at their grandmother's historic home in downtown Nantucket: but this year Blair, the oldest sister, is marooned in Boston, pregnant with twins and unable to travel. Middle sister Kirby, a nursing student, is caught up in the thrilling vortex of civil rights protests, a passion which takes her to Martha's Vineyard with her best friend, Mary Jo Kopechne. Only son Tiger is an infantry soldier, recently deployed to Vietnam. Thirteen-year-old Jessie suddenly feels like an only child, marooned in the house with her out-of-touch grandmother who is hiding some secrets of her own. As the summer heats up, Teddy Kennedy sinks a car in Chappaquiddick, a man flies to the moon, and Jessie experiences some sinking and flying herself, as she grows into her own body and mind.
The Last House Guest by Megan Miranda
Links: Goodreads | Amazon* | Book Depository*
Synopsis: Littleport, Maine, has always felt like two separate towns: an ideal vacation enclave for the wealthy, whose summer homes line the coastline; and a simple harbor community for the year-round residents whose livelihoods rely on service to the visitors.
Typically, fierce friendships never develop between a local and a summer girl—but that's just what happens with visitor Sadie Loman and Littleport resident Avery Greer. Each summer for almost a decade, the girls are inseparable—until Sadie is found dead. While the police rule the death a suicide, Avery can't help but feel there are those in the community, including a local detective and Sadie's brother, Parker, who blame her. Someone knows more than they're saying, and Avery is intent on clearing her name, before the facts get twisted against her.
Girl in the Rearview Mirror by Kelsey Rae Dimberg
Links: Goodreads | Amazon* | Book Depository*
Synopsis: They are Phoenix's First Family: handsome Philip Martin, son of the sitting Senator, an ex-football player who carries himself with an easy grace and appears destined to step into his father's seat when the time is right; his wife Marina, the stylish and elegant director of Phoenix's fine arts museum; and their four-year-old daughter Amabel, beautiful and precocious and beloved.
Finn Hunt is working a dull office job to pay off her college debt when she meets Philip and charms Amabel. She eagerly agrees to nanny, thinking she's lucked into the job of a lifetime. Though the glamour of the Martins' lifestyle undeniably dazzles Finn, her real pleasure comes from being part of the family: sharing quick jokes with Philip in the kitchen before he leaves for work; staying late when Marina needs a last-minute sitter; and spending long days with Amabel, who is often treated more like a photo op than a child.
But behind every façade lurks a less attractive truth. When a young woman approaches Finn, claiming a connection with Philip and asking Finn to pass on a message, Finn becomes caught up in a web of deceit with the senate seat at its center. And Finn isn't exactly innocent herself: she too has a background she has kept hidden, and under the hot Phoenix sun, everything is about to be laid bare. . . .
The Stationery Shop by Marjan Kamali
Links: Goodreads | Amazon* | Book Depository*
Synopsis: Roya is a dreamy, idealistic teenager living in 1953 Tehran who, amidst the political upheaval of the time, finds a literary oasis in kindly Mr. Fakhri's neighborhood book and stationery shop. She always feels safe in his dusty store, overflowing with fountain pens, shiny ink bottles, and thick pads of soft writing paper.
When Mr. Fakhri, with a keen instinct for a budding romance, introduces Roya to his other favorite customer—handsome Bahman, who has a burning passion for justice and a love for Rumi's poetry—she loses her heart at once. And, as their romance blossoms, the modest little stationery shop remains their favorite place in all of Tehran.
A few short months later, on the eve of their marriage, Roya agrees to meet Bahman at the town square, but suddenly, violence erupts—a result of the coup d'etat that forever changes their country's future. In the chaos, Bahman never shows. For weeks, Roya tries desperately to contact him, but her efforts are fruitless. With a sorrowful heart, she resigns herself to never seeing him again.
Until, more than sixty years later, an accident of fate leads her back to Bahman and offers her a chance to ask him the questions that have haunted her for more than half a century: Why did he leave? Where did he go? How was he able to forget her?
The Stationery Shop is a beautiful and timely exploration of devastating loss, unbreakable family bonds, and the overwhelming power of love.
The Girl in Red by Christina Henry
Links: Goodreads | Amazon* | Book Depository*
Synopsis: It's not safe for anyone alone in the woods. There are predators that come out at night: critters and coyotes, snakes and wolves. But the woman in the red jacket has no choice. Not since the Crisis came, decimated the population, and sent those who survived fleeing into quarantine camps that serve as breeding grounds for death, destruction, and disease. She is just a woman trying not to get killed in a world that doesn't look anything like the one she grew up in, the one that was perfectly sane and normal and boring until three months ago.
There are worse threats in the woods than the things that stalk their prey at night. Sometimes, there are men. Men with dark desires, weak wills, and evil intents. Men in uniform with classified information, deadly secrets, and unforgiving orders. And sometimes, just sometimes, there's something worse than all of the horrible people and vicious beasts combined.
Red doesn't like to think of herself as a killer, but she isn't about to let herself get eaten up just because she is a woman alone in the woods….
The Porpoise by Mark Haddon
Links: Goodreads | Amazon* | Book Depository*
Synopsis: Mark Haddon's breathtaking novel begins with a harrowing plane crash: Maja, the pregnant wife of the unimaginably wealthy Philippe, is killed, but their daughter Angelica survives. Philippe's obsession with the girl's safety morphs into something sinister and grotesque as she grows into a beautiful teen. A young man named Darius, visiting Philippe with a business proposition, encounters Angelica and intuits their secret — he decides to rescue her, but the attempt goes awry and he flees England by sea.
This contemporary story mirrors the ancient legend of Antiochus, whose love for the daughter of his dead wife was discovered by the adventurer Appolinus of Tyre. The tale appeared in many forms through the ages; Apollinus becoming the swashbuckling Pericles in Shakespeare's eponymous play. In The Porpoise, as Angelique comes to terms with a life imprisoned on her father's estate, Darius morphs into Pericles, voyaging through a mythic world. In a bravura feat of storytelling, Haddon recounts his many exploits in thrilling fashion, mining the meaning of the old legends while creating parallels with the monstrous modern world Angelica inhabits. The language is rich and gorgeous; the conjured worlds are perfectly imagined; the plot moves forward at a ferocious pace.
But as much as Haddon plays with myth and meaning, his themes speak deeply to the current moment. As profound as it is entertaining, The Porpoise is a major literary achievement by an author whose myriad talents are on full, vivid display.
One Night at the Lake by Bethany Chase
Links: Goodreads | Amazon* | Book Depository*
Synopsis: A tragedy on a hot summer night at a lake house forever alters the lives of two best friends—and the man they both love. But the truth isn't as simple as it appears in this intricate novel of love, friendship, betrayal, and forgiveness in the tradition of Miranda Beverly-Whittemore's Bittersweet.
Leah Tessaro has been waiting for this moment for a long time: Her boyfriend, Ollie, is taking her to his family's home on Seneca Lake for a week of lazy summer bliss, boating, and barbeque. The couple has been together for four years, and Leah is convinced that Ollie is finally going to pop the question. And Leah can't wait to share the joyous news with her best friend, June Kang, who is joining them on their getaway, and whose presence will make everything feel more real.
Seven years later, the moment June has been dreading has finally arrived: Her fiancé, Ollie, is taking her to his family's lake house. But this is not an ordinary visit to an ordinary place; it is a house haunted by June's long-buried memories of her lost friend, Leah—and the connection that appears to remain between Leah and the man for whom June's love is as deep as her sense of foreboding.
Alternating between the two women's vibrant voices, One Night at the Lake is a gripping novel that explores a complex tangle of friendship, loyalty, and betrayal, all driving toward one question: What exactly happened to Leah on that hot summer night?
The Perfect Plan by Bryan Reardon
Links: Goodreads | Amazon* | Book Depository*
Synopsis: Liam Brennan teeters on the edge. Early one morning, he snaps, kidnapping a young woman who works for Drew Brennan, Liam's older brother and the upstart candidate in a heated election. This sudden, vicious attack appears to be the beginning of an unthinkable spiral. But when it comes to the Brennan brothers, nothing is what it seems.
To the rest of the world, Liam is the troubled problem child who grew up to be his brother's enforcer, while Drew has always been the perfect son and a charismatic leader who has his sights set on the governor's mansion with his charming and beautiful wife, Patsy, by his side.
Now, as Liam tries to stay one step ahead of the authorities and his brother, every passing minute provides a deeper glimpse into the brothers' past, long hidden behind a picture-perfect suburban veneer. With the threat of the truth surfacing, Liam and Drew are driven toward one final, desperate act…
The Affair of the Mysterious Letter by Alexis Hall
Links: Goodreads | Amazon* | Book Depository*
Synopsis: Upon returning to the city of Khelathra-Ven after five years fighting a war in another universe, Captain John Wyndham finds himself looking for somewhere to live, and expediency forces him to take lodgings at 221b Martyrs Walk. His new housemate is Ms. Shaharazad Haas, a consulting sorceress of mercurial temperament and dark reputation.
When Ms. Haas is enlisted to solve a case of blackmail against one of her former lovers, Miss Eirene Viola, Captain Wyndham is drawn into a mystery that leads him from the salons of the literary set to the drowned back-alleys of Ven and even to a prison cell in lost Carcosa. Along the way he is beset by criminals, menaced by pirates, molested by vampires, almost devoured by mad gods, and called upon to punch a shark.
But the further the companions go in pursuit of the elusive blackmailer, the more impossible the case appears. Then again, in Khelathra-Ven reality is flexible, and the impossible is Ms. Haas' stock-in-trade.
The Tenth Muse by Catherine Chung
Links: Goodreads | Amazon* | Book Depository*
Synopsis: The first thing I remember being said of me with any consistency was that I was intelligent—and I recognized even then that it was a comment leveled at me with as much disapproval as admiration. Still, I never tried to hide or suppress my mind as some girls do, and thank God, because that would have been the beginning of the end.
From childhood, Katherine knows she is different, and that her parents are not who they seem to be. But in becoming a mathematician, she must face the most human of problems—who is she? What is the cost of love, and what is the cost of ambition?
On her quest to conquer the Riemann Hypothesis, the greatest unsolved mathematical problem of her time, she turns to a theorem with a mysterious history that holds both the lock and key to her identity, and to secrets long buried during World War II in Germany. Forced to confront some of the most consequential events of the twentieth century and rethink everything she knows of herself, she strives to take her place in the world of higher mathematics and finds kinship in the stories of the women who came before her—their love of the language of numbers connecting them across generations.
In The Tenth Muse, Catherine Chung offers a gorgeous, sweeping tale about legacy, identity, and the beautiful ways the mind can make us free.
The Cutting Room (Carver and Lake #2) by Ashley Dyer
Links: Goodreads | Amazon* | Book Depository*
Synopsis: Detectives Ruth Lake and Greg Carver, introduced in the electrifying Splinter in the Blood, must stop a serial killer whose victims are the centerpiece of his macabre works of art.
While Britain is obsessed with the newest hit true-crime television show, Fact, or Fable? detectives Ruth Lake and Greg Carver are tormented by a fiendish flesh-and-blood killer on the loose.
Lured to a "crime scene" by a mysterious digital invitation, Ruth Lake is horrified by what she finds: a bizarre and gruesome tableau surrounded by a crowd of gawkers. The deadly work is the latest "art installation" designed by a diabolical criminal dubbed the Ferryman. Not only is this criminal cold-blooded; he's a narcissistic exhibitionist desperate for an audience. He's also clever at promoting his deadly handiwork. Exploiting England's current true-crime craze, he uses social media to titillate and terrorize the public.
Ruth is joined in the investigation by her partner Greg Carver, who is slowly regaining his strength after a run-in with another sadistic criminal. But Greg can't seem to shake the bewildering effects of the head wound that nearly ended him. Are the strange auras blurring his vision an annoying side effect of his injury, or could they be something more . . . a tool to help him see a person's true nature?
In this utterly engrossing and thrilling tale of suspense, a pair of seasoned detectives face off against a wickedly smart and inventive psychopath in a tense, bloody game that leads to a shocking end.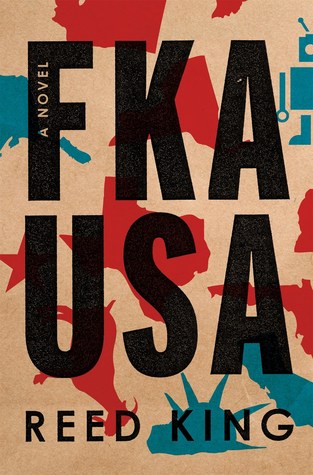 FKA USA by Reed King
Links: Goodreads | Amazon* | Book Depository*
Synopsis: It is 2085, and Truckee Wallace, a factory worker in Crunchtown 407 (formerly Little Rock, Arkansas, before the secessions), has no grand ambitions besides maybe, possibly, losing his virginity someday.
But when Truckee is thrust unexpectedly into the spotlight he is tapped by the President for a sensitive political mission: to deliver a talking goat across the continent. The fate of the world depends upon it.
The problem is—Truckee's not sure it's worth it.
Joined on the road by an android who wants to be human and a former convict lobotomized in Texas, Truckee will navigate an environmentally depleted and lawless continent with devastating—and hilarious—parallels to our own, dodging body pickers and Elvis-worshippers and logo girls, body subbers, and VR addicts.
Elvis-willing, he may even lose his virginity.
FKA USA is the epic novel we've all been waiting for about the American end of times, with its unavoidable sense of being on the wrong end of the roller coaster ride. It is a masterwork of ambition, humor, and satire with the power to make us cry, despair, and laugh out loud all at once. It is a tour de force unlike anything else you will read this year.
Letters to Molly (Maysen Jar #2) by Devney Perry
Links: Goodreads | Amazon* | Book Depository*
Synopsis: Molly and Finn Alcott had the picture-perfect marriage. With two gorgeous children, a lovely home and their own business, they were the couple others aspired to be. But when news of their divorce spreads through town like wildfire, it sends their beautiful image up in flames.
Molly spends years mending her broken heart. She finds joy in a life centered around her kids and career. Her happiness has a different picture now.
Then one day, she finds a letter in her mailbox. Written in Finn's handwriting, dated over fifteen years ago, it's a letter he wrote Molly after their first date.
Week after week, Finn's letters appear. Each marks a date in their history. Each holds the confession of the man who still owns Molly's heart. Each heals a wound from their past.
It's just too bad Finn isn't the one sending them.
The Burning Chambers by Kate Mosse
Links: Goodreads | Amazon* | Book Depository*
Synopsis: France, 1562: Nineteen-year-old Minou Joubert receives an anonymous letter at her father's bookshop. Sealed with a distinctive family crest, it contains just five words: SHE KNOWS THAT YOU LIVE.
But before Minou can decipher the mysterious message, a chance encounter with a young Huguenot convert, Piet Reydon, changes her destiny forever. For Piet has a dangerous mission of his own, and he will need Minou's help if he is to stay alive.
As the religious divide deepens, and old friends become enemies, Minou and Piet both find themselves trapped in Toulouse, facing new dangers as tensions ignite across the city.
All the while, the shadowy mistress of Puivert Château—obsessed with uncovering the secrets of a long-hidden document—strengthens her power and waits for the perfect time to strike…
Eve of Man by Giovanna & Tom Fletcher
Links: Goodreads | Amazon* | Book Depository*
Synopsis: AGAINST ALL ODDS, SHE SURVIVED.
THE FIRST GIRL BORN IN FIFTY YEARS.
THEY CALLED HER EVE.
The world had waited for her arrival with bated breath.
She is the last girl on earth, and all her life Eve has been kept away from the opposite sex. Kept from the truth of her past.
She's the answer to their prayers. Their final hope.
But at sixteen it's time for Eve to face her destiny. Three potential males have been selected for her. The future of the world is in her hands. She's always accepted her fate.
Eve is the Saviour of Humanity.
Until she meets Bram.
Eve wants control over her life. She wants freedom.
I AM EVE.
How do you choose between love and the future of the human race?

The Body Lies by Jo Baker
Links: Goodreads | Amazon* | Book Depository*
Synopsis: When a young writer accepts a job at a university in the remote English countryside, it's meant to be a fresh start, away from the bustle of London and the scene of a violent assault she is desperate to forget. But despite the distractions of her new life and the demands of single motherhood, her nerves continue to jangle. To make matters worse, during class a vicious debate about violence against women inflames the tensions and mounting rivalries in her creative writing group. When a troubled student starts turning in chapters that blur the lines between fiction and reality, the professor recognizes herself as the main character in his book–and he has written her a horrific fate. Will she be able to stop life imitating art before it's too late? At once a breathless cat-and-mouse game and a layered interrogation of the fetishization of the female body, The Body Lies gives us an essential story for our time that will have you checking the locks on your doors.
Haunting Paris by Mamta Chaudhry
Links: Goodreads | Amazon* | Book Depository*
Synopsis: A timeless story of love and loss is transformed when a bereaved pianist discovers a mysterious letter among her late lover's possessions, launching her headlong into a decades-old search for a child who vanished in the turbulence of wartime Paris. 
In the summer of 1989, while all of Paris is poised to celebrate the bicentennial of the French Revolution, Sylvie mourns the loss of her lover, Julien, and is unable to find solace in the music that has always been her refuge. But when she accidentally dislodges an envelope hidden in Julien's desk, she finds an enigmatic note from a stranger and feels compelled to meet this woman who might hold the key to Julien's past and to the story of the missing child he could not find in his lifetime. Julien's sister and one of her daughters perished in the Holocaust; but Julien held out hope that the other daughter managed to escape. Julien had secretly devoted years to tracking his niece, and now Sylvie picks up where he left off.
With only the scant clue of an unnumbered street, Sylvie sets out on her quest for knowledge, unaware that she is watched over by Julien's ghost, whose love for her is powerful enough to draw him back, though he is doomed to remain a silent observer in the afterlife. Sylvie's journey leads her deep into the secrets of Julien's past and she finally learns the devastating reason for Julien's reticence about a tragedy both personal and historic, shedding new light on the dark days of Nazi-held Paris and on the man Sylvie loved.
Mamta Chaudhry's gorgeously written and profoundly moving debut novel explores the grief of mourning a partner, the protective conspiracies of family secrets, and the undeniable power of memory. Weaving a narrative rich in vivid imagery and historical resonance, Haunting Paris matches emotional intensity with lyrical storytelling to bring a long-buried secret to light, capturing a relationship, a family, and a city in breathtaking new ways.
All of Us With Wings by Michelle Ruiz Keil
Links: Goodreads | Amazon* | Book Depository*
Synopsis: Seventeen-year-old Xochi is alone in San Francisco, running from her painful past: the mother who abandoned her, the man who betrayed her. Then one day, she meets Pallas, a precocious twelve-year-old who lives with her rockstar family in one of the city's storybook Victorians. Xochi accepts a position as Pallas's live-in governess and quickly finds her place in their household, which is relaxed and happy despite the band's larger-than-life fame.
But on the night of the Vernal Equinox, as a concert afterparty rages in the house below, Xochi and Pallas accidentally summon a pair of ancient creatures devoted to avenging the wrongs of Xochi's adolescence. She would do anything to preserve her new life, but with the creatures determined to exact vengeance on those who've hurt her, no one is safe—not the family she's chosen, nor the one she left behind.
Vintage 1954 by Antoine Laurain
Links: Goodreads | Amazon* | Book Depository*
Synopsis: When Hubert Larnaudie invites some fellow residents of his Parisian apartment building to drink an exceptional bottle of 1954 Beaujolais, he has no idea of its special properties.
The following morning, Hubert finds himself waking up in 1950s Paris, as do antique restorer Magalie, mixologist Julien, and Airbnb tenant Bob from Milwaukee, who's on his first trip to Europe. After their initial shock, the city of Edith Piaf and An American in Paris begins to work its charm on them. The four delight in getting to know the French capital during this iconic period, whilst also playing with the possibilities that time travel allows.
But, ultimately, they need to work out how to get back to 2017, and time is of the essence…
The Last Resort by Marissa Stapley
Links: Goodreads | Amazon* | Book Depository*
Synopsis: The Harmony Resort promises hope for struggling marriages. Run by celebrity power couple Drs. Miles and Grace Markell, the "last resort" offers a chance for partners to repair their relationships in a luxurious setting on the gorgeous Mayan Riviera.
Johanna and Ben have a marriage that looks perfect on the surface, but in reality, they don't know each other at all. Shell and Colin fight constantly: after all, Colin is a workaholic, and Shell always comes second to his job as an executive at a powerful mining company. But what has really torn them apart is too devastating to talk about. When both couples begin Harmony's intensive therapy program, it becomes clear that Harmony is not all it seems—and neither are Miles and Grace themselves. What are they hiding, and what price will these couples pay for finding out?
As a deadly tropical storm descends on the coast, trapping the hosts and the guests on the resort, secrets are revealed, loyalties are tested and not one single person—or their marriage—will remain unchanged by what follows.
---
So many fantastic books! Which ones are you going to pick up?
Connect with me:
Instagram | Goodreads | Twitter | Podcast
Please note: All links marked with (*) are affiliate links. Meaning, if you click and make a purchase I will get a small percentage of the purchase price from the retailer. Purchases like these help support my blog!