Waiting on Wednesday is a weekly event hosted by Jill at Breaking the Spine.  In this prompt we discuss books that have yet to be published that we're excited about! Head over to her blog to learn more.
This week I want to talk about Hello Girls by Brittany Cavallaro & Emily Henry! I had the opportunity to see Brittany Cavallaro at an Epic Reads meet-up earlier this year and she talked about this book and now we're only a few months away from release! Check it out below and let me know what book you're looking forward to today.
---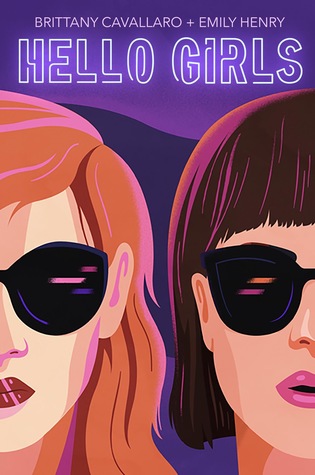 Title: Hello Girls
Author: Brittany Cavallaro & Emily Henry
Genre: YA Contemporary
Publisher: Katherine Tegen Books
Publication Date: August 6, 2019
Links: Goodreads | Amazon* | Book Depository*
Synopsis: Best friends are forged by fire. For Winona Olsen and Lucille Pryce, that fire happened the night they met outside the police station—both deciding whether to turn their families in.
Winona has been starving for life in the seemingly perfect home that she shares with her seemingly perfect father, celebrity weatherman Stormy Olsen. No one knows that he locks the pantry door to control her eating and leaves bruises where no one can see them.
Lucille has been suffocating beneath the needs of her mother and her drug-dealing brother, wondering if there's more out there for her than disappearing waitress tips and generations of barely getting by.
One harrowing night, Winona and Lucille realize they can't wait until graduation to start their new lives. They need out. Now. All they need is three grand, fast. And really, a stolen convertible to take them from Michigan to Las Vegas can't hurt.
---
Connect with me:
Instagram | Goodreads | Twitter | Podcast
Please note: All links marked with (*) are affiliate links. Meaning, if you click and make a purchase I will get a small percentage of the purchase price from the retailer. Purchases like these help support my blog!