Happy new release Tuesday!!
If you missed Part I, go check that out and then come back to see the rest of the new releases available now!
---
I Like to Watch: Arguing My Way Through the TV Revolution by Emily Nussbaum
Links: Goodreads | Amazon* | Book Depository*
Synopsis: From her creation of the first "Approval Matrix" in New York magazine in 2004 to her Pulitzer Prize–winning columns for The New Yorker, Emily Nussbaum has known all along that what we watch is who we are. In this collection, including two never-before-published essays, Nussbaum writes about her passion for television that began with stumbling upon "Buffy the Vampire Slayer"—a show that was so much more than it appeared—while she was a graduate student studying Victorian literature. What followed was a love affair with television, an education, and a fierce debate about whose work gets to be called "great" that led Nussbaum to a trailblazing career as a critic whose reviews said so much more about our culture than just what's good on television. Through these pieces, she traces the evolution of female protagonists over the last decade, the complex role of sexual violence on TV, and what to do about art when the artist is revealed to be a monster. And she explores the links between the television antihero and the rise of Donald Trump.
The book is more than a collection of essays. With each piece, Nussbaum recounts her fervent search, over fifteen years, for a new kind of criticism that resists the false hierarchy that elevates one form of culture over another. It traces her own struggle to punch through stifling notions of "prestige television," searching for a wilder and freer and more varied idea of artistic ambition—one that acknowledges many types of beauty and complexity, and that opens to more varied voices. It's a book that celebrates television as television, even as each year warps the definition of just what that might mean.
How Could She by Lauren Mechling
Links: Goodreads | Amazon* | Book Depository*
Synopsis: After a devastating break-up with her fiancé, Geraldine is struggling to get her life back on track in Toronto. Her two old friends, Sunny and Rachel, left ages ago for New York, where they've landed good jobs, handsome husbands, and unfairly glamorous lives (or at least so it appears to Geraldine). Sick of watching from the sidelines, Geraldine decides to force the universe to give her the big break she knows she deserves, and moves to New York City.
As she zigzags her way through the downtown art scene and rooftop party circuit, she discovers how hard it is to find her footing in a world of influencers and media darlings. Meanwhile, Sunny's life as an It Girl watercolorist is not nearly as charmed as it seemed to Geraldine from Toronto. And Rachel is trying to keep it together as a new mom, writer, and wife–how is it that she was more confident and successful at twenty-five than in her mid-thirties? Perhaps worst of all, why are Sunny and Rachel–who've always been suspicious of each other–suddenly hanging out without Geraldine?
Hilarious and fiercely observed, How Could She is an essential novel of female friendship, an insider's look into the cutthroat world of New York media–from print to podcasting–and a witty exploration of the ways we can and cannot escape our pasts. 
Alone at Dawn: Medal of Honor Recipient John Chapman and the Untold Story of the World's Deadliest Special Operations Force
Links: Goodreads | Amazon* | Book Depository*
Synopsis: In the predawn hours of March 4, 2002, just below the 10,469-foot peak of a mountain in eastern Afghanistan, a fierce battle raged. Outnumbered by Al Qaeda fighters, Air Force Combat Controller John Chapman and a handful of Navy SEALs struggled to take the summit in a desperate bid to find a lost teammate. Chapman, leading the charge, was gravely wounded in the initial assault. Believing he was dead, his SEAL leader ordered a retreat. Chapman regained consciousness alone, with the enemy closing in on three sides.
John Chapman's subsequent display of incredible valor–first saving the lives of his SEAL teammates and then, knowing he was mortally wounded, single-handedly engaging two dozen hardened fighters to save the lives of an incoming rescue squad–posthumously earned him the Medal of Honor. Chapman is the first airman in nearly fifty years to be given the distinction reserved for America's greatest heroes.
Alone at Dawn is also a behind-the-scenes look at the Air Force Combat Controllers: the world's deadliest and most versatile special operations force, whose members must not only exceed the qualifications of Navy SEAL and Army Delta Force teams but also act with sharp decisiveness and deft precision–even in the face of life-threatening danger.
Drawing from firsthand accounts, classified documents, dramatic video footage, and extensive interviews with leaders and survivors of the operation, Alone at Dawn is the story of an extraordinary man's brave last stand and the brotherhood that forged him.
The Not Good Enough Mother by Sharon Lamb
Links: Goodreads | Amazon* | Book Depository*
Synopsis: Psychologist and expert witness Dr. Sharon Lamb evaluates parents, particularly in high-stakes cases concerning the termination of parental rights. The conclusions she reaches can mean that some children are returned home from foster homes. Others are freed for adoption. Well-trained, Lamb generally can decide what's in the best interests of the child. But when her son's struggle with opioid addiction comes to light, she starts to doubt her right to make judgments about other mothers.
As an expert, a professor, and a mother, Lamb gives voice to the near impossible standards demanded by a society prone to blame mothers when anything befalls their children. She describes vividly the plight of individual parents, mothers in particular, struggling with addiction and mental illness and trying to make stable homes for their kids amid the economic and emotional turmoil of their lives–all in the context of the opioid epidemic that has ravaged her home state of Vermont. In her office, during visits with their children, and in the family court, the parents we meet wait anxiously for Lamb's verdict: Have they turned their lives around under child welfare's watchful eye? Do they understand their children's needs? In short, are they good enough? But what is good enough? Lamb turns that question on herself in the midst of her gradual realization of her son's opioid addiction. Amazed at her own denial, feeling powerless to help him, Lamb confronts the heartache she can bring into the lives of others and her power to tear families apart.
Star Spangled Scandal: Sex, Murder, and the Trial that Changed America by Chris DeRose
Links: Goodreads | Amazon* | Book Depository*
Synopsis: "… and sir I do assure you he has as much the use of your wife as you have."
— From an anonymous note delivered to Congressman Daniel Sickles on February 24, 1859
It is two years before the Civil War, and Congressman Daniel Sickles and his lovely wife Teresa are popular fixtures in Washington, D.C. society. Their house sits on Lafayette Square across from White House grounds, and the president himself is godfather to the Sickles' six-year-old daughter. Because Congressman Sickles is frequently out of town, he trusts his friend, U.S. Attorney Philip Barton Key—son of Francis Scott Key—to escort the beautiful Mrs. Sickles to parties in his absence. Revelers in D.C. are accustomed to the sight of the congressman's wife with the tall, Apollo-like Philip Barton Key, who is considered "the handsomest man in all Washington society… foremost among the popular men of the capital."
Then one day an anonymous note sets into motion a tragic course of events that culminates in a shocking murder in broad daylight in Lafayette Square.
This is the riveting true story of the murder and trial that sparked a national debate on madness, male honor, female virtue, fidelity, and the rule of law. Bestselling author Chris DeRose (The Presidents' War) uses diary entries, letters, newspaper accounts, and eyewitness testimonies to bring the characters to thrilling life in this antebellum true crime history.
Once Upon a Bad Boy (Sometimes in Love #3) by Melonie Johnson
Links: Goodreads | Amazon* | Book Depository*
Synopsis: NEVER SAY NEVER
Sadie Gold is ready to take her career to the next level with the role of a lifetime. Finally, she can shake her reputation as a pretty face with more wealth and connections than talent. But Sadie is not prepared for the wild turn her own life is about to take. The man in charge of training Sadie for her most demanding role yet is none other than her first real boyfriend—the one who took her heart and ran away.
WHEN IT COMES TO LOVE
Bo Ibarra is as good-looking and irresistible as ever. Maybe even more so, now that everything once worked against them—Sadie's pampered and privileged upbringing and Bo's childhood in a family struggling to make ends meet—is in the past. But the future is still unwritten…and getting there, together, means coming clean about painful secrets and slashing through nasty tabloid rumors while trying to control the attraction that crackles between them. Maybe it's finally time for them to walk off into the sunset and into a true and lasting love?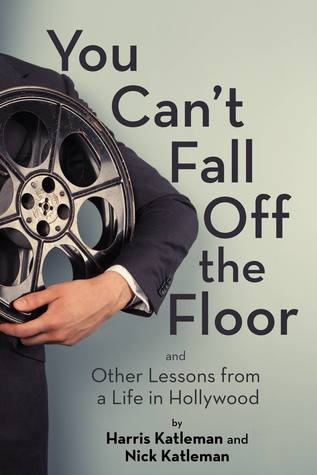 You Can't Fall Off the Floor: and Other Lessons from a Life in Hollywood by Harris Katleman & Nick Katleman
Links: Goodreads | Amazon* | Book Depository*
Synopsis: From watching his colleague get shot in the testicles by a jealous producer to running Hollywood's most successful television studio, Harris Katleman had a front row seat in the development of the television industry. Destined to become a classic account of the business side of entertainment, this book shares what really happened in the early careers of Hollywood stars and the development of iconic programs.
Through a number of hilarious accounts, Harris Katleman shares his journey from office boy to talent agent to television producer, and finally to studio head at both MGM and 20th Century Fox. Along the way, we meet industry giants including Rupert Murdoch, Bob Iger, Barry Diller, Marvin Davis, Kirk Kerkorian, Mark Goodson, and Lew Wasserman.
This goes beyond the story of a life in Hollywood. It is the story of crucial developments—how motion picture film libraries were opened for television licensing, how The Simpsons was birthed, and much more. It is also a collection of vital life lessons for anyone aspiring to establish a career in Hollywood.
The names are so famous and the stories so lively that this book reads like it was written about today's Hollywood.
The Poison Jungle (Wings of Fire #13) by Tui T. Sutherland
Links: Goodreads | Amazon* | Book Depository*
Synopsis: Some secrets are deadly.
It's no secret that Sundew wants to destroy the HiveWings. It's her life's mission to exact revenge on the tribe that tried to wipe out the LeafWings and ripped every tree from the surface of Pantala.
Every tree, that is, except the wild and dangerous Poison Jungle, where the surviving LeafWings have been hiding since the war. Hiding, plotting, and waiting for a dragon like Sundew, who is uniquely qualified to bring down the Hives.
There are dark secrets in the jungle, though-some that Sundew is keeping, and some that she's only just beginning to discover. And now that a new war is upon them, Sundew and her friends must unearth the oldest secret in the jungle-even if what they find has the power to destroy them all.
Rouge by Richard Kirshenbaum
Links: Goodreads | Amazon* | Book Depository*
Synopsis: Rouge is a sexy, glamorous journey into the rivalry of the pioneers of powder, mascara and rouge.
This fast-paced novel examines the lives, loves, and sacrifices of the visionaries who invented the modern cosmetics industry: Josiah Herzenstein, born in a Polish Jewish Shtlel, the entrepreneur who transforms herself into a global style icon and the richest woman in the world, Josephine Herz; Constance Gardiner, her rival, the ultimate society woman who invents the door-to-door business and its female workforce but whose deepest secret threatens everything; CeeCee Lopez, the bi-racial beauty and founder of the first African American woman's hair relaxer business, who overcomes prejudice and heartbreak to become her community's first female millionaire. The cast of characters is rounded out by Mickey Heron, a dashing, sexy ladies' man whose cosmetics business is founded in a Hollywood brothel. All are bound in a struggle to be number one, doing anything to get there…including murder.
Cygnet by Season Butler
Links: Goodreads | Amazon* | Book Depository*
Synopsis: The seventeen-year-old Kid doesn't know where her parents are. They left her with her grandmother Lolly, promising to return soon. That was months ago. Now Lolly is dead and the Kid is alone, stranded ten miles off the coast of New Hampshire on tiny Swan Island. Unable to reach her parents and with no other relatives to turn to, she works for a neighbor, airbrushing the past by digitally retouching family photos and movies to earn enough money to survive.
Surrounded by the vast ocean, the Kid's temporary home is no ordinary vacation retreat. The island is populated by an idiosyncratic group of the elderly who call themselves Wrinklies. They have left behind the youth-obsessed mainland—"the Bad Place"—to create their own alternative community, one where only the elderly are welcome. The adolescent's presence on their island oasis unnerves the Wrinklies, turning some downright hostile. They don't care if she has nowhere to go;they just want her gone. She is a reminder of all they've left behind and are determined to forget.
But the Kid isn't the only problem threatening the insular community. Swan Island is eroding into the rising sea, threatening the Wrinklies' very existence there. The Kid's own house edges closer to the seaside cliffs each day. To find a way forward, she must come to terms with the realities of her life, the inevitability of loss, and an unknown future that is hers alone to embrace.
Season Butler makes her literary debut with an ambitious work of bold imagination. Tough and tender, compassionate and ferocious, understated and provocative, Cygnet is a meditation on death and life, past and future, aging and youth, memory and forgetting, that explores what it means to find acceptance—of things gone and of those yet to come.
Hexarchate Stories by Yoon Ha Lee
Links: Goodreads | Amazon* | Book Depository*
Synopsis: The essential short story collection set in the universe of Ninefox Gambit.
An ex-Kel art thief has to save the world from a galaxy-shattering prototype weapon…
A general outnumbered eight-to-one must outsmart his opponent…
A renegade returns from seclusion to bury an old comrade…
From the incredible imagination of Hugo- and Arthur C. Clarke-nominated author Yoon Ha Lee comes a collection of stories set in the world of the best-selling Ninefox Gambit. Showcasing Lee's extraordinary imagination, this collection takes you to the very beginnings of the hexarchate's history and reveals new never-before-seen stories.
I Owe You One by Sophie Kinsella (paperback release)
Links: Goodreads | Amazon* | Book Depository*
Synopsis: Fixie Farr has always lived by her father's motto: "Family first." And since her dad passed away, leaving his charming housewares store in the hands of his wife and children, Fixie spends all her time picking up the slack from her siblings instead of striking out on her own. The way Fixie sees it, if she doesn't take care of her father's legacy, who will?
It's simply not in Fixie's nature to say no to people. So when a handsome stranger in a coffee shop asks her to watch his laptop for a moment, she not only agrees–she ends up saving it from certain disaster. To thank Fixie for her quick thinking, the computer's owner, Sebastian, an investment manager, scribbles an IOU on a coffee sleeve and attaches his business card. Fixie laughs it off–she'd never actually claim an IOU from a stranger. Would she?
But then Fixie's childhood crush, Ryan, comes back into her life, and his lack of a profession pushes all of Fixie's buttons. As always, she wants nothing for herself–but she'd love Seb to give Ryan a job. No sooner has Seb agreed than the tables are turned once more and a new series of IOUs between Seb and Fixie–from small favors to life-changing moments–ensues. Soon Fixie, Ms. Fixit for everyone else, is torn between her family and the life she really wants. Does she have the courage to take a stand? Will she finally grab the life, and love, she really wants?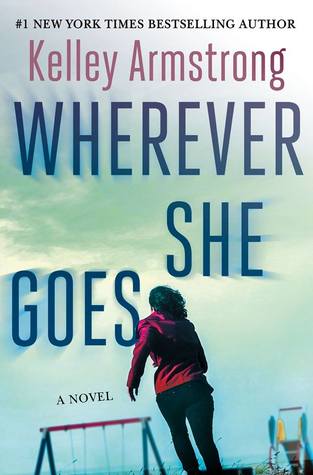 Wherever She Goes by Kelley Armstrong
Links: Goodreads | Amazon* | Book Depository*
Synopsis: "Few crimes are reported as quickly as a snatched kid."
That's what the officer tells single mother Aubrey Finch after she reports a kidnapping. So why hasn't anyone reported the little boy missing? Aubrey knows what she saw: a boy being taken against his will from the park. It doesn't matter that the mother can't be found. It doesn't matter if no one reported it. Aubrey knows he's missing.
Instead, people question her sanity. Aubrey hears the whispers. She's a former stay-at-home mom who doesn't have primary custody of her daughter, so there must be something wrong with her, right? Others may not understand her decision to walk away from her safe life at home, but years of hiding her past – even from the people she loves – were taking their toll, and Aubrey knows she can't be the mother or wife she envisions until she learns to leave her secrets behind.
When the police refuse to believe her, she realizes that rescuing the boy is up to her alone. But after all the secrets, how far is she willing to go? Even to protect a child.
The Bookshop on the Shore by Jenny Colgan
Links: Goodreads | Amazon* | Book Depository*
Synopsis: A grand baronial house on Loch Ness, a quirky small-town bookseller, and a single mom looking for a fresh start all come together in this witty and warm-hearted novel by New York Times bestselling author Jenny Colgan.
Desperate to escape from London, single mother Zoe wants to build a new life for herself and her son Hari. She can barely afford the crammed studio apartment on a busy street where honking horns and shouting football fans keep them awake all night. If she doesn't find a way out soon, Zoe knows it's just a matter of time before she has a complete meltdown. On a whim, she answers an ad for a nanny job in the Scottish Highlands, which is about as far away from the urban crush of London as possible. It sounds heavenly!
The job description asks for someone capable of caring for three "gifted children", two of which behave feral wolverines. The children's widowed father is a wreck, and the kids run wild in a huge tumbledown castle on the heather-strewn banks of Loch Ness. Still, the peaceful, picturesque location is everything London is not—and Zoe rises to the challenges of the job.
With the help of Nina, the friendly local bookseller, Zoe begins to put down roots in the community. Are books, fresh air, and kindness enough to heal this broken family—and her own…?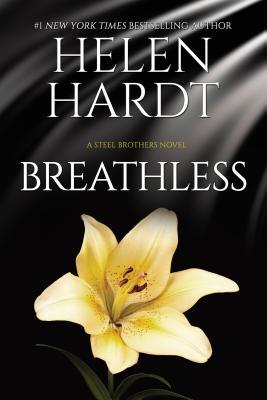 Breathless (Steel Brothers Saga #10) by Helen Hardt
Links: Goodreads | Amazon* | Book Depository*
Synopsis: Marjorie Steel is still healing from the events of the past year, and she's happy to put her plans to study culinary arts on hold to help her best friend deal with a difficult pregnancy and two recently adopted troubled boys. The fact that Bryce Simpson spends a lot of time at the Steel Ranch is a benefit, and she's ready to see if her attraction to him might be something more.
Bryce wants to do a hard day's work on the ranch. Once his muscles give out and he collapses from exhaustion, maybe he'll stop torturing himself over his late father's horrific double life. The Steels have a different idea. They ask Bryce to take an executive position complete with a profit share. As he has a young son and widowed mother to support, it's an offer he can't refuse. The only catch is Marjorie. She's beautiful, smart, feisty, and her kisses set him on fire. But he's an empty shell with nothing to offer her, and she deserves the world.
As the sins of his father continue to haunt him, Bryce learns the horrors of the past may not yet be buried.
DEV1AT3 (Lifelike #2) by Jay Kristoff
Links: Goodreads | Amazon* | Book Depository*
Synopsis: Lemon Fresh has seen better days.
After the climactic battle in Babel, she finds herself separated from Ezekiel and Cricket in the wastelands. Lemon's abilities to manipulate electricity mark her as a deviate, and deadly corporate operatives are hunting her to use as a weapon in the war between BioMaas Incorporated and Daedelus Technologies. Instead, Lemon finds herself falling in with a group of fellow deviates—a band of teenagers with astonishing abilities, led by an enigmatic figure known as the Major, who may hold the secrets to Lemon's past.
Meanwhile, Cricket finds himself in possession of the puritanical Brotherhood, a religious cult set for a head-on collision with the Major and his band. Searching for Lemon, Ezekiel finds a strange ally in an old enemy, and uncovers a plot that may see him reunited with his beloved Ana.
And inside Babel, a remade Eve hatches a plan to bring an end to the world.
The Orphan's Song by Lauren Kate
Links: Goodreads | Amazon* | Book Depository*
Synopsis: A song brought them together.
A secret will tear them apart.
Venice, 1736. When fate brings Violetta and Mino together on the roof of the Hospital of the Incurables, they form a connection that will change their lives forever. Both are orphans at the Incurables, dreaming of escape. But when the resident Maestro notices Violetta's voice, she is selected for the Incurables' world famous coro, and must sign an oath never to sing beyond its church doors.
After a declaration of love ends in heartbreak, Mino flees the Incurables in search of his family. Known as the "city of masks," Venice is full of secrets, and Mino is certain one will lead to his long-lost mother. Without him, the walls close in on Violetta and she begins a dangerous and forbidden nightlife, hoping her voice can secure her freedom. But neither finds what they are looking for, until a haunting memory Violetta has suppressed since childhood leads them to a shocking confrontation.
Vibrant with the glamour and beauty of Venice at its zenith, The Orphan's Song takes us on a breathtaking journey of passion, heartbreak, and betrayal before it crescendos to an unforgettable ending, a celebration of the enduring nature and transformative power of love.
We Sold Our Souls by Grady Hendrix
Links: Goodreads | Amazon* | Book Depository*
Synopsis: In the 1990s, heavy metal band Dürt Würk was poised for breakout success — but then lead singer Terry Hunt embarked on a solo career and rocketed to stardom as Koffin, leaving his fellow bandmates to rot in rural Pennsylvania.
Two decades later, former guitarist Kris Pulaski works as the night manager of a Best Western – she's tired, broke, and unhappy. Everything changes when she discovers a shocking secret from her heavy metal past: Turns out that Terry's meteoric rise to success may have come at the price of Kris's very soul.
This revelation prompts Kris to hit the road, reunite with the rest of her bandmates, and confront the man who ruined her life. It's a journey that will take her from the Pennsylvania rust belt to a Satanic rehab center and finally to a Las Vegas music festival that's darker than any Mordor Tolkien could imagine. A furious power ballad about never giving up, even in the face of overwhelming odds, We Sold Our Souls is an epic journey into the heart of a conspiracy-crazed, paranoid country that seems to have lost its very soul…where only a girl with a guitar can save us all.
Superfan (Brooklyn #3) by Sarina Bowen
Links: Goodreads | Amazon* | Book Depository*
Synopsis: Sometimes lady luck shakes your hand, and sometimes she smacks your face. Sometimes she does both on the same day.
Three years ago I met the most amazing girl in the world. We were both down on our luck. Then I got that call—the one that tells you to get your buns on a plane to go meet your destiny.
But the girl was left behind. I didn't have her phone number, and she didn't know my real name.
While I became a professional hockey player, she became a superstar, with platinum records and legions of fans. And a slick, music producer boyfriend who treated her badly.
But fate wasn't done with us yet. When Delilah turns up at a hockey game, I can't resist making contact. The internet swoons when I ask her out on a date.
She might not remember me. But her jerkface ex does. He'll do anything to keep us apart.
Good thing athletes never give up. This time I'm playing for keeps.
Kingdom of Exiles (The Beast Charmer #1) by Maxym M. Martineau
Links: Goodreads | Amazon* | Book Depository*
Synopsis: Fantastic Beasts meets Assassin's Creed in this epic, gripping fantasy romance from debut author Maxym M. Martineau.
Exiled beast charmer Leena Edenfrell is in deep trouble. Empty pockets forced her to sell her beloved magical beasts on the black market—an offense punishable by death—and now there's a price on her head. With the realm's most talented murderer-for-hire nipping at her heels, Leena makes him an offer he can't refuse: powerful mythical creatures in exchange for her life.
If only it were that simple. Unbeknownst to Leena, the undying ones are bound by magic to complete their contracts, and Noc cannot risk his brotherhood of assassins…not even to save the woman he can no longer live without.
Jackson (Eternity Springs: The McBrides of Texas Triology #1) by Emily March
Links: Goodreads | Amazon* | Book Depository*
Synopsis: Sometimes it takes a new beginning 
Caroline Carruthers thinks she buried her dreams along with the love of her life…until a stranger named Celeste dares her to chase a dream all on her own. Moving to Redemption, Texas, is chapter one in Caroline's new life story. Opening a bookstore is the next. Finding love is the last thing on her mind as she settles into this new place called home. But when she meets a handsome, soulful man who's also starting over, all bets are off.
to reach a happily-ever-after 
Jackson McBride came to Redemption looking only to find himself, not someone to love. Ever since his marriage ended, he's been bitter. Sure, he used to believe in love—he even has the old song lyrics to prove it—but the Jackson of today is all business. That is, until a beautiful young widow who's moved to town inspires a change of heart. Could it be that the myth of Redemption's healing magic is true…and Jackson and Caroline can find a second chance at a happy ending after all?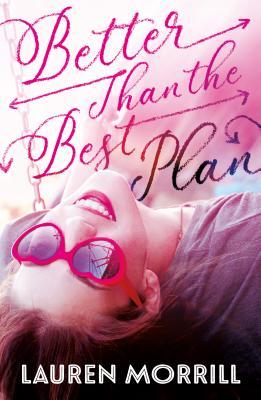 Better Than the Best Plan by Lauren Morrill
Links: Goodreads | Amazon* | Book Depository*
Synopsis: Plans are made to be broken.
It's the last day of junior year, and seventeen-year-old Ritzy–short for Maritza–is pretty sure she has a great plan. Summer job–check. Hang with friends at the beach–check. Keep looking after herself as she's been doing since her mom bailed to follow her bliss–check. Or no check?
After someone reports that Ritzy is living alone, a social worker shows up and puts her into foster care. That's surprise enough. Even more surprising? Ritzy has been in foster care before, as an infant, and the woman who cared for her then takes her in again. But maybe the greatest surprise of all for Ritzy is that living with her foster mother, Kristin, in Kristin's gorgeous house, isn't all that bad. And neither is the cute, friendly boy next door. If Ritzy's mom hadn't gotten her back all those years ago, this is the life she could have had. But is it the life she should have had?
When Ritzy's old life catches up with her new one, she has some decisions to make. Can she plan for the worst, but still hope for the best?
Return to Zero (Lorien Legacies Reborn #3) by Pittacus Lore
Links: Goodreads | Amazon* | Book Depository*
Synopsis: After the battle in Switzerland, the Fugitive Six find their allegiances torn, dividing them into two factions. Taylor, Kopano, and Nigel return to the Academy with Nine, but nothing is the same. As fear and resentment of the Human Garde continues to grow, the United Nations decrees that all humans with Legacies must be implanted with inhibitors. So our heroes will have no choice but to rebel.
And with the Foundation still at large, Isabela, Caleb, and Ran have decided to join forces with their former foes Einar and Five to hunt them down. But when a new threat is revealed, the group may find itself painfully outmatched. Facing capture or annihilation from all sides, the only hope the Human Garde have for survival is to stand together once and for all to fight back against their true enemies.
---
So many fantastic books! Which ones are you going to pick up?
Connect with me:
Instagram | Goodreads | Twitter | Podcast
Please note: All links marked with (*) are affiliate links. Meaning, if you click and make a purchase I will get a small percentage of the purchase price from the retailer. Purchases like these help support my blog!