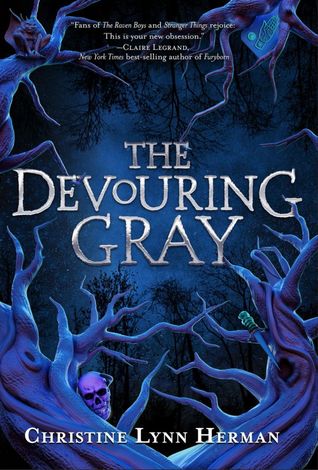 Title: The Devouring Gray
Author: Christine Lynn Herman
Genre: YA Paranormal Fantasy
Publisher: Disney-Hyperion
Publication Date: April 2, 2019
Links: Goodreads | Amazon* | Book Depository*
Rating: 3.5 / 5 Stars
Source: Digital ARC via NetGalley (final finished copy also provided via publisher)
This was such a darkly fun story! Violet and her mother move to Four Paths after the death of her sister. She soon makes friends only to find out they are descendants of the town's founders and so is she. Then magical things begin happening and Violet is pulled into the world of Four Paths and the Devouring Gray, a magical force that lives in the woods and seems to be feeding on the townspeople.
This book has that found family aspect that I adore. Violet is desperately searching for both answers to family secrets and a family. She has lost her father and sister, and her mother is very distant, always working, and shares nothing about her past. Justin and May are siblings with an incredibly controlling mother who is also the town sheriff. Issac is the only member of his family left in Four Paths. And Harper comes from a family with so many kids, it's easy for her to feel unnoticed. So each of these characters are looking for family and definitely find it in each other.
The story line is fun and interesting, but my favorite part was the friendships.
Thank you so much to Disney-Hyperion and NetGalley for the chance to read and review this book!
"Maybe the thing no one had told her about growing up was that nobody ever really became the person they'd wanted to be."
-Christina Lynn Herman, The Devouring Gray
*Please note, this quote is from an ARC copy, so it may change in the final copy.
Synopsis: Branches and stones, daggers and bones,
They locked the Beast away.
After the death of her sister, seventeen-year-old Violet Saunders finds herself dragged to Four Paths, New York. Violet may be a newcomer, but she soon learns her mother isn't: They belong to one of the revered founding families of the town, where stone bells hang above every doorway and danger lurks in the depths of the woods.
Justin Hawthorne's bloodline has protected Four Paths for generations from the Gray—a lifeless dimension that imprisons a brutal monster. After Justin fails to inherit his family's powers, his mother is determined to keep this humiliation a secret. But Justin can't let go of the future he was promised and the town he swore to protect.
Ever since Harper Carlisle lost her hand to an accident that left her stranded in the Gray for days, she has vowed revenge on the person who abandoned her: Justin Hawthorne. There are ripples of dissent in Four Paths, and Harper seizes an opportunity to take down the Hawthornes and change her destiny-to what extent, even she doesn't yet know.
The Gray is growing stronger every day, and its victims are piling up. When Violet accidentally unleashes the monster, all three must band together with the other Founders to unearth the dark truths behind their families' abilities—before the Gray devours them all.
---
Connect with me:
Instagram | Goodreads | Twitter | Podcast
Please note: All links marked with (*) are affiliate links. Meaning, if you click and make a purchase I will get a small percentage of the purchase price from the retailer. Purchases like these help support my blog!