Happy happy Friday book lovers! Since it's the end of March, I thought it would be fun to talk about five books being published in April that I'm excited to read! March was a GREAT month for book publishing and it looks like April will be as well. So without further ado..
White Rabbit by Caleb Roehrig
Synopsis: Rufus Holt is having the worst night of his life. It begins with the reappearance of his ex-boyfriend, Sebastian—the guy who stomped his heart out like a spent cigarette. Just as Rufus is getting ready to move on, Sebastian turns up out of the blue, saying they need to "talk." Things couldn't get much worse, right?
But then Rufus gets a call from his sister April, begging for help. And then he and Sebastian find her, drenched in blood and holding a knife, beside the dead body of her boyfriend, Fox Whitney.
April swears she didn't kill Fox—but Rufus knows her too well to believe she's telling him the whole truth. April has something he needs, though, and her price is his help. Now, with no one to trust but the boy he wants to hate yet can't stop loving, Rufus has one night to prove his sister's innocence…or die trying.
Queens of Fennbirn by Kendare Blake
Synopsis: Uncover the sisters' origins, dive deep into the catastrophic reign of the Oracle Queen, and reveal layers of Fennbirn's past, hidden until now.
The Young Queens
Get a glimpse of triplet queens Mirabella, Arsinoe, and Katharine during a short period of time when they protected and loved one another. From birth until their claiming ceremonies, this is the story of the three sisters' lives…before they were at stake.
The Oracle Queen
Everyone knows the legend of Elsabet, the Oracle Queen. The one who went mad. The one who orchestrated a senseless, horrific slaying of three entire houses. But what really happened? Discover the true story behind the queen who could foresee the future…just not her own downfall.
Stay Sweet by Siobhan Vivian
Synopsis: A summer read about first love, feminism, and ice cream.
Summer in Sand Lake isn't complete without a trip to Meade Creamery—the local ice cream stand founded in 1944 by Molly Meade who started making ice cream to cheer up her lovesick girlfriends while all the boys were away at war. Since then, the stand has been owned and managed exclusively by local girls, who inevitably become the best of friends. Seventeen-year-old Amelia and her best friend Cate have worked at the stand every summer for the past three years, and Amelia is "Head Girl" at the stand this summer. When Molly passes away before Amelia even has her first day in charge, Amelia isn't sure that the stand can go on. That is, until Molly's grandnephew Grady arrives and asks Amelia to stay on to help continue the business…but Grady's got some changes in mind…
Dread Nation by Justina Ireland
Synopsis: Jane McKeene was born two days before the dead began to walk the battlefields of Gettysburg and Chancellorsville—derailing the War Between the States and changing America forever. In this new nation, safety for all depends on the work of a few, and laws like the Native and Negro Reeducation Act require certain children attend combat schools to learn to put down the dead. But there are also opportunities—and Jane is studying to become an Attendant, trained in both weaponry and etiquette to protect the well-to-do. It's a chance for a better life for Negro girls like Jane. After all, not even being the daughter of a wealthy white Southern woman could save her from society's expectations.
But that's not a life Jane wants. Almost finished with her education at Miss Preston's School of Combat in Baltimore, Jane is set on returning to her Kentucky home and doesn't pay much mind to the politics of the eastern cities, with their talk of returning America to the glory of its days before the dead rose. But when families around Baltimore County begin to go missing, Jane is caught in the middle of a conspiracy, one that finds her in a desperate fight for her life against some powerful enemies. And the restless dead, it would seem, are the least of her problems.
Sky in the Deep by Adrienne Young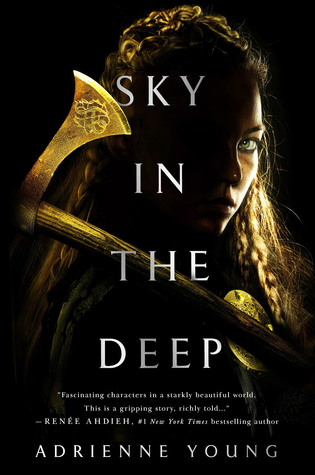 Synopsis: OND ELDR. BREATHE FIRE.
Raised to be a warrior, seventeen-year-old Eelyn fights alongside her Aska clansmen in an ancient rivalry against the Riki clan. Her life is brutal but simple: fight and survive. Until the day she sees the impossible on the battlefield—her brother, fighting with the enemy—the brother she watched die five years ago.
Faced with her brother's betrayal, she must survive the winter in the mountains with the Riki, in a village where every neighbor is an enemy, every battle scar possibly one she delivered. But when the Riki village is raided by a ruthless clan thought to be a legend, Eelyn is even more desperate to get back to her beloved family.
She is given no choice but to trust Fiske, her brother's friend, who sees her as a threat. They must do the impossible: unite the clans to fight together, or risk being slaughtered one by one. Driven by a love for her clan and her growing love for Fiske, Eelyn must confront her own definition of loyalty and family while daring to put her faith in the people she's spent her life hating.
I actually have ARCs of both White Rabbit and Stay Sweet, so I'm hoping to read both of those really soon! Which of these gorgeous books are you most excited about? Did I miss any April releases that you're looking forward to?