Happy Wednesday book dragons!
Waiting on Wednesday is a weekly event hosted by Jill at Breaking the Spine.  In this prompt we discuss books that have yet to be published that we're excited about! Head over to her blog to learn more.
If you've been following me for a while on Instagram, you probably already know my serious love of the Three Dark Crowns series. I read the first book when it came in the September 2016 Owl Crate and instantly fell in love. Then I had to run out and read Kendare Blake's duology, Anna Dressed in Blood, because I just needed more of her work. Now, we're two years from the release of the first book and we're finally getting book 3, Two Dark Reigns!! I couldn't be more excited and I'm practically counting down the days.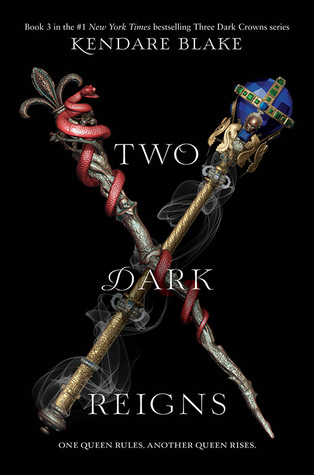 Title: Two Dark Reigns
Author: Kendare Blake
Genre: YA Fantasy
Publisher: HarperTeen
Publication Date: September 4, 2018
Links: Goodreads | Amazon* | Book Depository*
Synopsis: Katharine sits on the throne, Mirabella and Arsinoe are in hiding, and an unexpected renegade is about to wage a war of her own. The crown has been won, but these queens are far from done.
That's one of the shortest synopsis' I've ever seen. But given it's the third book, we don't want any spoilers!
What upcoming books are you looking forward to?
-Elizabeth
Bookish Connoisseur
Connect with me:
Instagram | Goodreads | Twitter
Please note: All links marked with (*) are affiliate links. Meaning, if you click and make a purchase I will get a small percentage of the purchase price from the retailer. Purchases like these help support my blog!