Happy second week of April! I think these New Release posts are getting longer and longer each week. But we all know that more books is never a bad thing. 😉
Check out my round-up of this week's new releases below and let me know what you're most excited to read!
---
Meet cute by Helena Hunting
Links: Goodreads | Amazon* | Book Depository*
Synopsis: Talk about an embarrassing introduction. On her first day of law school, Kailyn ran – quite literally – into the actor she crushed on as a teenager, ending with him sprawled on top of her. Mortified to discover the Daxton Hughes was also a student in her class, her embarrassment over their meet-cute quickly turned into a friendship she never expected. Of course, she never saw his betrayal coming either…
Now, eight years later, Dax is in her office asking for legal advice. Despite her anger, Kailyn can't help feeling sorry for the devastated man who just became sole guardian to his thirteen-year-old sister. But when her boss gets wind of Kailyn's new celebrity client, there's even more at stake than Dax's custody issues: if she gets Dax to work at their firm, she'll be promoted to partner.
The more time Kailyn spends with Dax and his sister, the more she starts to feel like a family, and the more she realizes the chemistry they had all those years ago is as fresh as ever. But will they be able to forgive the mistakes of the past, or will one betrayal lead to another?
In the Neighborhood of True by Susan Kaplan Carlton
Links: Goodreads | Amazon* | Book Depository*
Synopsis: A powerful story of love, identity, and the price of fitting in or speaking out.
After her father's death, Ruth Robb and her family transplant themselves in the summer of 1958 from New York City to Atlanta—the land of debutantes, sweet tea, and the Ku Klux Klan. In her new hometown, Ruth quickly figures out she can be Jewish or she can be popular, but she can't be both. Eager to fit in with the blond girls in the "pastel posse," Ruth decides to hide her religion. Before she knows it, she is falling for the handsome and charming Davis and sipping Cokes with him and his friends at the all-white, all-Christian Club.
Does it matter that Ruth's mother makes her attend services at the local synagogue every week? Not as long as nobody outside her family knows the truth. At temple Ruth meets Max, who is serious and intense about the fight for social justice, and now she is caught between two worlds, two religions, and two boys. But when a violent hate crime brings the different parts of Ruth's life into sharp conflict, she will have to choose between all she's come to love about her new life and standing up for what she believes.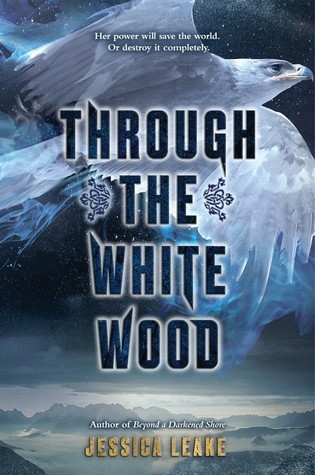 Through the White Wood by Jessica Leake
Links: Goodreads | Amazon* | Book Depository*
Synopsis: Katya's power to freeze anything she touches has made her an outcast in her isolated village. And when she loses control of her ability, accidentally killing several villagers, she is banished to the palace of the terrifying Prince Sasha in Kiev.
At the castle, though, she is surprised to find that Sasha is just like her—with his own strange talent, the ability to summon fire. Instead of punishment, Sasha offers Katya friendship, and the chance to embrace her power rather than fear it.
But outside the walls of Kiev, Sasha's enemies have organized their own army of people who can control the very earth. Bent on taking over the entire world, they won't stop until they've destroyed everything.
Katya and Sasha are desperate to stop the encroaching army, and together their powers are a fearsome weapon. But as their enemies draw nearer, leaving destruction in their wake, will fire and frost be enough to save the world? Or will they lose everything they hold dear?
Girls on the Verge by Sharon Biggs Waller
Links: Goodreads | Amazon* | Book Depository*
Synopsis: A powerful, timely coming-of-age story about a young woman from Texas who goes on a road trip with two friends to get an abortion, from award-winning author Sharon Biggs Waller.
Camille couldn't be having a better summer. But on the very night she learns she got into a prestigious theater program, she also finds out she's pregnant. She definitely can't tell her parents. And her best friend, Bea, doesn't agree with the decision Camille has made.
Camille is forced to try to solve her problem alone . . . and the system is very much working against her. At her most vulnerable, Camille reaches out to Annabelle Ponsonby, a girl she only barely knows from the theater. Happily, Annabelle agrees to drive her wherever she needs to go. And in a last-minute change of heart, Bea decides to come with.
Girls on the Verge is an incredibly timely novel about a woman's right to choose. Sharon Biggs Waller brings to life a narrative that has to continue to fight for its right to be told, and honored.
One Summer in Paris by Sarah Morgan
Links: Goodreads | Amazon* | Book Depository*
Synopsis: USA TODAY bestselling author Sarah Morgan returns with this heartwarming novel about the power of friendship, love and what happens when an ending is just the beginning…
To celebrate their twenty-fifth wedding anniversary, Grace has planned the surprise of a lifetime for her husband—a romantic getaway to Paris. But she never expected he'd have a surprise of his own: he wants a divorce. Reeling from the shock but refusing to be broken, a devastated Grace makes the bold decision to go to Paris alone.
Audrey, a young woman from London, has left behind a heartache of her own when she arrives in Paris. A job in a bookshop is her ticket to freedom, but with no money and no knowledge of the French language, suddenly a summer spent wandering the cobbled streets alone seems much more likely…until she meets Grace, and everything changes.
Grace can't believe how daring Audrey is. Audrey can't believe how cautious newly single Grace is. Living in neighboring apartments above the bookshop, this unlikely pair offer each other just what they've both been missing. They came to Paris to find themselves, but finding this unbreakable friendship might be the best thing that's ever happened to them…
Alien: Echo by Mira Grant
Links: Goodreads | Amazon* | Book Depository*
Synopsis: An original young adult novel of the Alien universe
Olivia and her twin sister Viola have been dragged around the universe for as long as they can remember. Their parents, both xenobiologists, are always in high demand for their research into obscure alien biology.
Just settled on a new colony world, they discover an alien threat unlike anything they've ever seen. And suddenly the sisters' world is ripped apart.
On the run from terrifying aliens, Olivia's knowledge of xenobiology and determination to protect her sister are her only weapons as the colony collapses into chaos. But then a shocking family secret bursts open—one that's as horrifying to Olivia as the aliens surrounding them.
The creatures infiltrate the rich wildlife on this virgin colony world—and quickly start adapting. Olivia's going to have to adapt, too, if she's going to survive…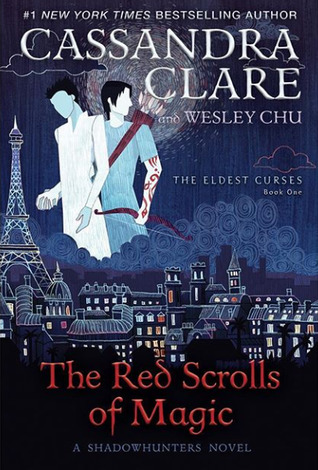 The Red Scrolls of Magic by Cassandra Clare & Wesley Chu
Links: Goodreads | Amazon* | Book Depository*
Synopsis: All Magnus Bane wanted was a vacation—a lavish trip across Europe with Alec Lightwood, the Shadowhunter who against all odds is finally his boyfriend. But as soon as the pair settles in Paris, an old friend arrives with news about a demon-worshipping cult called the Crimson Hand that is bent on causing chaos around the world. A cult that was apparently founded by Magnus himself. Years ago. As a joke.
Now Magnus and Alec must race across Europe to track down the Crimson Hand and its elusive new leader before the cult can cause any more damage. As if it wasn't bad enough that their romantic getaway has been sidetracked, demons are now dogging their every step, and it is becoming harder to tell friend from foe. As their quest for answers becomes increasingly dire, Magnus and Alec will have to trust each other more than ever—even if it means revealing the secrets they've both been keeping.
Descendant of the Crane by Joan He
Links: Goodreads | Amazon* | Book Depository*
Synopsis: Princess Hesina of Yan has always been eager to shirk the responsibilities of the crown, dreaming of an unremarkable life. But when her beloved father is found dead, she's thrust into power, suddenly the queen of a surprisingly unstable kingdom. What's more, Hesina believes that her father was murdered—and that the killer is someone close to her.
Hesina's court is packed full of dissemblers and deceivers eager to use the king's death for political gain, each as plausibly guilty as the next. Her advisers would like her to blame the neighboring kingdom of Kendi'a, whose ruler has been mustering for war. Determined to find her father's actual killer, Hesina does something desperate: she enlists the aid of a soothsayer—a treasonous act, punishable by
death, since magic was outlawed centuries ago.
Using the information provided by the sooth, and uncertain if she can trust her family, Hesina turns to Akira—a brilliant investigator who's also a convicted criminal with secrets of his own. With the future of Yan at stake, can Hesina find justice for her father? Or will the cost be too high?
When We Left Cuba by Chanel Cleeton
Links: Goodreads | Amazon* | Book Depository*
Synopsis: In 1960s Florida, a young Cuban exile will risk her life–and heart–to take back her country in this exhilarating historical novel from the author of Next Year in Havana, a Reese Witherspoon Book Club pick.
Beautiful. Daring. Deadly. 
The Cuban Revolution took everything from sugar heiress Beatriz Perez–her family, her people, her country. Recruited by the CIA to infiltrate Fidel Castro's inner circle and pulled into the dangerous world of espionage, Beatriz is consumed by her quest for revenge and her desire to reclaim the life she lost.
As the Cold War swells like a hurricane over the shores of the Florida Strait, Beatriz is caught between the clash of Cuban American politics and the perils of a forbidden affair with a powerful man driven by ambitions of his own. When the ever-changing tides of history threaten everything she has fought for, she must make a choice between her past and future–but the wrong move could cost Beatriz everything–not just the island she loves, but also the man who has stolen her heart..
The Peacock Emporium by Jojo Moyes
Links: Goodreads | Amazon* | Book Depository*
Synopsis: In the sixties, Athene Forster was the most glamorous girl of her generation. Nicknamed the Last Deb, she was also beautiful, spoiled, and out of control. When she agreed to marry the gorgeous young heir Douglas Fairley-Hulme, her parents breathed a sigh of relief. But within two years, rumors had begun to circulate about Athene's affair with a young salesman.
Thirty-five years later, Suzanna Peacock is struggling with her notorious mother's legacy. The only place Suzanna finds comfort is in The Peacock Emporium, the beautiful coffee bar and shop she opens that soon enchants her little town. There she makes perhaps the first real friends of her life, including Alejandro, a male midwife, escaping his own ghosts in Argentina.
The specter of her mother still haunts Suzanna. But only by confronting both her family and her innermost self will she finally reckon with the past–and discover that the key to her history, and her happiness, may have been in front of her all along
Someone Knows by Lisa Scottoline
Links: Goodreads | Amazon* | Book Depository*
Synopsis: Twenty years ago, in an upscale suburb of Philadelphia, four teenagers spent a summer as closest friends: drinking, sharing secrets, testing boundaries. When a new boy looked to join them, they decided to pull a prank on him, convincing him to play Russian roulette as an initiation into their group. They secretly planned to leave the gun unloaded—but what happened next would change each of them forever.
Now three of the four reunite for the first time since that horrible summer. The guilt—and the lingering question about who loaded the gun—drove them apart. But after one of the group apparently commits suicide with a gun, their old secrets come roaring back. One of them is going to figure out if the new suicide is what it seems, and if it connects to the events of that long-ago summer. Someone knows exactly what happened—but who? And how far will they go to keep their secrets buried?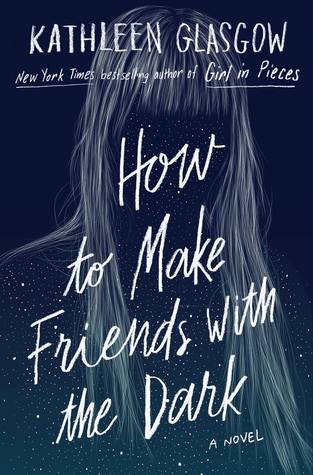 How to Make Friends with the Dark by Kathleen Glasgow
Links: Goodreads | Amazon* | Book Depository*
Synopsis: Here is what happens when your mother dies.
It's the brightest day of summer and it's dark outside. It's dark in your house, dark in your room, and dark in your heart. You feel like the darkness is going to split you apart.
That's how it feels for Tiger. It's always been Tiger and her mother against the world. Then, on a day like any other, Tiger's mother dies. And now it's Tiger, alone.
Here is how you learn to make friends with the dark.
Every Moment After by Joseph Modlover
Links: Goodreads | Amazon* | Book Depository*
Synopsis: Best friends Matt and Cole grapple with their changing relationships during the summer after high school in this impactful, evocative story about growing up and moving on from a traumatic past.
Surviving was just the beginning. 
Eleven years after a shooting rocked the small town of East Ridge, New Jersey and left eighteen first graders in their classroom dead, survivors and recent high school graduates Matt Simpson and Cole Hewitt are still navigating their guilt and trying to move beyond the shadow of their town's grief. Will Cole and Matt ever be able to truly leave the ghosts of East Ridge behind? Do they even want to?
As they grapple with changing relationships, falling in love, and growing apart, these two friends must face the question of how to move on—and truly begin living.
Trust Exercise by Susan Choi
Links: Goodreads | Amazon* | Book Depository*
Synopsis: In an American suburb in the early 1980s, students at a highly competitive performing arts high school struggle and thrive in a rarified bubble, ambitiously pursuing music, movement, Shakespeare, and, particularly, their acting classes. When within this striving "Brotherhood of the Arts," two freshmen, David and Sarah, fall headlong into love, their passion does not go unnoticed—or untoyed with—by anyone, especially not by their charismatic acting teacher, Mr. Kingsley.
The outside world of family life and economic status, of academic pressure and of their future adult lives, fails to penetrate this school's walls—until it does, in a shocking spiral of events that catapults the action forward in time and flips the premise upside-down. What the reader believes to have happened to David and Sarah and their friends is not entirely true—though it's not false, either. It takes until the book's stunning coda for the final piece of the puzzle to fall into place—revealing truths that will resonate long after the final sentence.
As captivating and tender as it is surprising, Trust Exercise will incite heated conversations about fiction and truth, friendships and loyalties, and will leave readers with wiser understandings of the true capacities of adolescents and of the powers and responsibilities of adults.
The Lost History of Dreams by Kris Waldherr
Links: Goodreads | Amazon* | Book Depository*
Synopsis: All love stories are ghost stories in disguise.
When famed Byronesque poet Hugh de Bonne is discovered dead of a heart attack in his bath one morning, his cousin Robert Highstead, a historian turned post-mortem photographer, is charged with a simple task: transport Hugh's remains for burial in a chapel. This chapel, a stained glass folly set on the moors of Shropshire, was built by de Bonne sixteen years earlier to house the remains of his beloved wife and muse, Ada. Since then, the chapel has been locked and abandoned, a pilgrimage site for the rabid fans of de Bonne's last book, The Lost History of Dreams.
However, Ada's grief-stricken niece refuses to open the glass chapel for Robert unless he agrees to her bargain: before he can lay Hugh to rest, Robert must record Isabelle's story of Ada and Hugh's ill-fated marriage over the course of five nights.
As the mystery of Ada and Hugh's relationship unfolds, so does the secret behind Robert's own marriage—including that of his fragile wife, Sida, who has not been the same since the tragic accident three years ago, and the origins of his own morbid profession that has him seeing things he shouldn't—things from beyond the grave.
Kris Waldherr effortlessly spins a sweeping and atmospheric gothic mystery about love and loss that blurs the line between the past and the present, truth and fiction, and ultimately, life and death.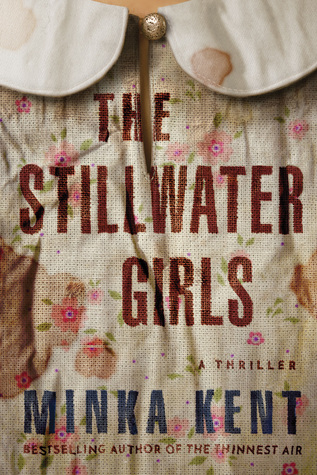 The Stillwater Girls by Minka Kent
Links: Goodreads | Amazon* | Book Depository*
Synopsis: Ignorant of civilization and cautioned against its evils, nineteen-year-old Wren and her two sisters, Sage and Evie, were raised in off-the-grid isolation in a primitive cabin in upstate New York. When the youngest grows gravely ill, their mother leaves with the child to get help from a nearby town. And they never return.
As months pass, hope vanishes. Supplies are low. Livestock are dying. A brutal winter is bearing down. Then comes the stranger. He claims to be looking for the girls' mother, and he's not leaving without them.
To escape, Wren and her sister must break the rule they've grown up with: never go beyond the forest.
Past the thicket of dread, they come upon a house on the other side of the pines. This is where Wren and Sage must confront something more chilling than the unknowable. They'll discover what's been hidden from them, what they're running from, and the secrets that have left them in the dark their entire lives.
All That You Leave Behind by Erin Lee Carr
Links: Goodreads | Amazon* | Book Depository*
Synopsis: An acclaimed documentary filmmaker comes to terms with her larger-than-life father, the late New York Times journalist David Carr, in this fierce memoir of love, addiction, and family. 
Dad: What will set you apart is not talent, but will and a certain kind of humility. A willingness to let the world show you things that you play back as you grow as an artist. Talent is cheap. 
Me: ok i will ponder these things. I am a carr.
Dad: that should matter quite a bit, actually not the name but the guts of what that name means.
A celebrated journalist, bestselling author, and recovering addict, David Carr was in the prime of his career when he collapsed in the newsroom of The New York Times in 2015. Shattered by his death, his daughter Erin Lee Carr, an up-and-coming documentary filmmaker at age twenty-seven, began combing through the entirety of their shared correspondence–1,936 items in total.
What started as an exercise in grief quickly grew into an active investigation: Did her father's writings contain the answers to the questions of how to move forward in life and work without your biggest champion by your side? How could she fill the space left behind by a man who had come to embody journalistic integrity, rigor, and hard reporting, whose mentorship meant everything not just to her, but to the many who served alongside him?
In All That You Leave Behind, David Carr's legacy is a lens through which Erin comes to understand her own workplace missteps, existential crises, relationship fails, and toxic relationship with alcohol. Featuring photographs and emails from the author's personal collection, this coming-of-age memoir unpacks the complex relationship between a daughter and her father, their mutual addictions and challenges with sobriety, and the powerful sense of work and family that comes to define them.
The Book of Dreams by Nina George
Links: Goodreads | Amazon* | Book Depository*
Synopsis: Henri Skinner is a hardened ex-war reporter on the run from his past. On his way to see his son, Sam, for the first time in years, Henri steps into the road without looking and collides with oncoming traffic. He is rushed to a nearby hospital where he floats, comatose, between dreams, reliving the fairytales of his childhood and the secrets that made him run away in the first place.
After the accident, Sam–a thirteen-year old synesthete with an IQ of 144 and an appetite for science fiction–waits by his father's bedside every day. There he meets Eddie Tomlin, a woman forced to confront her love for Henri after all these years, and twelve-year old Madelyn Zeidler, a coma patient like Henri and the sole survivor of a traffic accident that killed her family. As these four very different individuals fight–for hope, for patience, for life–they are bound together inextricably, facing the ravages of loss and first love side by side.
A revelatory, urgently human story that examines what we consider serious and painful alongside light and whimsy, THE BOOK OF DREAMS is a tender meditation on memory, liminality, and empathy, asking with grace and gravitas what we will truly find meaningful in our lives once we are gone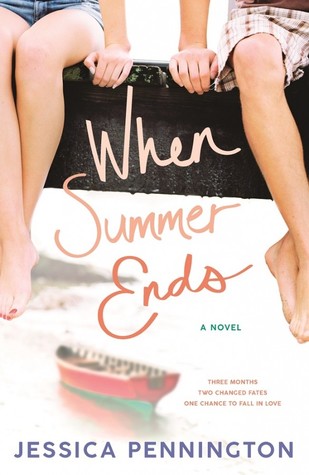 When Summer Ends by Jessica Pennington
Links: Goodreads | Amazon* | Book Depository*
Synopsis: Aiden Emerson is an all-star pitcher and the all-around golden boy of Riverton. Or at least he was, before he quit the team the last day of junior year without any explanation. How could he tell people he's losing his vision at seventeen?
Straight-laced Olivia thought she had life all figured out. But when her dream internship falls apart, her estranged mother comes back into her life, and her long-time boyfriend ghosts her right before summer break, she's starting to think fate has a weird sense of humor.
Each struggling to find a new direction, Aiden and Olivia decide to live summer by chance. Every fleeting adventure and stolen kiss is as fragile as a coin flip in this heartfelt journey to love and self-discovery from the author of Love Songs & Other Lies.
Life Will Be the Death of Me:…and you too! by Chelsea Handler
Links: Goodreads | Amazon* | Book Depository*
Synopsis: In a haze of vape smoke on a rare windy night in L.A. in the fall of 2016, Chelsea Handler daydreams about what life will be like with a woman in the White House. And then Donald Trump happens. In a torpor of despair, she decides that she's had enough of the privileged bubble she's lived in–a bubble within a bubble–and that it's time to make some changes, both in her personal life and in the world at large.
At home, she embarks on a year of self-sufficiency–learning how to work the remote, how to pick up dog shit, where to find the toaster. She meets her match in an earnest, brainy psychiatrist and enters into therapy, prepared to do the heavy lifting required to look within and make sense of a childhood marked by love and loss and to figure out why people are afraid of her. She becomes politically active–finding her voice as an advocate for change, having difficult conversations, and energizing her base. In the process, she develops a healthy fixation on Special Counsel Robert Mueller and, through unflinching self-reflection and psychological excavation, unearths some glittering truths that light up the road ahead.
Thrillingly honest, insightful, and deeply, darkly funny, Chelsea Handler's memoir keeps readers laughing, even as it inspires us to look within and ask ourselves what really matters in our own lives.
Summer of '69 by Todd Strasser
Links: Goodreads | Amazon* | Book Depository*
Synopsis: Drawing from his teenage years, Todd Strasser's novel revisits a tumultuous era and takes readers on a psychedelically tinged trip of a lifetime.
With his girlfriend, Robin, away in Canada, eighteen-year-old Lucas Baker's only plans for the summer are to mellow out with his friends, smoke weed, drop a tab or two, and head out in his microbus for a three-day happening called the Woodstock Music and Art Fair. But life veers dramatically off track when he suddenly finds himself in danger of being drafted and sent to fight in Vietnam. If that isn't heavy enough, there's also the free-loving (and undeniably alluring) Tinsley, who seems determined to test Lucas's resolve to stay faithful to Robin; a frighteningly bad trip at a Led Zeppelin concert; a run-in with an angry motorcycle gang; parents who appear headed for a divorce; and a friend on the front lines in 'Nam who's in mortal danger of not making it back. As the pressures grow, it's not long before Lucas finds himself knocked so far down, it's starting to look like up to him. When tuning in, turning on, and dropping out is no longer enough, what else is there?
Love & Other Curses by Michael Thomas Ford
Links: Goodreads | Amazon* | Book Depository*
Synopsis: The Weyward family has been haunted by a curse for generations—if a Weyward falls in love before their seventeenth birthday, the person they love dies. Sam doesn't plan to fall for anyone in the nine weeks before his birthday. He'll spend his time working at the Eezy-Freeze with his dad; cooking up some midsummer magic with his grandmother, great-grandmother, and great-great-grandmother (the Grands); and experimenting with drag with the help of the queens at the Shangri-La, the local gay club. But when a new guy comes to town, Sam finds himself in trouble when they strike up a friendship that might be way more than that.
As Sam's birthday approaches and he still hasn't quite fallen in love, the curse seems to get more powerful and less specific about who it targets. A mysterious girl Sam talks to on the phone late at night and a woman he's only seen in a dream might have the answers he's been looking for—but time is running out to save the people he cares about.
The Last by Hanna Jameson
Links: Goodreads | Amazon* | Book Depository*
Synopsis: Breaking: Nuclear weapon detonates over Washington
Breaking: London hit, thousands feared dead
Breaking: Munich and Scotland hit. World leaders call for calm
Historian Jon Keller is on a trip to Switzerland when the world ends. As the lights go out on civilization, he wishes he had a way of knowing whether his wife, Nadia and their two daughters are still alive. More than anything, Jon wishes he hadn't ignored Nadia's last message.
Twenty people remain in Jon's hotel. Far from the nearest city and walled in by towering trees, they wait, they survive.
Then one day, the body of a young girl is found. It's clear she has been murdered. Which means that someone in the hotel is a killer.
As paranoia descends, Jon decides to investigate. But how far is he willing to go in pursuit of justice? And what kind of justice can he hope for, when society as he knows it no longer exists?
Notes From A Young Black Chef by Kwame Onwauchi
Links: Goodreads | Amazon* | Book Depository*
Synopsis: A groundbreaking memoir about the intersection of race, fame, and food, from the Top Chef star and Forbes and Zagat 30 Under 30 honoree
By the time he was twenty-seven, Kwame Onwuachi had competed on Top Chef, cooked at the White House, and opened and closed one of the most talked about restaurants in America. In this inspiring memoir, he shares the remarkable story of his culinary coming-of-age. Growing up in the Bronx and Nigeria (where he was sent by his mother to "learn respect"), food was Onwuachi's great love. He launched his own catering company with twenty thousand dollars he made selling candy on the subway, and trained in the kitchens of some of the most acclaimed restaurants in the country. But the road to success is riddled with potholes. As a young chef, Onwuachi was forced to grapple with just how unwelcoming the world of fine dining can be for people of color, and his first restaurant, the culmination of years of planning, shuttered just months after opening. A powerful, heartfelt, and shockingly honest memoir of following your dreams–even when they don't turn out as you expected–Notes from a Young Black Chef is one man's pursuit of his passions, despite the odds.
Trophy Life by Lea Geller
Links: Goodreads | Amazon* | Book Depository*
Synopsis: For the last ten years, Agnes Parsons's biggest challenge has been juggling yoga classes and lunch dates. Her Santa Monica house staff takes care of everything, leaving Agnes to focus on her trophy-wife responsibilities: look perfect, adore her older husband, and wear terribly expensive (if uncomfortable) underwear.
When her husband disappears, leaving Agnes and their infant daughter with no money, no home, and no staff, she is forced to move across the country, where she lands a job teaching at an all-boys boarding school in the Bronx. So long, organic quinoa bowls and sunshine-filled California life. Hello, processed food, pest-infested house, and twelve-year-old-boy humor—all day, every day.
But it's in this place of second chances (and giant bugs), where Agnes is unexpectedly forced to take care of herself and her daughter, where she finds out the kind of woman she can be. Ultimately, she has to decide if she prefers the woman and mother she has become…or the trophy life she left behind.
Authentic and sharply witty, Trophy Life is proof that granny panties and mom coats might not be the answer to everything; they're simply comfortable (if slightly unattractive) reminders of what happens when one life ends…and real life begins.
Dreaming Darkly by Caitlin Kittredge
Links: Goodreads | Amazon* | Book Depository*
Synopsis: Ivy Bloodgood's mother is dead, and she should probably be sad about it. But she isn't. Myra Bloodgood was confusing mix of protective and abusive, a manipulative personality who never told the truth—about where she came from, who Ivy's father was, or why they were living their lives on the run.
Now that Ivy has been sent to Darkhaven, an island off the New England coast, to live with a rich uncle she didn't know existed, she is forced to reckon with her mother's past. Ivy can tell right away there are long-held family secrets buried within these walls, but when she wakes up from one of her nightmares covered in someone else's blood, Ivy fears that whatever demons her mother battled while she was alive have come to roost in her own mind. Scared that she can no longer trust what she sees, Ivy seeks the help of a boy who thinks her episodes are connected to the sordid history of Darkhaven—but what they don't know might kill them both.
A moody and twisty gothic mystery with an impossible romance, Dreaming Darkly is an atmospheric, fast-paced page-turner written by comics veteran Caitlin Kittredge.
This Book Is Not Yet Rated by Peter Bognanni
Links: Goodreads | Amazon* | Book Depository*
Synopsis: The Green Street Cinema has always been a sanctuary for Ethan. Maybe it's because movies help him make sense of real life, or maybe it's because the cinema is the one place he can go to still feel close to his dad, a film professor who died three years ago. Either way, it's a place worth fighting for, especially when developers threaten to tear it down to build a luxury condos.
They say it's structurally unsound and riddled with health code violations. They clearly don't understand that the crumbling columns and even Brando, the giant rat with a taste for sour patch kids, are a part of the fabric of this place that holds together the misfits and the dreamers of the changing neighborhood the cinema house has served for so many years.
Now it's up to the employees of the Green Street Cinema–Sweet Lou the organist with a penchant for not-so-sweet language; Anjo the projectionist, nicknamed the Oracle for her opaque-but-always-true proclamations; Griffin and Lucas who work the concessions, if they work at all; and Ethan, known as "Wendy," the leader of these Lost Boys–to save the place they love.
It's going to take a movie miracle if the Green Street is going to have a happy ending. And when Raina, Ethan's oldest friend (and possible soul mate?), comes back home from Hollywood where she's been starring in B-movies about time-traveling cats, Ethan thinks that miracle just may have been delivered. But life and love aren't always like the movies. And when the employees of the Green Street ask what happens in the end to the Lost Boys, Ethan has to share three words he's not been ready to say.
A Palm Beach Wife by Susannah Marren
Links: Goodreads | Amazon* | Book Depository*
Synopsis: Amid the glamour and galas and parties of Palm Beach, Faith knows that image often counts as much if not more than reality. She glides effortlessly among the highest of the high society so perfectly that you would never suspect she wasn't born to this. But it wasn't always so; though she hides it well, Faith has fought hard for the wonderful life she has, for her loving, successful husband, for her daughter's future.
In this town of secrets and gossip and rumors, Faith has kept a desperate grip on everything she holds so dear, built from so little. And yet even she—the only one who knows just how far she has to fall—never suspects from which direction, or how many directions all at once, betrayal will come.
---
-Elizabeth
Bookish Connoisseur
Connect with me:
Instagram | Goodreads | Twitter | Podcast
Please note: All links marked with (*) are affiliate links. Meaning, if you click and make a purchase I will get a small percentage of the purchase price from the retailer. Purchases like these help support my blog!