Happy Tuesday bookish friends! It's my favorite day of the week because we get lots of new books to add to our TBR. Not that I need more, my list is overflowing already. But books make me happy, so I'm just going to keep on adding more!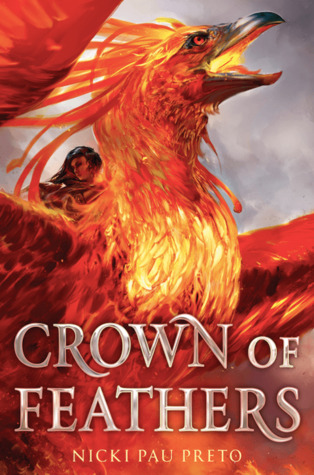 Title: Crown of Feathers by Nicki PauPreto
Links: Goodreads | Amazon* | Book Depository*
Synopsis: I had a sister, once…
In a world ruled by fierce warrior queens, a grand empire was built upon the backs of Phoenix Riders—legendary heroes who soared through the sky on wings of fire—until a war between two sisters ripped it all apart.
I promised her the throne would not come between us.
Sixteen years later, Veronyka is a war orphan who dreams of becoming a Phoenix Rider from the stories of old. After a shocking betrayal from her controlling sister, Veronyka strikes out alone to find the Riders—even if that means disguising herself as a boy to join their ranks.
But it is a fact of life that one must kill or be killed. Rule or be ruled.
Just as Veronyka finally feels like she belongs, her sister turns up and reveals a tangled web of lies between them that will change everything. And meanwhile, the new empire has learned of the Riders' return and intends to destroy them once and for all.
Sometimes the title of queen is given. Sometimes it must be taken.
The Beast's Heart by Leife Shallcross
Links: Goodreads | Amazon* | Book Depository*
Synopsis: I am neither monster nor man—yet I am both.
I am the Beast.
The day I was cursed to this wretched existence was the day I was saved—although it did not feel so at the time.
My redemption sprung from contemptible roots; I am not proud of what I did the day her father happened upon my crumbling, isolated chateau. But if loneliness breeds desperation then I was desperate indeed, and I did what I felt I must. My shameful behaviour was unjustly rewarded.
My Isabeau. She opened my eyes, my mind and my heart; she taught me how to be human again.
And now I might lose her forever.
The Black Coats by Colleen Oakes
Links: Goodreads | Amazon* | Book Depository*
Synopsis: Roses are read, violets are blue, if you hurt us, we're coming for you.
The deeply secretive Black Coats have been exacting vengeance on men who hurt girls and women for years. And Thea has just received an invitation to join them. This is the opportunity she's been waiting for to finally get justice for her cousin Natalie, whose killer went free.
Thea dives head first into the group, training every day with other girls whose stories rival hers. Together they carry out Balancings—acts of revenge guaranteed to teach a lesson. With every predator threatened, every blackmailer exposed, and every date rapist punished, Thea can feel herself getting closer to avenging Natalie's death.
But then the Balancings begin to escalate in brutality, and Thea discovers that the Black Coats are not all they seem to be. Thea must confront just how far she's willing to go for justice—and what kind of justice Natalie, and Thea herself, deserve. Because when the line between justice and revenge is razor thin, it's hard not to get cut.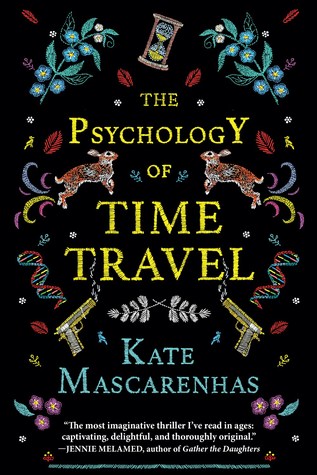 The Psychology of Time Travel by Kate Mascarenhas
Links: Goodreads | Amazon* | Book Depository*
Synopsis: In 1967, four female scientists worked together to build the world's first time machine. But just as they are about to debut their creation, one of them suffers a breakdown, putting the whole project—and future of time travel—in jeopardy. To protect their invention, one member is exiled from the team—erasing her contributions from history.
Fifty years later, time travel is a big business. Twenty-something Ruby Rebello knows her beloved grandmother, Granny Bee, was one of the pioneers, though no one will tell her more. But when Bee receives a mysterious newspaper clipping from the future reporting the murder of an unidentified woman, Ruby becomes obsessed: could it be Bee? Who would want her dead? And most importantly of all: can her murder be stopped?
Traversing the decades and told from alternating perspectives, The Psychology of Time Travel introduces a fabulous new voice in fiction and a new must-read for fans of speculative fiction and women's fiction alike.
The Victory Garden by Rhys Bowen
Links: Goodreads | Amazon* | Book Depository*
Synopsis: As the Great War continues to take its toll, headstrong twenty-one-year-old Emily Bryce is determined to contribute to the war effort. She is convinced by a cheeky and handsome Australian pilot that she can do more, and it is not long before she falls in love with him and accepts his proposal of marriage.
When he is sent back to the front, Emily volunteers as a "land girl," tending to the neglected grounds of a large Devonshire estate. It's here that Emily discovers the long-forgotten journals of a medicine woman who devoted her life to her herbal garden. The journals inspire Emily, and in the wake of devastating news, they are her saving grace. Emily's lover has not only died a hero but has left her terrified—and with child. Since no one knows that Emily was never married, she adopts the charade of a war widow.
As Emily learns more about the volatile power of healing with herbs, the found journals will bring her to the brink of disaster, but may open a path to her destiny.
Watch Us Rise by Renée Watson & Ellen Hagan
Links: Goodreads | Amazon* | Book Depository*
Synopsis: Jasmine and Chelsea are sick of the way women are treated even at their progressive NYC high school, so they decide to start a Women's Rights Club. They post everything online—poems, essays, videos of Chelsea performing her poetry, and Jasmine's response to the racial macroaggressions she experiences—and soon they go viral. But with such positive support, the club is also targeted by online trolls. When things escalate, the principal shuts the club down. Jasmine and Chelsea will risk everything for their voices—and those of other young women—to be heard.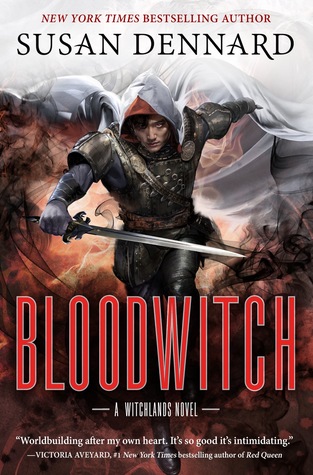 Bloodwitch (The Witchlands #3) by Susan Dennard
Links: Goodreads | Amazon* | Book Depository*
Synopsis: Fans of Susan Dennard's New York Times bestselling Witchlands series have fallen in love with the Bloodwitch Aeduan. And now, finally, comes his story.
High in a snowy mountain range, a monastery that holds more than just faith clings to the side of a cliff. Below, thwarted by a lake, a bloodthirsty horde of raiders await the coming of winter and the frozen path to destroy the sanctuary and its secrets.
The Bloodwitch Aeduan has teamed up with the Threadwitch Iseult and the magical girl Owl to stop the destruction. But to do so, he must confront his own father, and his past.
The City in the Middle of the Night by Charlie Jane Anders
Links: Goodreads | Amazon* | Book Depository*
Synopsis: "If you control our sleep, then you can own our dreams… And from there, it's easy to control our entire lives." 
Set on a planet that has fully definitive, never-changing zones of day and night, with ensuing extreme climates of endless, frigid darkness and blinding, relentless light, humankind has somehow continued apace — though the perils outside the built cities are rife with danger as much as the streets below.
But in a world where time means only what the ruling government proclaims, and the levels of light available are artificially imposed to great consequence, lost souls and disappeared bodies are shadow-bound and savage, and as common as grains of sand. And one such pariah, sacrificed to the night, but borne up by time and a mysterious bond with an enigmatic beast, will rise to take on the entire planet–before it can crumble beneath the weight of human existence.
The Hunting Party by Lucy Foley
Links: Goodreads | Amazon* | Book Depository*
Synopsis: All of them are friends. One of them is a killer.
During the languid days of the Christmas break, a group of thirtysomething friends from Oxford meet to welcome in the New Year together, a tradition they began as students ten years ago. For this vacation, they've chosen an idyllic and isolated estate in the Scottish Highlands—the perfect place to get away and unwind by themselves.
They arrive on December 30th, just before a historic blizzard seals the lodge off from the outside world.
Two days later, on New Year's Day, one of them is dead.
The trip began innocently enough: admiring the stunning if foreboding scenery, champagne in front of a crackling fire, and reminiscences about the past. But after a decade, the weight of secret resentments has grown too heavy for the group's tenuous nostalgia to bear. Amid the boisterous revelry of New Year's Eve, the cord holding them together snaps.
Now one of them is dead . . . and another of them did it.
Keep your friends close, the old adage goes. But just how close is too close?
Which books are you most excited about this week? I'm currently reading Crown of Feathers and OMG it's so good! When asked about mythological creatures, I always say dragons are my favorite, but this book may just change my mind.
-Elizabeth
Bookish Connoisseur
Connect with me:
Instagram | Goodreads | Twitter | Podcast
Please note: All links marked with (*) are affiliate links. Meaning, if you click and make a purchase I will get a small percentage of the purchase price from the retailer. Purchases like these help support my blog!