Happy Friday book lovers! Today we're talking summer reads.
Nothing says perfect summer read like a good YA contemporary/romance. I have SO MANY books to read, but I desperately just want to grab a stack of summery contemporary books and head to a secluded part of a beach where no one will bother me while I devour my books. That sounds reasonable, right?
Well either way, here are some great books (that were all released this year!) that you should consider adding to your summer TBR.
The Summer of Us by Cecilia Vinesse (my review is here)
Synopsis: A swoon-worthy story about five best friends on a whirlwind trip through Europe, perfect for fans of Jenny Han, Stephanie Perkins, and Jennifer E. Smith.

American expat Aubrey has only two weeks left in Europe before she leaves for college, and she's nowhere near ready. Good thing she and her best friend, Rae, have planned one last group trip across the continent. From Paris to Prague, they're going to explore famous museums, sip champagne in fancy restaurants, and eat as many croissants as possible with their friends Clara, Jonah, and Gabe.
But when old secrets come to light, Aubrey and Rae's trip goes from a carefree adventure to a complete disaster. For starters, there's Aubrey and Gabe's unresolved history, complicated by the fact that Aubrey is dating Jonah, Gabe's best friend. And then there's Rae's hopeless crush on the effortlessly cool Clara. How is Rae supposed to admit her feelings to someone so perfect when they're moving to different sides of the world in just a few weeks?
Author Cecilia Vinesse delivers a romantic European adventure that embraces the magic of warm summer nights, the thrill of first kisses, and the bittersweet ache of learning to say goodbye to the past while embracing the future.
Save the Date by Morgan Matson
Synopsis: Charlie Grant's older sister is getting married this weekend at their family home, and Charlie can't wait—for the first time in years, all four of her older siblings will be under one roof. Charlie is desperate for one last perfect weekend, before the house is sold and everything changes. The house will be filled with jokes and games and laughs again. Making decisions about things like what college to attend and reuniting with longstanding crush Jesse Foster—all that can wait. She wants to focus on making the weekend perfect.
The only problem? The weekend is shaping up to be an absolute disaster.
There's the unexpected dog with a penchant for howling, house alarm that won't stop going off, and a papergirl with a grudge.
There are the relatives who aren't speaking, the (awful) girl her favorite brother brought home unannounced, and a missing tuxedo.
Not to mention the neighbor who seems to be bent on sabotage and a storm that is bent on drenching everything. The justice of the peace is missing. The band will only play covers. The guests are all crazy. And the wedding planner's nephew is unexpectedly, distractingly…cute.
Over the course of three ridiculously chaotic days, Charlie will learn more than she ever expected about the family she thought she knew by heart. And she'll realize that sometimes, trying to keep everything like it was in the past means missing out on the future.
Stay Sweet by Siobhan Vivian
Synopsis: A summer read about first love, feminism, and ice cream.
Summer in Sand Lake isn't complete without a trip to Meade Creamery—the local ice cream stand founded in 1944 by Molly Meade who started making ice cream to cheer up her lovesick girlfriends while all the boys were away at war. Since then, the stand has been owned and managed exclusively by local girls, who inevitably become the best of friends. Seventeen-year-old Amelia and her best friend Cate have worked at the stand every summer for the past three years, and Amelia is "Head Girl" at the stand this summer. When Molly passes away before Amelia even has her first day in charge, Amelia isn't sure that the stand can go on. That is, until Molly's grandnephew Grady arrives and asks Amelia to stay on to help continue the business…but Grady's got some changes in mind…
From Twinkle, with Love by Sandhya Menon
Synopsis: Aspiring filmmaker and wallflower Twinkle Mehra has stories she wants to tell and universes she wants to explore, if only the world would listen. So when fellow film geek Sahil Roy approaches her to direct a movie for the upcoming Summer Festival, Twinkle is all over it. The chance to publicly showcase her voice as a director? Dream come true. The fact that it gets her closer to her longtime crush, Neil Roy—a.k.a. Sahil's twin brother? Dream come true x 2.
When mystery man "N" begins emailing her, Twinkle is sure it's Neil, finally ready to begin their happily-ever-after. The only slightly inconvenient problem is that, in the course of movie-making, she's fallen madly in love with the irresistibly adorkable Sahil.
Twinkle soon realizes that resistance is futile: The romance she's got is not the one she's scripted. But will it be enough?
Told through the letters Twinkle writes to her favorite female filmmakers, From Twinkle, with Love navigates big truths about friendship, family, and the unexpected places love can find you.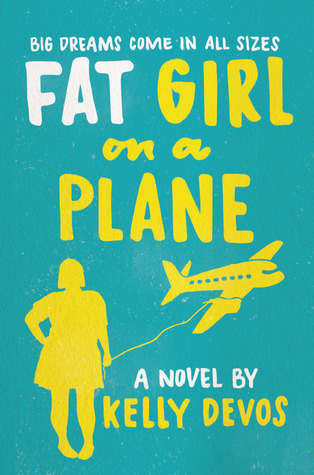 Fat Girl on a Plane by Kelly deVos
Synopsis: FAT.
High school senior Cookie Vonn's post-graduation dreams include getting out of Phoenix, attending Parsons and becoming the next great fashion designer. But in the world of fashion, being fat is a cardinal sin. It doesn't help that she's constantly compared to her supermodel mother—and named after a dessert.
Thanks to her job at a fashion blog, Cookie scores a trip to New York to pitch her portfolio and appeal for a scholarship, but her plans are put on standby when she's declared too fat too fly. Forced to turn to her BFF for cash, Cookie buys a second seat on the plane. She arrives in the city to find that she's been replaced by the boss's daughter, a girl who's everything she's not—ultrathin and superrich. Bowing to society's pressure, she vows to lose weight, get out of the friend zone with her crush, and put her life on track.
SKINNY.
Cookie expected sunshine and rainbows, but nothing about her new life is turning out like she planned. When the fashion designer of the moment offers her what she's always wanted—an opportunity to live and study in New York—she finds herself in a world full of people more interested in putting women down than dressing them up. Her designs make waves, but her real dream of creating great clothes for people of all sizes seems to grow more distant by the day.
Will she realize that she's always had the power to make her own dreams come true?
Don't all of these books sound fantastic?! And is it really summertime if you don't read a Morgan Matson book? Let me know what you're excited to pick up this summer in the comments below!